Outcasts is one of my favoriteband all times and it fun to after 37 years finally get an interview with them ….november-2104
Please tell me a little bit history about the band? Why did you start again?
-Started in Belfast 1977, recorded for the Good Vibrations Label, played by John Peel, toured in England and France, one song got radio 1 airplay -Nowhere Left to Run and reached 49 in UK charts. Preformed 3 times on National TV and took part in the legendary punk festival in 1981- Christmas on Earth. Released 3 albums and 9 singles and split in 1984.
Reformed in 2011 as we were asked to play Rebellion Festival in Blackpool. Have toured all over the UK and Europe; Germany France, Holland, Spain etc. We are featured in the grammy nominated film, Good Vibrations.
Please tell me a little about every member in the group right now age, family, work, interests and something bad about everyone? Original members?
-Martin Cowan 59, retired, married, 3 kids, running and keep-fit, wrote all the songs
Greg Cowan 54, painting contractor, married, drinking and having a good time, singer
Raymond Falls, 49, lorry driver,married, 3 kids, 1grand child, drummer
Petesy Burns 50, actor, musician, guitarist 2 original members are not with us- Getty, cause he wasn't interested and Colin Cowan our original drummer was killed in a car crash 1981.
The scene in Northern Ireland was good back then I think with many good bands…Protex is still playing, any other bands which does that? Why was the scene so big do you think?
-Yea it was good back then, was an escape from the Troubles and was a way out, it meant you could belong to something different than the IRA or UDA.The Defects have reformed and some other not so well known bands.
Outcasts is a good punkname? Are you satisfied with it? Which is the best bandname you know?
-Yes it is a good name and my brother Colin called us that because we were punks before we formed the band and people didn't like the way we looked and started fights with us, I think the Ruts is a good name as it is slang for being stuck and not being able to get out of the life you have!
What´s the best thing with playing live? If you compare now and then?
-The best thing about playing live now is the sound is so much better, technology has helped!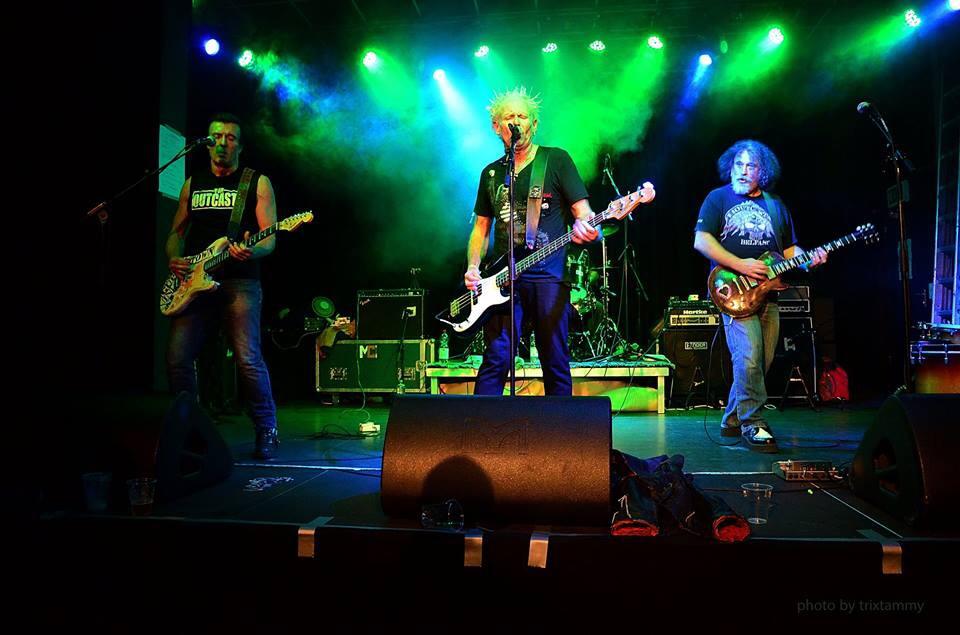 And where is best to play?
-All places have been good, I would say Rebellion is the best as it is a great festival.
How is it to play this sort of music in Northern Irleand? Is it a big scene?
-No it is now a cult thing along with Heavy Metal and Ska, I think it is the same everywhere, though in Germany and Spain you get younger people coming to see us.
How would you describe your music in three words?
-Punk with melodies.
What does punk mean to you, is it only a word or is it a lifestyle?
-I believe in the original ideals of punk, before it became a uniform, a straitjacket, were every song has to be fast and has bad singing and little or no melody. For me it was about being able to do what you wanted, put out your own records, look how you wanted, create your own identity and in Belfast it was to make a stand against the paramilitaries, who wanted to keep the two sides divided, punk helped bring young people together and I'm proud of the small part we played in this, as is shown in the movie Good Vibrations.
How do you see on downloading, mp3 and that stuff?
-I think it gives more people more access to music that they otherwise might not hear!
How is it to live Northern Irleand Politically? Not so much fights between religious groups anymore ?
-Things have changed so much, my kids don't understand what we lived through, this is a good thing and it's good to see more and more tourists visiting and it is really good to be able to live the same life as someone in Sweden or Germany and not have to go out at night and think you might not make it home!
Is there any good bands from Northern Ireland now? ?In your homecity?
-There are great bands in Belfast playing many different kinds of music, a band I really like is Cadaver Club.
What do you know about Sweden? Have you been and here and played?
-Not much, no we have never been or have never been asked, though we met some Swedish fans at Rebellion earlier this year; we would love to play there!
Have you heard any good bands from Sweden?
-Haven´t heard any Swedish bands, except Abba!
Your lyrics, who does them and what influences you?
-I, Martin write and have written all our songs, the lyrics and music. I'm influenced by all sorts of things, I like to try and tell a story; Self Conscious Over You, is about when I was a school kid I fancied this girl on the bus to school and I used to get embarrassed walking past her.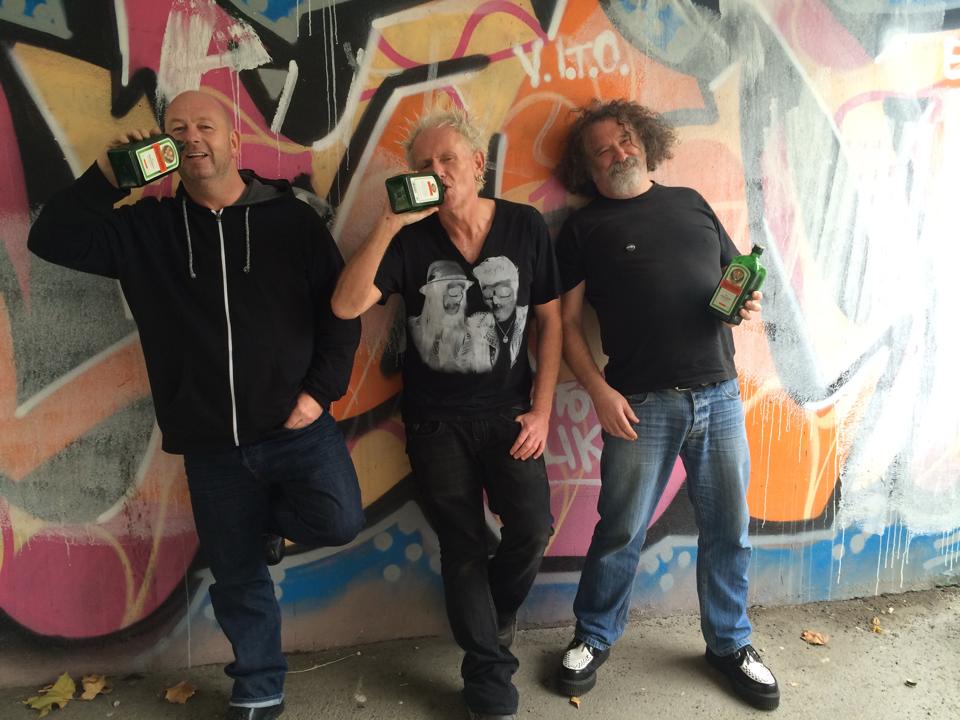 Is there any subject that you never will write anything about?
-Not really, as long as it stimulates me and the song comes easily.
Politic and music, does it goes hand in hand? Which is your most political song? And your most unserious song?
-I'm not really interested in politics, I became a punk and formed a band to try and escape from the politics and fighting in Belfast! My most political song is Gangland Warefare, it tells the true story of my brother, a friend and myself being attacked by a gang of guys, when we were coming home from a club in Belfast, because of the way we looked; we didn't run but stood and fought and the police saw it and did not help us.The most unserious song is The Cops are Coming, I wrote it as a black comedy, it tells the story of a jealous guy killing his unfaithful and doing bad things to her dead body!
Best political band/artist?
-Jello Biafra (Who I have met and really liked him), the Dead Kennedys.
Do you think that music(lyrics and so on) can change anyones life, I mean people who listens to music?
-Yes I do, music helped stop the Vietnam war and Anarchy in the UK changed my life.
You have been playing for a long while now, what´s the difference of playing punk and concerts nowadays if you compare when you started?
-We started in 1977 and broke up in 1984, got together again in 2011, when we toured in the old days we had to drive to England or Europe in an old van with all our gear, now we fly and the gear is supplied for us, I enjoy it better now as we do it for fun and there is not the same pressure on us to be successfull!
Is it important for you to get out physical records? Any new stuff on it´s way?
-Yes it is, but all our old stuff is on the internet, that means any one can access it and when we play young kids know our songs which is great. At the moment we are recording an 8 track mini album, but it is taking us a long time as sometimes finding the time can be difficult.
Please tell me a funny thing which have happened during your career and under some gig?
-We played in Paris in 1979 and to get to our gig we had to go through a Jewish area and they were going to shoot us cause they thought we were neo-nazis, until we explained we were a punk band and they gave us star of David arm bands to wear when going through there area, so not so different from Belfast!
How does your audience look like? Which people do you miss on your concerts?
-In the UK it is more middle aged than in Europe, but we do get young kids who have discovered us through the internet; it is really all ages. Probably young girls is what we miss, but what can you expect at our age!
Please rank your five favoriterecords, five favoriteconcerts and five most important things in life?
-Hurt(by the 9inch Nails)- Johnny Cash, Rebel Rebel- David Bowie, Anarchy in the UK- Sex Pistols, Complete Control- The Clash, I Am the Walrus- The Beatles
David Bowie- Dublin 1991, Rancid- 2012 Rebellion, The Ruts- 2014 Rebellion, T-Rex- 1971 Belfast, The Clash- London 1980
Finding someone you love and who loves you, your kids, your parents, I Iove animals; my 2 dogs; I am vegeterian for the last 30 years, finding your spirit.
Why have you released your records Frustration and Blood and thunder in Limited Edition of 100…why not more?
-Gary, the owner of Punkerama Records releases mostly on vinyl and only a smaller number on CD. THE VINYL IS RELEASED IN BATCHES OF 500 or 1000 the CDs in smaller amounts.
Is it boring with interviews?
-Depends on the questions, can take quite a long time to answer questions!
Futureplans for the band?
-Release our album and keep on playing as long as we still enjoy it!
For yourself?
-To keep fit and healthy and be happy.
Wisdomword?
-Do something you enjoy and don't waste your life worrying about things you can't change!
Something to add?
-We would like to do a mini- tour of Sweden is there any promoters or anyone I could contact that you know, if there is could you send me there emails please,
Thanks
Martin