Hello....tell me about yourself, family, age and a little about what you work with(if you work)?
-My name is Oscar. I live in Stockholm. I have a wife and three children. I´m a musican and a writer. One summer I worked as gardener. But that was15 years ago.
You have done four records....why haven´t I heard about you?
-You have been unlucky. And I have been on television for a few times. You didn´t looked then.
How would you describe your music in three words?
-Calm and unmodern.
Which references whould you say if I ask you about influences?
-James Yorkston
Min recension av senaste skivan låter som så här "OSCAR
DANIELSON-EN BILD AV LYCKA ATT SPARA PÅ(CD-VESPER RECORDS
VESCD07030) Very calm record with lyrics which is a little bit different in some way….here there isn´t any lyrics, refrain, lyrics and so on and it´s more small stories here.. I´m happy that this is on CD and not on LP because then I have heard the sounds from the and it have been disturbing a lot. It´s hard to compare this with something(because that will I always do) but of course an early Winnerbäck isn´t so far away. But should I say that to my girlfriend(which adores Winnerbäck) so wouldn´t she agree. Good relaxed music is it anyway and I think if you shall listen to this you should use headphones so you hear the lyrics better.(SEVEN) 13/8-07" Comment on that?
-Seven? Is it seven of ten or? I cannot understand that you could take away three points. How could I have done this better? The songs are really good, the lyrics is fantastic, the musicans the best in the country. I have done my best and I haven´t left anything behind me.
Is reviews something you care about?
-I become angry when I read bad reviews? I´m happy about the good ones.
Which is the most peculiar you have got?
-I got a good review from PO Tidholm in DN. That was peculiar.
Your lyrics feels important? From where do you get the inspiration?
-From reality and poetry.
Politics and music does it go hand in hand?
-If you feel so. And it depends of what you mean with the thing politics.
Best political artist/group?
-Sly Stone
Your bigger in Denmark and Norway I understand…how does is this shown?
-Possibly bigger but not big. I have played more in Denmark. It´s a guy which have booked concerts for me in about ten years. And that´s why my audience have grown there. In Norway it´s two guys who believes in me. They´re my managers.
How much does an artist like Oscar Danielsson sell?
-Between 1000 and 2000.
Many artitst in this style comes from the beginning from punkrock…how is it for you…which is your childhoodmusic and which is your relation to punk?
-When I went into class 7-9 I liked punk. One week I saw Köttgrottorna three times. Once when I saw Stockholms Negrer the singer didn´t come. His stoned brother was the one who sang instead. Otherwise is my musical way like this.
Elvis – Kiss – Köttgrottorna – Miles Davis – Crosby Stills Nash & Young– James Yorkston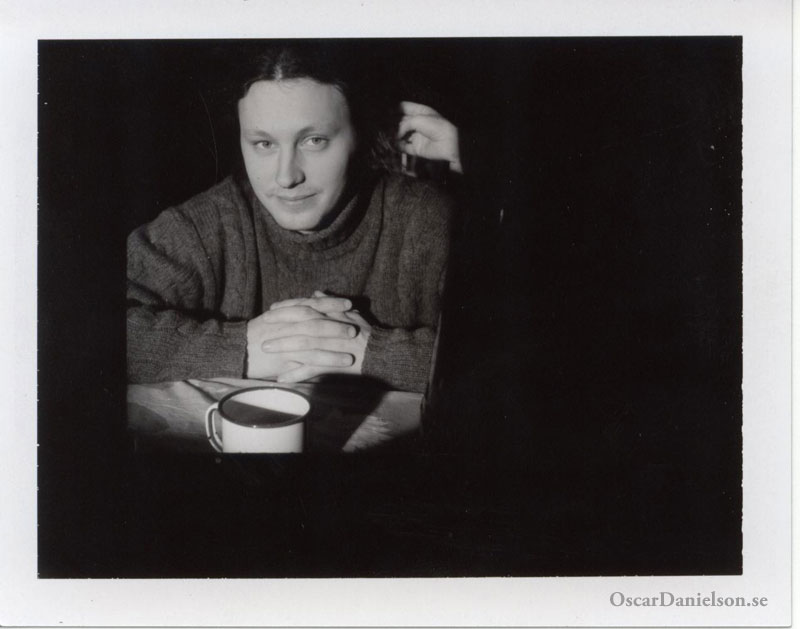 Have you been in a band anytime?
-I was in a band called The Sofa.
Please rank your five favouriterecords, five favouriteconcerts and five most important things in life?
Records:
1. Crosby Stills Nash and Young – So far
2. Nick Drake – Pink Moon
3. Miles Davis – Kind of Blue
4. Beatles – White Album
5. Neu – Neu
Concerts:
1. Dio on hovet 1983
2. Iron Maiden on hovet 1983
3. Scorpions on hovet 1983
4. Kiss on hovet 1983
5. Wasp in Glädjehuset 1983
Things:
1. Family
2. Friends
3. Calmness
4. Sailing
5. Philosophy and persian poetry
First, last and most expensive record ever bought?
-Hits 82 – Lasse Lindbom band and some other. Damien Rice – 9. I don´t know but the most expensive book I have bought is a one that Stig Claesson wrote about the Lage Lindell. It costed 650 kronor.
The most embarrassing record in your collection?
-RZA as Bobby Digital
You have thought about singing in english?
-No.
Is it many interviews? Is it boring?
-It´s fun to do interviews.
The question you never get but you want to have, please ask it and answer it?
-Why did Seneca took his life? Because of that Nero said to him to do it.
What do you like to live in Sweden, what´s best and what´s the worst? Politically?
-Sweden is good. The country is living. But it´s bad that you cannot smoke out on bars. That worries me a little.
If you get the chance to change three laws, which would you take and how would they be instead?
-I wouldn´t take that chance. I wouldn´t do that. That´s not my strong side
Vesper is your company…how does it work?
-It´s so that we give out records with ourselves and with our friends. Now we don´t have so much monety left so we will see how it goes. And it´s really workful to give out records.
Is it the dream to be on a smaller label or would you want to be on a big label?
-I want to be on a big label and earn money. I need money(Which makes me think about a song with Köttgrottorna who begins: "Jag skulle vilja ha … jag skulle vilja ha … jag skulle vilja ha … PENGAR!" It was a long time since I thought about that song. I had it on a vinyl but I forgot it on the metro)
Futureplans with the music?
-Breakhtrough with my christmassong in december when it comes. It´s called "Jag kommer hem igen till jul" and it will be played a lot on radio.
And for you as a human being?
-Take a break from the world and be with my family and my friends.
Wisdomword?
-My lack is my competence.
Something to add?
-Think about the seven you gave me on my review. Thanks for the interview Peter.