On Trial UK plays a really good sort of punkrock in the old english vein of bands like Mega City Four etc. I really like them and I can imagine that you will too. Here´s the interview done with the group in april 2015
Please tell me a little bit history of the group?
-We started out as "On Trial" about 10 years ago only recording demos and putting on live shows that involved lots of fake blood ,devil and vicars costumes,fake babies pulled out of stomachs and various sex toys along with a lot of alcohol and nakedness …. Actually a couple of things still remain !
After a brief flirt with the name "The On Trial Organisation" we became "On Trial UK" when I teamed up with my long term nemesis Fuzz who plays guitar.

Please tell me a little about every member in the group right now, age, family, work, interests and something bad about everyone? Earlier bands?
-We are all ageless and our families insist on never being associated with anything to do with OTUK . Work wise outside of the band we teach , sell radars , stack shelves and one guy wings it by doing a bit of writing , buying and selling, stage managing and being a professional drinking partner … You can all guess who does what ….
Doug – Bass – Interests are getting drunk / high … dressing like a mod Liberace and being at the fore front of 3D printing. Bad Thing – He snores and forgets things .
Fuzz – Guitar – Interests are getting drunk , football, making winding up the rest of the band a sport and making up silly dances to 90's Indie songs . Bad thing – He snores and remembers things
Jonny Wah Wah – Vocals – Interests are getting drunk , football , searching for false flags and the real truth about what the fuck is going on and Clowns . Bad thing – I cant think of one … (That's the bad thing !)
Bruce – Drums – Interests are getting drunk , drumming , pretending he's always miserable to wind everyone up and tattoos . Bad Thing – He has a silly car .
We have been in loads …. Glueball , Ceed , Emergency , The Beat Magnets , The Small Fakers , The Deckchairs , The Boxing Stoats , The Crows , Big , Raw Reality , Dan's People ….some more … That's enough …
I can hear both old groups like Mega City Four, Senseless Things? Am I right? Favorites from the past?
-Yes that era is a definite influence but more so Les Thugs and Husker Du who were the catalysts for it all …. And with a bit of Dinosaur Jr. chucked in ..

On Trial UK are you satisfied with the name? How did it came up? Why OK after? Which is the best band name you know?
-Yes we are … we are putting everything on trial not just the UK … the whole world … ideas , attitudes , society we want you all to wake up and think.
Best band name ever ….The Brady Bunch Lawnmower massacre
What´s the best thing with playing live?
-Free Beer and the chance to get all our tension out , also making friends and enemies in one night
And where is best to play? And the worst place?
-Best - Before 10 pm Worst – After Midnight !

How is to play this sort of music in UK right now?
-Great as long as you don't want to make any money or get any radio play but we really do it because we need to and have to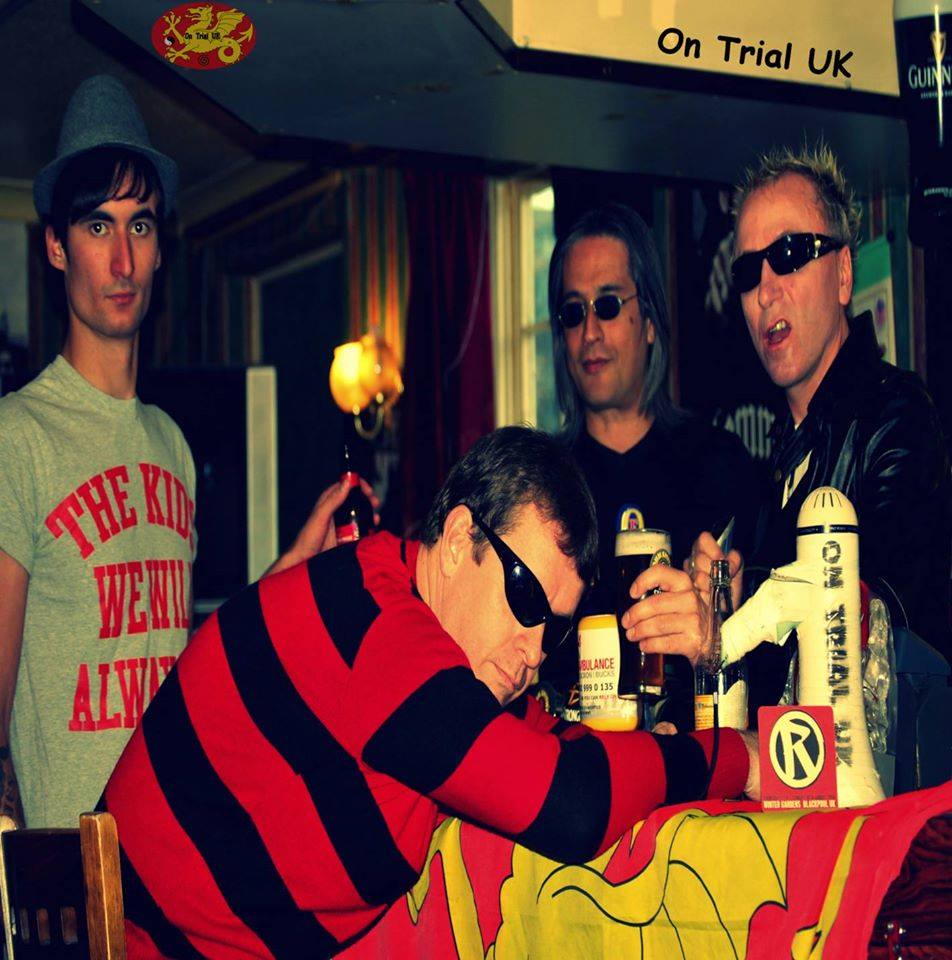 How would you describe your music in three words?
-Sincere , Brilliant , Underrated

What does punk mean to you, is it only a word or is it a lifestyle?
-It's an attitude

How do you see on downloading, mp3 and that stuff?
-It´s ok but the quality is shit and when you buy a cd or vinyl record you get to see the artwork and lyrics relating to the songs so it's the only way to get a feel of what it is all about

How is it to live in UK now? Politically?
-They have us living in fear of each other under the guise that this is the only way we can be safe i.e they are looking after us. We are controlled by stealth and the artificial rise in the cost of living.

Is there any good bands from UK now? Is the punk scene big? How is it in your hometown?
-There are 100's and it would be really unfair to single any out but check the Rebellion Festival line ups every year and you will see most of them ….
It's not big as such but there are still shows in most towns … the venues are going so it's getting harder but it will always survive

What do you know about Sweden?
-It's cold …..and it used to be a very socialist led state but the right wing has been creeping in now for a while … Its full of beautiful people like everywhere if you look hard enough.

Have you heard any good bands from Sweden?
-Yes a few … Besserbitch are my favourite at the moment

Your lyrics, who does them and what influences you?
-I write them and everything influences me absolutely everything from Love to Censorship , from Politics to Serial Killers ….I have a song idea every day

Is there any subject that you never will write anything about?
-No I am a freethinker

Politics and music, does it goes hand in hand?
-It has to if your honest , it doesn't have to be all the time but it affects us all so to ignore it would be silly in my humble opinion

Best political band/artist?
-Crass

Do you think that music(lyrics and so on) can change anyones life, I mean people who listens to music?
-Yes it did mine

Your cover on your CD looks really nice, is it important to have a record cover which shows people which type of music you play? Your favorite record cover?
-No not to show people what music you play but yes very important as it shows what the album is about its as much the songs on it …. Your thoughts about the songs echo in the cover
Favourite record cover …… Ours – "Neuro Law" – Other – Kinda favourite the wrong word but the cover for "Closer" by Joy Division is poignant as it's a tomb and was agreed just before Ian Curtis hung himself …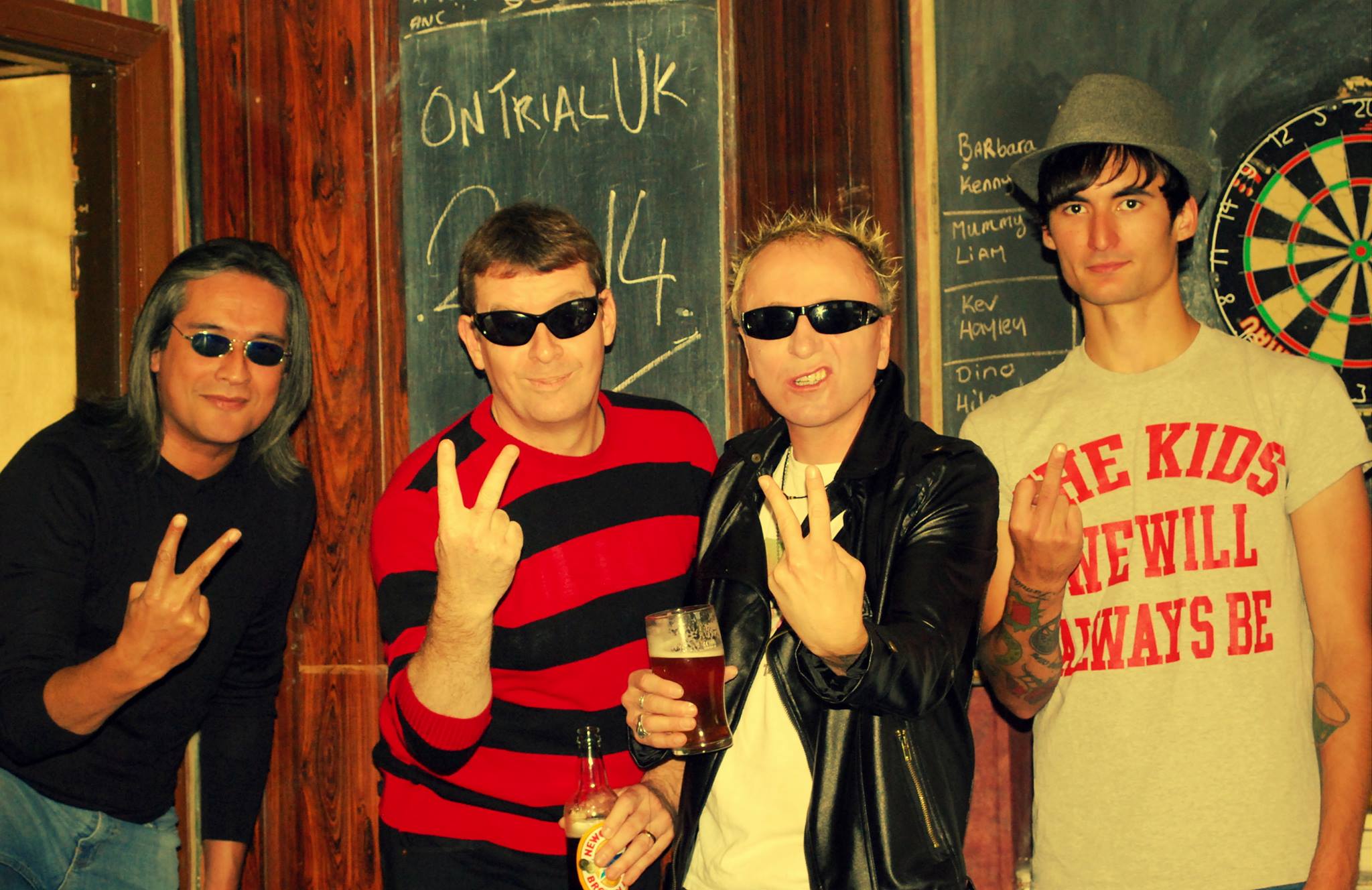 Is it important to get out physical records of your stuff? Why or why not?
-Totally and I think I've explained in past questions .. Quality and overall completion of the work

Please tell me a funny thing which have happened during your career and at some gig?
-So many mad stories … we drink ha ha , you may have guessed .. sometimes we drink a bit , sometimes we drink a lot …. We all have multiple personalities so we clash constantly …. We fight , kiss and cry on and off stage so every night something crazy happens … The best stories are in the hands of our lawyers at the moment to see if they can make the book …but check us out live and you will be a part of one !

How does your audience look like? Which people do you miss on your concerts? Which is the biggest band you ever have played together with?
-They look different all the time as we play to any and everyone but you know Punk Rock brings out the best and most beautiful of them all ..
We have played with lots of "big" bands but I am not here to advertise them … J

Please rank your five favorite records, five favorite concerts and five most important things in life?
-I cant with the bands or concerts as too many but lets just say Sex Pistols , Ramones , Motorhead , The Damned , Ac/Dc , Cardiacs , Jesus Lizard are bands I have to hear every day .
5 most important things in life ….. Free Thought , Love , Truth , Sex and Beer

Is it boring with interviews? Is it much interviews??
-I love them , I do quite a few and I also interview people at Rebellion and other places . I do prefer face to face ones if I'm honest

If you could choose five bands from the past and the history and nowadays and both dead and living bands to have a concert together with your band. Which five have you been chosed?
-Hehe let´s say bands who are no more and can't be again as too many dead…… Ramones , Mamas and the Papas , Beatles , Jimi Hendrix and The Cramps

Is music a good way to get out frustration and be a nice person outside the music??
-Campaign against the things that are wrong in life and make love a lot !

Which is the most odd question you ever have got in an interview?
-Do you like Nazis ….. !!

Which is the question you want to have but you never get. Please ask it and answer it?
-Would you like £1,000,000 to make 10 albums ……… answer … Yes !

Futureplans for the band?
-Just to continue having fun playing live and making great songs that will hopefully mean something to someone

For yourself?
-Stay alive !

Wisdom word?
-Be and Believe in yourself …

Something to add?
-Check our stuff out on Headcheck records come see us live and buy us a beer we will always return the favour ……
Anyone wants us to play In Sweden just get in touch through Headcheck …. J
Links on www.facebook.com/ontrialuk
Cheers Jonny Wah Wah
<![if !supportLineBreakNewLine]>
<![endif]>

<![if !supportLineBreakNewLine]>
<![endif]>