One Night Stand is a really good USHC-influenced Italian band. They send me two records and I really loved them so here´s the story about ONS. September-2014
Please tell me a little bit history of the group?
- Hi guys we are One night stand from Livorno, Italy, the project was born in 2005 but we become a real group when Chico (our drummer) joined in the band in the 2008. We play punk rock/ melodic hardcore and we have 2 records out so far: Final song, 2010 and Nothing Serious, 2014
Please tell me a little about every member in the group right now, age, family, work, interests and something bad about everyone?
- We are all workers, our dream is to live on music but is impossible so I (Giulio) am a coolie as Dario and Chico, Claudio is a floriculturist and Tommy...... Tommy is a fucking white collar ahahahaha
Our principal interests are playing music, eating food and drinking many beers.
Something bad about us? Oh it's easy all of us have a different personality so we always argue for everything, but generally to not come up with anything.
One night Stand how did the name came up?
-. I'm a huge fan of Bill Hicks and my favorite quotes are all in the "one night stand" performance, i love the irony of Bill and his mood represent the style of the band. The name of the band is for Bill Hicks, we are not latin lovers, we are ugly.
I can imagine that you´re fucking good live, is it so?
- We are pretty good, we are not like bands as Propagandhi or Bad Religion who play perfect shows but we yeah, we are pretty good. We have the luck of having a very good drummer, but most of all playing live is what push us to play music, we enjoy so much and we like to think this happiness is passed to the crowd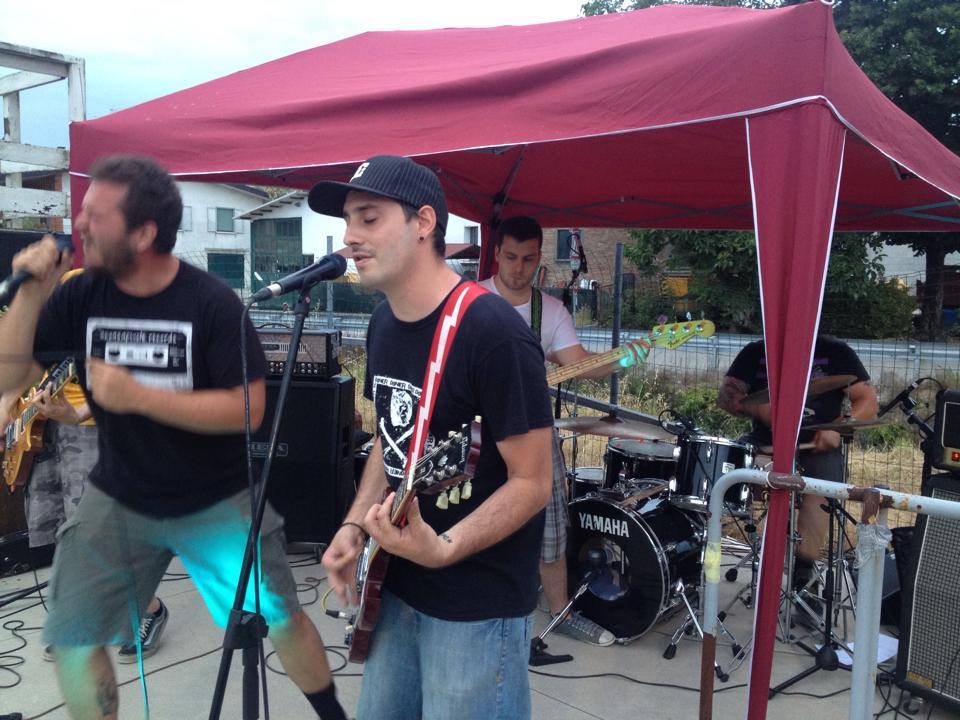 What´s the best thing with playing live?
- We love to play live, that moment when you go up the stage is incredible and all our passion comes out in our shows, and passion, sweat and emphasis it's everything a good punk rock show must have.
And where is best to play?
- Here in Livorno we have a very interesting scene with many good bands and a lots of kids supporting our band. We have an amazing place to play a club called "Surfer Joe". We love to play everywhere, festivals, pubs, squats, whatever let people enjoy music.
How is it to play punk in Italy? I thought it was only raw hardcore which was the thing there?
-.In Italy we had two of the most influential hardcore bands: Raw Power and Negazione and we are really proud about that and all the bands are grateful, but now we have a lot of incredible bands that shines of its own light like Jet Market (RIP), Actionmen, Seed'n'feed, our good friends 7Years and new bands like Biffers and Crosswise decay.
How would you describe your music in three words?
- Fast, Melodic and ironic.
What does punk mean to you, is it only a word or is it a lifestyle?
- Punk rock is a lifestyle, we grew up together listening to punk rock bands and we learned many things with this music like the respect for each other and sharing a passion with others.
How do you see on downloading, mp3 and that stuff?
- Is a good thing, expecially for a small bands, with the new technologies we can introduce our music to everyone in the world.
How is it to live in Italy now? Politically?
-.I´s a big smelly shit. We are a country full of contradictions and our politicians represents our ignorance. In the last 5 years we had 4 different prime ministers, one of them called Berlusconi
a real cancer for our country he have collusions with mafia, it seems like a mafia movie but it's true, it can't get any worse than this!
Is there any good bands from Italy? Do you listen anything to the old bands like Indigesti., Wretched etc?
- We really love old bands, personally (Giulio the guitar player) L love indigesti but my favorite old school band is Raw Power.
Recently a mexican label release a compilation in free download with 36 italians punkrock bands, we are in with a song and there are a lot of good bands, searching "Lasagna for us" on facebok you can discover a lot of good bands for free!
What do you know about Sweden?
-. In Sweden is very cold right? Oh and you have one of the strongest soccer player in all world, Zlatan Ibrahimovic!!!! and to remain with stereopypes, IKEA. Jokes apart, Sweden as all the northern country is a reality a bit far from ous, we know little about it but seems like is the opposite of Italy, well organised, lived by a fair population.
Have you heard any good bands from Sweden?
- Millencolin, Satanic Surfers and No fun at all are the soundtrack of our adolescence, recently we played with Atlas Losing Grip in a festival here in Italy, great guys and great band.
Your lyrics, who does them and what influences you?
- Tommy (the bass player) is the writer of the band, he is influenced from all the things around him, sometimes he dreams a situation and he creates the strangest stories I have ever heard.
we blend a bit of politics, personal thoughts about the human being and useless funny trivial matters.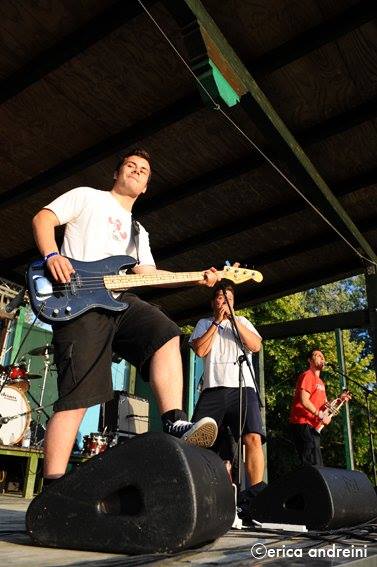 Do you do any covers when you play live, which(if you do) ?
- Sometimes we like to cover some Lagwagon songs, because me and Chico are huge fans of Lagwagon, the last cover was "may 16" because we played on a saturday night on the 16th of May.
Politics and musics, does it goes hand in hand?
- For sure, punk rock is the perfect kind of music to express all the frustrations, especially political frustration. Propagandhi docet. Music is a way to rach people and make them thing, or make them aware of a certain political situation
Best political band/artist?
- We love Chris Hannah of Propagandhi he's the pissed off poet of punk rock.
Do you think that music(lyrics and so on) and change anyones life)I mean people who listens to music)?
-. For me Bad Religion lyrics are the perfect demonstration of poetry in punk rock music, Greg touch your heart and he have changed my life, in better for sure!
In our latest record the song "War of succession" talks about that, music can change people, but many bands have to understand the power in their hands and not waste it, as well the audience should pay more attention to lyrics and meanings.
Have you done anything more than these two records? If you have how can I get it?
-. No I'm sorry we have only these two records out, but now we are working on new stuff.
Is it important to release your records as "real" records??
- Yes, we love to touch records, we love to open the cd's or lp's and sniff it, we are a sort of cd's fetishist. maybe one day my grandson will listen my records, I really hope that.
Please tell me a funny thing which have happened during your career and under some gig?
-One time in a crazy show here in Italy all the drinks -don't ask why- costs only 50 cents!! Needless to say we were all fucked up, during the show I fell on the drums, Tommy hit me in the face with the bass, and other weird things happened which we do not remember, but was one hell of a show. On the way back I throw up in the van. Now that I think about it it's pretty sad.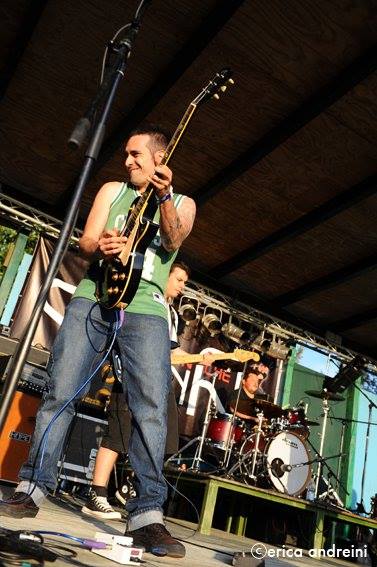 How does your audience look like? Which people do you miss on your concerts?
- There are a lot of new kids that supports the scene and veterans of the punk rock, I'm very proud when a man that have thousands shows on his shoulder says: "cool show bro"!
Please rank your five favoriterecords, five favoriteconcerts and five most important things in life?
- Records: "Trashed" of Lagwagon, "The Decline" NOFX, "Suffer" Bad Religion, "Less talk more rock" Propagandhi and "Making Friends" No use for a name. (not in order)
Concerts: "Punk Rock Holiday 1.1"(with Bad Religion, Nofx, Strung Out, Hot water music, bouncing souls...), Bad Religion in 2009 in Milan (30 anniversary), Nofx maybe in 2007 when they play the entire the decline, Propagandhi in 2008 and the last edition of Punk rock holiday (Nofx, Lagwagon, Authority zero, implants.....)
Things in life: Health, Family, friends, Love and music.
And food of course.
I compare you a little with old bands like NOFX, Bad religion, comment on that? Other bands you have been compared to?
- Thanks is a big compliment for us, we get inspired from new punkrock bands too like A wilhelm scream, Gnarwolves and Belvedere.
And you have got in some ska in some songs too….how come?
- Because we had a trumpet player in the band and we tried to imitate NOFX style, in 2012 Francesco leaved the band so now we follow our mood and play faster songs.
Futureplans for the band?
- In these days we'll release the first video of "Nothing Serious" the song is "Party'n'pool" filmed by our good friends "Arena Toppeghen". after that we are playing in our city with The Shell corporation and in winter we'll be touring in Italy. Maybe next year we'll have a small tour in Europe, hopefully in Sweden as well. We want to play everywhere and meet new people!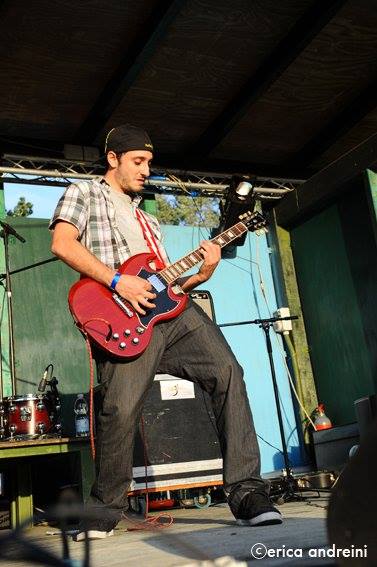 For yourself?
- For me the most and important thing to do is be happy like I'm in this moment and improve my english because my english sucks!
Wisdomword?
-Drink like there's no tomorrow.
Something to add?
- Thanks SkruttMagazine for the support and for all the good words in the review, we really hope to see you one day maybe there in Sweden. follow us on Facebook
www.facebook.com/pages/one-night-stand/101891209900838?ref=hl
You can find a lot of good bands in our label website, there is a lot of music in free download
Bye guys, rock on!