The France band One Life all-in is a good hardcoregroup which includes members from Spudmonsters, Lifeline, Benighted etc. And now they have answered my questions in December 2019
Please tell me a little bit history of the group?
-Franco (bass) : In 2015, former The Spudmonsters / Run Devil Run vocalist, Don Foose appeared as a guest singer on the Seekers Of The Truth album "Oldskull Revenge". Willing to push this musical experience further after that release, Franco (bass) with the help of Clem (guitar), started writing songs and approached Foose to see if he would be interested in doing a side project. Music was recorded and sent back and forth with ideas of what this project would manifest into. It didn't take long to realize that there was a vibe of compatibility and the trio started demoing songs that would soon be re-recorded in Lyon, France under the name One Life All-In. Kevin Foley (Abbath, Benighted) was then brought on board to play drums as One Life All-In entered the studio to record their debut EP "The A7 session" with producer Thibault Bernard at Convulsound Studios in 2017. The band is now working on a 2nd EP for a release due for spring 2020.
Please tell me a little about every member in the group right now, age, family, work, interests and something bad about everyone? Earlier bands? Other bands on the side?
--Franco & Clem both come from the French band Seekers of the Truth
Don Foose was the singer of The Spudmonsters, Run Devil Run, Foose & Lifeline
Kevin Foley played drums for too many bands to quote, the most known are Abbath & Benighted
I can hear much different influences but mostly hardcore music? Favorites from the past?
One Life All-In is a band with a vast array of influences from hardcore, punk, metal, rock and wherever their inspiration takes them.
One Life all-in are you satisfied with the name? How did it came up? You weren't afraid that some other band would be named like this? Which is the best bandname you know?
-We are very happy with our name which is inspired by the H2O song "One life, one chance". There's so many cool band names but the best is probably One Life All-In 😉
What´s the best thing with playing live?
-It's a great pleasure. You give life to the songs and when the audience really get into the songs, singing, moving, jumpin around, it's the best accomplishment you can ever imagine.
And where is best to play? And the worst place?
-Public reactions are sometimes different in different countries. People are somtimes more crazy during the show, others will buy more merch. It depends but I can't say which is the best or worst, it's hard to compare.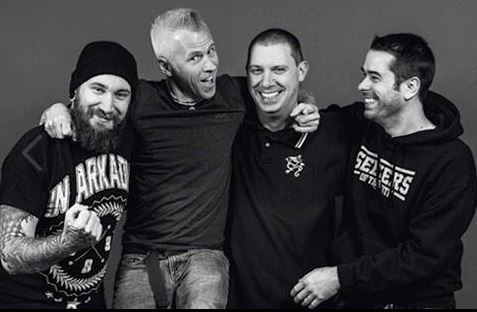 How is to play this sort of music in France right now? Or where do you live? Which types of bands do you have concerts together with?
-It's weird because there's tiny underground shows beside Hellfest which is one the greatest & biggest metal festival in the world. It's the big gap. We played with Sick Of It All this year, it was a blast because we're big fans.
How would you describe your music in three words?
-Positive hardcore punk
What does punk mean to you, is it only a word or is it a lifestyle?
-First of all, punk is a music style that I really love. It's also a way of thinking, a kind of liberty, you're free to do whatever you want.
Which song/album or group was it who took you into punk/hardcore
-It's funny because I was introduced to hardcore by The Spudmonsters, the former band of my singer Don.
What shall a young guy do today to shock their parents as the way we did when we were young? They have already seen everything ;-)?
-Do a young guy have to shock his parents ? I'm not sure. I never did it, I had no reason to do it. They were, and they're still, cool with me.
How is it to live in France right now? Politically? Fascists?
-More and more French people are no longer going to vote because they don't trust politicians anymore, and rightly so. The right wing grow, classical case during crisis time, the history repeats itself.
Is there any good bands from France right now? Is the punkscene/metalscene/hardcorescene big? How is it in your hometown?
-French bands become very good and some have international careers like Gojira, Alcest, Rise Of The Northstar ... There's a lot of underground bands in Lyon but few are known.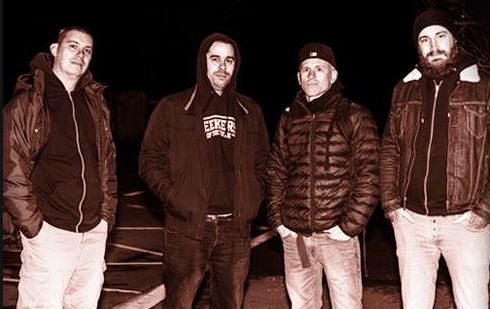 What do you know about Sweden? Have you been here sometime?
-I've never been to Sweden so far. I can tell that we've got a big Ikea store in Lyon 😂
Have you heard any good bands from Sweden?
-There's a lot of swedish bands that I love like Ghost, Backyard Babies, Europe...
Your lyrics, who does them and what influences you? Never in french?
-Don Foose (our singer) write all the lyrics, he's american, that's why we'll never have French lyrics. We want to be an international band anyway so English is natural in fact. Don's lyrics are pretty personal and positive.
Is there any subject that you never will write anything about?
-Fairy tales, dragons and funny things like that. We come from the hardcore scene so we talk about everyday life, about our experiences and what we know.
Politic and music, does it goes hand in hand? Which is your most political song? Is it important to get out your opinions in music?
-As long as you are sincere, you can talk about whatever you want, it's up to each band to decide what is good for them. Whether it's political or not. We're not a political band actually. The important thing is to be true and not to pretend to be anything else. People are not stupid and see if you cheat.
Best political band/artist?
-An 80's anti-fa French band called Bérurier Noir, they doesn't exist anymore, they were great.
Do you think that music(lyrics and so on) can change anyones life, I mean people who listens to music?
-It's hard to say, I can only speak for myself : yes, music changed my life, it accompanies me every day. Hardcore kids & metal heads listen to us but everybody is welcome, no matter which scene you come from.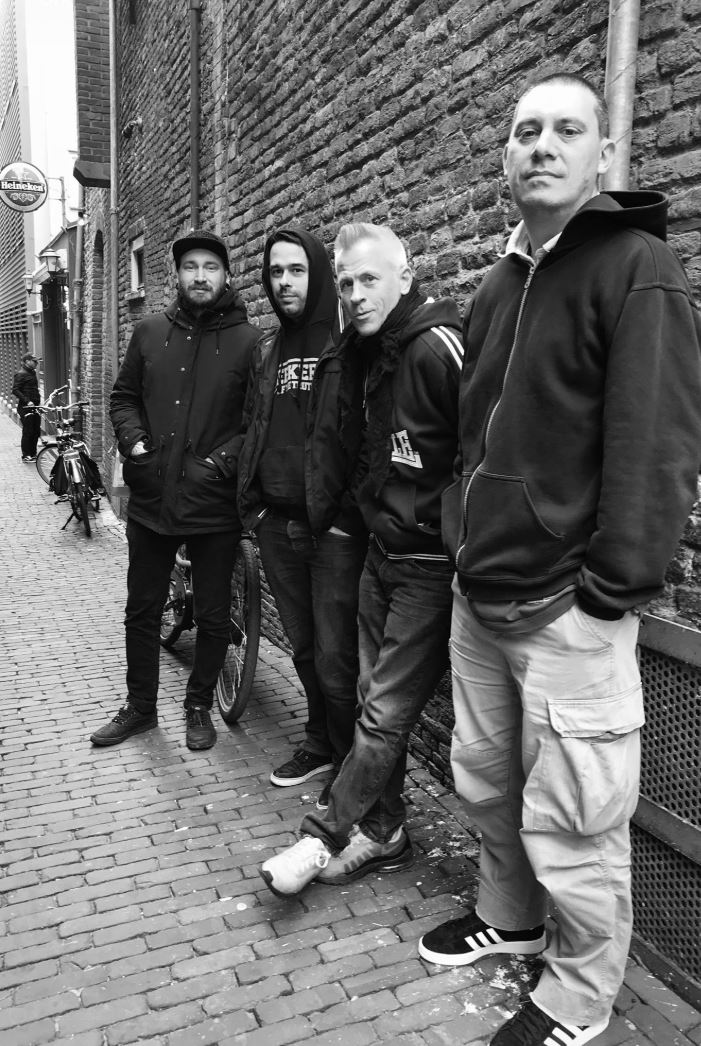 Your favorite recordcover alltime? Who does your recordcovers? And do you have any good recordstores in your hometown?
-The first 8 Iron Maiden's albums are great. Dave Quiggle has done our next EP artwork, he's quite famous, it will come out next spring. We still have a cool record store in Lyon called Gibert Joseph.
Is it important to get out physical records of your stuff? Why or why not? Vinyl, CD, cassette, what do you prefer if you could choose whatever ? Why the name A7 Session?
-I still believe that some people wants physical stuff, me first, I still buy some cd's each month. I'm a cd guy. Our next EP will come out as cd & vinyl. "The A7 session" basically refers to the famous A7 club in New York back in the 80's.
Please tell me a funny thing which have happened during your career and under some gig?
-To be hosted after a concert in a squat where the word hygiene has been banned for many years is an experience that I don't advise 😂
How does your audience look like? Which people do you miss on your concerts? Which is the biggest band you ever have played together with?
-Like I said, we can see hardcore kids & metal heads to our shows. The biggest band we have played with so far is Sick Of It All, it was an honor and a blast.
Please rank your five favoriterecords, five favoriteconcerts and five most important things in life?
-5 records in no particular order : Anthrax "Among the living" - Def Leppard "Hysteria" - Sick Of It All "Call to arms" - Biohazard "Reborn in defiance" - Toto "Tambu"
5 shows : Suicidal Tendencies in Paris, France 1993 (amazing) - Pink Floyd in Lyon, France 1994 (beautiful) - The Spudmonsters in Lyon, 1995 (revelation) - The Rolling Stones in Prague, Czech Republic 1995 (more than 125000 people in the audience) - Sepultura in Belfort, France 1996 (intense) -
5 most important things in life : Love, health, music, human relationship, have goals
First, last and most expensive record ever bought?
-1st : Genesis "Invisible touch" in 1986
Last : Billybio "Feed the fire"
Most expensive : Airbourne "Ready to rock" EP
Is it boring with interviews? Is it much interviews?
-It's not boring because interviews means that people give you their attention, you can only be grateful for that.
Do you care about reviews? Which is the most peculiar you ever had, with this band or any other band you have been to?
-Of course I care about reviews, It's about my music, it's important for me so I like to know what's being said.I don't have any peculiar stories to tell about reviews, sorry.
Which bands do people compare you to, is it boring that people compare you to other bands or is it understandable?
-We were very much compared to Life of Agony & Anthrax. 2 bands that I love so it's not a problem at all.
If you could choose five bands from the past and the history and nowadays and both dead and living bands to have a concert together with your band. Which five have you been chosen?
-Sepultura - Sick of it All - Anthrax - Madball - Rancid
Is music a good way to get out frustration and become a nicer person outside the music??
-Absolutely, music lets you let off steam whether you play or listen to it, it's healthy in a way.
Which is the most odd question you ever have got in an interview
-It didn't happen so far, I don't have any funny stories about odd questions, sorry.
Which is the question you want to have but you never get. Please ask it and answer it?
-I would like to be asked "why", which will allow me to answer "because" 😂
Futureplans for the band?
-Our 2nd EP "Letter of forgiveness" will be out next spring. A video for the title-track will be released before. We'll try to tour as much as possible to support this new record.
For yourself?
-Be happy & healthy.
Wisdomword
-Be positive & everything will be ok.
Something to add?
-Many thanx for the interview & the support. I hope to play in Sweden one day. Tell the promoters to bring us in your country 😉