A really good and interesting streetpunkband is the new band Oldfashioned Ideas which was so kind and answered a lot of questions from me in the end of november. Buy their record… …..
History?
-(Niclas) We began to play in the end of 2009, I and Per talked about doing something together because we hadnīt anything to do and Gustaf came in on drums and then after that it have been going on really fast.
Please tell me a little about every member, age, work, interests and something bad about ever one?
-(Niclas) This will sound like a contact ad but sure…36 years, have divided care about 2 kids, works with stagelight and plays punk in my spare time…Something bad, that shall maybe someone else answer….I think Iīm good right through my whole body, hahaha.
(Per) 33 years, lives in Malmoe and works as a janitor/servicetechnician. Heīs enjoying most with watching film/TV and listen to record on my spare time. i
(Gustaf) 26 år, single, works with food, drives motorcycle. The horrible with me must be my duckliverdepending;)
Are you or have you been in any other bands?
-(Gustaf) I play in Vindicate This! And a new project with some people from
Royal Stakeout.
(Niclas) The latest band I was in was Doughnut Overcook, but it was a while since that. It was some years of not playing depending on children etc...
(Per) Have played in really many bands of different quality from really bad trallpunkbands to hardcoreprojects with havenīt really gone all the way. The longest project in modern time must be when I was in Skunks United which was playing between 2000-2007 with a peak of really much activity 2003 and then it wasnīt anything more.
Oldfashioned Ideas, do you think about old skinheads and the original thoughts without racism and so on or how did you thought about your name?
-(Niclas) Itīs surely one thing you can read in the name but the thought from the beginning is that it was a style which goes back in time, pure and simple.
(Per) As said you can read a lot of different things in the name but the thought with the band was that we didnīt had to invent the wheel agaian and instead playing punk in the same way as many other have been done before but with our personal touch of course.
It looks like two of you are skinheads, is it anything you must defend yourself for?
-(Niclas) Not as a band, it have never been any talk about that. How it is in privatelife must the other say....
(Per) Not not really. We plays for ourselves and for those who wants to listen. The rest of them we donīt have any contact with and itīs surely people who can find things to be angry about. But the people you had to defend yourself against then isnīt interested of our music anyway.
(Gustaf) Iīm a biker not a skinhead. But itīs surprisingly little nowadays. It was more of that when you were in your teens.
Wasnīt it in Växjö the old lady hit an umbrella in the head on some nazi on a demonstration, that classic picture?
-(Niclas) Itīs right. The old lady with the umbrella. She donīt have to use that umbrella so much nowadays because skinheads are very rare in Växjö nowadays.
Öster, are you interested of football? Is it Öster which is the thing or what?
-(Niclas) Not so much actually. In clubniveau I cannot be engaged. I think it can be fun to look at the Swedish team. But I like the culture around it so I would like to be more interested. I have nothing against to be with the other on a pub and take some beers and look on the TV a little sometimes.
(Gustaf) I love football but not Öster. I support Arsenal
and have really good check on english football. Swedish football isnīt so interesting but I can see myself as a support for my Malmocomrades.
(Per) I follow Landskrona BoIS in the second division and Newcastle United in England. Black and white are always best if you donīt count with Juventus.
Now to your lyrics....Spirit of 95, what is it about?
-(Niclas) That song is about how it was in the 90īs when Per and I was small young punkboys. For Gustaf itīs about to start in fourth class, hahaha.
(Gustaf) That was the times.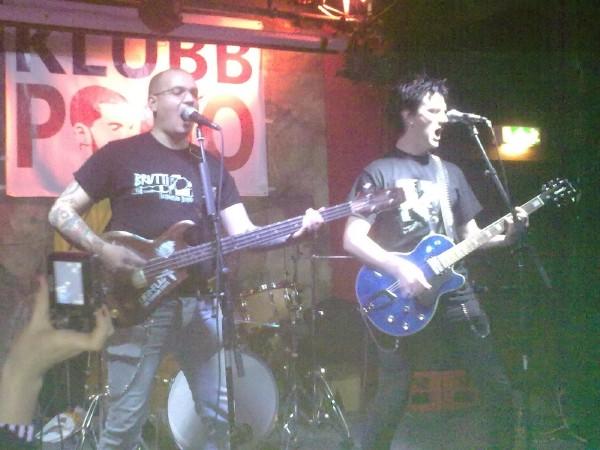 Young and foolish,why a song about 1964 and the riots between mods and rockers?
-(Niclas) That song came up from an article we found in som old issue from 1964 of the english daily paper Guardian which was about the riots in the english westcoast beetween mods & rockers. The headline was Young and foolish - with oldfashioned ideas, and then we was forced to do a song about that.
(Per) The song was done because we couldnīt avoid to do a song about that. But it takes up the timeless phenomenia about how the wellestablished middleclass and restricted adult world miss the ability to understand youth culture and why those things is happening. Itīs easier only to say that theyīre young and foolish so you donīt have to take any responsiblity for themselves how the society looks like.
Your audience is a mix of punks and skins or how is it?
-(Per) Yeah, itīs very mixed could you say. Malmö is a very mixed city and different types of punkstyles and different ages and all go to other bands gigs.
(Gustaf) Yeah, thatīs the way I think but I think that other rockenthuasists can appreciate us too ;)
How does the scene look today for a band of your dignity?
-(Gustaf) Overall itīs looks well, now havenīt we taken ourselves round and played so much live yet. It would be fun to play in Europe too.
(Per) It looks really OK. Really much gigs around in Sweden and in Malmö thereīs some clubs which have good music. And Pogo is among them who have focused on oi and there it have been really good gigs.
Is there any good swedish bands?
-(Niclas) Yeah, aobsolutely. Antipati, On the job, CDCP, Clichés, Vindicate this!, thereīs a lot.
Outside Sweden?
-(Niclas) Many, but nowadays I listen a lot to Black Marias, fantastic good band. (Per) I listens to many foreign bands and itīs everything from old British classics to modern bands and I have always have a love to german oi.
How do you think it is to live in Sweden otherwise?
-(Per) Sweden is in many way a nice country to live in. I like the climat almost. Is the winter too bad you appreciate the summer more. If we compare with other so do we have it better here with wages, worksecurity, unions and welfare. But you cannot say that this is a happy place. And the ground safeness we think is here in Sweden isnīt so obvious nowadays. The whole world is becoming more and more like each other. The politicans in Brussels is more and more loyal to each other than to the people theyīre saying theyīre talking for in their homecountry. In that space it come foreward a lot of suspects organisations which are talking about simple solutions. And then it comes out a load of shit with racism, extreme religious things and other shit. The simple solution is that the ones who decides are corrupt and trea tus like shit even if there is immigrants or not. As you understand so havenīt I so much confidence for any political organisation overall. But otherwise so is Sweden a nice country.
(Gustaf) Could be better but we have it rather good here in old Sweden. Now I must find a work so I donīt have to travel to Denmark and work.
Weīre in this shit together, what shit are you going through?
-(Niclas) Life...
Is this your debutrecord?
-(Niclas) Yeah, this is the first we release. There is some sort of livedemo in an early stadium, but this is the first real thing we release.
Where do you stand when we talk about mp3 and downloading and that stuff
-(Niclas) It depends. Now isnīt it so for us but do you think you will earn any money on our music so isnīt it good. Now have never the money been any thing for me which drives me forward so for me itīs no problem. But I understand that sides thoughts about it too. On the other side we can have a lot of use for it, we have had a lot of help that people have listened to My Space etc for example. If this is something which is going to be something bad for big record labels I donīt give a damn but small own produced record is depending on selling some records anyway so it pay back what you have paid and there it is more personal. The one who is interested will be continuing to buy records and the other people can maybe see hear some good music through downloading.
(Per) My personal opinion is that I havenīt anything against downloading. Of course there is some negative aspects for some. But as a wholeness so is it only a challenge of the big record labels which only sit there and cash in money. I will always buy records which is worth to buy. I support all punkbands that I can. It will never be uninteresting to buy music for me. Music for me is a combination of lifestyle, friendship and a way to meet people. The most of the people who is doing punk I hope and believe have a big love to the scene in a broad meaning and support always. If people steal Orup and ABBAs music so do I donīt give a damn about that. Can you download our record so do that.
Is it many interviews?
-(Niclas) I donīt know if itīs much but some have it been. But itīs only fun.
Is there any interest from outside Sweden?
-(Niclas) The interest is really big from other countries actually. We have sold more records than in Sweden, this far. Mostly in Germany there they seems to like us. But we have our records on distros in Czech republic, Slovakia, England, Italy, Finland and in Spain. We have done some interview with a fanzine from Ukraina and been played in radio in Canada so the spread is very good.
The guy on the cover, who is that?
-(Niclas) The guy on the cover is a girl and sheīs named Sandie. The picture is taken sometime in the 80īs in Linköping.
Please rank your five favourite records, five favourite concerts and five most important things in life?
-(Niclas) You can get 6 records: Cocksparrer - Shock troops, Dead Boys - Young loud and snotty, Stiff Little Fingers - Inflammable Material, 999 - Biggest prize in sport, Control - Hooligan rock n' roll, Black Marias - Clockwork army. There is the four first all-time favourites and the last ones favourites right now.
(Per) Records: Cock Sparrer - Shock troops, The Opressed - Oi Oi Music, Last resort - Skinhead anthems, Angelic uppstarts - 2000000 voices, Asta Kask - Aldrig en LP (Much classic stuff which will last forever).
(Per) Concerts: CockSparrer - London, CockSparrer - London, CockSparrer - Berlin, CockSparrer - Venedig, CockSparrer - Copenhagen. Silly but true, theyīre my Rolling Stones.
(Niclas) Can almost sign that list too, really good concerts all of them.
(Gustaf) - Family, Friends, The music, the motorcycle, The Meat stew.
The first, last and most expensive record ever bought?
-(Gustaf) The first was probably Iron Maiden - Killers, the latest was the Looking for trouble cd-splits. Instead for the most expensive so do I take the most cheap one, I bought Strength Thru Oi at a drug addicts home. He was selling everything he own and I bought it for 35 swedish krona.
(Niclas) The first record I bought for my own money was some Kiss-record I think. The first punkreocrd was some bootleg with Sex Pistols and the latest was Black Marias. Cannot remember buying some really expensive record actually.
(Per) The first record I bought was a cassette with Kiss. The first punkrecord was the LP Rika barn leka bäst with KSMB (still a personal favourite) I have never bought expensive records.
Most embarrassing record in your collection?
-(Niclas) Not any embarrassing record actually but I have some Televinken-records I never play....
(Gustaf) I know that many other people think my Lambadasingel is really embarrassing. But say the one who donīt want to put out their pelvis in the forbidden dance after litres of Swedish punch!?!?!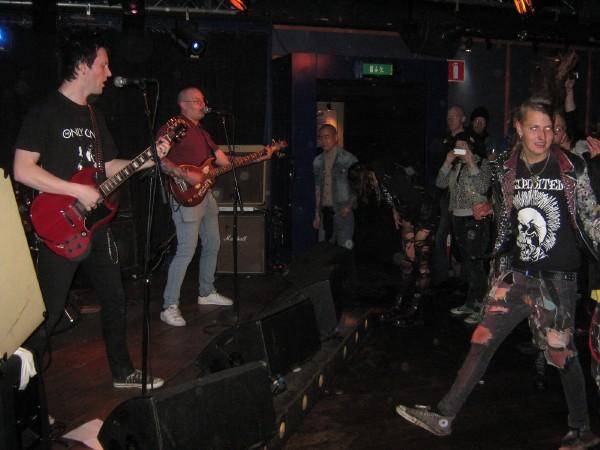 You didnīt do a burned record, you did a real record, why?(Very good I think)
-(Niclas) It was never anything we thought of doing, to release a burned record, we worked all the time of doing a real record.
Only english lyrics, never any swedish lyrics?
-(Niclas) I donīt think we ever will do any swedish songs, not on record anyway. There is so many which are doing that so good, Antipati for example but for me itīs really difficult to go over and write in Swedish but who knows in the future.
Futureplans for the band?
-(Niclas) A single is already recorded and will come out in a near future I hope. And then we will play in Malmoe with Last seen laughing and Skinfull in january and then we maybe do some gigs outside Sweden , most in Germany. We have got some questions from Germany so we hope to follow up these if everything go the way we think.
For yourself?
-(Niclas) Nearest thing is Christmas with my kids and then we will see what next year will gives us.
(Gustaf) Find a work in Sweden.
Wisdomword?
-(Niclas) You only get some chance sin life to do something that people remember so do the right thing when that time comes. Make it count. Whatever itīs about.
Something to add?
-Thanks a lot for the interview, please see us if you get the chnace and for godīs sake buy the record and a t-shirt from us at once,