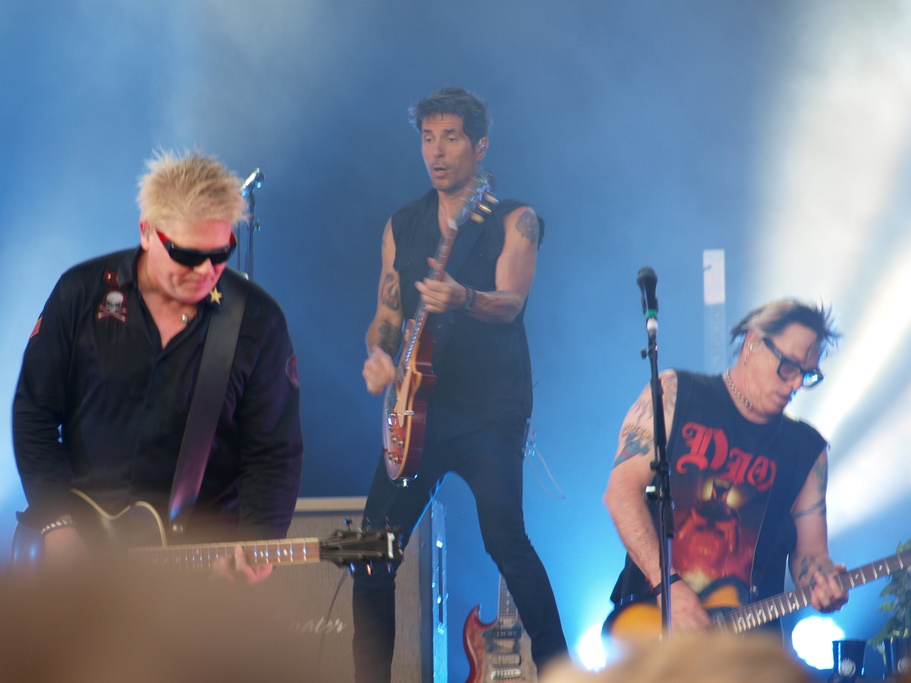 Jag hade helt missat att NFAA skulle spela förband till Offspring denna varma kväll när Sverige precis hade tagit sig till åttondelsfinal i fotbolls-VM. Jag brukar vara där i tid för att få en bra fotoplats och var i tid denna gång när jag kryssade mellan svenska gula landslagströjor för att komma till Stora Scenen. Soundcheck tänkte jag och kom då på att NFAA skulle spela som förband. Jag fick höra fyra låtar och varav en av de var Master Celebrator och det är jag i alla fall nöjd med. Annars tycker jag Ingmar som sjunger är en rolig typ för han ser helt malplacerad ut men sjunger så bra!
Offspring såg jag första och enda gången hittills 1994 på Musikens Hus och då var jag med och hjälpte till lite grand och fick den eminenta uppgiften den gången att vara vakt på scen och min uppgift var att putta ner folk som kom upp på scenen och kasta vatten på dem eftersom det var så varmt i lokalen. Jag lyckades sådär den gången. Jag lyckades snubba och få vatten i medhörningen men det hände inget som tur var och när Dexter Holland började att dra upp alla på scenen gav jag upp. Men det här var ju 24 år sedan snart och mycket vatten har runnit under broarna som man säger.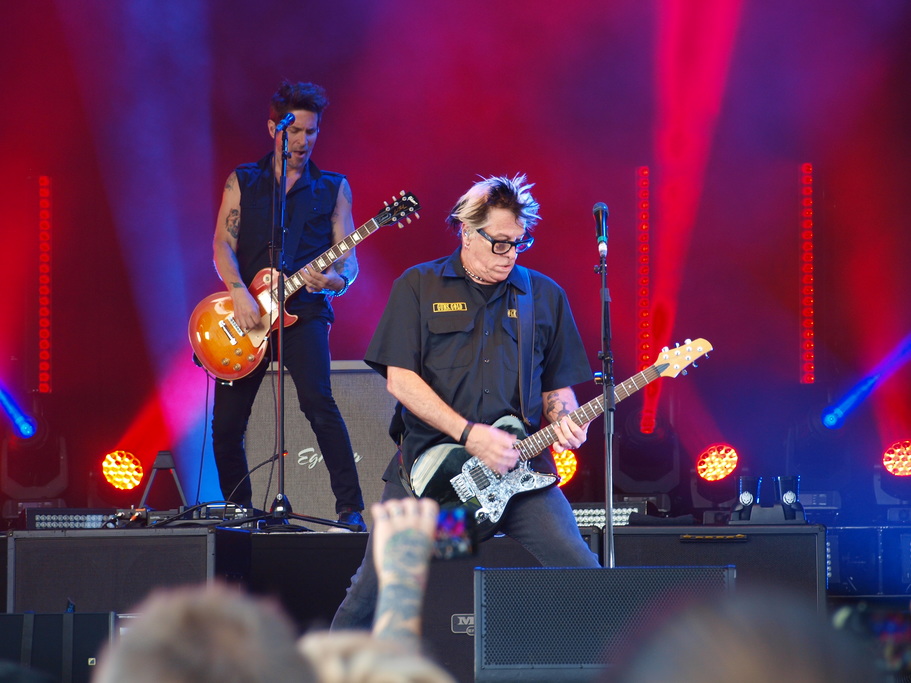 När Offspring kommer in på scenen så ser man att de har åldrats men både Noodles och Dexter är pigga som bara den. Ett ganska bra ljud ackompanjeras av låtar som Pretty Fly, Come out and Play, Self Esteem, Why don´t you get a job och The kids aren´t alright för att saga några låtar. I låten I want you bad visar Offspring upp sin riktigt powerpunkpoppiga sida och det är bra…riktigt bra. Dexter sjunger som bäst när han ägnar sig åt att bara sjunga och inte spela gitarr tycker jag. Det som är så underbart med Offspring att de liksom Misfits till exempel har körer som man kan sjunga med i utan att kunna låten innan och det blir mäktigt att höra flera tusen sjunga med i de körerna. Jag tycker att Offspring gör en riktigt bra konsert och de är på bra humör och jag skulle gärna se de innan 2042 nästa gång. Som vanligt en publike som är mellan 15-70 år…kul.
NO FUN AT ALL
I had completely missed that NFAA would play as a support to Offspring this hot evening when Sweden had just reached the next stage in the World Cup in football. I usually stay there on time to get a good photo spot and I was on time this time when I crossed Swedish yellow national team shirts to get to Stora Scenen. Soundcheck I thought, and then realized that NFAA would play as a supportband. I heard four songs and one of them was the Master Celebrator, and I'm certainly pleased with that. Otherwise, I think Ingmar who is singing is a fun type because he looks completely misplaced but sings so well!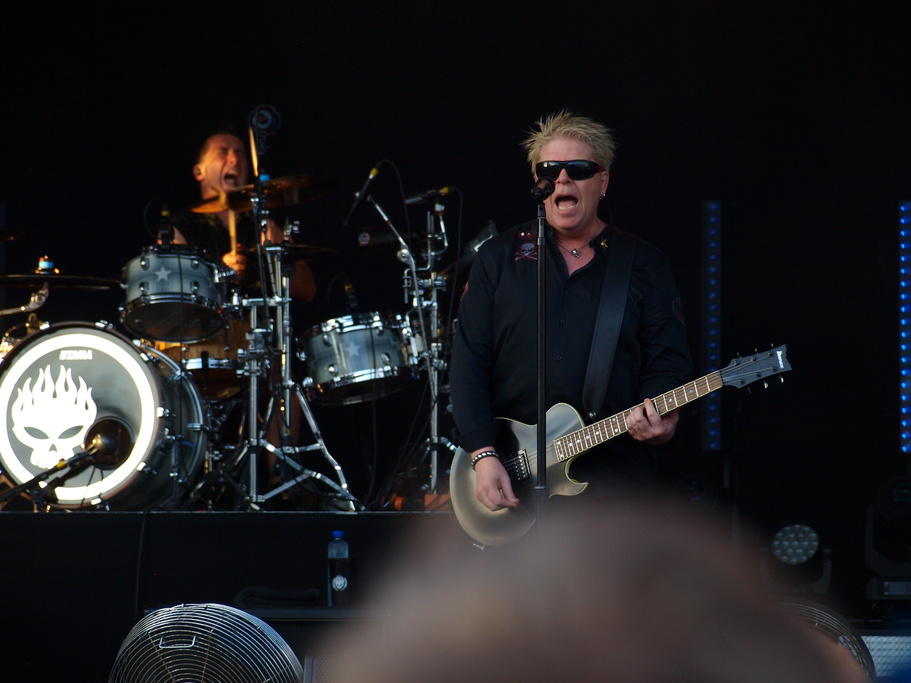 Offspring I saw the first and only time so far 1994 at Musikens Hus, and then I was helping a bit and got the eminent task at that time to be on stage and my task was to put down people who came up on the stage and throw water on them because it was so hot in the room. I succeeded not so good in that way. I managed to stumble and get water in the equipment, but nothing happened luckily and when Dexter Holland started pulling everyone on stage I gave up. But this was 24 years ago soon and a lot of water has flowed under the bridges as you say. When Offspring enters the stage, they see that they have grown ages, but both Noodles and Dexter are just as good as always.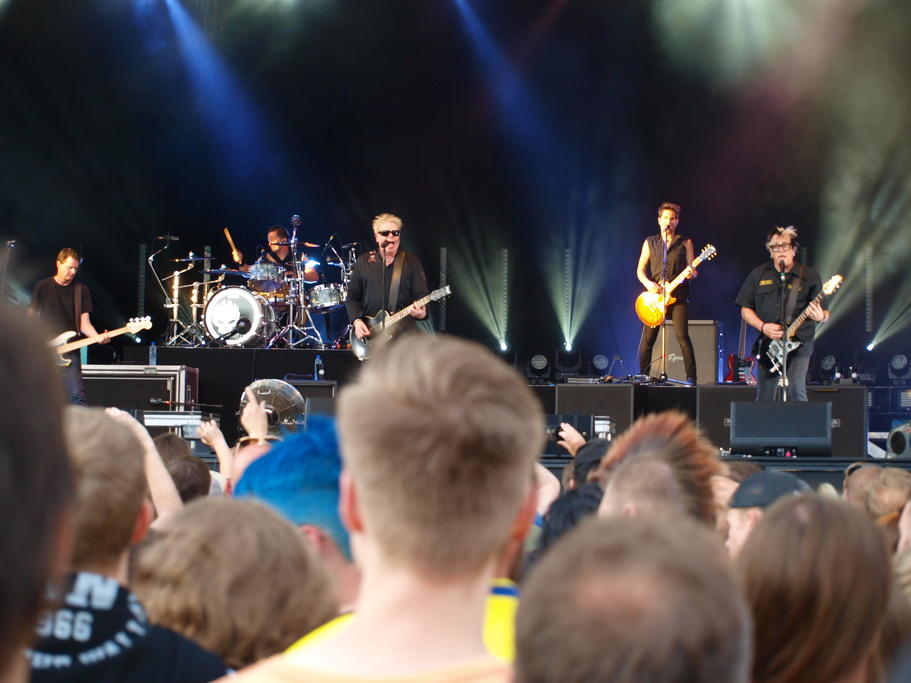 A pretty good sound is accompanied by songs like Pretty Fly, Come Out and Play, Self Esteem, Why do not you get a job and The kids are not alright to tell a few songs. In the song I want you bad Offspring shows up his real powerpunkpopstyle and that's great ... really good. Dexter sings best when he's just singing and not playing guitar I think. What is so wonderful with Offspring that they like Misfits, for example, have choirs that you can sing with without being able to sing along even if you haven´t heard the songs before and it becomes powerful to hear thousands of singers singing in those choirs. I think Offspring makes a really good concert and they are in a good mood and I would love to see them before 2042 next time. As usual an audience which is between 15-70years….fun!