Oceansides comes from Germany. They have a new record out now. Some mix of emocore and poppunk is the music they play. Look after them now. March-2023
Please tell me a little bit history of the group?
-In early 2019 two friends Nico and Mike decided to revive their old idea of creating a band. Soon the first Song was written. Together with Maxi and finally Marvin the quartet was complete and thenceforth known as Oceansides. With pop punk as their foundation and several influences of emo, alternative, punk and hardcore songs over songs came into being paired with meaningful lyrics telling honest stories about love, friendship, fraud, the past, (mental) breakdowns and most inner feelings
Please tell me a little about every member in the group right now, age, family, work, interests and something bad about everyone? Earlier bands? Other bands on the side?
-At first this is our lineup:
Mike: Drums
Marvin: Bass
Maxi: Lead Guitar + Backing Vox
Nico: Rhythm Guitar + Main Vox
Age is pretty easy, everyone of us is 24 years old right now, Nico will turn 25 in November, we're all either in a relationship (Marvin, Mike, Nico) or single (Maxi) and fitting to that, we're all working either in an industrial job as Electrician or Mechanic (Marvin,Mike,Nico), Maxi is currently studying medicine.
We're basically all interested in skating, although Maxi only started last year, and Nico this year, the other big interest next to making music, is actually listening to music and discovering new bands and artists
Everyone has got some bad habits and stuff, don't know if there's anything special about ours
Except for Mike we all have played in different Bands earlier, they all were in the rock and metal genre.
But every side band we ever had in the past wasn't that serious and motivated to reach more than just playing at the local pub, so they all got canceled sooner or later.
There is no side project of a member right now
I can hear much different influences but much emocore and poppunk etc? Favorites from the past?
-That is true! We're huge Pop Punk, Emo and Metalcore/Hardcore fans! These are basically the main genres we're listening to and also try to write our songs around.
Favorites from the past are: Blink 182, Sum41, Rise Against, Foo Fighters, Stand Atlantic, Belmont, The Ghost Inside, Thy Art is Murder, Architects, Movements, Polaris, Parkway Drive

Oceansides are you satisfied with the name? How did it came up? What does it mean? You weren't afraid that some other band would be named like this? Which is the best bandname you know?
-We are totally happy with our name! We are all big fans of topics close to water/the sea and also wanted to get a maritime name (This also happens to our song lyrics and names). Maxi found a city in America called Oceanside and we all liked it very much the time he told us.
I think there already are bands that are named very similar, but that doesn't bother us.
A few bandnames we really appreciated: Being as an Ocean, Stand Atlantic, Chase Atlantic, Lower than Atlantis

What´s the best thing with playing live? What is your strength as a live band?
-Being together with so much cool people is very cool, because the whole energy of the crowd usually transfers to us during a live set, which boosts us up enormously, and makes a lot of fun!
Our live performance is very motivating to other people! No One usually stands still during the set, because it's very energetic and exciting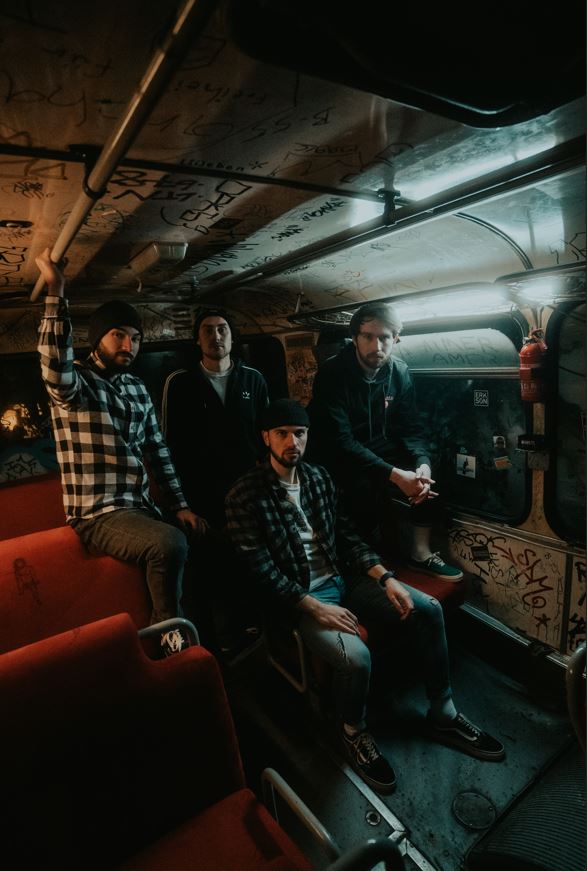 And where is best to play? And the worst place?
-There are a lot of cool and less cool places, but there is none to point the finger at.

How is to play this sort of music in Germany right now? Which types of bands do you have concerts together with?
-It's very fun, you should give it a try as a visitor!
There are y lot of local scenes that are very close together and always helping each other out, as a fan or as a musician or as whatever, very supportive! You should definitely know the corners where the music thirsty people are, but it's always very cool.
We usually play with bands playing almost the same music genre as we do. And if not it's always good to listen to some new stuff!

How would you describe your music in three words to people who never have heard you?
-Energetic, emotional, loud

What does punk mean to you, is it only a word or is it a lifestyle? Have it changed through the years? For you it doesn´t seem so interesting to have a punky look?
-It is a lifestyle, but it changed a lot during the times. Earlier it just meant to have noticeable look and to be against basically everything. But today, for us it's a lot about the individual person and all the life crises a person can experience. There is a pretty typical ,,Pop Punk Look" We all adore a lot, but I think nowadays this a very unique topic, which is great!

Which song/album or group was it who took you into punk/hardcore? And did so you wanted to play yourself?
-Blink 182 – Enema of the State

What shall a young guy do today to shock their parents as the way we did when we were young? They have already seen everything <![if !vml]>
<![endif]>? Or isn´t it necessary to be shocking your parents?
-You shouldn't shock your parents, they are always there for you.
To me personally (Nico), I never ,,shocked" my parents because they are into rock music in general too, and always supported me in making music, so this might be the better alternative, to convince your parents that rock and punk music is very cool!

How is it to live in Germany right now? Politically? Fascists? The antivaxxers? What do the german government says about the war in Ukraina?
-Living in Germany is pretty good right now, due to the war everythings very expensive right now, and also the covid situation got pretty quiet right now. (waiting what will happen in winter),

Is there any good bands from Germany right now? Is the punkscene/metalscene/hardcorescene big? How is it in your hometown?
-There are a lot of great German Bands!
Starting with Donots, Blackout Problems, Itchy and Van Holzen!
The Scene here in our hometown is pretty big to be honest. a lot of local bands sharing the same passion. There also are a lot of another scenes distributed all over the country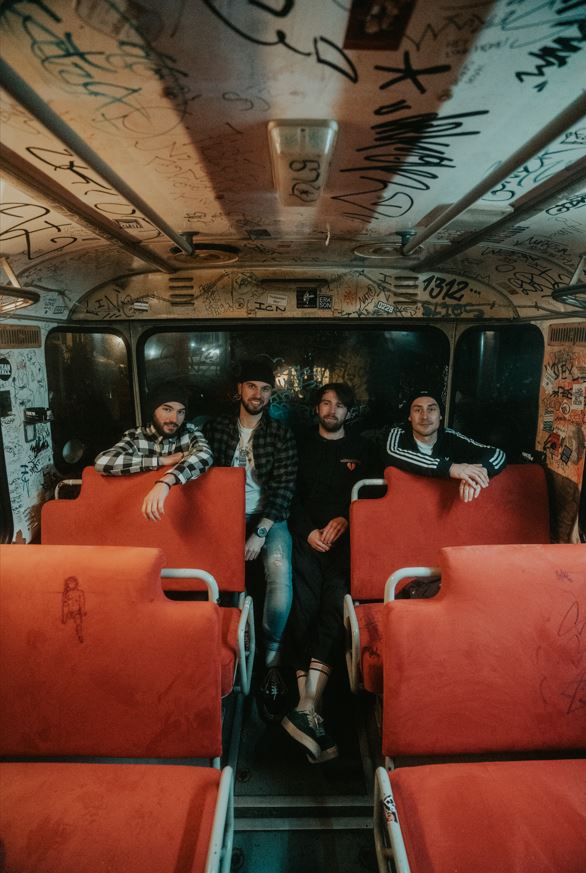 What do you know about Sweden? Have you been here sometime? What is typical Swedish? And what is typical german?

-No one of us every have been to Sweden, but we want to! I (Nico), have been to Finland once, which was very great. Don't know really much about Sweden, but you have a pretty cool language! The only typcal Swedish things we know might be Meatballs from Ikea :D

Typical german things are pretzels, beer, being extremely bureaucratic, and don't understand humor.


Have you heard any good bands from Sweden?

-We really dig Those Without


Your lyrics, who does them and what influences you? Never in german. Please tell me a little about the following songs

-Can´t swim

It's about being alone in todays society which can be very challenging nowadays. You don't get help for granted from anyone which is very frustrating to a person. To me personally this happened a lot during school time

-No escape

This one's about falling in love with someone a little bit too much, which might lead to a kind of toxic relation to your crush so you make yourself completely dependent from a person you might not know very good

-Circularity

Circularity is about hating your job and not wanting to go to work anymore, because it requires so much energy which takes a lot of motivation from you, and you don't really are pleased to anything. It says to follow your wishes and make a life to be happy with

Lyrics usually are done by Maxi and Nico, lyrically we're not that much influenced by anything, cause we're usually writing about personal problems, and always in English


Is there any subject that you never will write anything about? Or isn´t anything sacred?

-Nothing's really too scary to not write about.

But we might never write a political song, because that's not our topic


Politic and music, does it goes hand in hand? Which is your most political song? Is it important to get out your opinions in music? Or is it OK to play music and not sing about politics? Otherwise it is important as a band to show where you stand in political questions as fascism etc?

-We aren't really into political stuff, so there's not really a political song we're into.

We'd never support political extremes but that's it.

It's very important to put opinions in songs and stuff, but we don't do this politically

As long as you don't support anything extreme or bad, you don't have to show it in a big way or anything


Do you think that music(lyrics and so on) can change anyones life, I mean people who listens to music? Do you have any example?

-Of course you can change a life with a good line of lyrics.

Haven't experienced any examples so far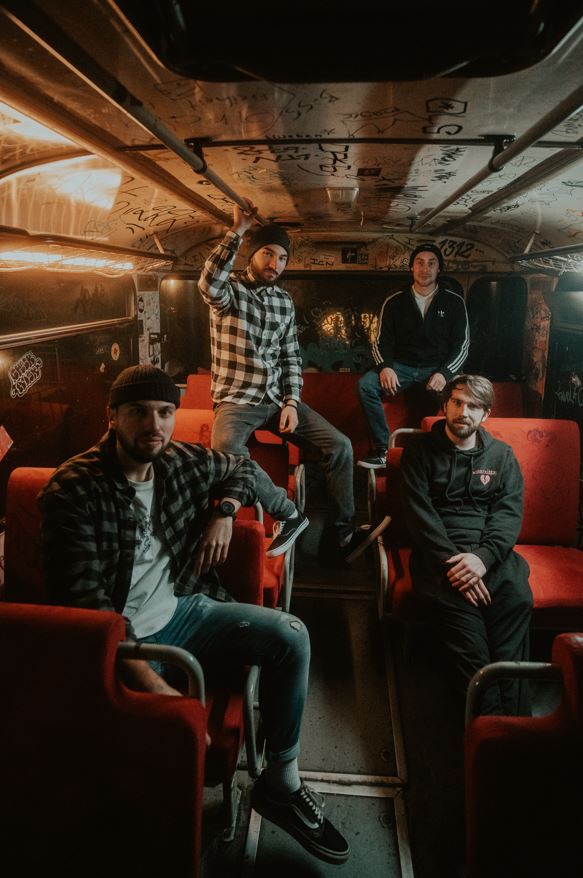 Your favorite recordcover alltime? And do you have any good recordstores in your hometown?
-Blink 182 – Self Titled
Sadly, Recordstores have all died out in our area

Is it important to get out physical records of your stuff? Why or why not? Vinyl, CD, cassette, what do you prefer if you could choose whatever ?
-We really like physical records, and it's still important to get those out.
We're all also very happy that vinyls are coming back more and more

Please tell me a funny thing which have happened during your career and under some gig?
-There happen a lot of funny things while we're all together but most of them are inside jokes, so no one would really get them :D
I once almost threw up on stage because I ate too much chili before a show and everyone just told me not to eat so much, but I was starving to death. During and also after show we had a pretty good laugh on that one.

How does your audience look like? Which people do you miss on your concerts? Which is the biggest band you ever have played together with? Is there any of your fans who have done any "crazy" thing as a tattoo with your name or something like that?
-Biggest we played a show with was the Band Van Holzen on a festival, looking forward to play with many other bands!
Our Audience are a lot of different people from different cities, with different interest, and different music tastes, which is great. And we would love to have even more of everyone!

Please rank your five favoriterecords, five favoriteconcerts?
Blink 182 – Enema of the State
The Story so Far – Under Soil and Dirt
Parkway Drive – Deep Blue
Foo Fighters – Echoes, Silence, Patience & Grace
Neck Deep – Life's not out to get you
Concerts are hard to rank to be honest, some pretty cool concerts were: Sum41, Polaris, Rise Against, Green Day and Caliban

First, last and most expensive record ever bought? Or do you don´t buy records?
-In times of streaming we don't really buy records any more. I bought a lot of Blink 182 records

Is it boring with interviews? Is it much interviews?
-Sadly we didn't have a lot of interviews so far, we hope to have some more in the future!

Do you care about reviews? Which is the most peculiar you ever had, with this band or any other band you have been to? Have you ever changed anything after a bad review?
-We also like getting reviews and all that kind of stuff, sadly we also didn't have a lot of reviews so far to rank anything out.
But in case we'll get a bad review, we'd never change anything because we have our style and if a reviewer wouldn't like our stuff that's okay. Everyone got it's taste which is good.

Which bands do people compare you to, is it boring that people compare you to other bands or is it understandable? And which is the most odd band you have been compared to?
-Being compared is totally normal, because it helps to put a band you didn't know yet, into the right category and stuff.
We totally hope that there won't be too much comparing us, and that people just start liking us simply that way, but like already said, it's normal and it's okay.
We have beencompared a lot to Blink 182 and New Found Glory which is cool!

If you could choose five bands from the past and the history and nowadays and both dead and living bands to have a concert together with your band. Which five have you been chosen?
-Blink 182, Stand Atlantic, The Story so Far, Foo Fighters and Donots!

Is music a good way to get out frustration and become a nicer person outside the music??
-It is definitely a good way to work with your emotions and sometimes also get out angriness and frustration, yes.
If it makes you a better person, is questionable, but might be.

Which is the most odd question you ever have got in an interview?(Except this one)
-Haven't been a lot of odd questions so far. (Germans don't like oddness)

Which is the question you want to have but you never get. Please ask it and answer it?
-We're always happy with what we get 😊

Futureplans for the band?
-A lot of new songs and a lot of gigs!

For yourself?
-A lot of new friends, and having a lot of good times!

Wisdomword?
-Quote (Circularity): And I remember words I once said, we can get better cause we're not dead yet

Something to add?
-Thanks for the questions!

One more question….beerfavorite sort? If you did a beer which sort would it be and what have it been called?
-Lager is the best, if we could name it, would be called Can't Drink 😉