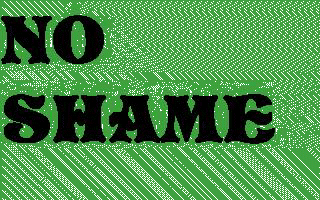 No Shame interview:
First of all I'd like to say that this interview is being answered by Sampsa and all opinions are not necessarily the opinions of the whole band! (we're not a unified product of some image-consult but a real band)
History?
-No Shame was born in Salo (a small town in southern Finland) December 1996! We made our first cd-r "Through it all" in 1997 and soon after that the original rhythm section left and was replaced by Schpex on bass and Teemu on drums. 1998 we made "Hope"-ep (cd-r) and with that we got a record deal with Straightedge records (not related to the movement). Our debut album "Greed is god" came out the next year. We did lot of gigs in local "Helsinki-Salo-Turku" area and started to gain a name as a great live band. November 2000 we released our second full length "Schpunk" which was sold at the ridiculously low price of 2 euros! It was received very well and we've spent the last two years "touring" all over Finland and earned us a place as one of the best known punk-bands in Finland. 2002 we released our first 7" by our friends at Sitruunamaailma and Hardbeat records. We've spent the last autumn recording the new "Rebound for Glory" double-cd which was just released in Finland…
Please tell me a little about every member, work, interests, age, family and something bad about everyone?
-Esa Salokoski(guitar, voc) is the only working man in the band at the moment (a Janitor). He records and mixes all our stuff and does work for other punk/rock bands too. He also makes tattoos, but mostly he just repairs all kinds of stuff (like our amps and guitars after we've broken them on the gigs!) Bad: He's always a goddamn two hours late!
Teemu Horto(drums) is the most musical (plays all the instruments better than the rest of us) He's been in the punk scene longer than any of us (before Schpex was even in school!) All he does is play the drums and takes care of his little baby girl. Bad: He's never satisfied in anything we do!
Schpex(bass/voc) is the youngest of the bunch. All he does is hang out with his friends, drinks beer and tries to keep our web-pages going. Bad: Most people think he's an asshole and people are not entirely wrong!
Sampsa Sarparanta(voc/guitar) Well if I'm not on tour or making new songs or doing flyers or organizing "tours" –then I'm probably doing paintings of my girlfriend, indians, nature, demonstrations or something… Bad: I think I'm so good that there is nothing bad to say about me and that's BAD!
I can hear in your music that you love the things you do and I can hear Husker Du, Sham 69, Rancid and some New Model Army maybe, how about that?
-Thanx. We're definitely doing music we like ourselves and it's always good to hear that others can sense it too. Some pretty good bands you mentioned there so I guess we're doing something right! All of us listen to a variety of good music and of course some of it comes out in your own songs. Still we're not trying to copy anybody but try to sound just No Shame and I think we're succeeded in that more as we've been together longer!
What other bands you've been compared to?
-Usually we hear names like Rancid, Anti-Flag, Clash, Social Distortion…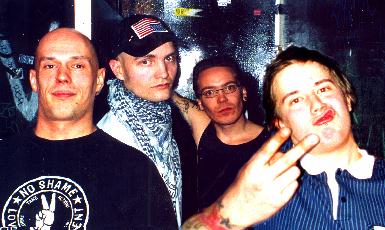 How is a good gig with No Shame?
-We're definitely a live band!!! That's what we think ourselves and that's what our fans say so I guess you should ask them really. You know it's a good gig when you can't really remember what happened on stage (and I never drink before the gig!) you just feel empty and full afterwards. Like really good sex.
How does the average No Shame fan look like?
-I guess they look mostly like punk-, garage- or hc-guys and girls look these days, but I really don't think there is such thing as average No Shame fan! Very different kind of people come to our shows.
How does the audience take an acoustic song like Democracy?
-Well we really didn't know what kind of response it would get just did what we wanted, but it's been received really well so far.
I understand when I hear your lyrics that you're into politics and in the left side, do you play many gigs with political parties?
-No, because political parties don't usually organize gigs here in Finland. But we're always interested in playing some other benefit gigs (like supporting local scenes, Greenpeace, Friends of the earth, anti-racists, animal rights etc. etc.)
Is it important to have politics in your lyrics do you think?
-I think good lyrics can be about anything, but I think you have to write about something that is important to you -comes from your heart! I write about the things that mean a lot to me and it can be more political or personal. Main point is that you believe in what you're saying, that you're honest to yourself- that way you're also honest to your audience!
Can music change anyones life, please give me an example?
-Yes it can. I wouldn't be where I am today and I wouldn't be who I am today if I hadn't heard my dads Beatles and Rolling Stones records when I was 3 or 4, Runaway boys by Stray Cats when I was 7, seen AC/DC live when I was 15 , heard my little sister play the Ramones every day when I was 18…
The European Union meeting in Gothenburg in June 2001, what did you think about as it went out? You weren't there?
-No none of us weren't there. I just think it was kind of sad about what went on.
How's the political life in Finland right now?
-I think in Finland as in the whole world things have been better as the people all around are starting to take action against the injustices of the society. I just came from an anti-war demonstration (the war started last night) and the atmosphere there as in other resent demos have been really good and more and more people have been taking it to the streets. Compared to the nihilistic I don't care- eighties and nineties things are looking better. I just hope it's not just a short term fashion thing.
How's the musical life in Finland right now? Any good bands?
-It's also pretty good for punkrock these days and some really good bands have been turning up these resent years. Here's few you should check out: Endstand, Wasted, Hero Dishonest, Stakeout, Flipping beans…
Have you heard any good Swedish bands worth to mention?
-Yes! Bombshell Rocks! We played with them here in Finland a year ago and they're one of the best punk bands in the world right now. Other really good ones are The Hellacopters, Raised fist, Voice of a generation…
What do you know about Sweden, you were talking about coming here and play, where are you going to play then?
-Well, right now were trying to organize a European-tour later this year and hopefully we can get few shows in Sweden too but nothings been confirmed yet. So if anybody is interested in getting us some gigs in Sweden were more than happy to come just contact us by mail: pekka@ifeelnoshameatall.com We can help your band to get gigs in Finland in return! We should play one or two gigs already in April at least 19.4. Västerås!
Do you do many interviews? Is it boring?
-We haven't done so many interviews that it would have gotten boring. At least not yet.
Which is the question you want to have but you never get? Please ask it and answer it.
-This is the question and now that it finally comes up I have no answer for it!
How would you describe your own music with three words?
-honest
infectious
big-hearted
What does punk mean to you is it only a word or…?
-Unbribable life, positive idealism, sparks of hope in unrelenting headwind and the guts to question when it would be easier to adjust.
If you could choose five bands from now and from the past to play a concert with you, which bands would you choose?
-Rancid, Social Distortion, All, The Clash and if I could choose Bruce Springsteen, Esa would choose Reverend Horton Heat, Teemu would choose The Kinks, Pekka probably NOFX.
Please rank your five favourite records, five favourite concerts and five most important things in life.
-This is of course impossible but let's try…
Mine are: Social Distortion: White light, white trash, white heat Rancid: Life won't wait Bombshell Rocks: Street art gallery AC/DC: Highway to hell Bruce Springsteen: Born to run
Bruce Springsteen & the E-street band: Stocholm, Globen 2002
the band, girlfriend, friends, nature and self-respect
First, last and most expensive record ever bought ?
-Stray Cats: Gonna ball, Rancid: Life won't wait, I don't remember
When the terrorist attack was in September 2001 how did you react then, was it with fear or anger or was it like you knew it must happen sometimes?
-First it was fear and astonishment, later it was anger towards the way America and the world reacted. But these things are never so simple and black & white.
Has it changed your life in any way?
-Not really.
You haven't heard anything from any bigger label?
-Not yet, but were just starting to get those promos out there and anyway were happy the way things are now coz guys at Full Steam and Hardbeat are our friends and they're working hard for us. Anyway were used to do things ourselves as we've done so far but it would be nice to get the record released outside of Finland also.
What´s the worst and what's the best of being in a band?
-Worst: waiting
Best: everything else
What's the best and what's the worst of living in Finland?
-Worst: winter and the darkness are bit too long and people are sometimes a bit withdrawn.
Best: spring and summer are great after the long and dark winter and people usually mean what they say and don't do too much bullshit small talk.
Future plans for the band?
-To get this show on the road outside of Finland.
Future plans for yourself?
-To live long and happy, keep my eyes open and try to take everyday as a miracle.
Word of wisdom?
-It's time for the world to come together in this moment of darkness
and rekindle the light of reason -- and of hope. It's time to renew
our commitment to building a positive world for our children.