N:a Hospitalet or Norra Hospitalet are the same. The group sounds cool and I who grew up with the early punk really appreciate the group that released a CD on Second Class Kids. Here comes an interview signed me and the band and it was done in mid December 2019
A little history of the group?
-In a full snowstorm, in a sauna on a cold mountain, Rebecca and Mattias actually hatched a first idea of starting a punk band. A first brave attempt was made, but there went stubbornly to hell. At the end of 2018 again with the same thought. It was missing just a drummer. Rebecca posted a Buy and Sell ad on Facebook in style with "can you keep the pace is good, can you drink beer it is even better".
After a while we got a nap and Anders jumped on the train. We started to rehearse at the end of February 2019 and did our first gig in April 2019. Then it just rolled on.
Tell us a little about each member, age, job, family, band before and band on the side of N:a Hospitalet?
-Rebecca: Guitar and vocals. 30 years. Works everyday as a tiler, but is currently free as anew mum.
Lives with Mattias and our common son Elliot, 7 weeks old, and 3 bonus children. Has played in various band constellations. Everything from singer/songwriter troubadour to punk.
Mattias: Bass and chorus. 40 years. Works everyday as a floor paver. Living with Rebecca.
4 children. Have played bass about 25-30 years ago in the local punk band Untight, now Retied.
Other: Drums. 43 years. Works as an imagemaster. Girlfriend and children. No other bands going on and no cool CV to brag about.
I can hear much old Swedish punk I think? Was it better in the past?
-There are a lot of influences from the "older school", with 2/3 of the band standing with one leg mainly in the 80's punk. In terms of music, it's probably easy to say that it was better in the past, while there is a danger of getting caught up in that thinking. To quote Jonas Gardell in his open letter to Jimmie Åkesson: "[...] memory is always a kind of fantasy, a post-construction". Society is today much more open than before. Generally feel its stupid to strive backwards, make a SD as well. Then there are many sick good bands even today, should be added.
Norra Hosiptalet are you happy with the name? Why a name like this? Do you prefer Norra or N:a?! If not the best band name had been taken which name would you have chosen? I mean which is the best band name?
-We are happy with that name. We had a bunch of name suggestions from the beginning, but felt that we all got stuck for the "Hospitalet". However, it turned out that that name was already recorded by an indie band in Östersund. Then we chose to add "Norra", and it simply felt like a damn good word combo.
We prefer the N:a esthetically. Unfortunately, Spotify does not agree with us, which is why we got to have Norra. In terms of pronunciation it is "same same".
Hard to say what name it would have been if we had to choose something else. There are many good names, but in the end it should be good for everyone in the band as well. Kristet Appearance is otherwise a damn good band name, though it is unclear if it would fit what we are doing, so we might not have taken it if it was available for us.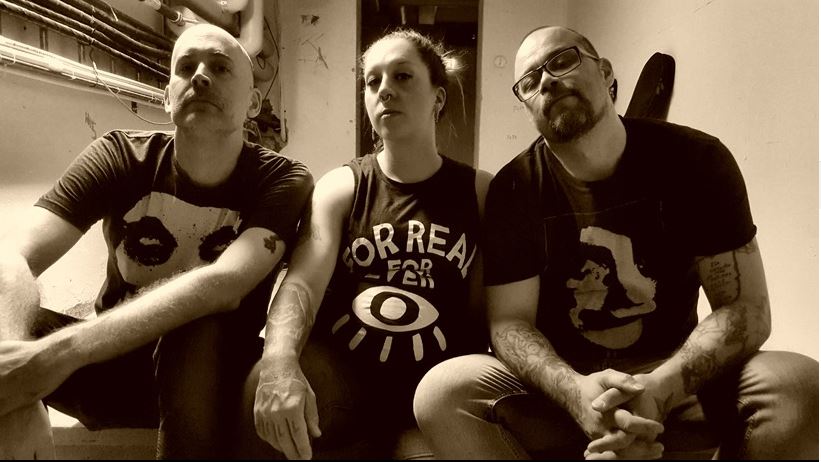 What's the best thing about playing live?
- The public, no doubt. The whole "feel" of a gig depends a lot on what kind of audience it is. Then the punk audience is generally damn nice and grateful to play for, which makes it all the more fun.
Where is the best to play, where is the worst?
-To be a bit diplomatic, we still have to answer that it is always fun to play ... As long as the sound technicians know their stuff, which is usually the case. So best is that as long as the sound works and it comes people, simply, and worst vice versa.
What is it like to play this kind of punk in Sweden today? There aren't as many people who sound like you ...
-We haven't been around for a year yet, so it still feels like a test to play the kind of punk we do. We had no expectations when we started, not even when we knew we didn't sound like most people in our genre. So far, we have received very good response, which of course triggers us to continue on our line.
The criticism that is directed is often that we are too straight and simple in our music, which is exactly what we are. So that criticism is justified. Either you like the simple and straight, or you rate it.
How would you describe your music in three words ??
- (One) straight, simple, political (hit on the mouth).
What does punk mean to you, is it just a word or is it a lifestyle?
Which is the group/album/song that got you into the punk?
-Rebecca: For me, punk is all about emotions. It is love and anger at the same time as well. It is very "fuck off", while there is something family and damn nice about it. The punk is also political to me, and it is above all damn red. The rightwingidiot who claims something else can go back to bed.
The group that first caught my eye for the punk was Coca Carola. My uncle was visiting sometime when I was type 12 and then brought with me "fem år till moped" and "Dagar kommer". The two records were worn day in and day out.
Mattias: About 25 years ago I had quoted Moderat Likvidation "drink, fight and live the devil" but times change and with it even one myself. When you start coming up to the years you just get damn angry and disappointed with where we are going. To me, punk is more political today than it used to be. However, punk is a free way to express whether it is political or not, Anarchy in the UK with Sex Pistols was the song that got me into punk in the early 90's.
Anders: Frustration, heart and desire to change something. For me, punk is also very much about DIY, you have a will and heart in the right place so you can create what you feel for yourself without having to worry so much about what others think and think about it.
I probably found punk the first time in any skate movie around -89/90 and was tagged by it, listened to the lyrics and liked how straight and uncomplicated the music was. Then I remember clearly the first time I heard Bad Religion at about the same time and then it was done.
How do you look at downloading, mp3 and the like? Do you have to be on Spotify or how do you feel?
-We are open to download mp3 and the like. The idea is to support the artists anyway, in different ways. Which punk audience is exceptionally good at. With Spotify, even your music gets a lot of spread, so that's where we feel it's a big advantage.
The idea is to reach out with his music. For example, our song Motström has more listeners in the US than any other country, including Sweden.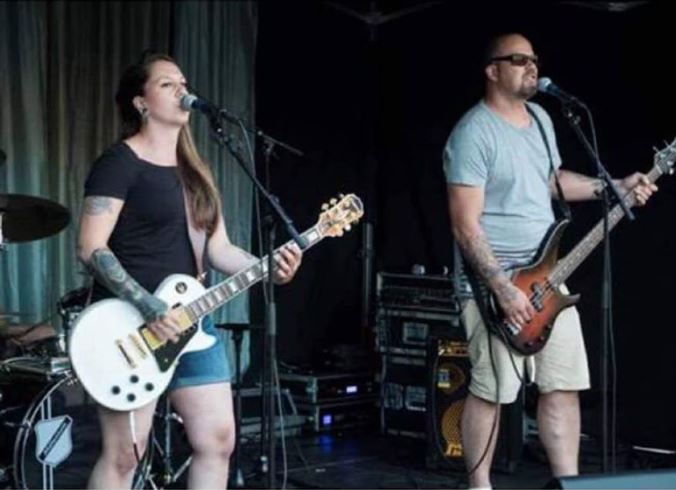 How do you think living in Sweden today, politically? The development with SD, KD and M? What is wrong with people who so much vote for SD .... how to influence them?
-Pure politically it blows the right winds all over the world, not least in Sweden, which is damn unpleasant. It causes you to be angry. Many dissatisfaction voices and looking for a simple solution, unfortunately. They have been blown. Most important of all to us is to open the eyes of the workers who actually vote for SD and their anti-worker and racist polictics. There are many ways to influence. In our case, we do it through music, among other things.
Are there any good bands in Sweden today? In your hometown?
-The list can be made very long. Some Swedish favorites are LK14, Trubbel, Grå Vardag. Alkberg, Raised Fist and Hurula are some established worth mentioning from Luleå, but there are also a number of lesser known acts that gild the local music scene in town.
Do you play anything outside Sweden?
-No. Not yet. But if the chance comes, we will gladly test it.
Other good bands from abroad?
-Dead Kennedys, The Distillers, Misfits, Klamydia etc The list can be made endless here as well.
Your texts, what influences you? Never in a language other than Swedish? I think you sound a little like old groups like Pink Champagne, Dom Fåglarna etc?
-We are inspired by everyday life and the society in which we live. Just what it is, something turns up that you get so damn angry over, and then it becomes a song. The song Tilssammans is our exception and is written by pure love. All texts are in Swedish and the idea is that it should continue so as the language itself has a drive that also makes the music what it is.
Is there anything you will never write about?
-We will never write anything positive about SD.
Politics and music, does it always belong together? Or does it seem to be unpolitical as punk bands?
- Politics and music do not always belong together. You can definitely be unpolitical and play punk. By contrast, the Swedish punk scene is imminent political and imminent red, but you choose how much, little or nothing at all you feel to be political.
Best political band / artist?
-Rebecca: Asta Kask, LK14
Mattias: Bad Religion
Anders: Dead Kennedy's I'm weak for
Do you think music can change someone's life, then I mean lyrics etc?
-Absolutely! If you feel a connection with the music and the band/artist, it can certainly change your thoughts and ideas, for example based on a specific text.
Your cover is really cool on your CD, who did it. Is it important to have a cover so people understand what kind of music you are playing? Which is your favorite cover of all time?…
-Thank you, the cover and everything graphic that has to do with Norra Hospitalet Anders does. On that process, which feels great. It is important to have a cover that somehow reflects the music we think.
It is almost impossible to choose a single, but should we drop one then we say För Sverige with Lastkaj 14 as a strong candidate for the best cover.
Is it important to get out physical records? Doesn't it feel like you didn't make a record if you just release digitally? Vinyl or CD or both and? Is there any good record store in your area?
-A physical record is always a physical record. The digital does not even come close to that feeling, although the digital is a very good complement to the physical. In the punk scene, there is perhaps demand mainly for vinyl, but also CD and cassette. We feel spontaneously that it is important to get something out of them and everyone does not have Spotify either. In the end, it is purely a matter of money, whatever format you choose. The record stores closed again long ago in Luleå. In that case it was definitely better before;)
Please tell us something really fun that happened during your career on stage or behind the scenes etc? Is there always an after party with the audience and the like or what happens after a concert?
-The funniest thing that has happened so far was actually when we were going to record our EP. Three rookies on the subject, tagged as hell to record. We sit down on the couch behind the studio technician, who turns around and asks what we have for audioreference to the record. Norra Hospitalet more or less answers in chorus "What the hell is an audio reference ?!". Who gets most confused and nervous about that answer we leave unsaid. After a little pondering, we mentioned a record (with Misfits) and then managed to record 7 songs that day, and today we actually know what an audio reference is. ;)
Both before and after a concert we like to hang out with the audience and the bands of course. In addition, you get the opportunity to see other cool bands. Now Rebecca has been pregnant for almost our entire "career", so it has not been the worst afterparty so seen. Otherwise, we like beer, and Rebecca plans to catch up with those she missed during pregnancy one beautiful day. - Good luck !! / Mattias;)
How does your audience look like? Which type of people comes to your concerts? Do you miss any types of people?
-We are happy and grateful to everyone who comes and wants to listen to us of course.
Up here, the punk scene is not very big, YET, so it will be a blissful mix with people, which we can appreciate.
Please rank five favorite records, five favorite concerts?
-To be fair on the issue you get 6 of each (two each).
Rebecca: Album: Lastkaj 14 - Spelevinken, Becksvart
Concert: Asta Kask's 40 year party, Disturbed and Avenged Sevenfold in the Globe
Mattias: Bad Religion Suffer, Ramones-Loco Live
Concert: Dia Psalma Basement Rock Luleå 94, Johan Airijoki Music Power 2019
Other: Album: Dead Kennedys - Fresh Fruit For Rotting Vegetables, Bad Religion - How Could Hell Be Any Worse
Concert: Iggy And The Stooges at Grönan 2012, Henrik Palm at Musikens Makt 2018
Is it boring with interviews? What do you prefer; phone, live interviews, mail interviews ??
-It's fun with interviews we think. We prefer live interviews of the few we have done, but of course it does not always work with distance and so on. Mail is pretty nice as it allows you to think for a bit before replying :)
If you could take 5 five bands, both dead and alive to have a concert together with your band, which have you been chosen?
-You get 6 here too(2 each)).
Rebecca: Trubbel, Asta Kask
Mattias: Klamydia, Ramones
Anders: Ramones, Stooges around 1971
Is music a good way to get uot your frustration and become a kinder person? Are you angrier today than you were as young punks?
-Rebecca: I didn't even realize I was listening to punk when I was young. Today I am more enlightened and definitely more angry.
Mattias: You get more humble over the years, however, not necessarily better on issues that concern you. Rather angry.
Anders: It might be, a bit like a valve that makes me more prosperous. It feels like there are more things that make me frustrated in society today, so the answer is probably yes.
What is the strangest question you received in an interview? Or are there no strange questions?
-Because we haven't done very many interviews yet, we have to put the question on ice for the time being. Of the interviews we have done, the questions have been really nice.
What is the question you never get, ask it and answer it?
-We have done a little too few interviews to feel that we lack a specific question but ... Hmm, no. We may take it next time we hear from each other :)
Future plans for the band?
-Play, write new, record, rehearse and catch Rebecca's missed beer.
For yourself?
-Rebecca: Become a good mom and bonus mom. The rest dissolves.
Mattias: Work even more on my sourdough image.
Anders: Be a nice fellow.
Words of wisdom?
-Vote red or go to
Something to add?
-The writing spasm is total. We're doing a live interview the next time, huh? ;)
N:a Hospitalet eller Norra Hospitalet är skitsamma. Gruppen låter fräckt och jag som är uppväxt med den tidiga punken uppskattar verkligen gruppen som släppt en CD på Second Class Kids. Här kommer en intervju signerad mig och bandet och den gjordes i mitten av december 2019
Lite historia om gruppen?
-I full snöstorm, i en bastu på ett kalfjäll kläckte Rebecca och Mattias egentligen
en första idé om att starta ett punkband. Ett första tappert försök gjordes, men det
gick käpprätt åt helvete. I slutet av 2018 återigen med samma tanke. Det saknades
bara en trummis. Rebecca la ut en Köp- och säljannons på Facebook i stil
med "kan du hålla takten är det bra, kan du dricka öl är det ännu bättre".
Efter en tid fick vi napp och Anders hoppade på tåget. Vi började att repa i slutet av
februari 2019 och körde vår första spelning i april 2019. Sen har det bara rullat på.
Berätta lite om varje medlem, ålder, jobb, familj, band före och band bredvid??
-Rebecca: Gitarr och sång. 30 år. Jobbar till vardags som plattsättare, men är just nu mammaledig.
Sambo med Mattias och vår gemensamma son Elliot, 7 veckor gammal, samt 3 bonusbarn. Har spelat i diverse bandkonstellationer. Allt från visor och trubadur till punk.
Mattias: Bas och kör. 40 år. Jobbar till vardags som golvläggare. Sambo med Rebecca.
4 barn. Spelade bas för ca 25 -30 år sedan i det lokala punkbandet Untight, numera Retied.
Anders: Trummor. 43 år. Jobbar som bildmagister. Sambo och barn. Inga andra band på gång och inget coolt CV att skryta om.
Jag kan höra mycket gammal svensk punk tycker jag? Var det bättre förr?
-Det finns en hel del influenser från den "äldre skolan", då 2/3 av bandet står med ena benet främst i 80-talets punk. Musikmässigt är det nog lätt att säga att det var bättre förr, samtidigt som det finns en fara i att fastna i det tänket. För att citera Jonas Gardell i sitt öppna brev till Jimmie Åkesson: "[...] minnet alltid är en sorts fantasi, en efterkonstruktion". Samhället är idag betydligt mer öppet än förr. Generellt känns
det dumt att sträva bakåt, göra en SD liksom. Sedan finns det ju många sjukt bra band även idag, bör tilläggas.
Norra Hospitalet är ni nöjda med namnet? Varför ett namn som detta? Förderar ni N:a eller Norra?! Om inte det bästa bandnamnet hade varit upptaget, viket namn hade ni valt då? Jag menar vilket är det bästa bandnamnet?
-Vi är nöjda med det namnet. Vi hade från början ett gäng med namnförslag, men kände att vi alla tre fastnade för just "Hospitalet". Dock visade det sig att det namnet redan var upptaget av ett indieband i Östersund. Då valde vi att lägga till "Norra", och det kändes helt enkelt som en jävligt bra ordkombo.
Vi föredrar N:a rent estetiskt. Dessvärre håller inte Spotify med oss, och därför har vi fått köra med Norra. Uttalsmässigt är det ju "same same".
Svårt att säga vilket namn det hade blivit om vi hade varit tvungna att välja något annat. Det finns många bra namn, men i slutändan ska det klaffa för alla i bandet också. Kristet Utseende är ju annars ett jäkla bra bandnamn, oklart dock om det skulle passa det vi håller på med, så vi kanske inte skulle tagit det om det var tillgängligt för det.
Vad är det bästa med att spela live?
-Publiken, tveklöst. Hela "feelingen" för ett gig hänger ju mycket på vad det är för typ av publik. Sedan är punkpubliken generellt jävligt fin och tacksam att spela för, vilket gör det hela ännu roligare.
Var är bäst att spela, var är sämst?
-För att vara lite diplomatiska så måste vi ändå svara att det är ju alltid är roligt att spela... Så länge ljudteknikerna kan sin grej, vilket ändå oftast är fallet. Så bäst är det så länge ljudet funkar och det kommer folk, helt enkelt, och sämst vice versa.
Hur är det att spela denna sortens punk i Sverige idag? Finns inte så många som låter som ni...
-Vi har inte hållit på ett år ännu, så det känns fortfarande som ett test att lira den sortens punk som vi gör. Vi hade inga förväntningar när vi började heller då vi visste att vi inte låter som de flesta i vårgenre. Hittills har vi fått sjukt bra respons, vilket såklart triggar oss att fortsätta på vår linje.
Den kritik som riktas är ju ofta att vi är för raka och enkla i vår musik, vilket är precis vad vi är. Så den kritiken är befogad. Antingen gillar man det enkla och raka, eller så ratar man det.
Hur skulle du beskriva er musik med tre ord??
-(En) rak, enkel, politisk (käftsmäll).
Vad betyder punk för er, är det bara ett ord eller är det en livsstil?
Vilken är gruppen/albumet/låten som fick in er i punken?
-Rebecca: För mig handlar punk helt om känslor. Det är kärlek och ilska på samma gång liksom. Det är mycket "fuck off", samtidigt som det finns något familjärt och jävligt fint i det. Punken är också politisk för mig, och den är framförallt jävligt röd. Den borgarbracka som påstår något annat kan gå och lägga sig igen.
Den grupp som först fick upp mina ögon för punken är Coca Carola. Min farbror var på besök någon gång när jag var typ 12 och hade då med sig bl.a "Fem år till moped" och "Dagar kommer". De två plattorna nöttes dag ut och dag in.
Mattias: För ca25 år sedan hade jag citerat Moderat Likvidation "supa,slåss och leva djävulen" men tiderna förändras och med den även en själv. När man börjar komma upp till åren så blir man bara jävligt arg och besviken över vart vi är på väg. För mig är punken idag mer politisk än vad den var förr. Punken är dock ett fritt sätt att uttrycka sig vare sig det är politiskt eller inte, Anarchy in the UK med Sex Pistols var den låt som fick in mig på punk i början på 90-talet.
Anders: Frustration, hjärta och vilja att förändra något. För mig är handlar punk också mycket om DIY, har du en vilja och hjärtat på rätt ställe så kan du skapa det du själv känner för utan att behöva bry dig så mycket om vad andra tycker och tänker om det.
Jag hittade nog punk första gången i någon skatefilm runt -89/90 och blev taggad av det, lyssnade på texterna och gillade hur rak och okomplicerad musiken var. Sedan minns jag tydligt första gången jag hörde Bad Religion vid ungefär samma tid och då var det liksom kört.
Hur ser ni på nedladdning, mp3 och liknande? Är man tvungen att vara med på Spotify eller hur känns det?
-Vi är öppna för nedladdning av mp3 och liknande. Tanken är ju att man ska supporta artisterna ändå, på olika sätt. Vilket punkpubliken är exceptionellt bra på. Med Spotify får ens musik stor spridning, så där känner vi att det är en stor fördel.
Tanken är ju att nå ut med sin musik. Exempelvis vår låt Motström har fler lyssningar i USA än något annat land, inklusive Sverige.
Hur tycker ni det är att bo i Sverige idag, politiskt? Utvecklingen med SD, KD och M? Vad är det för fel på folk som till så stor del röstar på SD....hur ska man påverka dem?
-Rent politiskt blåser det högervindar i hela världen, inte minst i Sverige, vilket är djävligt obehagligt. Det gör att man blir förbannad. Många missnöjesröstar och söker en enkel lösning, tyvärr. De har blivit blåsta. Viktigast av allt för oss är att öppna ögonen på de arbetare som faktiskt röstar på SD och deras arbetarfientliga och rasistiska politik. Det finns många sätt att påverka. I vårt fall gör vi det bland annat genom musiken.
Finns det några band I Sverige idag? I er hemstad?
-Listan kan göras hur lång som helst egentligen. Några svenska favoriter Är LK14, Trubbel, Grå Vardag. Alkberg, Raised Fist och Hurula är några etablerade värda att nämna från Luleå men det finns även en rad mindre kända akter som förgyller det lokala musiklivet i stan.
Spelar ni något utanför Sverige?
-Nej. Inte ännu. Men om chansen dyker upp så testar vi gärna på det.
Andra bra band från utlandet?
-Dead Kennedys, The Distillers, Misfits, Klamydia mfl. Listan kan göras oändlig även här.
Era texter, vad influeras ni av? Aldrig på annat språk än svenska? Jag tycker ni påminner om gamla grupper som Pink Champagne, Dom Fåglarna etc?
-Vi inspireras av vardagen och samhället som vi lever i. Rätt vad det är så dyker det upp något som man blir så djävla förbannad över, och så blir det en låt. Låten Tillsammans är vårat undantag och är skriven av ren kärlek. Alla texter är på svenska och tanken är att det ska fortsätta så då språket i sig har ett driv som också gör musiken till det den är.
Finns det något ni aldrig kommer att skriva om?
-Vi kommer aldrig att skriva något positivt om SD.
Politik och musik, hör det alltid ihop? Eller funkar det att vara opolitisk som punkband?
-Politik och musik hör inte alltid ihop. Man kan definitivt vara opolitisk och spela punk. Däremot är den svenska punkscenen överhängande politisk och överhängande röd, men du väljer själv hur mycket, lite eller inget alls du känner för att vara politisk.
Bästa politiska band/artist?
-Rebecca: Asta Kask, LK14
Mattias: Bad Religion
Anders: Dead Kennedys är jag svag för
Tror du musik kan ändra någons liv, då menar jag texter etc?
-Absolut! Om du känner en samhörighet med musiken och bandet/artisten så kan den säkert ändra dina tankar och idéer, exempelvis utifrån en specifik text.
Ert omslag är riktigt fräckt på er CD, vem har gjort det. Är det viktigt att ha ett omslag som man förstår vilken typ av musik man spelar? Vilken är ert favoritomslag alla tider?…
-Tack, omslaget och allt grafiskt som har med Norra Hospitalet att göra fixar Anders. På den processen, vilket känns skönt. Det är viktigt att ha ett omslag som på något sätt speglar musiken tycker vi.
Det är nästan omöjligt att välja ett enda, men ska vi droppa ett så säger vi För Sverige med Lastkaj 14 som en stark kandidat till bästa omslaget.
Är det viktigt att få ut fysiska skivor? Känns det inte som om man inte gjort en skiva om man bara släpper digitalt? Vinyl eller CD eller både och? Finns det någon bra skivaffär i er närhet kvar?
-En fysisk skiva är alltid en fysisk skiva. Det digitala kommer inte ens i närheten av den känslan om än det digitala är ett väldigt bra komplement till det fysiska. Inom punkscenen efterfrågas det kanske främst vinyl, men också CD och kassett. Vi känner rent spontant att det är viktigt att få ut något av dem och alla har inte heller Spotify. Rent krasst handlar det i slutändan om pengar, vilket/vilka format man än väljer. Skivaffärerna stängde igen för länge sedan i Luleå. I det fallet var det definitivt bättre förr ;)
Snälla berätta något riktigt roligt som hänt under er karriär på scen eller bakom scen etc? Är det alltid efterfest med publiken och liknande eller vad händer efter en konsert?
-Det roligaste som har hänt hittills var nog faktiskt när vi skulle spela in vår EP. Tre rookies i ämnet, taggade som fan på att få spela in. Vi slår oss ner i soffan bakom studioteknikern, som vänder sig om och frågar vad vi har för ljudreferens till skivan. Norra Hospitalet svarar mer eller mindre i kör "Vad fan är en ljudreferens?!". Vem som blev mest förvirrad och nervös av det svaret lämnar vi osagt. Efter lite funderande nämnde vi en skiva (med Misfits) och lyckades därefter spela in 7 låtar den dagen,och idag vet vi faktiskt vad en ljudreferens är. ;)
Både före och efter en konsert gillar vi att hänga med publiken och banden såklart. Dessutom får man en möjlighet att se andra coola band. Nu har Rebecca varit gravid under nästan hela vår "karriär", så det har inte blivit värsta efterfesterna så sett. I övrigt gillar vi öl, och Rebecca planerar att ta ikapp dem hon missat under graviditeten en vacker dag. -Lycka till!!/ Mattias ;)
Hur ser er publik ut? Vad drar ni för folk? Saknar ni några typer av folk?
-Vi är glada och tacksamma över alla som kommer och vill lyssna på oss såklart.
Här uppe är punkscenen inte särskilt stor, ÄN, så det blir en salig blandning med folk, vilket vi kan uppskatta.
Snälla ranka fem favoritskivor, fem favoritkonserter?
-För att vara rättvis i frågan så får du 6 av varje (två var).
Rebecca: Album: Lastkaj 14 - Spelevinken, Becksvart
Konsert: Asta Kasks 40 års kalas, Disturbed och Avenged Sevenfold i Globen
Mattias: Bad Religion-Suffer, Ramones-Loco Live
Konsert: Dia Psalma Källarrock Luleå 94, Johan Airijoki Musiken makt 2019
Anders: Album: Dead Kennedys - Fresh Fruit For Rotting Vegetables, Bad Religion - How Could Hell Be Any Worse
Konsert: Iggy And The Stooges på Grönan 2012, Henrik Palm på Musikens Makt 2018
Är det tråkigt med intervjuer? Vad föredrar ni telefon, liveintervjuer, mailintervjuer??
-Det är kul med intervjuer tycker vi. Vi föredrar liveintervjuer av de få som vi har gjort,
men det är såklart inte alltid det funkar med avstånd och så vidare.
Mail är rätt fint då det gör att man hinner tänka efter lite innan man svarar :)
Ifall ni kunde välja fem band från historien, döda och levande att ha en konsert ihop med ert band, vilka är drömbanden då?
-Du får 6 st även här (två var).
Rebecca: Trubbel, Asta Kask
Mattias: Klamydia, Ramones
Anders: Ramones, Stooges runt 1971
Är musik ett bra sätt att få ut frustration och bli en snällare person? Är ni argare idag än ni var unga punkare?
-Rebecca: Jag fattade inte ens att jag lyssnade på punk när jag var ung. Idag är jag mer upplyst och definitivt mer arg.
Mattias: Man blir mer ödmjuk med åren dock nödvändigtvis inte snällare i frågor som berör. Snarare argare.
Anders: Det kan det nog vara, lite som en ventil som gör mig mer välmående. Det känns som att det är mer saker som gör mig frustrerad i samhället idag, så svaret är nog ja.
Vilken är den konstigaste frågan ni fått I en intervju? Eller finns det inga konstiga frågor?
-Eftersom vi inte har gjort särskilt många intervjuer än så måste vi lägga frågan på is tills vidare. Av de intervjuer vi har gjort så har frågorna varit oförskämt snälla.
Vilken är frågan ni aldrig får, ställ den och besvara den?
-Vi har gjort lite för få intervjuer för att hunnit känna att vi saknar en specifik fråga men... Hmm, nä. Vi får ta den nästa gång vi hörs av :)
Framtidsplaner för bandet?
-Spela, skriva nytt, spela in, repa och ta ikapp Rebeccas missade öl.
För dig själv?
-Rebecca: Bli en bra mamma och bonusmamma. Resten löser sig.
Mattias: Jobba ännu mer på min surgubbe-image.
Anders: Vara en fin medmänniska.
Visdomsord?
-Rösta rött eller dra åt helvete!
Nåt att tillägga?
-Skrivkrampen är total. Vi kör en liveintervju nästa gång va? ;)