Nix Vahlberg in Nomads is a legend in the rock n roll style. He took some time of his own to answer my questions some days before the christmas 2004.
What have happened since the last record?
-We have played some gigs live, but it havenīt been so much new material written..we have some on itīs way now, so we will maybe record a record next year
Which are the members in the group right now?
-We have had the same lineup since 1987 except that Frank Minarik quit '92.
You have done a lot of singles, no thought about releasing on a box or something like that?
-The most things are compiled on "Showdown!" volume 1 and 2, two really full double-CD-compilations.
Do you like compilationboxes with groups? Any favouritebox?
-Boxes is fun. Rhinos "Nuggets"-boxes for example is really good. "Datapanik in the year zero" with Pere Ubu is another favourite.
Last record Up-Tight came 2001, why not a new record?
-#1.
I have seen Nomads live some times, once together with Ramones, you have played with a lot of bands, which is the coolest you have played with?
-Lyres and Scientists in the 80īs in Holland, Iggy and Ramones in Stockholm and Helsingfors in the beginning of the 90īs and Reigning Sound in Norway last year is some of the best ones...
Which band do you really want to play with?
-I really want to play again with Reigning Sound, itīs among one of the worlds best band today.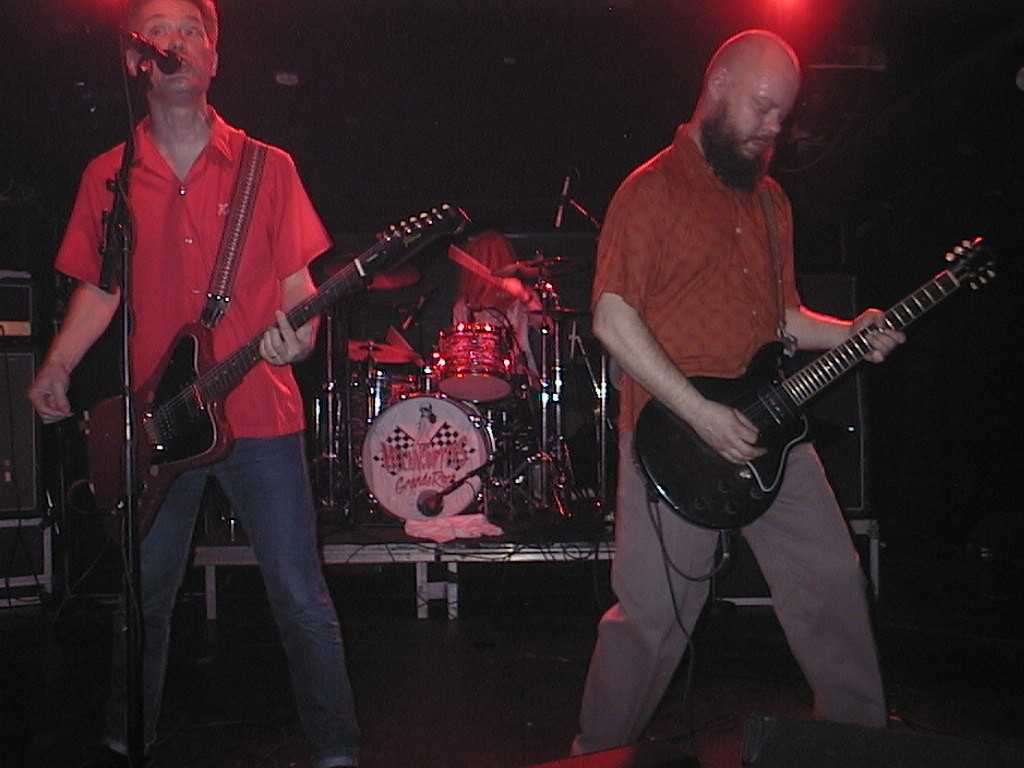 You did a record together with Hellstrand, nothing like that on itīs way?
-No, not for the moment, but itīs possible that itīs more of those thing in the future
You had a group together with Nicke Andersson from Entombed/Hellacopters, hadnīt you?
-We was named Leadfoot and did some gigs and a four track demo(one of the songs was on the Husker Du-tribute "There's a boy wo lives on heaven hill" on Burning Heart). Hellacopters came out ffrom where we quit.
How do you think that Rocksweden looks today?
-It seems to be many bands, but I havenīt heard anything new which really impress on me. Doits from Stockholm seems to be good.
You have a little bit of cultstatus in the world, do you get letters from all over the world, which is the most peculiar country you have got letters from?
-Some weeks ago it was a guy from Pakistan which have been into our website. He wrote that he havenīt so good check on western music but Nomads "have touched his heart"….
20-years jubilee, it was nothing you thought about when you started to play?
-No, we not even thought that we could get gigs outside Solna.....
How was the 20 year jubilee?
-We had two parties for safety, one on Kolingsborg in Stockholm and one in Hultsfred-both of them was really fun.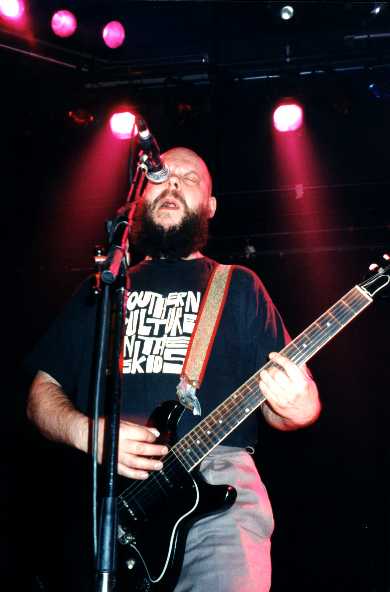 And a tributerecord(how could I get it?)?
-Yeah, itīs really flattering. The record is released by Big Bongo Records (distribution Sound Pollution) and should be available in all better record stores.
You have some sum up on your records Showdown 1 & 2, was there anything unreleased on them?
-Both records have a lot of difficult material but not so much unreleased. We havenīt so much unreleased stuff recorded.
It havenīt been so many gigs 2004, why not?
-We have mostly played outside Sweden the latest years.
What do you do when you donīt play music?
-Work and familylife takes the most of my time.
Dom Galna Hundarna, tell me?
-It was a tourproject last summer we did with Nomads, Olle Ljungström, Staffan Hellstrand and Bob Hansson. We did a really good single on MNW "Skolsången" which not so many have heard.
Which is the most peculiar which have happened during your long career?
-It must be that we still exist...
I can imagine that you audience varies a lot, both how they look and in age, is there any mall for the ususal Nomadsfan?
-No, I donīt actually think so…it comes people in all ages on our gigs.
Which is the difference of playing then(1983) and now?
-Weīre a better band today – not necessary technical better but much more speed in the music.
What does the mean to you, is it only a word or is it a lifestyle?
-Punk changed my life when it came 1976-77, and it made me to play music. We will never see a musicrevoltuion like that again.
How did you react when almost the whole Ramones and Joe Strummer died? Is rockguys more sensitive than other people or what
-That 3 of 4 in Ramones , my generations best and most important band, is dead is so chocking and bizarre so I havenīt been used to the thought yet. ..
you have done a lot of covers, is there any special group you like to do covers of?
-Roky Erickson maybe.
When you called yourself for Screaming Dizbusters, which was in that group?
-It was Nomads under pseudonym. We wanted to sound like a real heavymetal band but we didnīt manage to do that…...
Is there any good bands in Sweden today?
-Bob Hund is best. Hives, Hellacopters and Robert Johnson & Punchdrunks is reliable too.
How do you think it is to live in Sweden today?
-A little bit boring, but itīs OK. Itīs really "safe" if we compare.
Please rank your five favouriterecords, five favouriteconcerts and five most important things in life?
-Wow, this is difficult...without having my record here and can look at them but I say those first: Gun Club: "Miami", Roky Erickson: "The Evil One", Ramones: "Ramones", Flamin' Groovies: "Shake Some Action", Stooges: "Funhouse".
Concerts: Ramones on Domino 1978, Stoodes on Medborgarhuset 1978, Undertones in Marquee 1979, Fleshtones on Ritz 1983, Iggy in Solnahallen somewhere in the end of the 80īs/beginning of the 90īs.
First, latest and most expensive record in your collection?
-First: "Bill Haley's Greatest Hits", latest: "Something Else by the Kinks" on CD. I donīt really know which can be the most expensive….maybe "My baby likes to boogaloo" with Don Gardner, a fantastic soulsingle from '67.
The most embarrasing record?
-I have never bought any embarrassing record.
The best record to have sex to?
-Not a clue. A Barry White-compilation maybe?
Is it many interview, is it boring?
-Thereīs a lot of interviews when youīre doing a new record, but not so much otherwise. If itīs boring or not depends on who it is which interview you-if itīs anyone who is engaged and competent it can be really fun.
Which is the most frequent asked question?
-The most frequent question is when youīre abroad and they ask " why does it comes so much rock from Sweden". I do not ever know how to answer on that.
Futureplans for the band?
-We will continue as long as we think this is fun!
And for yourself?
-Try to be a good father, as much as possible.
Wisdomword?
-No...
Something to add?
-No...