NimbWits is a really good Danish bands which come from ashes of for example The Artillery. Carsten and the group was so nice and he answered a lot of questions from me. This took it´s place in February 2015

Please tell me a little bit history of the group?
-Martin: Well, the idea for the band came about while Carsten was touring with Artillery. I was the roadie at that time and Carsten and I used to hang out after the shows (party all night). Some of those late nights, Carsten told me how he missed the punk scene and how he felt restricted in some way playing the same songs show after show. Songs he had been playing since the early eighties. Eventually Carsten chose to leave Artillery and go for the idea to form a punk band. He asked me if I was up to it. And of course I was, Yeah! He called some old friends, soon after, we met with Søren Crawack who would be the second guitar player, and Ibzen he knew from way back would be our frontman. Søren had written a couple of songs, which he send to us and on the first rehearsal we had, we were able to play the first song "Killer mind". We still needed a bassplayer and Ibzen knew this guy, he had been in a band with some 20 years ago. Lars became an instant member on his first rehearsal with his awesome bass energy. We already had landed our first gig at Metal Magic festival that summer, so we were in a hurry writing new songs for a full set. This proved to be no problem since every member of The NimbWits seemed to be bursting with ideas. Shortly after Søren realized that he was too busy with his awesome thrash metal band Impalers (check them out), and also the fact that he had to travel 300 – 400 km to rehearsal every week, meant that he chose to call it quits and parted with The NimbWits. We entered Wolf Rider Studios shortly after (one guitar player short) and recorded our EP "Punks not dead, just older and uglier". Carsten (again) knew a guy from back then (again) who played guitar. Gert entered the rehearsal with his Gibson and was the perfect match. Off course, we had to record the now growing number of songs and a small label "Schizophrenic Inc." believed in us and agreed to sign us. The NimbWits had now found its final form and loud and terrible music will constantly be streaming from this close band of friends from now on…
Please tell me a little about every member in the group right now, age, family, work, interests and something bad about everyone? Have you been in any other punkbands before? Have it been many lineup changes through the years?
-Ibsen: I've played in Punkbands since 1979. (Ligkapellet, Bad Mads, The Dregs, Hanx) Im 50 years old now and been playing Punkrock since 1979 . I live together with my girlfriend Annette and our 2 cats. I work as a Printer and my hobbies are: Music, Horror movies and MMA. I will let the others speak for themselves :)...something bad about the others .Hmmmmm Well Carsten farts a lot when we rehearse ha ha.
I can hear much old uk82 and Misfits in your music? Favorites from the past?
-Lars: Favorite uk82 bands: Discharge, Exploited and G.B.H.
Favorites from the early days: Sex Pistols, The Clash, SLF, Ramones, Dead Kennedys, Ebba Gron….
All-time favorites are bands like: Bad Religion, Nofx, Pennywise, Social Distortion…
The NimbWits are you satisfied with the name? How did it came up? Any deeper meaning with that? Which is the best bandname you know+
-Carsten: Yeah! I am pretty much satisfied with our band name, but before we got the name for the band, we wrote for help at our Facebook page…"You know! We need your help to find a name for our band: What do you think we should call our band?" and we got a lot of different suggestions from people around the world, but one day after several beers during our rehearsal, Martin came up with the idea: "Let' s call our band The NimbWits" and we all agreed that it sounded awesome and that it fits the band members perfectly, without any deeper meaning. Personally, I think there are many cool band names. I think names like: Bad Religion – No use For A Name – Sex Pistols – No Fun At All, are pretty cool names and I could mention several cool names.
What´s the best thing with playing live?
-Gert: Playing live is a thrill, as to release musical energy with a bunch of best friends on stage is just fucking freaking awesome. In The NimbWits we make songs build to play live – meaning the riffs, licks is ready to be pushed hard - so we can perform with our high-energy approach. We all like to give a good show and if we can get people involved in our music during the gigs, we have accomplished much. In The NimbWits we just all like to play live – and we don't really give a fuck about anything else than to make a show that kick ass, and give our supporters a good time party of "old bastard punk" while we are there.
And where is best to play? And the worst place?
-Martin: Best place to play is always a place with a dedicated audience. It is so fuckin awesome to be a part of a frenzied crowd smashing around, singing and screaming even though you sometimes get a microphone stand smashed in the face. It doesn't matter if there are 10 people or a 1000, as long as there's an atmosphere. Worst place, well would obviously be the opposite. Passive crowd that don't give a shit about your band just waiting around for the next one at the line up, I guess. We haven't really experienced that. Usually everyone in front is going fuckin nuts within the first three songs.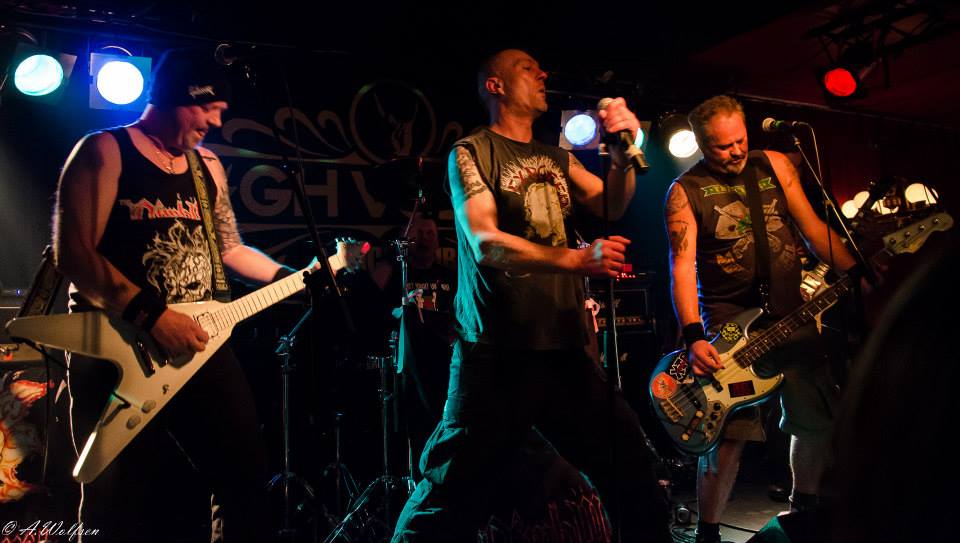 How is to play this sort of music in Denmark right now?
-Ibsen: Punkrock has never really been popular in Denmark and still isn't...guess it's the Black Sheep of music here :)
How would you describe your music in three words?
-Lars: Melodic, Aggressive, Punkrock
What does punk mean to you, is it only a word or is it a lifestyle?
-Carsten: Punk means a lot to me, and it has pretty much done that all my life. I played Punk rock back in 1979-80 before I formed Artillery and played Thrash Metal with Artillery for 30 years, but throughout the period, I still listened to Punk Rock, which is my favorite genre and I also went to many Punk rock concerts in that period and actually still do. Nowadays, I have too many commitments to live the wild punk lifestyle, but I lived the Punk lifestyle when I was younger.. Unfortunately, I think that many of the young people today seems to look at Punk Rock as a music genre more than an actual lifestyle, though I still meet some street punks now and then, but it is not at the same level as it was in the late 70s and early 80s.
How do you see on downloading, mp3 and that stuff?
-Gert: Well – downloads and Mp3 is here to stay – so no need to bitch about that. It somehow makes it difficult to sell music and get money back for the cost of making the stuff. However, the easy access to reach people on social Medias, and the short way to provide a link to our music is actually a fine thing, as it is a fast and easy way to exchange music files and get in contact with those who show interest in our stuff. It is by the way the same issues for all bands today – so no need to cry for this - rather than see it also provides good options for us to expose ourselves.
How is it to live in Denmark now? Politically?
-Martin: Hmm. Kind of dead water. All politicians care for themselves, and no one really does anything that matters. Not really a big difference between the parties and no ambition to do anything about it. To live in Denmark, I guess is fine but also boring and you can easily fool yourself in to believing that there are no problems in the world.
It is the World that has been pulled over your eyes to blind you from the thruth. Quote: Laurence Fishbourne, in the Matrix
Is there any good bands from Denmark now? Is the punkscene big? How is it in your hometown?
-Ibsen: No there's not a big Punk scene here, never has been really buts still we have some really good bands like: The No Go Girls, Shit Lord, Last Seen Laughing, X-Teenage Rebels, Dead Actions, Clean Boys, The Hey Ho*s and many others...check out this free cd download for more: http://lortoglagkage2013.bandcamp.com/album/lort-og-lagkage-dansk-punk-compilation-2013-2
What do you know about Sweden?
-Lars: Surstromming, Pripps, Pytt I panna, Systembolaget and you like prawn salat on your hotdogs. Sweden have the biggest export of music in the world and you have one of the best music scene in all category. I was a great fan of Ebba Gron and I have seen them live in Sweden. You have a lot of great bands like Backyard Babies, Hellacopters, Crucified Barbara, Hardcore Superstars, Millencolin and the list goes on and on……
The first girl I fucked was from Helsingborg….
Have you heard any good bands from Sweden?
-Carsten: Oh yes!! Sweden has always had, many cool bands and I think that the Swedes always have accepted Punk Rock more than the Danes have ever done. I can name many cool bands from Sweden. Swedish bands I like are bands like: No Fun At All - Millencolin - Satanic Surfers – Europe – Backyard Babies – Clawfinger – The Haunted – Bathory among others, and there are many other cool bands, but I cannot remember them all. Damn! Sweden has always had many cool bands. I hope that I someday get the chance to play some shows in Sweden with some local punkbands and hanging out with them and having a great Punk Rock party.
Your lyrics, who does them and what influences you?
-Gert: For some songs our lyrics just comes along the music in the writing process – where words and riffs is fitted together when the music ideas takes form. The influence is much unpredictable as any little joke or history could end up being a subject for making the next lyrics. The NimbWits may not be big time poets of nature – but we sing about stuff we believe in – or want to comment for. And or if we have no decent meanings or comments – we just sing about booze and fun, which by the way is our favorite subjects.
Is there any subject that you never will write anything about?
-Martin: I do not think so. We are kind of a No rules band. Anything goes as long as we agree. Our songs range from political statements, moral indignation to sleazy women and drinking all night. Therefore, it more or less reflects what is on our mind at the time.
Politic and music, does it goes hand in hand?
-Ibsen: Sure it can, but then again it doesn't have to, but I like when you have a political standpoint and aren't afraid to sing about it...still there's loads of great bands that don't sing about politics.
Best political band/artist?
-Lars: Crass, Conflict, Subhumans, Anti Flag, The Clash, Dead Kennedys
Do you think that music(lyrics and so on) can change anyones life, I mean people who listens to music?
-Carsten: It was a difficult question. I think the answer must be both a yes and a no. In my case, both the punk lifestyle and the metal lifestyle, has been a big part of my way of life, especially when I was younger and that all began, after I started listening to first Punkrock and later in life to Heavy Metal as well. Both styles of music changed the course of my life at that point. I have heard of bands such as Metallica - Judas Priest and Ozzy Osbourne that has been through lawsuits because there were some young people who had committed suicide because of the messages in the lyrics. In these cases, I think that suicide was something that has changed things dramatically in a negative direction for those poor people. Music and lyrics are of course also something that is been used when you are on a date with someone to create a good atmosphere, but whether it actually change the lives of some people, I do not. Therefore, I think the answer is both yes and no, depending on the individual you are. Perhaps one's childhood and upbringing also plays a role in who you are or what you become.
Why don´t you sing in Danish instead of in English??
-Gert: Well one song is in Danish – so it is possible for us to use our own language. But as English is the universal language it is of course a matter of making the stuff so as many as possible can understand what we do. However, all doors are open – and maybe German or Swedish lyrics will come on some day -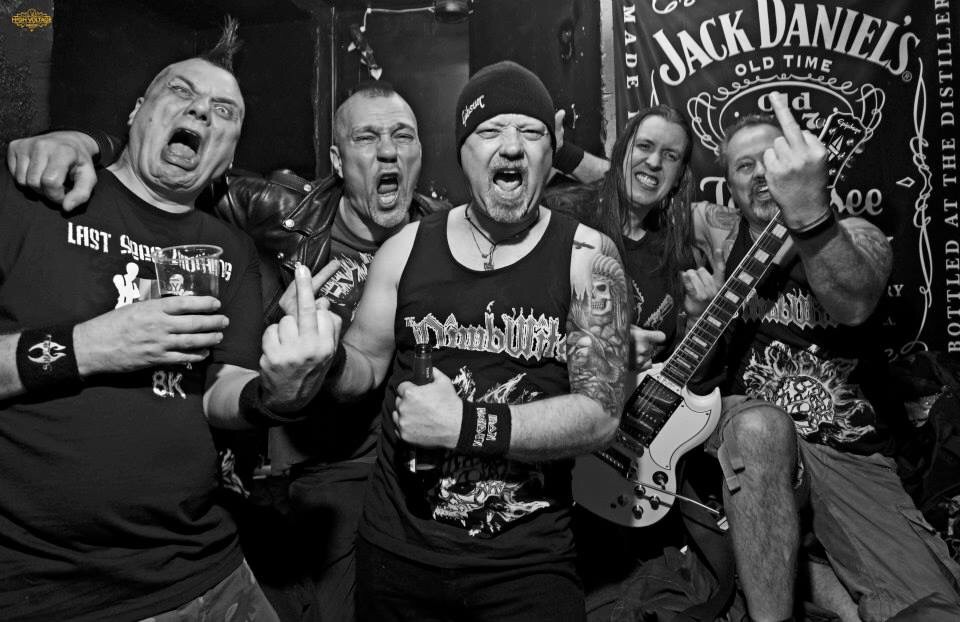 Is it important to get out physical records of your stuff? Why or why not? Good record label? Anything new on it´s way?
-Martin: We are all from the old school and there is something special about holding an album in your hand, seeing the artwork and reading the booklet. I think a lot of our fans appreciate that to. Off course, we also have to embrace all the digital medias and there is nothing against doing both. Our record label has been very cool from the start making a batch of cd's as well as offering our music for streaming and download. After many requests, we are now thinking about making a batch of our album on vinyl. We have been very happy working with Schizophrenic Inc. Jacob (The Boss) is a cool guy that has made a lot of things happen for us. We are now working on new songs for our next album, so keep an eye out for The NimbWits.
Please tell me a funny thing which have happened during your career and under some gig?
-Ibsen: Well there has been quite a few Spinal Tap moments. I guess (most bands have had them) once we were playing a gig (with the band Hanx) and I were storming from the stage into the crowd, but forgot that the wire from the microphone wasn't that long so once I reached the end of the wire, I slammed my back into the floor... hurt like a motherfucker..ha ha ha!! Stupid me :)
How does your audience look like? Which people do you miss on your concerts?
-Lars: All kind of people, young and old, rich or poor, punks or not….
All the rest of you who haven`t seen us live yet
Please rank your five favoriterecords, five favoriteconcerts and five most important things in life?
-Carsten: To name my top five records are more or less impossible, but I can rank the five records I have listened to the most during my life. 1. Brats – 1980 2. Ramones – It's Alive 3. Sex Pistols – Never Mind The Bollocks 4. Metallica – Kill 'Em All 5. Exodus – Bonded By Blood.
My five favorite concerts? It is also difficult to answer. I have been to so many during the years but the 3 shows I have seen with Ramones – The first Metallica show I saw – the Lost Kids show where I meet Ibsen for the first time – Iron Maiden the first time I saw them and a bunch of other Punk and metal shows are also on my list.
My five most important things in life are very simple: My family – my band – a good health – listening to music and of course my friends. Without those five things in my life, I might as well jump in front of a train and kill myself because then life would be worth living anyway. It is kind of selfish but trying to persuade myself that we can have a world of peace is to damn stupid ... as long as there are two people in the world there is a chance that there may be a conflict, but peace on earth would fucking be nice and on my number one list of hope..
Is it boring with interviews? Is it much interviews??
-Gert: No – not at all – it is just flattering to get a chance presenting ourselves in interviews. With the release of our album that overtime will reach more people – there will properly and hopefully be some that find our music and band story interesting and would like to hear more. And for those who dare - we will be there!
If you could choose five bands from the past and the history and nowadays and both dead and living bands to have a concert together with your band. Which five have you been chosed?
-Martin: Uh, that's a difficult one. There are so many great inspirations in my life from all genres of music. But to play a concert with The NimbWits I guess it could have been cool to wreck havoc with this line-up: The Runaways, The Sex Pistols, The Offspring, The Clash, Cocksparrer. But Im sure the others guys from the band would pick a totally different line-up :-)
Is punk a good way to get out frustration and become a nice person outside the punkmusic??
-Ibsen: Yeah it is, but it's not just Punk that does that, every kind of high energy music can do that to you.
Which is the most odd question you ever have got in an interview?
-Lars: This question.. Ha ha
Which is the question you want to have but you never get. Please ask it and answer it?
-Carsten: The question that I want to have but properly never get - "Hey! This is Fat Mike from NOFX. Do you want to support us at our next world tour?" My answer would sound something like, "Yeah man! It would be such a great pleasure and a once in a lifetime experience for our band and we promise you that we will kick some serious ass and get the party started."
Futureplans for the band?
-Gert: Well firstly - keep on keeping on the band as we have a good thing going on should be obvious.
We are five personalities sharing our passions for music, and up until now, we have been able to support each other greatly in the song writing. The next bunch of songs to come will not be less exciting to make, as much unrevealed potential in The NimbWits just waits to be released. We do not get younger, so a proper follow up to our debut album "To Punk and not to be" – would be a shame to miss. Thereafter we will try to buy the famous amusement park Tivoli in the heart of Copenhagen – tear down the place and change it to a paradise for smokers and beer drinkers, and occasionally pass by and serve some high-energized "old bastard punk" – Cheers!
For yourself?
-Martin: Hmm. I really don't plan far ahead. It never turns out the way you expected anyway. But I would like to see myself continue and evolve with the band and hopefully get that big break to play a huge festival scene someday.
Wisdomword?
-Ibsen: Well if you can't even treat animals nice, then you can't really be a very good person..Not in my book anyway...other than that…Fuck yeah!!...Keep Drinking and support your local music scene. :-)
Something to add?
-Lars: Cheers to all you who support us and we will love to play in Sweden.
Thanx for making this interview
Punk is in the heart
The NimbWits line up:
Henrik Ibsen: Vocals
Martin Bjørknov: Guitar/Vocals
Gert Christensen: Guitar/Vocals
Lars Uhd Marcussen: Bass/Vocals
Carsten Kjær Nielsen: Drums