Please tell me a little bit history of the group?
-I had left my first group two years before and the current members of our group were looking for a singer. So we decided to play together. We were influenced by the Californian and Swedish punk-rock from the 90s as well as three French punk-rock groups who were singing in English: The Burning heads and Seven Hate, and later Uncommonmenfrommars. Our group was founded during the spring of 1999, we released two self-produced 4-track EPs, one album "Take Cover" in 2005, a second album "God Of Rock" produced in 2010 by "Les Disques Plâtres", a small French independent record label. Our third album "Rollin'On" came out in April on one of our friends' label: "Ronce Records".
Please tell me a little about every member in the group right now, age, family, work, interests and something bad about everyone? Earlier bands?
-We all are in our fourties.
Djay: drums, in a relationship, 2 children.
Roons: bass, married, 2 children.
Yey: guitar, in a relationship, 2 children.
Alex: guitar, in a relationship, 1 child.
Land: singer, single, no children.
Music is a passion we share.
Our previous groups were: "Wood-Faces" for Djay, Roons, Yey and Alex, and "Bad Talkers" for me (Land)
I can hear both USHC but also early punk like garage and surf? Am I right? Favorites from the past?
-We love The Dead Kennedys, The Ramones, Fugazi, Black Flag, Spermbirds, Sex Pistols, The Buzzcocks, The Stooges ... Everything which "rocks". No, you're not wrong!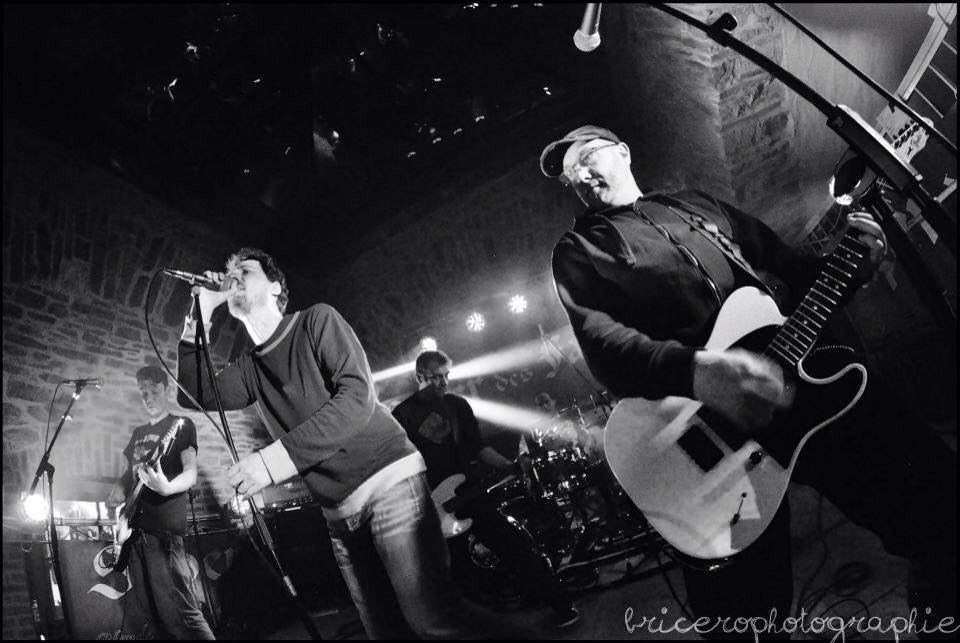 Nightingale are you satisfied with the name? How did it came up? You are not afraid that some other band is called so? Which is the best bandname you know?
-We're aware that it is not a very original name but after 15 years together, we made it ours. We are Nightingale. I know this name has been used more than once but we're not a famous band, so we don't really care. Best band name? Nightingale!
What´s the best thing with playing live?
-Being able to offer pleasurable music to people, something different from what the media offers and being able to have fun and share that fun with others. If we manage to give someone a good time through our music, that's great!
And where is best to play? And the worst place?
-Regardless of the location, the important thing is to have a receptive audience. And the worst place... this is where the public is not receptive.
How is to play this sort of music in France right now?
-This is not the kind of music to be played everywhere, but when you love…
How would you describe your music in three words?
-Fun, dynamic and... sexy!
What does punk mean to you, is it only a word or is it a lifestyle?
-This can be a way of life, it is also a way of thinking. Punk music is rebellious, it makes you feel free. It's perfect for people who feel that they don't belong.
How do you see on downloading, mp3 and that stuff?
-No problem with that.
How is it to live in France now? Politically?
-No matter who rules the country, the people always have to tighten their belt while a king and his court spend lavishly.
Is there any good bands from France now? Is the punkscene big? How is it in your hometown?
-There are many good bands in France, but punk or punk rock music is not very popular, and so much the better. I have the impression that around here, despite the number of groups per square kilometer, most of them are looking too hard for success, and many end up into prostitution (lol).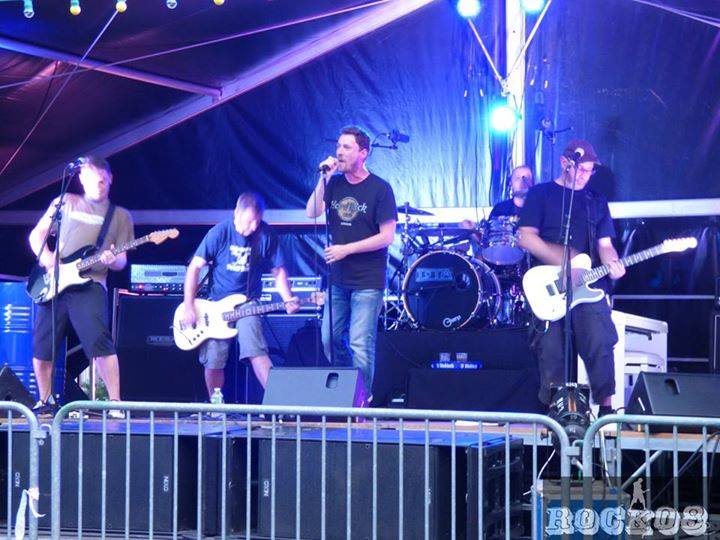 What do you know about Sweden?
-About the country, not much... Capital city: Stockholm. Next to Norway, Finland and Denmark. Anita Ekberg, the Nobel Prize!
Have you heard any good bands from Sweden?
-But we know a few Swedish groups. Many of them had a big influence on us such as: Refused, Millencollin, Satanic Surfers, 59 Times the Pain, No Fun At All, Backyard Babies, Hives, Raised Fist...
Your lyrics, who does them and what influences you? Why not in french?
-Alex deals with music. As for the texts, we had different people writing for us: our drummer and his girlfriend, some friends, our guitarist, my brother-in-law, my sister, and myself.
I especially adapt the texts. We are not trying to convey important messages in our songs, it is not our first objective. For us the music, the melody are our priorities. And what sounds better than the English language?
Is there any subject that you never will write anything about?
-No.
Politic and music, does it goes hand in hand?
-Music is a good medium to denounce, to protest, if one has the urge to do so.
Best political band/artist?
-The Dead Kennedys.
Do you think that music(lyrics and so on) can change anyones life, I mean people who listens to music?
-Music can make you think and see things from a different perspective.
Your cover on your CD looks really nice, is it important to have a record cover which shows people which type of music you play? Your favorite recordcover?
-Thank you. Yes, it's important. In a way a CD represents the spirit of the band. Our favourite record cover: "Rollin'on" by Nightingale, of course. Otherwise: Iron Maiden's record covers.
Is it important to get out physical records of your stuff? Why or why not? Is RONCE RECORDS a good label?
-Concerts are our priority, we release CDs to get these concerts, and it allows us to reach a bigger audience. It is also true that we love the recording experience; it is very prolific musically speaking. From the very first album, the same friend has been doing the recording, the same friend has been creating the album covers, and now another friend distributes our work on Ronce Records. Yes, it is a good record label. And we are very proud of our latest CD.
Please tell me a funny thing which have happened during your career and under some gig?
-There have been so many. During a concert in a bar, a guy kept talking in my ear while I was singing. I think he didn't see what I was doing... (lol)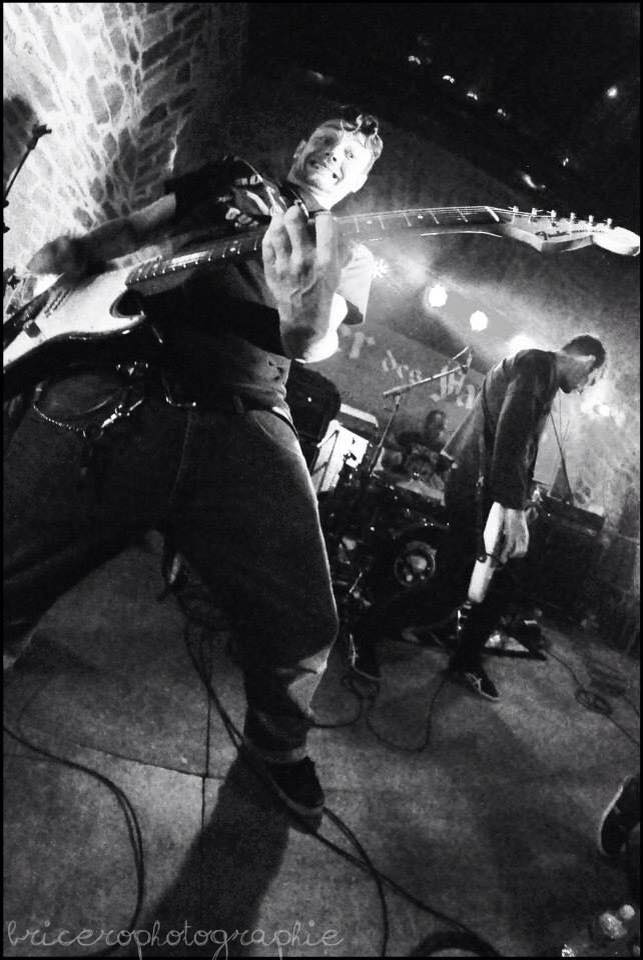 How does your audience look like? Which people do you miss on your concerts? Which is the biggest band you ever have played together with?
-We're desperately short of an audience!
GOGOL 1ER.
Please rank your five favorite records, five favorite concerts and five most important things in life?
-Repeater (Fugazi), Fresh Fruit for Rotting Vegetables (The Dead Kennedys), Is This Glen? (Seven Hate), Escape (The Burning Heads), Vote For Me (Uncommonmenfrommars).
Suicidal Tendencies, Fugazi, Sick Of It All, Chokebore, Ramones.
Respect, family, friendship, humility, music.
Is it boring with interviews? Is it much interviews??
-Yes, it's difficult to talk about ourselves.
No, not many.
If you could choose five bands from the past and the history and nowadays and both dead and living bands to have a concert together with your band. Which five have you been chosed?
-The Ramones, Uncommonmenfrom mars, Seven Hate, The Dead Kennedys, Danko Jones, Fugazi. For example ...
Is music a good way to get out frustration and become a nice person outside the music??
-If you believe in music therapy, yes;-)
Which is the question you want to have but you never get. Please ask it and answer it?
-Do you want to marry me?!!
The answer is YES!
Futureplans for the band?
-We hope to get lots of concerts, to record another album and to keep enjoying what we are doing within Nightingale.
For yourself?
-End this interview!
Wisdomword?
-Rock'n'Roll!!!