Nifters started as a punkband once upon a time but nowadays have they actually gone over to play metalstyled music, Mats answers my questions about the group in august 2008.
History?
-We started 1999 in a little place east of Norrköping named Skärblacka. Four confused boys in their twenties with a love to fast and shouty punkrock which wanted to revolt against the reggaerestrictions which was over the whole little sleepingsociety. The housegods was Zeke, Fu manchu and Dwarwes, but if the truth should come foreward was we really influenced by the Swedish/Norwegian scene with bands like Hellacopters, Backyard Babies, Turbonegro and Gluecifer and so on. We were called The Nifters and became really fast a wellrenommed liveact and fished up a recordcontract with the cultlabel Scooch Pooch records. 2001 we released the fullength "Riding Shotgun" which we thought should be our ticket out to the world. It didn´t became so and the company was working against us, the record was not released directly and it came out a year after it was recorded and some months after the release the label quit doing records. It was there where all the bad things started and after a lot of changes in the lineup so was our view of music changed and 2003 we released the mini-CD Cognitive Eclipse which was so here afterwards the change when punk was replaced of the things we represent today. We also took away "The" and continued as Nifters. After that we changed some more members , play a lot released more records and drank some beers.
Please tell me a little about every one in the group, family, age and something bad about every one?
-Jocke Göthberg
Plays drums and he is 34 years. He have been a member since 2003. He´s the most musicinterested I have met and his whole life is about music and he have an almost autistic style because he can remember every name on every Swedish actor. Many people surely knows him from the metalworld there he have been since the late 80´s and among other things he have singed in Marduk and Cardinal Sin, as a drummer Darkifide and in later years he have been a singer in the allstarband Soilwork and In Flames. When we talk about bad things we can say that Jocke have been to prison and have because of old things he did when he was young been some years in prison.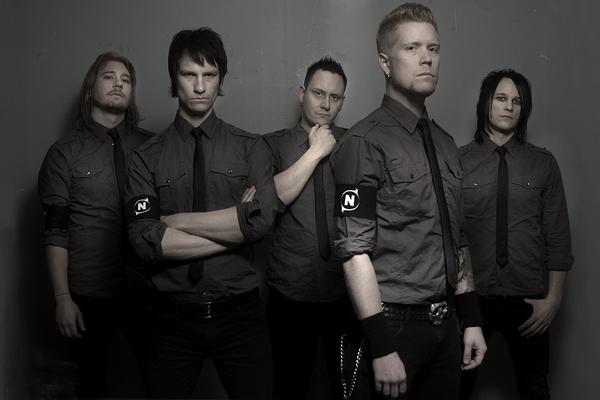 Johan Söderhielm
Plays guitar, is 28 years and he´s oversocial. He is together with me the only member which is originalmember and we started to know each other during the 90´s when we played hockey together. Johan works as a music teacher. Beside Nifters Johan plays together with me in the band Rawhypnols. He´s the one in the band which is best to organize things even if he many times can give an impression of being away from the world. Johan was struggling against , before he cleansed up his life, with a very hard heroinaddiction which gave very big complications for the band and of course for himself as a person.
Martin Thornell
Plays bass and he´s 26 years old. He´s the last one into the band and he have played the bass for two years. Martin study's right now to become a teacher on Norrköpings University. He have been in a band called general Wu and they played rock. Martin is a really good person and he takes everything very calmly, which is worth attention just because of his very bad grownup. Because when we talk about bad things so have Martin been involved in very odd things, He´s grownup in a children home because his parents didn´t want him and gave him to a home for children and the father is a wellknown alcoholist in a suburb to Norrköping.
Zwedda
Or as his parents gave him the name Christoffer Svedbo plaus guitar and he 31 years old and he works as an electrician and he's among the small amount of people who feels proud of their work. Zwedda came into the band 2004 after that I have decided to put the guitar on the coach and only focus on the vocals. He have been playing in the crustband Acursed from Söderköping, which is a very big name in the crustscene. He haven´t left the punkscene totally and he´s one of the driving forces in the crustband Jävlar. Terrible is that Zwedda got 2500 volt through his body which result in that he was burned really much on his right foot and he was forced to amputate the foot. So why he goes a little bit odd is just because of the fact that he have a foot which isn´t real.
Mats Larsson
-I have recently had my 30th birthday and I have really hard feelings of take the thirty in my mouth, it´s really more to hard to write it down and therefore I spelled it instead. I sing/shouts/whisper/growls in the way to find some new way to express myself. I also stydu to be a musical teacher. My musical career have been decimated to be Nifters except some small things with the nosieband Rawhypnols as a bassist. When we talk about bad things so is it that I am a notorius liar which really wants to write bad things about people even if they aren´t really true always.
I thought that Nifters once upon a time played punk, or where do I have get that from?
-That´s really right. As I wrote in my introduction so started we 1999 as a punkrockact in the american school.
Which is your relation to punkrock?
-Yeah, what is punk? For the kids it is a way to dress on H & M inspired by Avril Lavigne, a Tv-program with Ashton Kutcher on MTV or something really old as their parents did in the 70´s. Without punk we have never had the aggressive form of metal which have coming foreward and we have surely don´t sound as we do. For me is punk Ramones, Sex Pistols, the Stooges, and so on. Something which is the ground for what we´re playing. And coming apart from other acts which have been taken down their sound and do some sexless ,sterile almost dancebandsimilar sound so have we still the punknerve left. We have better on playing our instruments and it´s more controlled than in the "early days" but the energy is still left.
How would you describe your music in three words?
-Heavy, dynamic and very well thought through..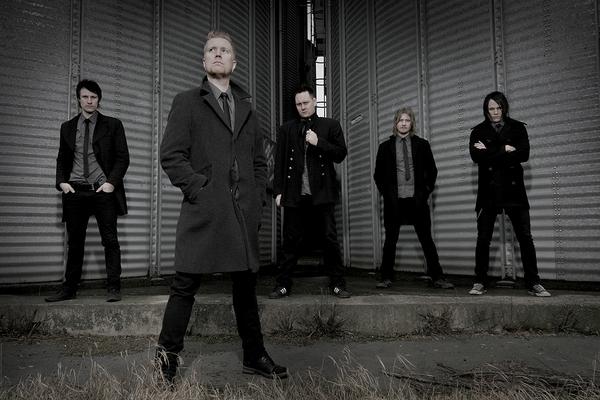 How have the reviews been on the new record?
-Mixed, but often very food. It seems like people been frustrated that they not can give Nifters a style. Reviewers have many times had been painting themselves into a corner when they wants to give bands an etiquette and they became so very generalising. Instead of buying that Nifters is a wide band with a broad repertoire so wants many call us a hard popband, a lame deathmetalband, one too wellpolished punkband , one for introvert and hard to understand schlageract.
Tell me your whole discography?
-1999- High quality punkrock - demo
2000- No regrets/High and above - 7"
2001- Riding shotgun - Full cd
2002- Vision distorted- Mission complete - 7"
2002- Intrin"sick" Reality - 7"
2003- Cognitive eclipse - mini cd
2004- Allein - cd-single
2007- If this one becomes a hit I swear I am going to kill myself - cd-single
2007- Genesis/Apocalypse - cd-single
2008- Invisible Caine - Full cd
Norrköping , how is it to live and play there( I was there often as a kid because of my grandmother and grandfather lived there) ?
-Kent said "you never become a prophet in your homecity", something we thing suits into on Nifters. There´s a lot of people who likes us here but many people hates us and they´re really easy to apart from the other. Norrköping is too little to disappear in, and are you a person which is a little wellknown so can it be so that you will taste the Swedish "jantelag"( you shall not think that you are someone). As a city we like Norrköping. It´s very bautfiul with the water which floats in the city and there´s a scene here with many band and good help to get from the community, The only thing which were missing is a really good rockplace, there have been some but nothing which have been here for long but maybe its too little amount of musicinterested people.
IFK isn´t so good right now(I am supproting GAIS)? What shall they do?
-Personally I´m not interested in sports and I think that they should lay down their activities and put the money into some useful instead. But the fans of "Snoka" as IFK Norrköping is called means that it´s the will which is missing and that they have a good team on "the paper". But as I said I´m not part of this
Can you think of doing a tribute song to a footballteam or something political , or have you alredy done that maybe?
-Yeah, we have done that. It is called IFK "In For the Kill" and was a step in our promotion when "Snoka" came back to The Premier League. When we talk about politic so is everything we do politics, but not so explicit or in some way bound to some special political party
Is there any good bands there?
-There´s a lot of good bands coming from Norrköping as. Sargatanas Reign, Sarea, Lydia, Alison Blaire, Rawhypnols, Marduk, Eskju Divine (Rip), Fredrik Johansson och Hundarna and so on.
Any good bands in Sweden?
-Thåström, At the gates, Nine, Khoma, Tiamat, The Great deciever, Entombed, Breach (Rip), Fireside (Rip?), Skitsystem (Early), Älgarnas Trädgård (Rip)
What type of people comes to your concerts?
-Many is confused emokids which is cheated by our songtitles and of our members black hair. Otherwise it´s really mixed in all ages depending on where we´re playing. It feels like if less stereotyped audience in Europe than it is here in the neighbourhood. It´s more mixed ages and more both sexes.
Which type of audience isn´t come to your concerts but you want to see them there?
-We want to see more people. To pay 150 Skr just to go on disco and party people to happily.But when it´s about pay 60 Skr to see a band kick their ass so become it´s more problematic, if the band hadn´t have a hit onP3, MTV or ZTV because then it´s fantastic and interesting and all people goes to the concert.
ZW Records, what´s that? Other bands there?
-NZW Records is a little record label that Benton Wiberg, have and he is a very good man who likes Nifters a lot. He have also a popband called Lydia under his wings which really really good!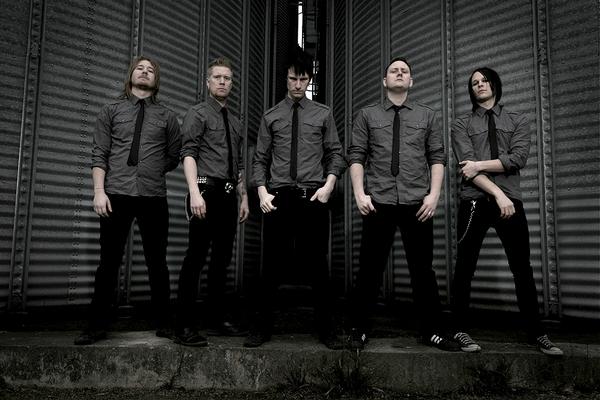 What do you think about downloading and so on? Good or bad…?
-I think that it is so fun now when you don´t have to struggle and fight to get your music. When I grew up you could go weeks and wait for a record to be released and envy the "older" guys who knew the record stores owner and could get the record one day before it came out. You could also buy obscure bootlegs and search in fanzines after reviews on records which could have the same musictaste as yourself. Nowadays you can download some bands whole backcatalogue in some seconds and "predprodds" before the record even have been started to be recorded. But it´s positive that the recordlabels loose some of their power and that´s is easy to distribute your music via the net even if it´s lesser scale and to a smaller audience but it´s a chance for the small human being and the little band. With that I choose to answer the next question because we´re one of the small bands for the small human being(this far) and therefore we can say that downloading is good for Nifters.
How much does a band like Nifters sell?
-I have no clue actually, can´t even speculate. There´s so many channels where the records is sold. But I hope the record label knows how many we sell.
Do you have any fans outside Sweden? It feels like if your music could pe popular putside Sweden? Have you been outside Sweden and played?
-We have played in following countries except Sweden: Denmark, England, Germany, and Czech Republic and will during the autumn also play in The Netherlands, Austria and Switzerland. Nifters audience abroad is becoming more and more and it´s hard toestablish yourself when you don´t have any majorlabel as a support because it don´t have any distributionchannels and money to PR. And then we say so that we will tour our way to be more successful and then we can hit into peoples head that Nifters is the thing.
Hows the perfect gig?
-Yeah, that answer comes in the next question/answer.
What´s the most peculiar which happened during a toru, concert with Nifters?
-When we´re out on tour some really odd things have happened, meeting with odd people, incidents with the law and some alcoholrelated things. I have one favourite which I can tell you about shortly. I call it…;
Miss Mokre Tricko – Awaiting the end
In the beginning of this summer we were a short time in Czech republic to do two festivalgigs. One in Prague , a ususal indoorfestival with some local acts and some drunk teenagers in the mood to pogo. The other one was a little bit special. 20 miles from Prague on the border to Poland and Germany , there is the little village Rumburak, and there on a camp called Valdek was the thought that we should play in something called Motopaty! We speculated on the way to the thing that it maybe could be some motormeeting or similar and those speculations could be verified in big style. When we have reached the place it started with armwrestling and of course dragracing. After all these mantests It continued in the sign of the masculine with a chaotic sound of Suzuki/Yamaha/Kawasaki - 14 gzr 54 cc 3,2 ++ some extra racingmotorcycle and they went up on the stage with these. The owner to this machine was the festivalpresident and he wanted to welcome us. And due to the difficulties to understand so did we felt ourselves really welcome and we got some food, Pivo(beer) and a place to sleep.The sun was shining and the Pivo was floating in the same way as the bikeraudience which become more and more . Some local acts played during the afternoon and it felt almost a s a normal festival, except some visits from the ambulance which came to pick up some beaten festivalvisitor. The only thing which was missing now was which time and when we should play so we could start warm up for the gig, it was shown that this was more difficult then we could think. Noone seemed to know when we´re going to play and we must wait and during that time we saw Czech Rammstein copies which played with own sewn lederhosen, homemade bombs and the not so newthinking Rammstein Cz and they gave us a a show. When the clock was 23 we were so eager to play so it was frustrating to wait to dress and put the gear on stage so we could be ready when it was our time to rock..
It was then the odd things started to happen. It´s a noise behind us and it opens a way between the audience it comes five motorcycles and up on stage with a cargo of five 16 year old girls in minimal underpants. Those girls dances over stage in the purpose to show underpants and that likes the bikers. Well well, nothing wit that, of course the guys should have some girls , but now we maybe can play?. WRONG. It´s noisy again and two bikes comes up on stage , this time with some older girls with some even sexier clothes. This time it´s a real sexshow with whipped cream and Cunnilingus and the whole thing. The thing which was thought as en exhausting thing becomes more some frustrating and obscure, but but we don´t judge anyone, of course the boys must have a sexshow. Now we can play? WRONG! Up on stage come a Czech carboncopy on Adam Alsing and a scooter and some girls from the audience of different look. An odd three legged thing comes up on the catwalk which is going out from the stage and it´s something which looks like a sauna. With really deep scars in our heads and nervous looking on the clock can we see how the time goes to 00.30 and we begin to wonder if there´s some miss in the booking. Then we see a notice where the program is like this: .
Kreblmzch hazkkrili Motopaty
22.00 Stripitisi
22.30 Miss Mokre Trico
23.00 Firisti spledidnoci
23.30 Kapella Y Nitfer
The clock is 1.30 and we thank god that we exist and we wait with excitement on Mokre Trico. Adam Alsing starts to talk really hateful in Czech language and the ladies which is coming from audience get a white t-shirt each. And then after that it comes water from the threelegged thing and we understand really fast the thing.; Miss Mokre Trico = Miss Wet T-shirt, FOR GODS SAKE, COME ON!!!!
One after one the girls dancing to the bikeraudience whistelings under the three legged thing and the different between spareribs and pork is showed, The humiliation is worser than which soapopera of the Big Brother and Idol-style. The bigger women takes off their shirts and shake their breasts but the small ones doesn´t do that. The winner of this spectacle get the title Miss Mokre Trico and get a new scooter. The second place gets the saunathing and the more bigger women get taunts from the audience . Now were almost apathic, dystpohic and start under Adam Alsings ovations over Miss Skoters wet torso and start to take foreward our gear after all these oddities. Zwedda stands and shout out his frustration over that his amplifier can´t go on. Johan which is really Pivofied tries to save his cords from all scooters and saunas. Martin which is newly awake and look at the mess and Jocke is putting his gear together with his drums. Me myself tries to get the microphone to not do go round and tries not to go around in the places where gunpowder, whipped cream and bear become a slippery mess. And when we shall go on so is the stage going down on light and Mister Alsing get the audience to be aware on something going on behind. The scene! And then we hear a bang and the heaven is lightened as the third world war and then we come the czech language closer. ; Firisti spledidnoci = Firework finishing! It bangs and it feels like some of the fireworks go wrong and come into the audience more than it comes up in the heaven. When the fire and smoke have been going away from the stage so can an exhausted Kappela Y Nitfer avsluta finish the evening with really good and energic rockmusic. A really odd gig on a really odd festival of an exhausted band.
Please rank your five favouriterecords, five favouriteconcerts and five most important things in life?
-Records
1. Timothys Monster - Motorpsycho
2. Dark side of the moon - Pink Floyd
3. Secret south - Sixteen Horsepower
4. Aenima - Tool
5. Ok computer - Radiohead
Concerts
1. Motorpsycho – Sthlm 2002 - Debaser slussen
2. Roger Waters – Sthlm 2007 - Globen
3. Sick of it all - Lkpg 1996 - Skylten
4. J Mascis - Sthlm 1997 - Studion
5. Qotsa - Sthlm 1997 - Studion
Life
1. Health
2. Family
3. Music
4. Social relations
5. Material things
The first, last and most expensive record ever bought?
-The first was some cassetteband with Europe or Roxette. The first vinyl was Max mix 10 in some preadolescent disillusioned stadium. The first CD-record was Midnight Oil - Blue sky mining. The latest was Motorpsycho - Little Lucid Moments. The most expensive must be Yamatsuka Eye with Sonic Youth which showed itself to be more expensive than good.
The most embarrasing record in your collection?
-An embarrasing record can only be embarrasing when you think it´s good. Otherwise you can have a whole lot of records which you don´t like just because of the fact that they´re dated to some special period of your life which not is the same musical values as we have today. An embarrassing record could be Stakka Bo:s Jr which suits into that definition.
The record which must be in the tourbus?
-We always listen to Jockes mixrecords which he burns when were out and tour so will I rather list some songs which we as a collective have difficulties to be without:
1 Cp-Åke - Onkel Kånkel
2. Future Invaders - Devil lee Roth
3. Underground - Broder Daniel
4. Han börja rocka - Eddie Meduza
5. Slayer - EVERYTHING
How do you think it is to live in Sweden? I mean plitically?
-We who lives in Dystopia have difficulties to say something about politics so we´re satisfied with everything that Zalvatore Caine Incorporated have built for us and we hope that Mr Caine is satisfied with the things we try to do for him. I´m aware about that he see and hear everything we do and say so this is the only thing I dare to say right now.
Futureplans for the band?
-We have another fullengthCD ready but it´s not mixed and we´re doing material to a third record. This autumn we play some gigs here and there and a longer europetour in october.
For yourself?
-Do my studying, get married, buy a house, get children, put myself in the lead and fall into a middleman with a drink on Friday night, buy food on Saturdays and have anger on Sunday evening because of the work on Monday.
Something to add?
-It became long answers, but it took away some boring hours on a boring work. Thanks a lot.