The New Story, Alex (bass player) give sus here some short answers about his group The New Story

Italy; September 29 2006

History?
-The New Story is the brand new name of N.Flunders, one of the top Italian pop punk rock bands. After a 5 year career, with two self releases, an official full length ("Honeymoon On The Moon", Le Parc Music, 2003), gigs and tours all over Europe sharing the stage with the best acts, the band is born again under a new name and a new way of making music. The New Story, with the debut album "Untold Stories", becomes the perfect mix between rock rhythms, pop melodies and emotions, plus a great punk rock energy.


Please tell me a little about every member, age, family, work, interésts and
something bad about every one?
-Johnny, 22 singer/guitarist, party animal
Alex, 26 bass player, lives in a small country town and loves it
Fabio, 21 guitar player, too much in love with his girlfriend
Teo, 22 drummer, has a german girlfriend and skips rehearsing to see her


My review of your record is like this NEW STORY-UNTOLD STORIES(CD) I saw Lost Prohets as a support act to Metallica some years ago and I imagine that they sounded like New Story does in Streetlights if I´m not wrong but that am I surely. But you who knows how I mean with the perfect mix between punk and metal in some way. New Story have more punk in the music but some guitars sounds a little bit metal. As when Backyard Babies is as best and most punky and that is them as often. 11 songs which really gives me the lust to work , dance, pogo or whatever…you can understand that new Story makes me in a good mood.(EIGHT) 26/9-06
What about it?
-We're happy to read this review: yeah our sound is a mix of powerful guitars and melodic vocals and surely one of our aims is to be super catchy cause we want the people to remember our songs easily eheh


Is there any other bands you´re being compared with?
-Listen to Hoobastank, Foo Fighters, Autopilot Off, Don't Look Down, Over It and New Found Glory… you'll hear some The New Story in every band we mentioned!

Do you care about reviews?
-Only if they're positive! haha


The perfect mix between punk and metal, comment?
-Hey where's pop? We got it too! haha


How would you describe your music in three words?
-"Powerful Emotions": see, we only need two words!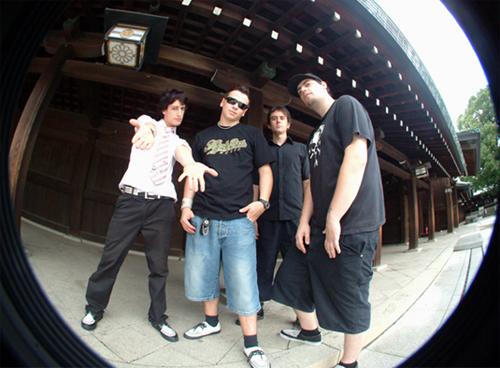 How is it to live in Italy?
-It's what we did our whole life so it's just "normal"… It's a bit worse about the music scene which is kinda poor… But anyway when we're abroad we miss our food so much!

What about the government?
-Do we have a government? We just changed our prime minister voting for another one who was supposed to be better and then now we're just seeing that it was better when we thought it was bad heheh

Do you think that music and politics goes hand in hand?
-Surely they can do: big artists have got the chance to say something that many people can hear. But it's not our case: first cause we don't talk about politics in our lyrics, second cause we're not big

Best political band?
-Bad Religion is amazing

Is there any good bands in your homecountry now?
-Yeah the scene is getting bigger and there are good bands over here that made it out of Italy too: Forty Winks and 7Years are surely the best ones

What do you know about Sweden?
-Cold weather, naked people in parks, amazing blondes and good bands like Millencolin, The Hives, Turbonegro, Holiday With Maggie, etc


What does punk mean to you, is it only a word or is it a lifestyle?
-Just a word to describe a music style nowadays

Please rank your five favourite records, five favourite concerts and five
most important things in life?
-This is hard… well, I'll tell you the five records I'm listening more lately:
1 Hawthorne Heights – If only you were lonely
2 Panic! At The Disco – A Fever You Can't Sweat Out
3 Something Corporate – Leaving Through The Window
4 The Ataris – So Long, Astoria
5 Autopilot Off – Make A Sound
Concerts:
1 New Found Glory – Rainbow Club, Milan
2 Sum41 – Rainbow Club, Milan
3 New Found Glory – Independent Days Festival, Bologna
4 Rise Against – Rock In Idro, Milan
5 The Ataris – Transilvania Live, Milan
Things:
1 love
2 music
3 family
4 money
5 friends

First, last and most expensive record ever bought?
-First: Queen, Greatest Hits II
Last: Panic! At The Disco, A Fever You Can't Sweat Out
Most Expensive: Queen, Live at Wembley '86 (double cd)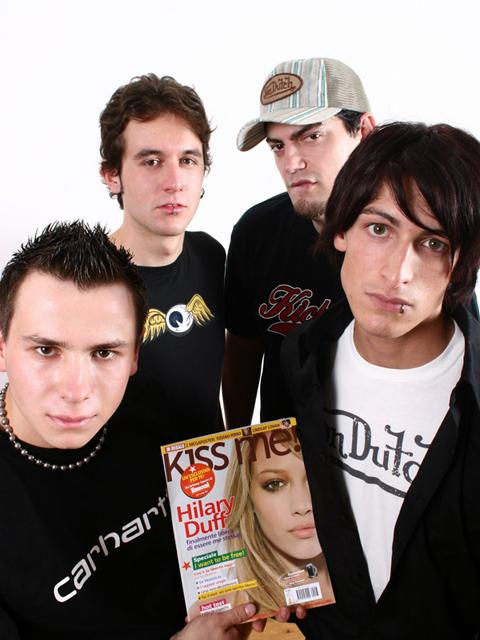 Most embarrasing record in your collection?
-Michael Jackson, History (it's double too! I spent too much…)

You have released your record yourself? Is it any label now?
-The cd was released in Italy on Freshman/Ammonia Records in April, but it will be re-released here on Freshman/EMI Music in a week so we're going major at the moment ehehe. Kick Rock Music released it in Japan in May. Lockjaw Records in the UK in July and Rude Records in Europe during this autumn

Have you done anything more than Untold stories? If you have how can
i get it?
-It's the only record we did hehe

Is it many interviews? Is it boring?
-It's nice, we like answering questions about us!

Which is the question you never get, please ask it and answer it?
-"Do you make a lot of money?" and the answer would be "No, please help me buying a car cause I need it!"

You don´t want to give out your msn or mailadresses , is it many questions about doing that?
-Yeah here in Italy we are on MTV and there are so many young girls asking for our contacts. It's too crazy cause you can't really make everyone happy since you've got too many people to talk with. Just think that we had to delete our address on our website cause some girls already came here… and it's my house!

Where is the best place to play?
-Till now Belgium was the best. And Japan is great too!

How is a good gig with you?
-What do you mean? If we're on the gig it's a good gig hehehe…

The name where does it comes from?(yeah it´s a boring question but it´s
interesting)?
-It just means what we are: a new story of an existing band. And doesn't this sound much better than "N.Flunders"?

The best band in punkhistory?
-Maybe The Ramones… we don't listen to them but surely our style comes someway from them

The most important punksong?
-Each person has his/her most important punk song probably… but I don't have one: I like too many songs!

Futureplans for the band?
-Promotion, tours, promotion, tours, promotion, tours... should I go on? hehe

For yourself?
-Putting all my efforts in the band and having fun with our music

Wisdomword?
-Fun!

Something to add?
-Nah, we said too much hehe


hope it is ok!

Alex