New Stage Arise has a sound which is between metal an dhardcore in some good way…I really like their sound. Please look after this group. This was done in december 2022. Interview conducted with Stefan and Bernd
Please tell me a little about every member and the history of the band?
- NEW STAGE ARISE - Germany 1st guitarist and composer: Stefan Profession: brewer Singer and lyricist: Bernd Profession: craftsman Drummer: Eddie Rentner Bass: Andy Profession: Technician The band was founded in 2020 as a 2-man music project. The current line-up has only existed since April 2022.
Your music is a style which came foreward many years ago, but it´s hard to describe in it a special genre. Both punk sometimes I think and mostly metal?
-Our style is: REAL MODERN HARD ROCK. There are influences from different genres. We make the music we like to hear ourselves.
The name New Stage Arise where did it came from? What do you men with it…
-Our name NEW STAGE ARISE came about during brainstorming and suits us perfectly. A new fresh sound that absolutely must be heard.
Is it important to release physical things? Or can you feel that you have done a record if you only release it digitally?
-Definitely also a physical release (haptics, texts, photos and cover)
You have never been to Sweden and played or been here as tourists? If you not have when do you come?
-Stefan has been to Gothenburg and Bernd to Öland - both only as tourists. Sweden is definitely worth a trip.
Which countries have had the pleasure to be hearing the band live?
-Until now, other countries could only listen to our music online.
When you do songs, how do you do, are you jamming together or do someone comes with a lyric and some with the music or how do you do your songs?
-Bernd writes the lyrics and Stefan composes the appropriate melody. Then the rest is arranged in the rehearsal room with Andy and Eddie.
It seems like you have influences from Metallica to some punk…other styles you like?
-Metallica influences probably not, but thanks for the comparison. We listen to punk, metal, rock and a bit of rap/hip-hop. ("Böhse Onkelz", "Terror", "Guns N' Roses", "Maroon", "Heaven Shall Burn", etc.)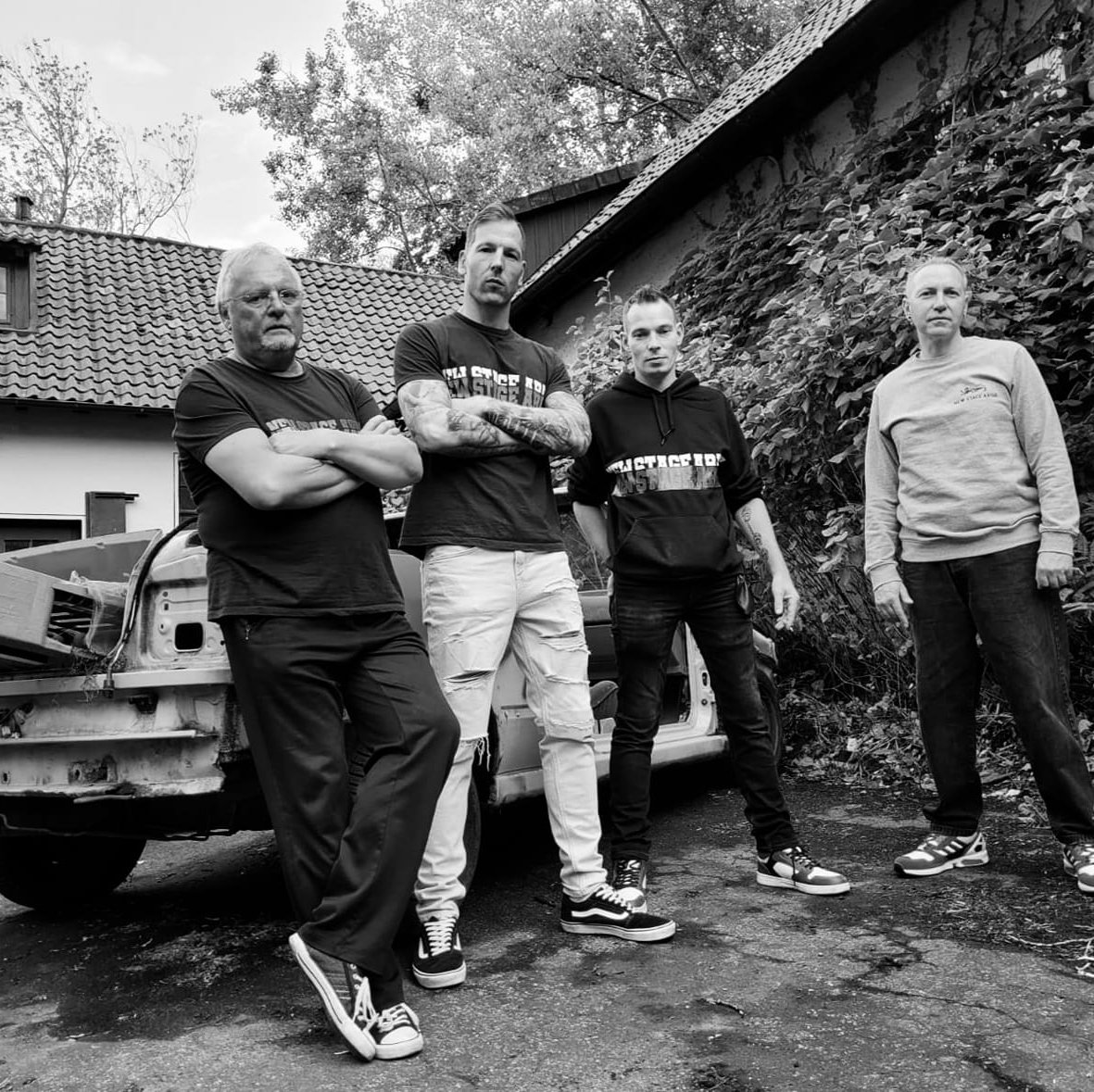 Please tell me a little about the following lyrics….and who wrote it and why?
Subkultur
Road to glory
Wahre Freunde
-Subkultur: The text is by Bernd. It was the lifestyle from the 90s that fascinated us so much. The clothes, cars and sneakers.
Road to Glory: The text is by Bernd. As a passionate motorcyclist, I have described the feeling on my trips.
Währe freunde:
The text is from Bernd. The song describes our friendships with ups and downs.
How is it to live in Germany nowadays, racists, politics,covid, etc?
-Life in Germany is very good. We don't want to deal with the political situation in our music.
Are you calling yourself a metalband, crossoverband or what do you call your style?
-We make REAL MODERN HARD ROCK. This is our own definition.
Do you have any favorite football team(I support Arsenal(England) and a Swedish team called GAIS myself)?
-We enjoy watching football, but we don't favor any particular club.
Beer is expensive in Sweden. I have a very big interest in beer and brew myself? Your favourite beerstyle ? You don´t have an own New Stage Arise-beer? Or maybe you are straightedge?
-In our hometown there is the beer "Hasseröder" - it tastes very good. Maybe you have the chance to try it. Bernd is straightedge and doesn't drink alcohol.
Is there any good bands from Germanyworth to mention? And how is the alternative scene living on in Germany right now?
-Good question??? "Böhse Onkelz" definitely. We grew up with this band. Otherwise there are a lot of bands from different genres here.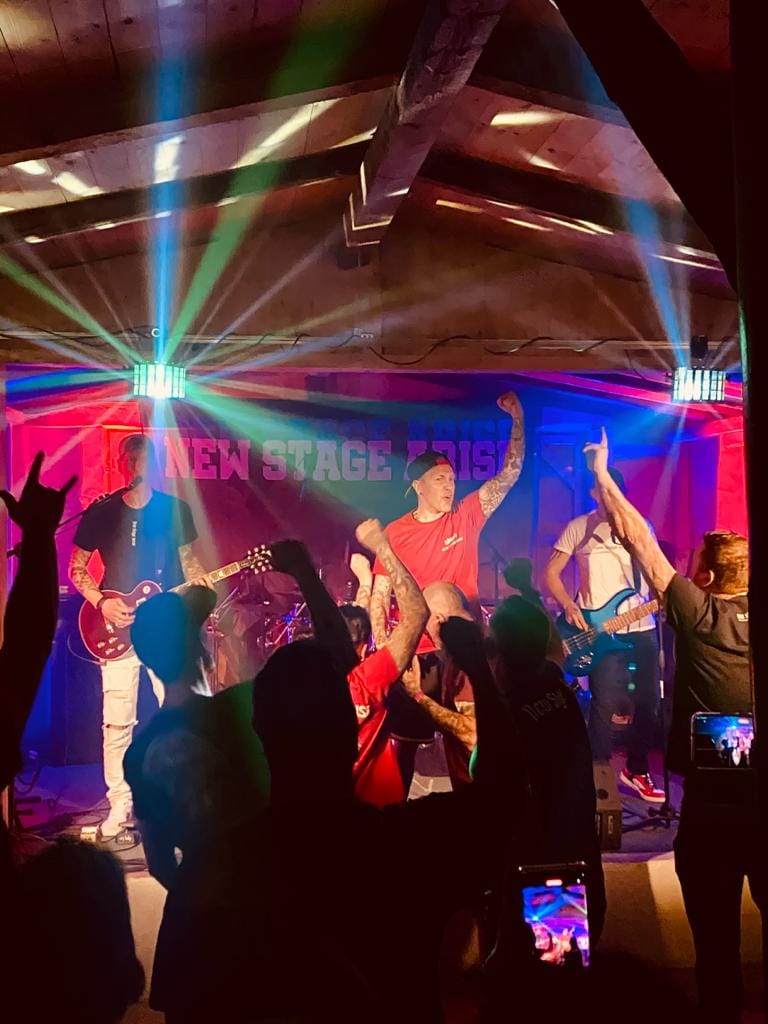 What is your strength when you play live?
-We recently had our first live concert. It was completely sold out. We were a little nervous, but we were able to captivate the fans from the start. They feel that we feel and live our music 100%.
Which type of people comes to your concerts? Which type of people do you miss?
-The first gig included friends and family as well as fans.
Do you buy much records, or is it only Spotify and those type of things to listen to music? Any good record store?
-Of course, a good album is bought on CD. But we also listen to music on YouTube or Amazon. There isn't a record store near us.
Are you selling any merch on your gigs, do people buy it? What sells best?
-We design our merch ourselves. Some of them are one-offs. Our style is very well received.
Which is your own favoritesong among your own songs? And which song is the people choice?
-"Subkultur" is our favorite song but "Wahre Freunde" is an absolute highlight live.
What´s the biggest difference when you plays live nowadays if you compare when you first started to play in a band? Or is this your first band maybe?
-Since we've only played live once, we don't have a comparison yet. But our fans were all very excited.
Do you care about reviews? Which is the most peculiar you ever had, with this band or any other band you have been to?
-We love reading reviews. It's always exciting how people rate us. Most of the time they cannot classify our style. You feel the same way.
If you could choose five bands from the past and the history and nowadays and both dead and living bands to have a concert together with your band. Which five have you been chosen?
-"Guns N' Roses", "Böhse Onkelz", "XMaroonX", "Terror" and "Creedence Clearwater Revival"
Is music a good way to get out frustration and become a nicer person outside the music?
-Yes, definitely. It's simply the best to express your emotions in lyrics and compositions.
You sing in mostly german, howcome(I love it)? Which is your most political song?
-We are a German band, but we also incorporate English phrases e.g. B. ("Breakout for Life"). It's just good to sing.
Any good Swedish bands you like?
-Hellacopters, Backyard Babies and Amon Amarth
. Is it boring with interviews? Is it much interviews? What do you prefer Telephoneinterviews, face to face or as this one via e-mail?
-No, interviews are not boring. We are pleased that we can give a little insight about ourselves. There are always very interesting questions. We're happy to answer your questions. We prefer the written form.
Futureplans for the band?
-The band's future plans: production of the full album, video production and further concerts
Futureplans for yourself?
-Plans for the future Stefan: Stay healthy and enjoy quality time with family and friends. Future plans Bernd: Trip to Greece by motorbike and further trips through America, apart from that, of course, health is paramount.
Wisdomword?
-Word of wisdom: Ideas have to be lived
Something more to add?
-Thank you for the interview and your interest in our band. Greetings to all friends and fans. Check our channels and continue with us on our journey.