The New Blood interview was done in november 2015 and these Italian Oi/streeband is a really nice one. Please check them out after you have read this interviewÖ.
Please tell me a little bit history of the group?
-First of all thank you for the opportunity that you give us with this interview to know our band to the Swedish audience. New Blood was born in 2013 from the ashes of our old band Ciurma Skins, band that realized one cd and play a lot of gigs around Italy and Europe too. We are coming from Carbonia a small town in the deep Sardinian south, a place where poor and social disease is an everyday life partner, and this influenced a lot our music and our lyrics.
Please tell me a little about every member in the group right now, age, family, work, interests and something bad about everyone? Earlier bands?
-Me (Fabrizio) are 43, married with no children but with a lovely dog, Iím an environmental engineer and I work like researcher in Carbonia since 2005. I play guitar since I was 16 and Iím also a photographer and a video maker. Nothing bad about me Iím a good boy ahahahah. Iíve played in several bands before New Blood, as write before in Ciurma Skins and others the most important was Non Idonei and Generacion Rebelde, two important pieces of the Sardinia Oi! of the late 90ís, Iím in this scene since 1995 soÖ.
I can hear much different influences here in your music, mostly oi and street? Am I right? Favorites from the past?
-Itís true, we love Oi! And street punk but hard core and rockíníroll too. My favourite form the past are Cock Sparrer, Business, Nabat and a lot of other.
New Blood are you satisfied with the name? How did it came up? You werenīt afraid that not any other band would be named so? Which is the best bandname you know?
-Oh yes we love our name. When we decided to close the Ciurma Skins adventure after about 10 years we ask to our self which name can be represent this change than think and think and New Blood. New Blood like a new life, the start of new adventure like we sing in the same song ďWe have New Blood a new better lifeÖĒ. About your other question there is a new metal band that have our name but I found it before our choice, and Iím absolutely not worried about it. The best band name? But New Blood obviously eheheh.
Whatīs the best thing with playing live?
-That you know new people in every place youíll play, and can see the old ones that cannot meet if you donít play.
And where is best to play? And the worst place?
-For me the best places are the small one, with a lot of people inside that sing your songs, oh god! The worst place? I donít know probably where all is approximate, with no professional approach to the live set. But every place where youíll play the audience make the place with the right audience even a toilet can be a good one.
How is to play this sort of music in Italy right now? Which types of bands do you have concerts together with?
-I donít know very well the Italian situation cos we live in an island. But for the things that I see in the net today there are not so much places where play our kind of music, We have played in some Italian town in the past, like Rome, Florence, Bologna, Pisa and other small too, but today the places are less than in the past in Italy. In Sardinia where we live the situation is dramatic, in our town there is just a place where you can play, and in Cagliari just two or 3, so sad, but weíll resist.
How would you describe your music in three words?
-Street punk rock
What does punk mean to you, is it only a word or is it a lifestyle?
-Punk is an attitude, itís a way to see the world and to live in. Iím an old boy skinhead, with not an extreme look but always with my ideas and my attitude.
How do you see on downloading, mp3 and that stuff?
-For me downloading, file sharing, mp3 and all this things are a very good thing. With internet you can send your music all around the world just in one click, without costs and this is a great thing for all the bands.
How is it to live in Italy now? Politically?
-We live in the most poor town of the most poor region of Italy than you can understand that our situation is not so good, but we live our lives head-on. Politically is just a big shit, no more words for this scum.
Is there any good bands from Italy now? Good old Italian bands? Is the punk scene big? How is it in your hometown?
-Oh yes Plakkaggio form Colleferro (Rome), Dead end street from Florence, Bull Brigade from Turin and some others. From the past Nabat, Klasse Kriminale, Reazione, Banda Bassotti, Basta, The Stab and a lot of others. Today is not so big like in the past in Italy and in our town there is just us eheheheh.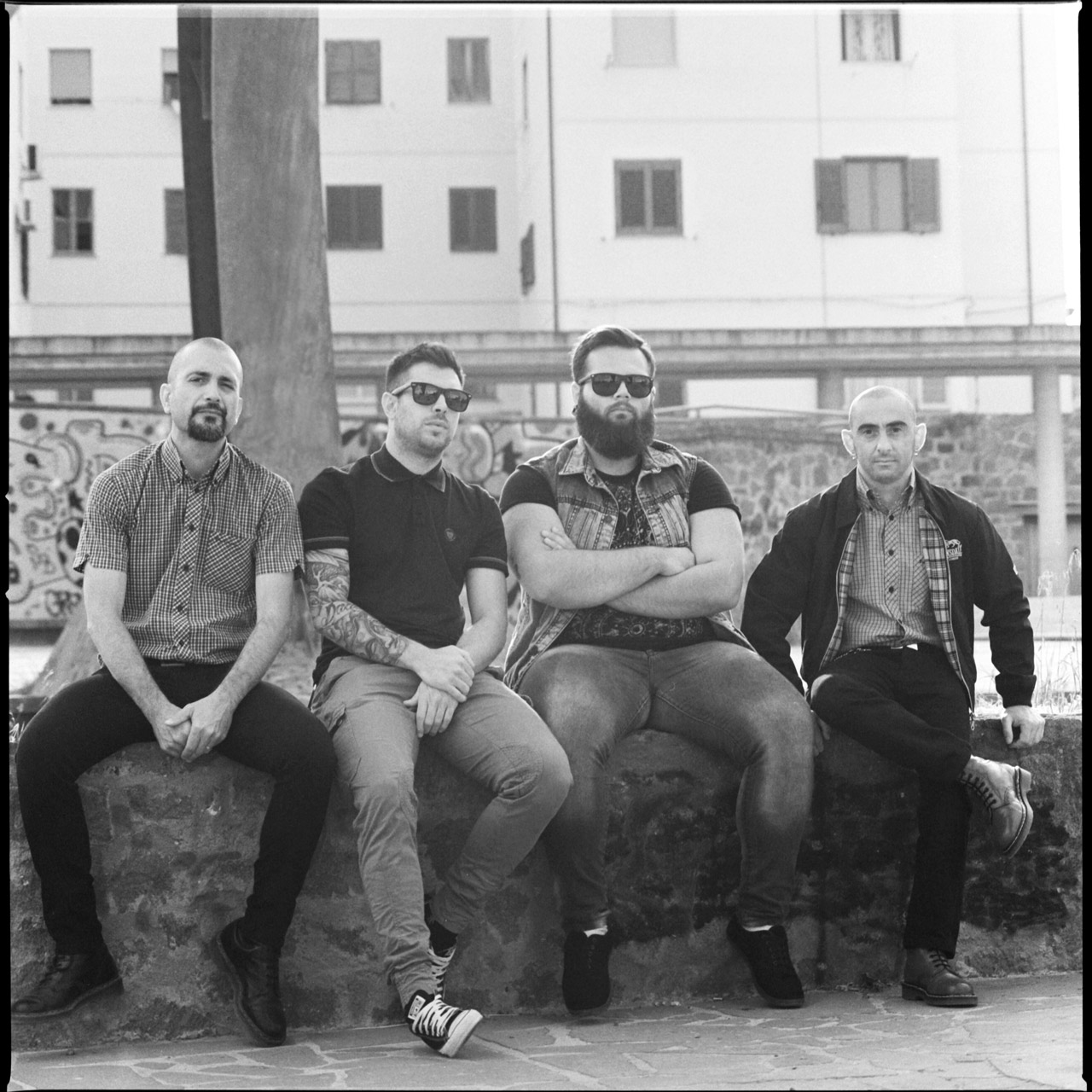 What do you know about Sweden?
-That there is a lot of cold and amazing landscapes, I confess Iím very ignorant about your beautiful country eheheheh..
Have you heard any good bands from Sweden?
-Perkele, a band that me and my drummer love a lot, we have seen them in Genova in 2010 or 2009 I donít remember.
Your lyrics, who does them and what influences you? Never in italian or?
-All the lyrics of the album are wrote by me, and all the things that happen in my everyday life influence my way of writing. Iíve wrote in Italian for a lot of time but nowadays I prefer English.
Is there any subject that you never will write anything about??
-Oh yes there is a lot of things that I never write about on my lyrics, is impossible to write about all.
Politic and music, does it goes hand in hand? Which is your most political song?
-Politic is a part of us, every choice we make is political, than when you sing about, work, social problems, and even on your everyday life, youíll write something that is political. In this optic our most political song is probably As sand in the wind that talking about the death on the work place, a very big and dramatic problem here in Italy with more than 1000 dead workers for year.
Best political band/artist?
-In Italy Banda Bassotti and Erode, in Europe The Oppressed, Loikaemi and Stage Bottles.
Do you think that music(lyrics and so on) can change any ones life, I mean people who listens to music?
-I think that music can change your life, or better the way what you look at life.
Your cover on your CD looks really nice, is it important to have a record cover which shows people which type of music you play? Your favorite recordcover? Who does your covers?
-Thanks, Iíve made our cd artwork and take the shots of the band (with the help of Francesco, a friend of mine, for the bands photos). For me us very important to have a good artwork, the people that donít know your music when find your cd in the shops or in the net look first at the package, then a good package is the first way to have a new fan. My favourite record cover? Funhouse of The Stooges.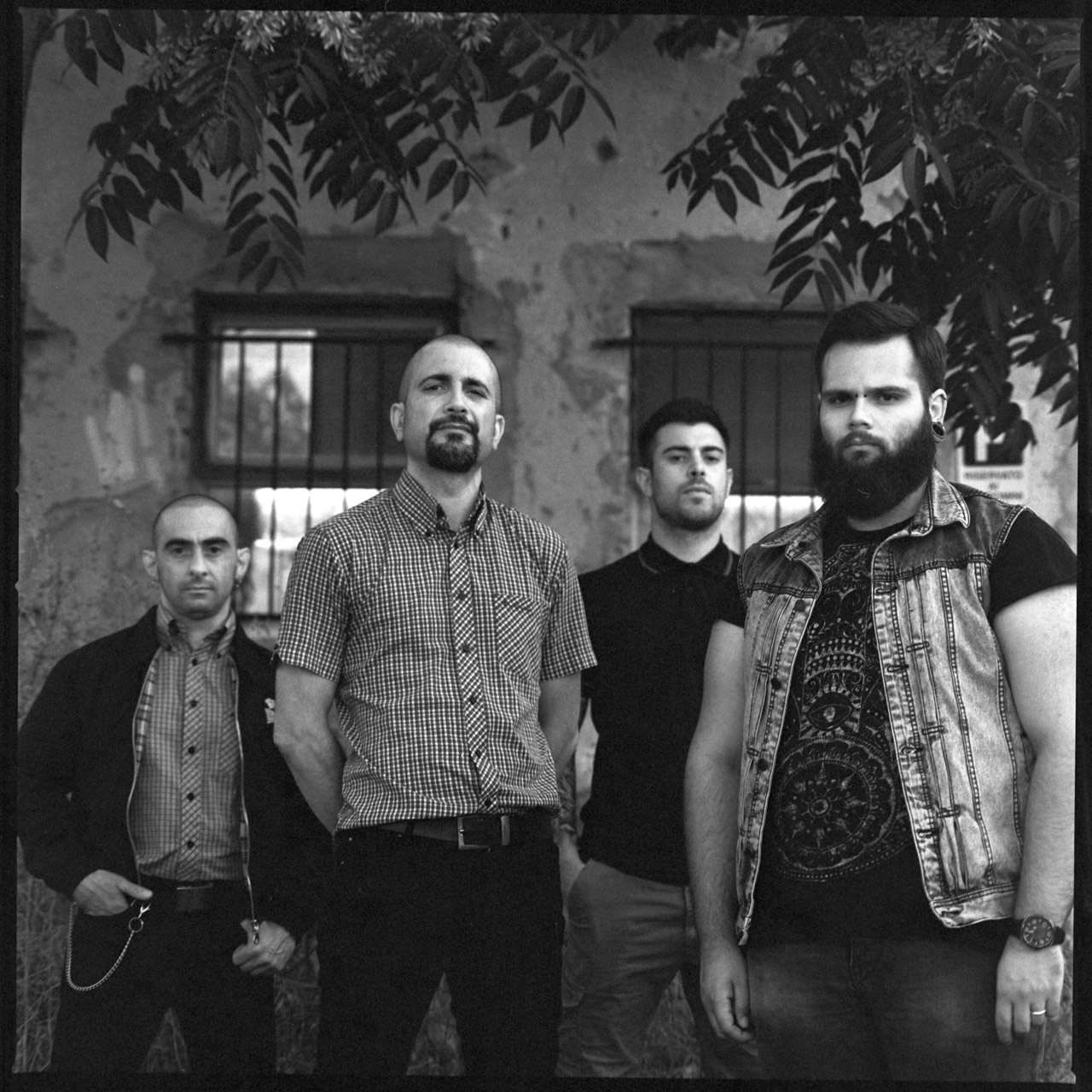 Is it important to get out physical records of your stuff? Why or why not?
-Yes is important, first is a personal satisfaction for the band, the feeling of have your works in hands is so wonderful. And the most important is that you can have a real connection with the peoples.
Please tell me a funny thing which have happened during your career and under some gig?
-The most funny was when the singer and the bass man of our old band took on the stage with two blondes wigs and start to head banging like two death metallers, we were all total drunk and you can imagine.
How does your audience look like? Which people do you miss on your concerts? Which is the biggest band you ever have played together with?
-Our audience is composed by punks, skins, hardcore kids and a lot of other people. The biggest band with we have played in the past was Peter and the test tube babies a legend of punk Oi!
Please rank your five favourite records, five favourite concerts and five most important things in life? -Records: Cock Sparrer Ė Running Riot; The Business: The truth, the whole truth and nothing by the truth; Nabat: Nati per niente; Banda Bassotti: Avanzo di cantiere; Slayer: Reign in blood.
Concerts: Cock Sparrer live in Venice-Bologna 2012-Bologna 2015; Rebellion Festival 2009, Business Live in Turin, Nabat live in Serramanna, Raduno Oi! Bologna 2006
Important things: my wife and my family, safety, music, love and last but not least work.
Is it boring with interviews? Is it much interviews?
-Oh no not boring is always a pleasure to talking of us to other and new peoples. No not so much this is just the second interview of New Blood.
If you could choose five bands from the past and the history and nowadays and both dead and living bands to have a concert together with your band. Which five have you been chosed?
-Mmmmm very difficult question, I think Cock Sparrer, The Business, The Clash, Ramones, Social Distortion.
Is music a good way to get out frustration and become a nice person outside the music??
-Oh sure, music is a very powerful way to get out all your frustrations, more better then kill someone eheheh.
Which is the most odd question you ever have got in an interview?
-I donít know, really I donít know.
Which is the question you want to have but you never get. Please ask it and answer it?
-This one and more difficult of all the others 29 questions that you did to me, so waitÖ.ah ok What is your favourite beer? Guinness but now Iím vegan then Franziskaner.
Futureplans for the band?
-Play a lot of gigs in different places and countries.
For yourself?
-I would like to have a children soon.
Wisdomword?
-Do the right think
Something to add?
-Thanks so much for this interview, and donít forget to buy our cd ďAs sand in the windĒ, you can order your own copy just writing to newblood@outlook.it or your digital one at newbloodita.bandcamp.com. Hope to see you under the stage, cheers and beer New Blood 2015.