Nemas from Gothenburg have only one thing wrong….they support IFK Göteborg but if we don´t see that so are they a really good punkband which I think have a bright future. One day in april 2009 they too their time to answer some questions from me.
History?
-With a ig love to singalongpunk, strong melodies and really much energy so do NEMAS their songs and lyrics which is based on own experiences and things they have done. With a big convince that you never should give up your dreams have they taken themselves all they way to do their debut album in May 2009.
Everything started 2005 wit the fact that members from different bands become an unit which will be NEMAS. The bad idea to play swinging punkrock in a metaltown like Gothenburg and with a punkscene which was everything without living didn´t stop NEMAS from take foreward their instruments and give everything.
Bands before or on the side of Nemas?
-Caucasus/Bazooka – Vic, Martin
Kelly/Avbrott/Abootz Ambush/Bazooka – Nisse
Sklett – Joel
Drunk on a roof/Abootz Ambush – Jonte
Please tell me a little about every member, age, work, family, interests and something bad about every one?
-Joel – 22 years/ works on a cold storage/ girlfriend/ tv-games, music, to have a cap/he have ulcered hands.
Martin – 23 years/ wash cars/ single/ music, booze, skate, Tv-games, IFK Göteborg, McDonalds/ He eats too often on McDonalds
Nisse – 28 years/ student/single/skate, music, snowboard, to go on a tram / that he lives on highest point on Masthugget (it´s so strenuous to get there)
Vic – 24 år / Seller/ girlfriend/ booze!, IFK Göteborg, punk, roadtrips/ He lives on Ramberget, It´s also strenuous to ho there..
Jonte – 26 years/ storageworker/ girlfriend/booze, punk, tv-games, to be fat/ more hot-tempered guy you must look for and that´s about everything.
You comes from Gothenburg and then you´re interest in football? If you are which team(it should be GAIS because we´re rock n roll
-IFK Göteborg, and that's final
Can you imagine to be on a tribute to a football team , a political view or something similar or is it bad too choose side?
-We have as a philospohy in the band that we must stand for the opinions we have as a group, it doesn´t matter if it´s about politics or something else.. .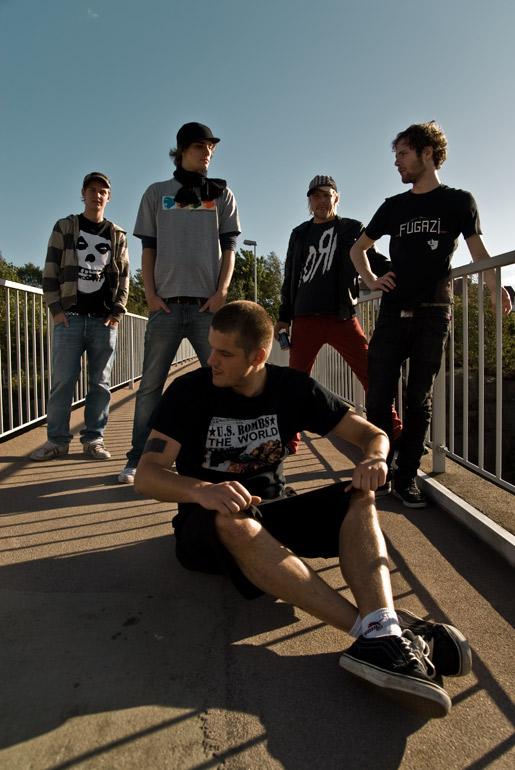 Nemas becomes Samen(Lapp) backwards…any thought behind this?
-We said that to a lapp when we played in Jokkmokk, they didn´t thought it was something special with that, and not we neither so it´s a no on your question.
How do you think that Gothenburg is as a rock/punkcity? Any good bands and places to play?
-Gothenburg have had a strong punkscene, but I think it sucks at the moment because many places do their Pay&Play (tickets sold by the band) When we as a band do our work, we don´t demand any big amounts, so doesn´t it means that we want to sell tickets to our mates so the promotor don´t have to do that work.
What does punk mean to you, is it only a word or is it a lifestyle?
-Punk means to me the same thing as it did 16 years ago when I for the first time heard Misfits, do the things you can and loves so then it becomes good. I think it was Fat Mike in NOFX who said: : Punk rock is great music played by bad musicians, which is good said.
Why a record on your own label? Wasn´t any label interested?
-Own label makes things easier(except the declaration). We had as a goal to release a fullength this year and that have we done now. Record label in the traditional meaning seems to be really meaningless. Now we have check on everything and the money we earns or lose is our own from the beginning to the end. Shall you cooperate with a label so do I think so do I think that booking agencys/Distributors and promotioncompanys is better. You will never came into the conflict about things they do and what we want to do . Full Control.
Why a real record and not a homeburned(really good I think)? Is it expensive? Do you send around the record too many places?
-We felt if you shall do a real record so must it be nice to look on too and for me personally I feel that I want to take foreward the record when I am an old man and say to my grandchildren, look at this and see what I did when Iw as young! To press it was really expensive but that is the best with the net. You can find cheaper alternatives if you ´re looking.
What do you think about Ipred, downloading and mp3 etc?
-Fuck Ipred – släpp skiten lös.
Is it good or bad for a band in your size?
-Free downloading spread the music which makes more people listen and that they go on a concert if they like the shit which lead to that the band get their income anyway. So will I see on it.
Do you think that people will buy more records now?
-No, I don´t think so, maybe in the first place but as long as it is people which is innovative or greedy, pick yourself so will ever never daddy state can stop people to spread music and film.
What do you think about living in Sweden otherwise?
-Change the climate , otherwise it´s OK.
Do you think there will be more punkbands now when the crisis is going on?
-Not so that it will be more bands but the band which is already here will get more space when people are angry and do they hear a band which express that anger so will the band get it better when we have this economic situation we have now. ,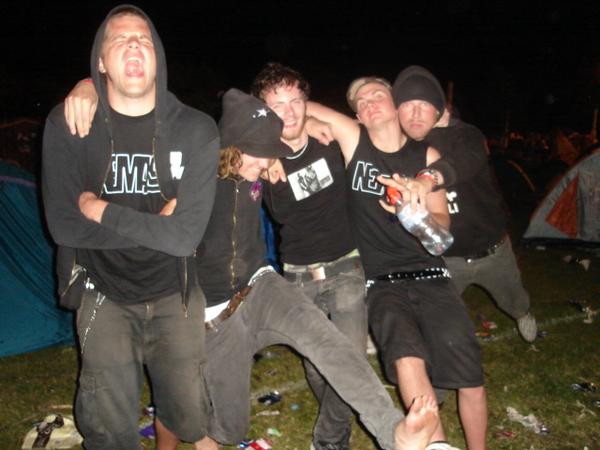 Which is the most political song you ever have done?
-Someone said (I think i was some in Snorting Maradonas) that NEMAS not is punk because they aren´t so political. We choose what we will write about and that´s other things than politics in our lyrics, more about thing which touches our lives and the things we believe in.
Politics and music, does it goes hand in hand?
-Absolutely, music is the strongest force you can use to spread political views. Who knows, maybe next record only is about hunting Freddie out of the government.
Which is the best political artist/group?
-I must personally say Anti-Flag and that have some real good opinions even if I don´t agree with everything they says. But I like the most of their shit, they do really good music too. And then if you take a band like Splitside so have they really good lyrics too and it´s the same with the music there – it´s genious!
Please rank your five favouriterecords, five favouriteconcerts and five most important things in life?
-Records:
1. U.S Bombs – Back at the Laundromat
2. Misfits – Static Age
3. Bouncing Souls – How I spent my summer vacation
4. Casualties – On the Front line
5. Rancid – Let's Go
Concerts:
1. Rancid - London
2. Green Day – Roskilde
3. Dropkick Murphy's – Roskilde
4. Less Than Jake – Malmö
5. NOFX – Göteborg
Things in my life:
1. My girlfriend Hanna who support me in everything I do
2. My bandmembers – the most dysfunctional family in the world
3. Spare time – should have been more of that
4. Music – you can´t live without it
5. Food and drinks – alcohol or other drinks , it doesn´t matter
First, latest and most expensive record ever bought?
-First: Alice Cooper – I don´t remember the tile(I think it was a bootleg)
Latest: NOFX – Coaster (ordered it 5 minutes a go)
Most expensive: Misfits – BOX set - 1500:-
The most embarrassing record in your collection?
-Let's Trance – I got it from my sister but I have kept it just because of the fact that it is a nice girl on the frontside of the cover.
The record you bought for the cover and you become so disappointed on?
-Ramones – Mondo Bizarro (not so nice cover maybe but Ramones should be good – and how wrong I was)
Is it important to get your record out on vinyl, What´s the good with vinyl contra CD?
-We did CD this time but the next time it have been good to release it on vinyl. Vinyl is vinyl and it´s more feeling if you say so.
Is it many interviews? Is it boring?
-Fuck no – bring it on!
Do you choose a an serious interview if you compare with the one with idiotquestions?
-Serious with some idiotquestions
Which is the biggest band you have been playing together with
-If you can count a festival it must have been together with Toy Dolls and Casualties on Augustibuller 07
But when it´s an ususal clubconcert it´s mostly smaller bands when we play.
How would you describe your group live?
-As a flying train loaded with energy, singalong, punk and love!
Is it going to be more horns in your songs in the future?
-It would have been fun, we will see
Futureplans except the release?
-The one that everyone have: Take over the world
For you personally?
-Work little-play more.
Wisdomword?
-Go on your stomach feeling.
Something to add?
-Thanks for the interview and buy your record? Out 15th of may! ,