Nazi Dogs is a name which maybe make many people interested but surely so that many people can be afraid of the name to. Karsten which sings in the group answered some questions about their name and other stuff early in October 2006.
History?
-The NAZI DOGS have been together since mid 2002. Karsten (Vocals)and B.T. (Guitar) did time in the infamous BLOWJOBS, Daichi Dog (Drums) was in MESS-AGE. The NAZI DOGS started playing shows in early 2003, it was back then kinda hard to get gigs under that name, which is a real shame, as you lovers of true and uncompromising punk rock will agree...!! Anyways, we only played like 10 shows all in all until May 2004, when we decided to enter a studio and cut some tracks for a demo. Karstens knee was fucked up then, but he succeeded in sneaking into California on September 11th, where he hooked up with Mark and TKO Records to talk about a record. Back in Germany, the NAZI DOGS recorded some more tracks and played more and more shows. After a European tour with Finnish punk band RATTUS in May 2005, ZCM Records from Zürich put out the vinyl version of the NAZI DOGS` first full lengh entitled "Chase the Man". TKO released the CD in May 2006 and right now, we have another brand new 7" out, it´s called "Money Taker" and was released by Drunk´n´Roll Rec. in cooperation with No Front Teeth Rec.. Those companies will also release our next CD, which will feature 9 live tracks including 3 crazy videos from our performance in London City in September 2006.


Please tell me a little about every member, age, family, work, interests and
something bad about every one?
-Karsten-lead vocals. Spiky blond hair, smart dressed. Used to sing in the Blowjobs (punk band from Aachen City) from 2000 until their demise in 2004. Started the Nazi Dogs with Dizl and André Chien in July 2002. Sings in another band called Teenage Panzerkorps. Blood type is A rhesus negative. Joined the punk game in 1982, and is still kicking butt! Age unknown. Zodiac sign: Pisces.
Dizl-guitar hero of the Nazi Dogs. Used to be in the Blowjobs together with Karsten, no other current bands right now. Famous for alcoholic excesses, wearing tangas on stage, and losing sleep on tour. Blood type and age unknown. Zodiac sign: Taurus. Veteran of the punk scene, formally known as Killer Collé, BT Blowjob, and Roi Lakaai.
André Chien-bass player in the Nazi Dogs. No other current bands right now, because his side project Turd Burglars called its quits. Quite well known for being a social reject since the middle '80s. Hates almost everything except soccer, playing his bass, drinking, and smoking proper quality hash. Blood type and age totally unknown. Zodiac sign: Libra.
Daichi Dog-drummer. Joined the Nazi Dogs in November 2002. Played formerly in a punk band from Aachen City called Mess-Age. This guy was far too good for those guys, so the Dogs decided to steal him from them. Infamous for starting fights on and off the stage, and he usually wins. Can consume huge amounts of alcohol and weed without showing signs of exhaustion. Blood type and age: mysterious. Zodiac sign: Sagittarius.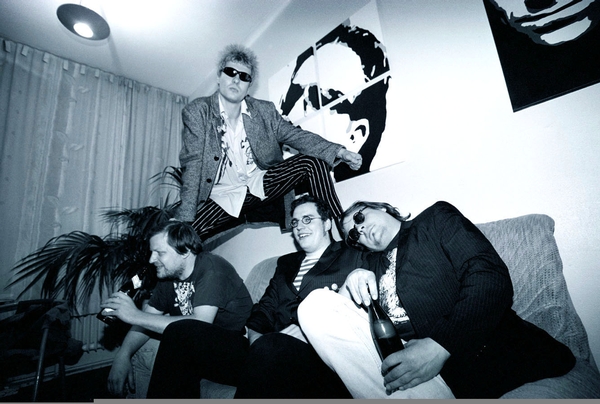 My review of your record is like this NAZI DOGS-PLAY CHASE THE MAN(CD-TKO RECORDS TKO ROUND 149) With both Hitler and Bush on the cover so gives us Nazi Dogs a really good record. As a modern MC5 or as a more distorted Hellacopters so gives us Nazi Dogs a really distorted punkrock which is really good. You who likes distorted punkrock in tru 77-spirit will love this and it's peculiar that they´re aren´t bigger than they are but it maybe depends on the name. They have taken all the good riffs from the early punk and make it into something own….buy it for god´s sake….(EIGHT) 28/9-06
What about it?
-I fuckin´ love what you were writing, Peter ! We do have our musical roots in 1977 - and the distorted sound on our record is partly because we entered some cheap studio and didn´t have enough money to produce a clean-cut record...but lovers of obnoxious, snotty and wild punk will for sure dig our tunes - it sounds so much different than all those wannabe, wimpy emo suckers who consider themselves punk rock nowadays...!!

Is there any other bands you´re being compared with?
-I´ve been reading lots of reviews recently where we are compared to the STITCHES, DEAD BOYS, VIBRATORS, GG ALLIN, SEX PISTOLS and so on...that´s totally cool, cause those bands have influenced us a lot and we´re proud to be compared with them.

Do you care about reviews?
-Of course we care about reviews ! It gives you some good feeling when the reviewer gets the message that you wanna spread with the stuff you released. And even bad reviews can make you think about what you should do better when recording the next stuff.
Apart from that, every publicity, doesn´t matter if its good or bad, is good for your band, cause people get to know our band by reading the review.


Have you got many comments because of your name?
-Yeah, haha, at first it was kind of a pain in the ass, people thought we were a nazi punk band or whatever and it was kinda hard to get shows after all. Some fuckers even threatened to beat us up !!
But after the TKO deal was perfect, most of the people started to think in a different way and realized we have nothing to do with fascist or racist bullshit. So nowadays its no problem at all to get shows and spread the message !!

How would you describe your music in three words?
-Wild, obnoxious and raw !!!

How is it to live in your homecountry?
-Its alright to live in the western part of Germany - the beer is great, our social system is not as good as it used to be, but you still get money from the state when you´re unemployed (thats what I am right now...).
The punk scene is alright, bands are treated very well here when they´re on tour here - but the weather mostly sucks, haha !!

What about the government?
-Like all governments, the German one SUCKS !! We got a middle-right wing government here after the last elections and all those bastards do is help the bigger companies become even more bigger and reduce the social systems to a minimum...more cops are installed to control the masses and the fuckin media does a very intensive brain-washing job to keep the masses in line...

Do you think that music and politics goes hand in hand?
-Not necessarily. In my opinion, music should be an escape out of the fucked up situations that politics create. Its cool to write some political songs from time to time (like "Detention Zone" or "Neutrons" on our last album), but there should be no need to express your political point of view all the time...I´m getting sick of all those "over-political" bands who are more like preachers in a church than offering the people some cool tunes to enjoy !!
Keep your ears and eyes open and be critical ! There´s nothing bad about political interests or activities - but don´t forget the fun that is created in connection with music or live shows !!

Best political band?
-DOA or maybe the SUBHUMANS from Canada (not the glue sniffin´ hippies from the UK, haha !!).

Is there any good bands in your homecountry now?
-Yeah, we got some really cool bands here right now like the SHOCKS, DEAN DIRG, FRONTKICK, GEE STRINGS, RAZORS and many more !

What do you know about Sweden?
-I´ve been visiting Sweden one time in my life, on the SNAP-HER tour in 1996. Stockholm is a beautiful city with nice and cute girls and lots of very friendly people involved in the punk scene.
I heard your social systems are better than ours, which is great ! But I also experienced the prices on alcohol are fuckin´ high !! That SUCKS !!!

Have you heard any good swedish bands?
-I love old Swedish punk bands like EBBA GRÖN, GLO, LIKET LEVER, LEATHER NUN, ATTENTAT, CITY KENT !!

What does punk mean to you, is it only a word or is it a lifestyle?
-Its definitely a way of life. I got into punk in 1982 and when I´m looking back, punk was and still is one of the very few things in my life that was fun to do !! You can create a world of your own and live your fuckin´ dream ! Being an outcast of this boring society can offer you so much positive power...but most of the old punks sadly died away or went normal, prison, alcoholics... much bad stuff has happened as well, being honest.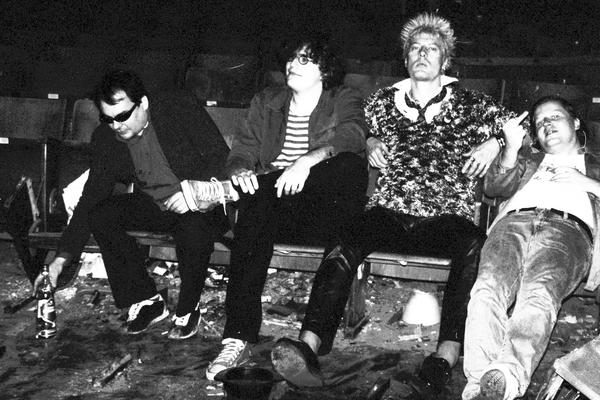 Please rank your five favourite records, five favourite concerts and five
most important things in life?
TOP 6 Records:
-SEX PISTOLS - Never mind the bollocks
HEARTBREAKERS - LAMF
NEW YORK DOLLS - 1st LP
THE STOOGES - Fun House
DEAD BOYS - Young, loud & snotty
GERMS - GI

5 best shows I´ve seen:
STITCHES live in Duisburg, IGGY & THE STOOGES live in Belgium, KILLING JOKE live in Belgium, the KIDS and JOHHNY THUNDERS live in Germany long time ago !

First, last and most expensive record ever bought?
-First was a KISS single, haha, most expensive probably the REALTORS 7" (I won´t talk about money now !!), last record some STALIN 45 from Japan !!

Most embarrassing record in your collection?
-That´s definitely DIETER PALM - Der rheinische Troudadour 45 - very sick traditional sound from Germany...

TKO Records? Is it good?
-I´m glad we scored some deal with TKO Records ! They´re doin a fuckin great job in promoting our CD and Mark, the label owner is a very down-to-earth, cool and sympathetic guy with whom I love to drink some beer from time to time !!
They treated us very well and have always been loyal and honest to us...if they´re gonna buy us some flight tickets to the USA that we can do some touring there, that would be even more great, haha !!!

2Why Bush and Hitler on the cover??
-Its kind of a satirical cover we used for our debut full lengh. I don´t think Bush is the new Hitler, but the way his foreign policy goes, it can be compared to the strategies that Hitler was aiming at. Plus our name is NAZI DOGS and for that reason some shocking cover with Hitler and Bush was necessary for our reputation !!

Is it many interviews? Is it boring?
-We´ve done a couple of interviews for fanzines all over the world so far. It´s not boring at all, it gives us the opportunity to lay down our point of view and what we stand for. It´s important to spread the message, especially concerning the fact that we´re a pretty new band. We want as many people to get to know us and know all about our point of view, so interviews give you some perfect platform for this !!

Which is the question you never get, please ask it and answer it?
-"Did you ever touch silicone breasts ?" YESS !!

Is it any chance to see you in Sweden soon?
-I really hope we´ll make it to Sweden some day soon. We need some promoter who´s able to set up 3-4 cool shows and if that´s given, we´ll invade your country as soon as possible !! Watch out...!

Where is the best place to play?
-There are some great places all over Europe, I personally think one of the coolset clubs is the "Sonic Ballroom" in Cologne.

How is a good gig with you?
-On a really good day, almost anything may happen during a NAZI DOGS show. We love to play small clubs, when it's getting all sweaty and people are freaking out during our set-that's pushing my performance a lot. We usually have the pogo goin', people spitting beer, screaming into vacant mikes, raising fists. Our audience usually does not fight too much. That's our drummer Daichie´s job, actually. He loves to crack some skull from time to time, so you better watch out! I remember some open air show in a small town near Frankfurt last year, we were all pretty much out of our heads and did that GG Allin cover "Bite It You Scum" as an encore. People freaked in front of the stage and we had our buddy Samuel El Action naked on stage singing the song together with me. Suddenly, some guy pulled down my pants and, at that moment, I did regret the fact that I accidentally snorted some speed before the show... even more when I realized that someone in the audience was filming this event!

The name where does it comes from?(yeah it´s a boring question but it´s
interesting)? Why this Nazi-name?
-All in the band come from a time, when PUNK was a fucking four letter word, a means to shock and annoy people !!! That´s what our name stands for.
In 1977, the was a punk band in Canada, the VILETONES - their singer Steven Leckie called himself "Nazi Dog". So there we got the inspiration for the actual name for the band.

What shall we do about all racists?
-Castrate them and/or use them for vivisection !!

The best band in punkhistory?
-JOHNNY THUNDERS & THE HEARTBREAKERS

The most important punksong?
-"One track Mind" from the "LAMF" album by the HEARTBREAKERS

Futureplans for the band?
-To tour as much as possible, record our 2nd album in a few months, drinking with the Swedish punks, and keep the old & nasty punk spirit alive and kicking !!

For yourself?
-Staying unemployed for another couple of months, dating cute chicks, smoking proper hash and collecting great records...and travelling as much as possible !!
I hope to stay strong & healthy - that´s the most important thing of all I guess...

Wisdomword?
-LIVE FOEVER OR DIE TRYING !!!

Something to add?
-Thanks a lot, Peter for the interview and all the best for you and your zine !
To all readers: Check out our records and support bands who still represent the old and wild punk spirit !!
Go to our shows in case we make it to Sweden & party with us !!
Attitude counts - see ya

Karsten Scholl / NAZI DOGS
Aachen City, October 2006