Adrien from the french group was so kind and answered a lot of questions from me in the beginning of april 2016. Heres´the result

Please tell me a little bit history of the group? -We met each other back in 2012 with Mathieu the drummer, we played together in 2002 in a punksquatters band which already had little psychobilly , oi!, hxc, ska, surf influences called Sakamerdes, he wanted to build a new project with me at the guitar, I already wanted to do a duo project with Marion (our singer) at this time, but we didn't know sufficiently use computers and machines to do a duo, so we start at 3, practicing in our mobile home, then we migrated in to Parisian squats when we found Tony our other guitarist, who already had played with Mathieu before, in other formations. Since the start we wanted a double bass in the band and nothing else, we spend a time without it before we find Amine our double bass player, we had a common friend who presented him like an excellent player, we already had 10 songs and 3 successive first gigs one month later, he knew all and nobody realized that it was our first concerts!

Please tell me a little about every member in the group right now, age, family, work, interests and something bad about everyone? Earlier bands? Other bands on the side?

-Marion is 32 years old, doing social work with teenagers and with us at free time, she's a freak taking care of others, this society has a problem! She sang in a girl teenagers rock band called Mamafaca and a punk fusion band called les Femmes Haricots, she loves parties/concerts and travelling, the both mixed

- Amine is the older with 47 years old, a son, he works helping older than him, we all think that he just would must help them to die. He played at the start in the psychobilly band Bananes Métalik, he now plays also in a cover rockabilly band called JJ Pantin.

- Tony, 31 years old, he hopefully sometimes use his brain to don't forget to play well guitar ! We don't know how, cause he always forget the date we have to practice. He now lives at 100km from Paris. No job, but looking for a band which he can earn money so he can leave us !

- Mathieu, 34 years old, he always success to prove that you did a mistake when it's his own. He would like also to be a rock star cause he didn't succeed to be a porno star, until that, no job to declare, His psychiatric girlfriend study him everyday.

-Adrien, 36 years old, spend time partying in gigs most of the time with bad wine, and boxing in clubs to prove to us that he is not only an alcoholitoxic man. Plays in Skarface through the world since 2001, works in his mobile home when he has no hangover.

I can hear much different influences but mostly punk and I don´t hear so much punkabilly? Favorites from the past? -We recorded it 5 months after our first shows, thanks to a sound engineer of a festival in Britany who asked us for a cd or demo, when he understood that we didn't have one, he proposed us to record at his home after the festival, we was there with hangover, with hands trembling by the alcohol missing, so we took the easier songs to play for this record, done in one day. We wrote punkabilly on the cd cause when we buy a cd of an artist unknown we like to know the biggest influence it has. Our next Ep releasing very soon is definitively punkabilly, in order to do a honor to Crazy love records and Zombies union, the 2 rock'n'roll labels who help us a lot for it, but most of the songs was made at the same period as the first EP, so it's not necessary to search an evolution 😊. We also can already tell you that in our far future we release an album, there will be an oi!'n'roll song, a country music one, celtic passages, pieces of ska, hxc and surf music, then a presence of a banjo.

Nausea Bomb are you satisfied with the name? -Bluurp!

How did it came up? -During our drummer was eating a crêpe in Britany, but it's not the fault of the crêpe, which was good in fact.

It sounds a hardcoreband I think? -Band name Agnostic front for exemple, makes more think about a strange political party but it's not...

Which is the best bandname you know? -Cous cous clan, from hip hop persons, met in Brasil a long time ago

What´s the best thing with playing live? -You normally have free beers, food, coke and prostitutes, or maybe only the 2 first, and don't pay entrances to see the concert

And where is best to play? And the worst place? -It's hard to say, it doesn't depend on the place, but more how the organisators/public/bands are comportments that are important. We already played for free in the caves where it was difficult to breathe, cold food, dog shit, drunk people, but a fucking party with good bands/audience !

How is to play this sort of music in France right now? -It's still not forbidden 😊

Which types of bands do you have concerts together with? -Most of the bands are punk, rock'n'roll, psychobilly, surf, hardcore, crust, oi!, ska, and to answear better your precedent question, it's hard to put attention to these music in new generations, more interested to consume radio/tv shit like everywhere we guess...

How would you describe your music in three words? -Smiles kills moves

What does punk mean to you, is it only a word or is it a lifestyle? -It's a musical taste for some and more a way of life for others. It's impossible to give a strict definition of punk, it would be the first contradiction to do... most part of our band members was living in squats many years, sometimes organising shows, sometimes making trouble, in this period we had no way to download or money to buy cd's, we was living our punk culture alive...

How do you see on downloading, mp3 and that stuff? -It's a big opportunity to discover bands and to enlarge musical culture but has caused difficulties to many artists, I personally don't download, maybe cause I don't have internet connection at home ...

How is it to live in France now? -Better than in Syria for exemple, even if we also have been victims of terrorists actions

Politically? -Always the same shit but with different leaders, difficult to be optimistic

Is there any good bands from France now? -Sure, many! But not a lot try to export them alive internationally, actually the punk band Breakout export them well for exemple, the oi! band Lion's Law too, then youth avoiders for the hardcore

Is the punkscene/hardcorescene big? -Not as big as in Germany unfortunately

How is it in your hometown? -Quite Dead, We use to go in Paris for gigs, there is always many concerts

What do you know about Sweden? -The name of the capital Stockholm 😊 we hear that it is good conditions to live there, that your society is not so bad in general, well organised. Marion read the writer Camila Läckberg. The band Perkele who seems to love your national flag in their songs, I try to never wear yellow and blue colors when I cross them, I don't want them like me too much...

Have you heard any good bands from Sweden? -Yes, the Hives, Asta Kask, and thanks to a compilation I stole (bad act even if it was selled like a bad copy..) many years ago, I discovered punkbands like Planet pogo, ska/punk band Kentucky luckies then my two favorites are Svamptripp and Kulturmaffian which sound like very good punk-oi!, I would like know more on them and more about their music

Your lyrics, who does them and what influences you? -I (Adrien) do it in function of my stupidity of the moment, I like when it's immoral like "old my toad" for example which justifies bad treatments against old People.

Is it easier to do lyrics now or was its easier to do it when you was younger? - I am stupid as when I was younger, I unfortunately don't have evaluated, so it's ok to do lyrics now as well.

Never in english? -Old my toad has the chorus in english. It doesn't seem on the first EP but we often sing in english, one song is in portuguese too on this EP.

Is there any subject that you never will write anything about? -Yes, never about snails reproduction, they have a strange sexuality, I may would prefer to do one song on the good sound they do when we walk on.

Politic and music, does it goes hand in hand? It can for sure, most of punk, hxc bands do it, but it's not an obligation too. most of political subjects that we would eventually speak about have already been done by other bands and share our opinion, why repeat it ?...

Which is your most political song? -A song which speak about to kill babies (after old persons..) Called 7 milliards de connards, it explains that it's better to kill them very young than let them live an uncertain life, it's also prosterilisation for humans, then speaks about help people who want to die to do it...we are too many in this world

Best political band/artist? -Maybe CRASS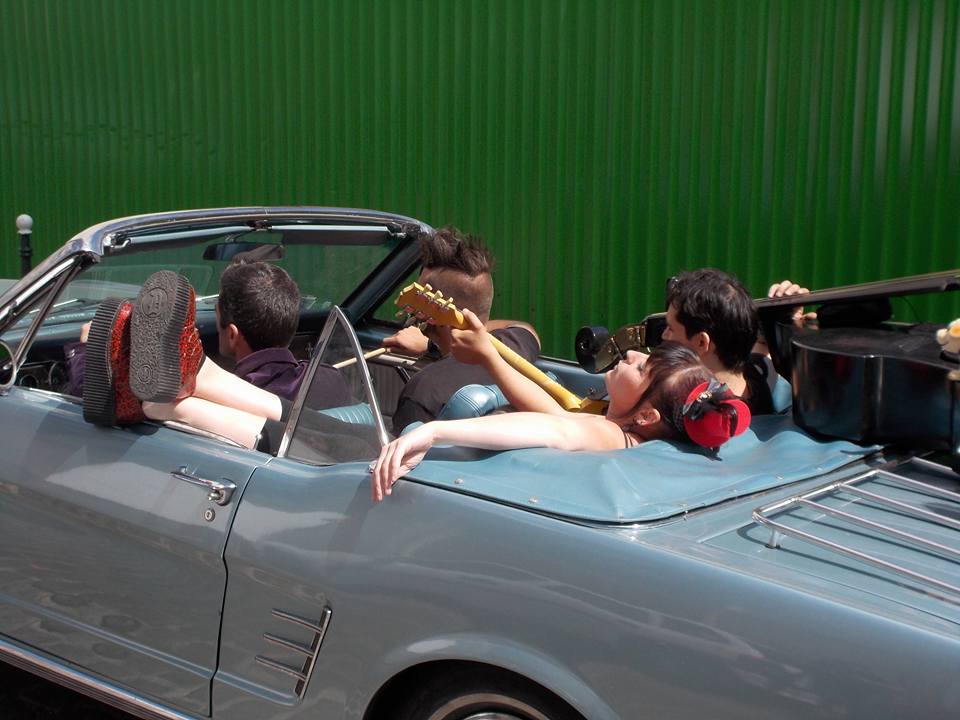 Do you think that music (lyrics and so on) can change anyones life, I mean people who listens to music? -Yes we think so (but we hope not with our own lyrics !) , it can open minds on any subject where our point of view was closed, it can open on different cultures, foreigners conditions that we could ignore before, our attitude may can change taking care about some lyrics, about vegetarism, religions, racism for example
Your cover on your CD looks really nice, is it important to have a record cover which shows people which type of music you play? -Yes we think, I personally like to discover new bands and buy many ones on any cheap distros, I always take care about the cover and the seller opinion (when he knows what he sells).
Your favorite recordcover? -Faute de Frappe "toucher rectal"
Who does your covers? -Laurent Flamion did the front cover, he is an old friend making draws for l'indien boutik, a rock fashion store, his sister Stéphanie did the back cover and then all the art work and the next EP one coming soon. The comic inside is Done by Jack Domon "trash de vie", it is his job then he plays saxophone with me in Skarface, he did the next EP front cover coming soon !
And do you have any good recordstores in your hometown? -We have the better for our music styles mixed, called Born Bad inside Paris
Is it important to get out physical records of your stuff? -Yes it is
Why? -It's maybe stupid now, with all that exists with internet, but we wouldn't have impression to have done an EP or an album if it is only on internet, it's our point of view for our band most of all, but we also don't think that we would go listen a name band written on a paper, compared with a physical record shared or given, it's also good for promotion .
Vinyl, CD, cassette, what do you prefer if you could choose whatever ? -Vinyl even if there is often the stress to hurt it
Please tell me a funny thing which have happened during your career and under some gig? -We have contacted a guy to find some dates for a tour in may 2015, he answered : you can play saturday in our 2 days festival in July. It was a good misunderstanding, and a very long travel (14hours) for only one date, but Störfaktor was a great festival! During a gig, we woke up our drummer who had spend the night sleeping on the floor with a sheep, we still have a doubt on what really happened between them...
How does your audience look like? -Cute, Ugly, stinky, pretty nice, antisocial, friendly, drunk, dogs...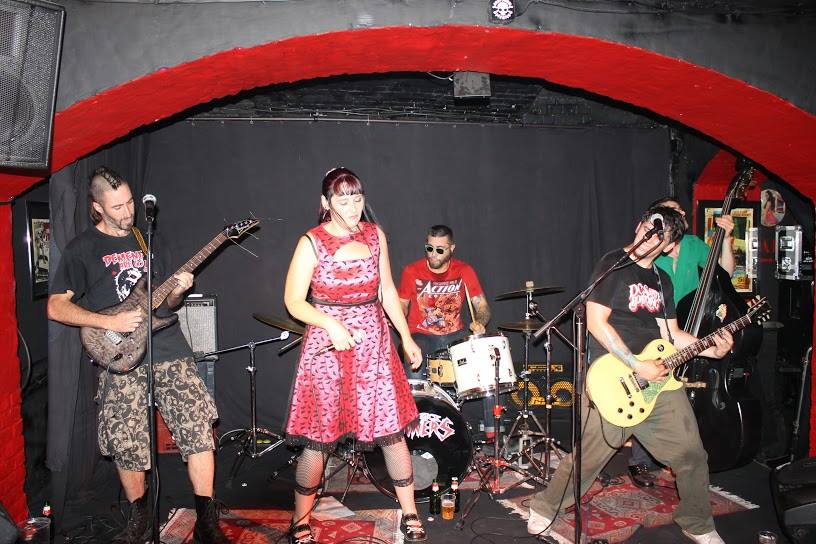 Which people do you miss on your concerts? -We find all tribes which influence us in most of our shows, but it also depends on the bands we are playing with.

W

hich is the biggest band you ever have played together with? -Certainly Mad Sin

Please rank your five favorite records, five favorite concerts , five most important things in life? -"Little bits of insanity" os Catalépticos, "The decca years" Cocksparrer, "Réussite" OTH, "Killers" Iron maiden, "Demain sera..." Heyoka.

Favorite concerts : Toy dolls, GBH (2002), the Specials (around 1998), Bérurier Noir (in 1987), NOFX and five most important things in life is

Health, fun, travel, rock'n'roll, friendship

Is it boring with interviews? -Yes a little 😊 cause after answered we have to verify if our english is not so bad and that sentences don't loose their sense, or let's let it like that, it can be fun

Is it much interviews? -It's maybe why we still had made any contact with you back to give you the answers, after more than 2 weeks, but it's like good sex sometimes, the more it's long, the more it's good.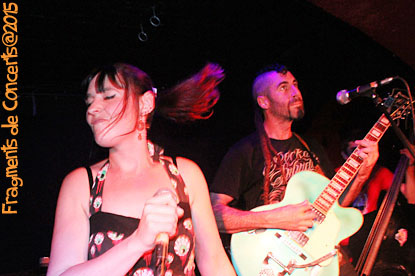 If you could choose five bands from the past and the history and nowadays and both dead and living bands to have a concert together with your band. Which five have you been chosen? -I personally am lucky and have already played with most of bands I like, or just famous ones in punk, oi! Ska and psychobilly, since 1999, so maybe an excellent Indonesian friend band called Forgotten Generation.
Mathieu : Evil conduct
Marion : Demented are go
Tony : Dropkick Murphys
Amine :Stray Cats
Is music a good way to get out frustration and become a nicer person outside the music?? -Yes it can, but be careful, we see many persons changing bad with the attitude, and not necessarily the more famous ones.
Which is the most odd question you ever have got in an interview? -Most of our interviews have conventional questions, but one time, a guy had interpreted our first song "Jardin Charnier" which now have a video clip, like an anti-sexist song, and wanted us to comment it, we laugh and said "thank you, we didn't realize that we was a political band", in fact, the principal character could be a man as well in this song when I wrote it.
Which is the question you want to have but you never get. Please ask it and answer it? -Why do you sing in (brasilian) portuguese in "skizopatyko"? Because !
Futureplans for the band? -Release of our next EP "Bonechestra" on vinyl and cd in 2/3 months on the germans labels Crazy Love Records and Zombies Union, an international tour in May, a french one in june, acoustic work of our music, Brazilian tour, festivals and an album later.
For yourself? -Have Jobs! sex, chance, new place to live in, travels
Wisdomword? -For a better world, do sex with sheeps listening to Nausea Bomb !
Something to add? -Thank you Peter for the attention you gave to our band, the patience for our answers, and your EP review which was nice for us, boring that we now must pay you expensive for that (????)