Matthi from Nasty answered on my questions , he didn´t answered so long on every question but it´s OK. Nasty is a group you should look after….april 2013
Please tell me a little history about Nasty?
-Nasty came together in 2005. Since then we played shows and recorded some Albums
Why a short name like Nasty...didn´t you think that someone had taken the name before?
-Its easier to remember a short name instead of al long one. We did't think of someone else having that name.
Please tell me a little about your member, age, family, work,interests and something bad about every one?
Nasty now are: Spidey 33(guit) Nash 26(Drums) Berislove 28(Bass) and Matthi 30(Voc) Beri is music producer (beats and stuff) the rest of us are working with handicaped children. We can't play instruments..
I describe you as a mix of Lamb of God, Discharge and Hatebreed...what about that?
-No.
Which other bands are you being compared to?
-We were compared to Shattered Realm and Obituary. But I don't really know who we do sound like.
Is it any other bands which are good from the country you come from/(where are you from)?
-When Nasty came together we all were living in Belgium. Right now 3 of us are living in Germany next to the border to Belgium. There are lots of good Bands. Surge of Fury (B) Fallbrawl (Ger) to name one from each country we are living in.
Have you heard any swedish bands you like? What do you know about Sweden as a country? -We heard and shared stage with a lot of good Swedish bands. Adept, Guilty, Let me Out, Refused, Dead Reprise.. Everytime we have been in Sweden everybody took good care of us. The people have been kind. The countriesites and also city have been beautiful. It suck that the clubs close that early.
Is BDHW a good label?
-A very good Label!
Have you done any other records than Love?
-We did a Demo called "the Beginning" and albums titled "Declaring War", "Aggression" and "Give a shit"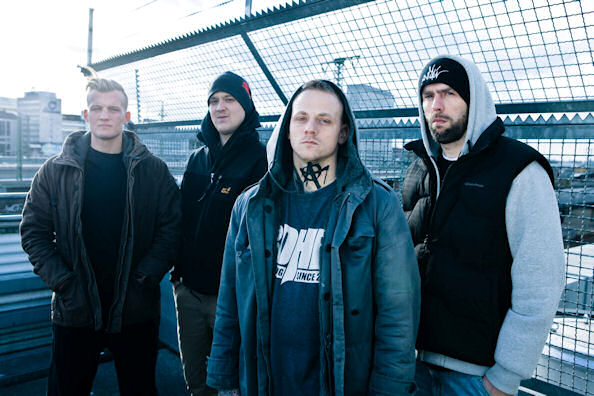 Where do you stand when we talk about mp3 and downloading and that stuff?
-We don't really care as long as what we do is spread around the world.
Is it good or bad for a band like your?
-Good
Are you still buying CD and vinyls?
-Yes
Which are the best things with the physical records if you compare with digital files?
-It makes me feel closer to the Band. To have in your hands what a band put so much work in.
What does punk mean to you, is it only a word or is it a lifestyle?
-I think it is something you are or you aren't. A lifestyle is something you choose.
Do you think you can change anyones life with music and lyrics?
-Yes
Which bands have changed your life?
-Hardcore changed my life. Congress got me into living a vegetarian/vegan diet for example when I was 16.
Politics and music, does it go hand in hand?
-I think so.
Best political artists/Bands?
-Anti Flag
What influences you to do the lyrics you do?
-So called Humanity.
Can you write lyrics about everything?
-No
Please rank your five favorite records, five favorite concerts you have been to and five most important things in life?-
Copkiller (Bodycount) Bad (Michael Jackson) Future Sex Lovesound (Justin Timberlake) Telegramm für X (Xavier Naidoo) TP2 (R Kelly)
Catharsis at ieperfest some years ago, Summer of Hate, Kanye West, Afi, Austin Lucas.
Family, Friendship, Health, Humor, Love.
First, last and most expensive record ever bought?
-Bee Gees was the first, Justin Bieber the last, the most expensive was a Michael Jackson special edition I guess..
Which is the record you bought only for the cover of the CD and thought it looked cool and you were so disappointed on?
-None. I always listen to it before buying it.
Which band which isn´t alive today do you want to come back?
-Michael Jackson
Futureplans for the band?
-Playing the world
For yourself?
-Staying healthy
Wisdomword?
-In der Phantasie geht alles!
Something more to add?
-Thanks for the opportunity you give to us with that Interview.