The slovakian band Naco Nazov send me a lot of reords and I really like this sort of punkrock. Interview are attended by vocalist Josko(J) & bassist Fliper(F) and it was done in october 2015
Please tell me a little bit history about the band?
J*Band was founded in Autumn 1994 in small Slovak town Puchov.Only I am remaining from original lineup.But we had known very well with current bassist & guitarist before they joined.We were clasmates.Drumer is joined as the last one and he is 6 years younger.During first 7 years changed lineup maybe 8 times to stabilize it.Since 2001 has been band working with:Josko-vocals,Mekys-guitars,Fliper-bass,Andy-drumsSo far have been launched 6 albums:Komuze Je Lepsie(Who Is Better) 1995,Krok Od Zaniku (Step To The Extinction) 1997,Proti Vetru(Agains Wind)1999,Myslieť Nadovšetko(Think Above All)2002,Zlatá Stredná Cesta(Gold Middle Path)2005,Fucking Lies 2009.These months we are working on 7th one.
Please tell me a little about every member in the group right now age, family, work, interests and something bad about everyone?
J*Josko,38 years old,married,one newborn daughter,run my own rockshop.Except for drinking beer and playing punk like playing tenis,footbal(so-called legball,on court with tenis net with soccer ball)bodybuilding,hiking in Slovak mountains.As I mentioned,with my first baby have my priorities been totally changed J
F*Official named Peter,38 years old too,married,employeed in Tyre factory more than 20years.I also like doing many sports,mostly the road cycling.I am keen of collecting vinyls & cds.Especially thrash/death/black/hc.With my wife have one son and second is expected at the beginning of December.I live in a house close to forrest,I like gardening,hiking and pick up mushrooms(edible ones,no hallucinogenic J)
Guitarist Mekys runs own pub,sometimes organises gigs there and also takes it as a sound engineer.Althought is not married,they have 2 daughters.Andy works at same company as me and also occupies drum chair in another young band named Posledny Zamyka (The last one locks a door).He is still single without child.
I can hear many different bands here but I can not really say that you sound like any other band? Which bands are you being compared to?
J*Hm,somewhere I read,we sound like The Exploited.Newer albums of course J
Naco Nazov, what does the name mean and who came up with the name? Are you satisfied with it? Which is the best bandaname you know?
J*It means something like "the name is useless".It made up former guitarist Milan,who lives now in UK.Then, we did not find suitable name for band,he stood up and said:"Fuck Of,the name is useless-in Slovak Naco Nazov" and name was found JGenerally,I do not take care about the band names,I rate them according to lyrics & music.
What´s the best thing with playing live?
J+F*Contact with fans,energy,we change each other.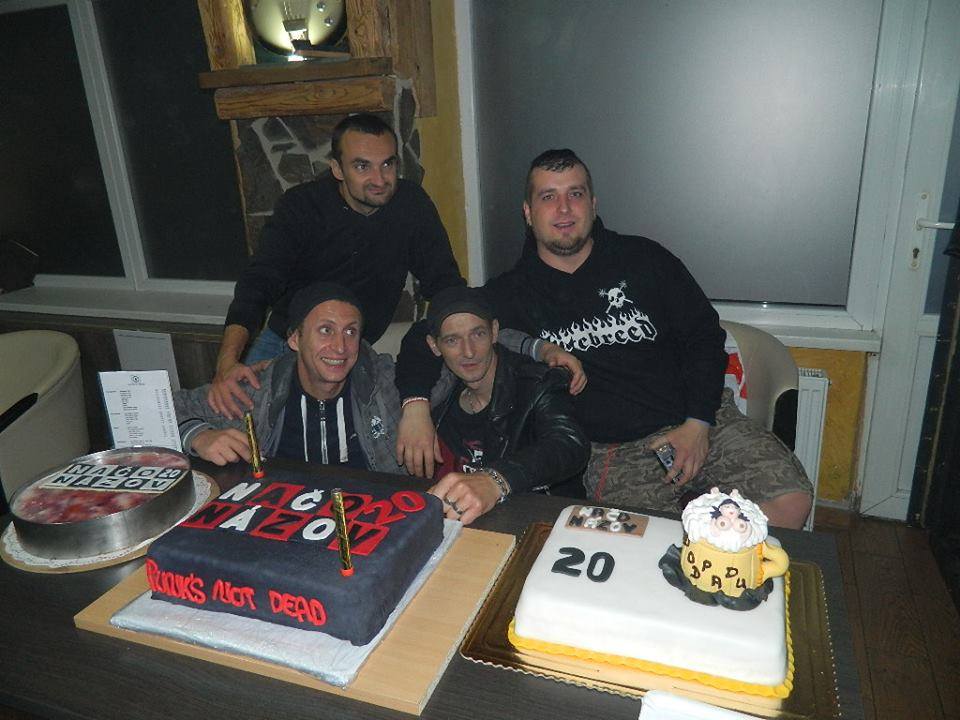 And where is best to play?
J*In homecity Puchov and not remoted town Zilina(btw.Zilina is a borncity of The new world roadcycling champion Peter Sagan).To mention some fests,POD PAROU in Czech and benefit fest Punks For Children devoted to Orphanages.
How is it to play this sort of music in Slovakia? Is it a big scene?
J*Scene was the strongest around 2008,we used to have 300-400 fans on gigs,then,3-4 years ago,it was much worse,people were lazy being headbangers JNow,fortunatelly,is getting better and our gigs are sold out again J
How would you describe your music in three words?
J*Smart,highly inteligent melodic punk J
What does punk mean to you, is it only a word or is it a lifestyle?
J*Of course,also lifestyle.It has still worked.But now,with age,we do not take things so radically and seriously as we were 20years old idealists.
How do you see on downloading, mp3 and that stuff?
J*I have no problem with it.Before,we were a little bit angry,when people stopped buying records and downloaded everything.You know,this age.You just have to reconcile with that JBut recently,situation is getting better.People again want to have their favourite bands on original CD,LP,even on cassette.Maybe as sentiment,maybe as memories.Speaking about that,who got rich on record selling within UG scene? J
F*I hate mp3 and all that fucking virtual stuff!I consider it as stealing.I am a record collector and like holding solid original sleeve in my hands during listening :D
How is it to live Slovakia? Politically? Much problem with nazis?
J*Not easy,but not complicated too.Depends on region,where you live.Puchov lies in the Central Slovakia,life is not bad there.As ruling party is here The Social Democratic Left with 50% public support.Prime minister now strictly refuses the Imigrant diktat from Brussel.Speaking about Nazi Pigs,the worst it was from the beginning of the 90s after Communism fall.Before there was not problem(you can imagine,what would happen with that,who spreads facism when Communism rules J.Now,when we are part of EU is situation let´s say peaceful.Anyway,I am strong oponent of EU policy and I radically disagreed,we came in then.Back to nazi,within 5 millions Slovakia,there can be around 5000 of them,I estimate.
Is there any good bands from Slovakia now? ?In your homecity?
J*As everywhere,there are many of good as well as poser bands.I can point out bands,that arised already in Socialism age:DAVOVA PSYCHOZA,ZONA A,SLOBODNA EUROPA,EXTIP,NONCORFORMIST.The newer ones for example:ROZPOR,DIMENZIA X,ODPAD,ZACIATOK KONCA.Our town bands are excepting for NACO NAZOV:FACE OF AGONY(Thrash),PICASSO BLOT- former members of NN,currently working in UK,where guys live for more than 7 years.
What do you know about Sweden?
J*Uff,I know quite lot about Sweden even without Google JExcellent icehockey,winter sports overall,tenis legends Edberg,Willander,Borg,clean nice enviroment,polite people,long nights,Ikea J and traditional meatloaf balls with potato thereJI will tell you very interesting things,my friend,who works in Sweden told me once,that labour-working is much easier there and even,his boss sometimes says:"hey guys,take your time,not so fast!"hahahahahahahahaha.Is it true realy? J I almost forgot on ABBA..
Have you heard any good bands from Sweden?
J*Definitely PERKELE.I would like to share with them one stage once.I especialy like swedish lyrics songs.Despite misunderstanding,I feel honesty and good atmosphere there.I know,you have quite strong Metal scene,I know Sabaton,but metal is not my cup of tea J
F*But mine is!In my CD&LP shelves you can find:BATHORY-The ultimate legend,Early true death with Sunlight mark:DISMEMBER,GRAVE,ENTOMBED, COMECON,UNLEASHED,HYPOCRISY,EDGE OF SANITY...Gothenburgh style pioneers AT THE GATES,Earlier DARK TRANQUILLITY,IN FLAMES,THE CROWN,Melodic TIAMAT,THERION,NIGHTINGALE,Grinding NASUM,DRILLER KILLER,Technical MESHUGGAH,Crossover pioneers CLAWFINGER or Black Ghouls MARDUK & DARK FUNERAL...Immortal EUROPEs –The Final Countdown J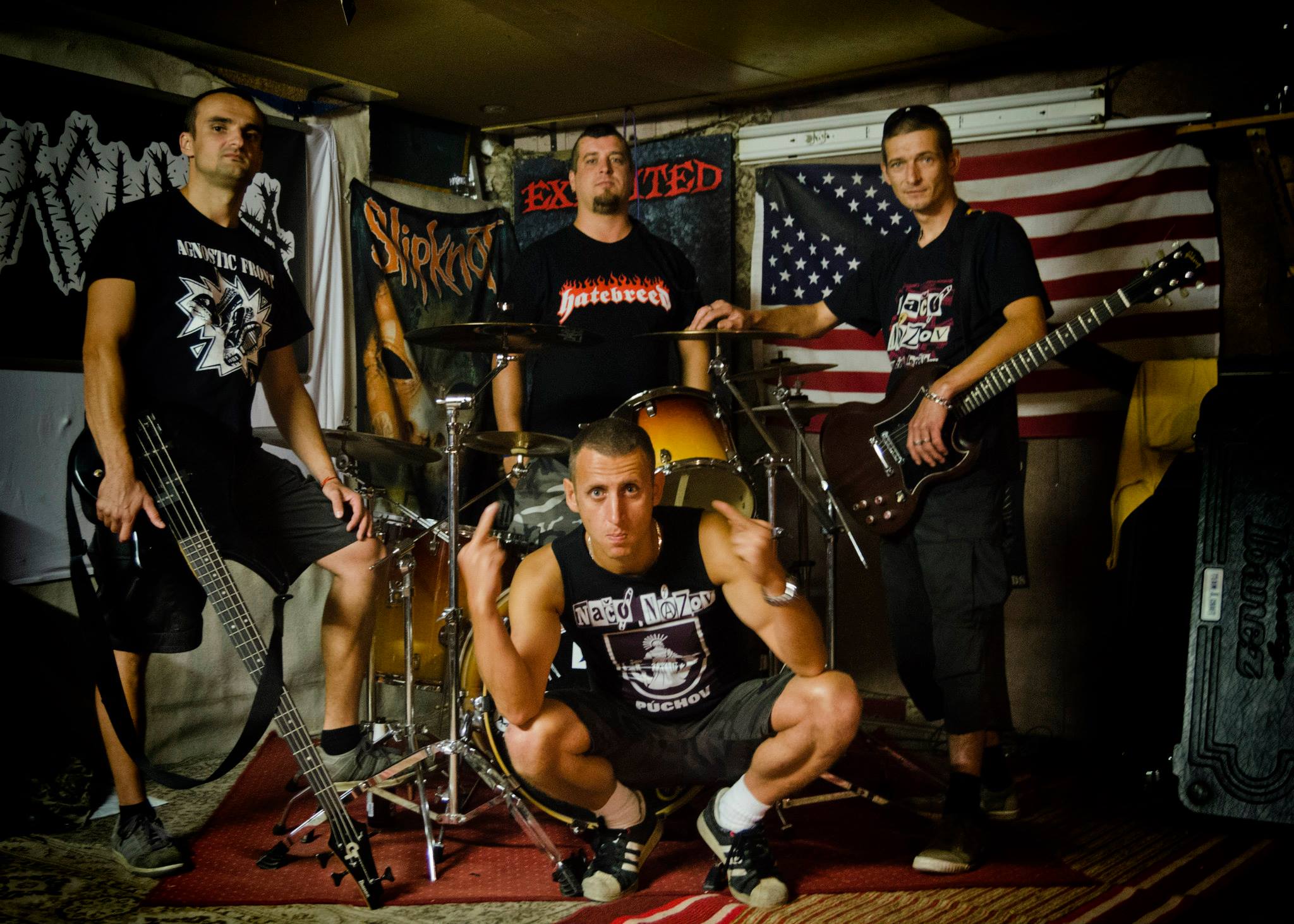 Your lyrics, who does them and what influences you?
J*Lyrics are my domain.There are transferred my experience,wishes...I try there point out on things I hate about present public and people relationships.
Is there any subject that you never will write anything about
J*I am a believer and I do not like speaking about fate topics.
F*I am a believer as well,but I hate all religions,activists,priests...
Politic and music, does it goes hand in hand? Which is your most political song? And your most unserious song?
J*Hand in hand goes the criticism of politicians and the public criticism.Frankly,I do not like bands,that take it too seriously,because,usually,it harms music itself.It should be in balance to avoid being overwise,depressive and agitating.
Best political band/artist?
J*DEAD KENNEDYS and DAVOVA PSYCHOZA from Slovakia.These bands have known,how to merge it perfectly.
Do you think that music(lyrics and so on) can change anyones life, I mean people who listens to music?
J*Definitely!
You have been playing for a long while now, what´s the difference of playing punk and concerts nowadays if you compare when you started?
J*When we started with punk in 16 aged,we had totaly different views than now,we are fathers and adult experienced men.Now,we enjoy playing music.Give into more of fun,less of political matters.Gigs?At earlier beginnings only 20-30 friends participated.With time,we became little bit known,audience rised up.But,for example 20 years back,despite scene was not so big,was much more united and strong than now.Although is much bigger,is too split into bits and friendship is missing.
is it important for you to get out physical records? Hirax Records is it good? ¨
J+F*Of course,doing music without records is crap!What would be UG without CD,LP,MC?Hirax is a fair guy and we get very well with.But Fucking Lies was selfreleased and next album going to be as well.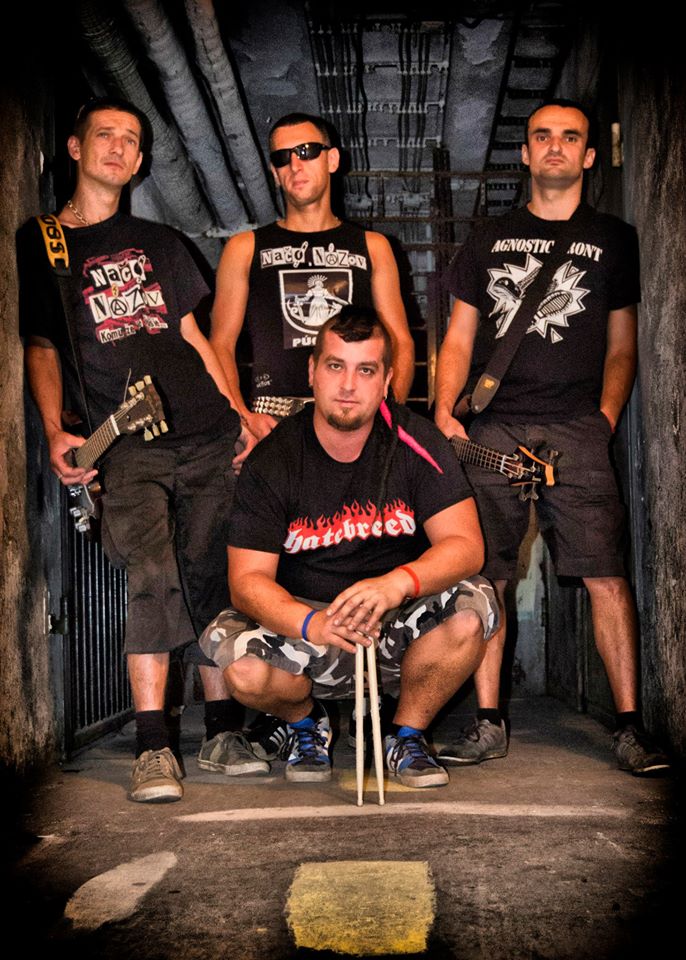 Please tell me a funny thing which have happened during your career and under some gig? I can imagine that it´s wild ....
J*Lot of funny stories and really serious problems.There is enough material for book JEspecialy during earlier times and former lineups.
F*As far as I know,two of former members were arrested,one is now a homeless.You can imagine,what interesting and crazy was that era J
How does your audience look like? Which people do you miss on your concerts?
J*We believe,our fans belong to the more inteligent half of punk scene JFrom 14-45 aged. But,more older friends could go on gigs.
Please rank your five favoriterecords, five favoriteconcerts and five most important things in life?
F*I am not able to list here only 5,because there are hundreds of them.Recently are turning at my gramophone quite often following tarmacs:MASTERS HAMMER-Vagus Vetus,FAITH NO MORE-Sol Invictus,IRON MAIDEN-Seventh Son Of A Seventh Son,BURZUM-Filosofem,NAPALM DEATH-Apex Predator-Easy Meat,SLAYER-Repentless
J*THE EXPLOITED-Punks Not Dead,DAVOVA PSYCHOZA-Antropofobia,DIMENZIA X-Homo Homini Lupus,PERKELE-Frän Flykt Till Kamp,LOIKAEMIE-III
J*Without doubt,our best concert at all was The 20th aniversary of NACO NAZOV here in Puchov in November 2013.Then follow the performances on UG Fest(by Hirax),Punks for children fest.
J+F*The most importrant and significant matters for all of us are family,health,happiness,friends,music,sport...
Do you think that people who plays music like yours and do it hard like you are calmer people because they get out their anger in their music?
J*Depends on particular person,but making and playing music is realy good way to vent bad energy and get rid of the problems.
Is it boring with interviews?
J+F*Not at all!On the contrary,questions are realy interesting and we enjoyed answering JHere,we apologize again for 1 year delay J
Futureplans for the band?
We are going to make a new album,7th one,next year and take short tour within Czecho Slovakia.
For yourself?
F*To be healthy,fortunate,rich,live to 100 years aged J
J*I want to devote the most of time to my daughter,built own house,get my English better,get my muscles stronger J and win The Puchov tennis league J
Wisdomword?
J*Unless it is a life, it is the shit.
Something to add?
J+F*Thanks again thousand times for space in Skrutt Magazine.Good luck and take care!
Please,send us one copy of issue,what will be interview published in.Does not mater although in Swedish J
Greeting Josko,Fliper and all NACO NAZOV from Slovakia!