Mother Misery is a really good metalgroup which I haven´t heard before. Their guitarist and singer John was so kind and was really fast to answer my questions one day in may-2011.
History about the group?
---Well, me and Thomas Piehl started to write some material together 1998 after that our bands then Clench and Greyhate have gone to the grave. It wasn´t any serious from the beginning and was most for fun and to still our abstinence to play, we took in Jens Wilde on drums and Örjan Baudin on bass, both from ex Clench. We did a lot of songs but nothing really serious. We was on compilationrecords around in Europe under the name Nosedive and it wasn´t before 2003 as we seriously started to think about doing "something real". We started to put together songs which later became our album"Grandiosity" 2004 and we changed name in the same time to MOTHER MISERY because noone of us liked the earlier name. We toured a lot in Sweden during 2004 and 2005 we started our first Europetour was planned. Before 2005 Örjan and Jens quit the band because they hadn´t the same thinking of toruing as me and Thomas. They were replaced Jimmy Lindbergh on drums and Marcus Jäderholm on bass. Marcus was quitting the band 2008 because he hadn´t the same thought about touring, he was replaced by Stiff Hell and the band have a stronger unity now than ever before and we have always the same thinking about MM. Since 2004 have we toured Europé around some times and released the records "For the crows" Maxi-EP 2006, "All Eyes On You" 2007 and now"Standing Alone".
Please tell me a little about every member, age, work, interests, family and something bad about every one?
---My name is John Hermansen and Im´m born in the 20th century and my interest is in the first case music and then I like cool american cars from the 60-70´s(even if I haven´t any right now). My family is my girlfriend and and our two fourlegged and hairy children, the cats Diezel and Puma but there is a bun in the oven which will be born in august and I´m really looking foreward to that. :- ) Something bad??? Hmmm, it´s maybe that I have played covermusic before and I have been singing in weddings…,, he hee..
Thomas Piehl is also born in the 20th century and his interest for the music is also there, and then he also likes cars and he´s really good at fishing. He´s single for the moment bu the have surely some ladies on the hook "as we speak" ; -) Something bad about Thomas must be that he have been in a coverband(the same as me) and we were lucky that our own music saved us from that shit ;-) And then there is band which does it a thousand times better than us, we were only after money and beer, not to be good at it.
Jimmy Lindbergh is the one which was born latest in the 20th century and he have a girlfriend and a plasticdaughter and a Macbook Air which is his little baby ;-). His interest except the music is surely music, to know everything about all musicans in the world, for example which colour Josh Freese had on the 16th of july 1989 etc, ha haa… The most horrible thing with Thomas is that he likes Toto and go to their concerts. ..
Stiff Hell is our latest members and he is also born in the 20th century. A little bit later than me but earlier than Jimmy. He have a girlfriend and tow small daughters, and some badgers in the backyard, Stefans interests(except the music then) varies very much, right now he´s into the murder of Olof Palme,we will see what the next thing will be. He lieks to read a lot so that is surely his interests. Something horrible must be that he also have been standing and smiling and been a coverartist on some boring things.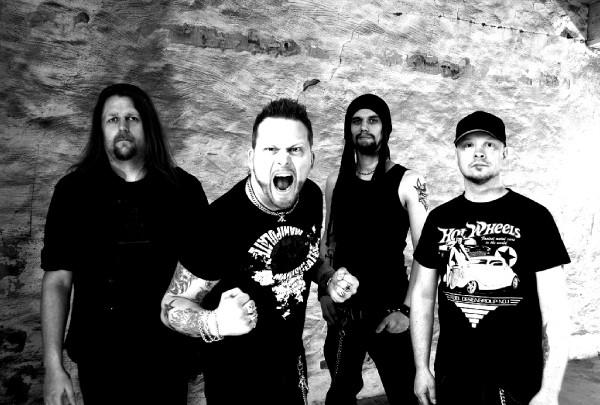 Many lineupchanges through the years?
---Yes, as I said earlier so was Örjan Baudin (bass 98-04) and Jens Wide (drums 98-04) replaced 2004 by Marcus Jäderholm (bass 04-08) and Jimmy Lindbergh drums 04 - ) and then was also Marcus replaced by Stiff Hell (bass 08- ).
Where do you come from, is it Gothenburg? Anyway…is there any good bands in your homecity?
---No, for god´s sake, we come from Swedens center Enköping, Swedens closest city. Jimmy lives in Stockholm nowadays. Yeah we have had some good bands form Enköping actually, for example Cavus (there my little brother sang), Dollhouse (type MC5), Sherlock Brothers and then many bands I cannot remember the names on right now but we have many good musicans which comes from here. In Sweden there´s a lot of good bands which have really high class, of course the most known metalbands as In Flames, Mustasch, Hellacopters, Backyard Babies, Hardcore Superstar, Meshuggah, Entombed etc but we have the not so wellknown bands like Stonewall Noise Orchestra (Borlänge), Vise (Göteborg), Scaar (Eskilstuna), Thalamus (Borlänge), On Parole (Göteborg) etc etc…
What do you think that it depends on that swedish music is so good? Have we better chances to do good music do you think?
---I think that swedes holds high class on everything, we have been travelling a lot in Europe and if we compare and check out many things like living, buildings , cleaning etc. If we have better chances I don´t know but we are really foreward in technique and we can see and hear music all day on Radio, TV, Myspace, Facebook, Reverbnation, Spotify etc and that is maybe high up the quality of our musicans and band(?). We often get the question when we´re out, why much music from Sweden is so good and people outside Sweden believe that we got a lot of money from the state to do our music or to instruments etc but so isn´t it. Sure there is chances to get it from Sensus orl Studiefrämjandet and you can be in these groups to get some help with the rent etc but more than that isn´t it.
I think that you have taken a lot from groups like Backyard Babies, Sator, some metal and maybe a little from Him or right said you have influences from those group? Comment?
---All good bands but there isn´t so many of these bands we are listening too, maybe Backyard babies but nothing we directly takes inspiration from. It´s hard to have a really "own" sound nowadays when you plays "usual" metal as we do and we never steal with purpose from other bands but then you surely hear different influences depending on where you are coming from.
Other bands you are being compared to? Is it tiring to be compared with other bands?
---We´re often compared to Soundgarden, Audioslave, Monster Magnet and Mustasch actually and no there isn´t tiring to be compared but we hope that people soon will compare other bands with us instead ;-) That you want to have when you have an "own" sound.
Your lyrics…are they important or is it only what comes out?
---It´s me who writes all lyrics and for me and the others so is really important even if we don´t write any political lyrics which we will try to change peoples opinion after etc. The thing I think is important is that we have something to say that people can identify themselves with, a feeling or a situation in life. I put really big weight to that the lyrics is something I can stand for 100% and that it isn´t a lot of shit. I never write any lovesongs or so, the lyrics is always about things which is making me angry or things I don´t feel so good about that I or someone in my nearness have been doing and it can be about some lifesituation that I have seen in a paper or on TV.
Never any thoughts about swedish lyrics?
---No, I had a period some years ago when I wrote some popsongs with swedish lyrivs just to see if I could and how it would be, I think I got some songs OK but it doesn´t feels good for me to write in Swedish, I can express myself better in English and it sounds cooler and better I think ha haa..
Do you do any covers on stage?
---No never, we have talekd about it but we haven´t had any feeling for doing that and that´s maybe just because of our earlier coverbackground; -)
Would you imagine yourself to play for some political thought, some special footballteam or similar? Have you done that or is it to bind yourself to that for all time?
---No, I don´t think we will do that, most of all not for any political party or similar, maybe play for a footballteam but I don´t really know right now, we must think about it if the question come.
How would you describe your music in three words?
---Melodic, easylistening, inyourface, that was three ? ; -)..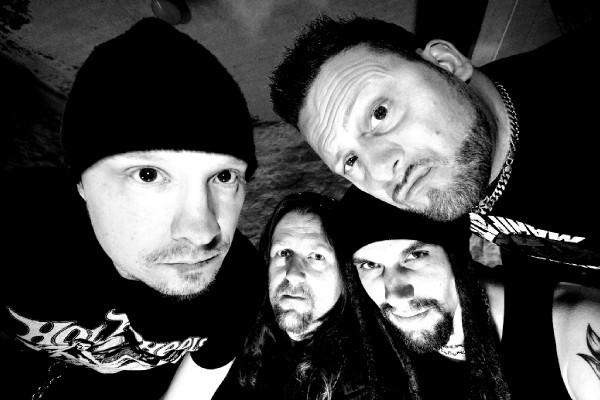 Transubstans , does it seems to be a good label?
---Yes, I think so and they have helped us a lot since the release of "Standing Alone", and they have also Record Heaven who distributes the record. They listening a lot to what the band is thinking and want and it´s not so easy if you are on a big label, "Standing Alone" have been 6 weeks on the Sweden Chart which I see as really good.
How much does a record sell in these notsellingalbumtimes?
---Wow, a good question which I haven´t any idea of, that is something that the label have. We sell most of our stuff on tours and gigs.
What do you think about mp3 and downloading? Is it something you´re doing?
---There is piratedownloading when you steal money from us and there is the legal downloading. Both is good for us in one way, our music is spread and more people will see and hear MOTHER MISERY but in the same time we surely want to see that people paying some for that too. Sure that we have piratedownloaded some song but it´s mostly just because that I cannot wait until the real record comes and then I buy the whole record instead. But I listens mostly to Spotify nowadays and is it something I like there I buy the record because I like to have it in real and look through the booklet.
Which is the biggest audience you have played for?
---It´s hard to say but it most be the festivalgigs where it can be between 3000-120000 people.
Which is the most wellknown band you have played together with?
---I don´t know which band which is the most wellknown but we have played with bands like Entombed, Lynch Mob, Deathstars, Propain, Therapy etc, we will play on Netherlands biggest festival in july which will have 140,000 visitors and there we split the stage with bands like Black Crowes, Monster Magnet, Sepultura, Helloween, Blondie, Anthrax, Life of Agony etc etc.
How is a good gig with you?
---Energic, tight, good tempo and really professional ; -.)
What do you have for audience? Is it metalfans , rock n roll fans or what do you attract? ?
---I think that we can have a little bit of all and when we toured with Entombed in Holland 2008 so was we worried how the hard Entombed-audience would react, but it become really good and it put some speed on our career in Holland. You never know who likes what, often have people really broad taste.
Please rank your five favouriterecords, five favouriteconcerts and five most important things in life?
---Fuck, this is always hard to only take five but we will give it a try. 1- Holy Diver / DIO, 2- Operation Mindcrime / Queensryche, 3- Automatic Thrill / Gluecifer, 4- Blast Tyrant / Clutch, 5- Down on the upside / Soundgarden. The most important things in life must be 1- Family, 2- Friends, 3- Music, 4- The beer, 5- The vacation ; -)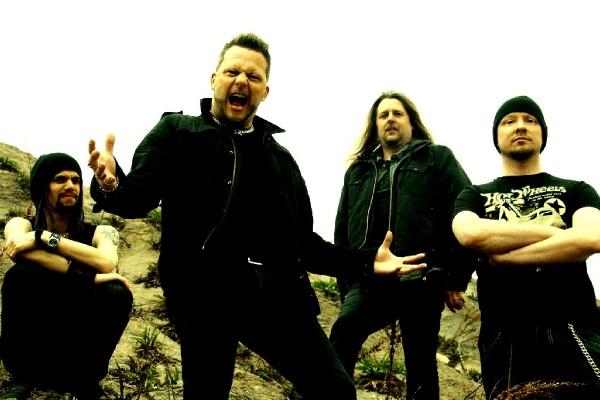 The first, the last and the most expensive record ever bought?
---The first record I actually bought was Hotter Than Hell with KISS, my first memory is when I bought Alive I with KISS from an older guy in school, I paid him 40 swedish krona , which was really much then and then it shows that the motherfucker only have copied half of the concert, little as I was(compared to him) so didn´t I dared to say against him.
The most embarrassing record in your collection?
---Wow, this isn´t anything I remember, I must have burn them all but would I have something left so had it been Samantha Fox with picture record Touch me,,embarro..
What do you think about living in Sweden otherwise?
---Good, we haven´t all the unnecessary dangerous insects, snakes, beetles and shit like that which goes around and it´s not so hot and cozy in the winter he he, but jokes apart, I love Sweden and it´s always as good as always good to be back home.
There was an election again, did you vote or didn´t you gave a damn?
---I didn´t give a damn…
Music and politics, does it goes hand in hand?
---It can be together but I often not like it.
Best political artist?
---Don´t have a clue.
Futureplans for the band?
---Play more and make some more good records, establish us in more parts of the world, and it would be cool to go to Japan and USA and se how they take us in MM.
For yourself?
---Become a good dad and write even more good songs ; -)
Wisdomword?
---Doing it for yourself not for anybody else…really wise isn´t it
Something to add?
---Only to thank you for a fun interview with different questions. And I want to say to people out there to check out MOTHER MISERY both on record, Spotify, Myspace and live if you have the chance and add us on Facebook.
Rock On, John.
.