Hello Peter, Thanks a lot for the reviews!
It´s good that you like the music!
Here´s the answers on the interview.
It took me 2 hours.
I´m not the world´s fastest.
It´s good and fun that you´re interested and wants to do interviews, but why doesn´t anyone do as you did before and call up the person and ask the questions. It takes a lot of time from us. And I have problems with sit to long in front of the computer.
Thanks
Monica
So write Monica in her answers to my interview but imagine how much time I´m have left now ….;-)
It´s good to hear new bands anyway and here´s Monicas answers… …april-2012

Please tell me about yourself? Age, family etc?
-Born 1979 in Järfälla, grown up in a little town in Dalarna with parents and brothers/sisters , dog and a cat. I came away from the countrylife after school and lived in Stockholm for a while and then I moved to Kalmar where I have lived the last 8 years. Nowadays I live Tunbridge Wells in England with my man but I still have my company left in Sweden so it becomes a lot of travelling..

Can you live on the things you do?
-Yes

You plays a lot out. Is it mostly on pubs, festivals or how is it?
-With the band which right now is a duo(me+Paul Slack on bass) so can we play both small and big places and right now we have focused hard on France and do mostly small musicbars which have been very good, but also some bigger clubs. It haven´t been so many festivals and on the side of the band I tour solo in Sweden at schools and have schoolconcerts with bsongwriterworkshop which I also think is really fun.
<![if !supportLineBreakNewLine]>
<![endif]>
You have precisely been out on the roads, tell us?
-We´re in the middle of a tour in France which have been really good and it seems to grow…we get new bookings all the time and it will be more touring in may and in june. But we love this life, go from city to city and meet new people and old friends, and play the music we burns for and become respected for that. Sure it´s hard work sometimes but this time we have some free days and it´s also useful to get some more strength just to do everything on the next gig..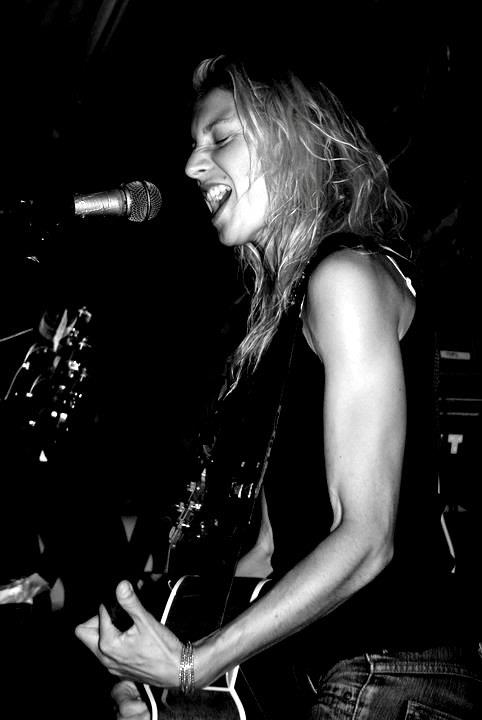 Paul Slack from UK Subs plays with you, how did you met him?
-We met on Rebellion punkfestival in Blackpool 2009 when I was there as a soloartist and he was there with UK Subs. He was interested of the stuff I did and then he cmae to some London-gigs I did, we kept the contact and when it was time for recording of the Shut Up-album he said that he wanted to play the bass. It was really good and then we continued to play together.

Punk seems to be very near your heart even if you play acoustic music?
-I have always written my songs on acoustic guitar, that´s the instrument I can play, so it´s really natural that I play acoustic guitar live too. I don´t know if you should call the things I do acoustic music, I do the things I do and it sounds like it do and then you can call whatever you want. That´s the thing which is punk isn´t it? We have found an expression which feels really good "Jukebox punk".
What does punk mean to you, is it only a musicstyle or is it a lifestyle?
-As I described precisely so is punk for me a way to be and to think , an attitude how you want to live you life, To be the way you are and do that you want without thinking of what people think and be afraid for that. To be free to live the way which suits yourself and do genuine music. Today have punk get another meaning, it´s mixed with a musicstyle with fast guitars and drums and vocals, Many bands sounds the same. It wasn´t so from the beginning. Who should say that Clash is punk today?

Favouritepunkbands?
-I like the old originals...The Clash, Iggy..ooh, I´m not so good at favourites.

Which type of audience do you have?
-All sort of types which wants something more than the old ususal.

It seems so that you´re more wellknown outside Sweden , how does it become so?
-I almost only play abroad.

Some new record soon?
-yeah, we´re in the end of the recording and mixing the new record which is released later this year. It´s a record based on the livelineup we have now, vocals, guitars, bass but no drums.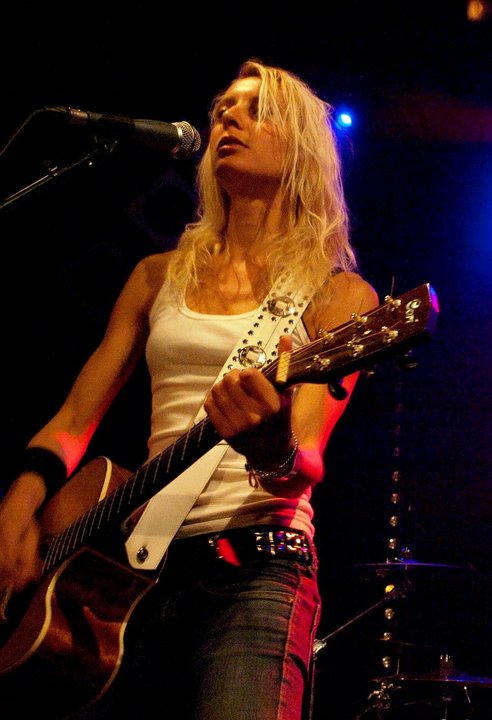 What do you think about mp3 and downloading and that "shit"?
-It went wrong a little bit with the new technique. Todays young doesn´t seem to know what an album is, they only knows that there is "songs" which they can download from the internet, that´s horrible. We sells records on our gigs so it goes along well so I´m satisfied at the moment.
How would you describe your music in three words?
-Positive, swinging with attitude.

Your lyrics seems to be more important when you plays acoustic music, from where do you get the inspiration?
-The things that happens in my life. Things that I think of, feels, experiences.

How do you think it is to live in Sweden…I mean politically?
-I don´t know, I don´t live in Sweden. I left Sweden after some travelling around and touring in other countries. I saw that Sweden was very conservative and that I didn´t suit in. Everytime I came back I become upset and depressed over how things was not functioning. ,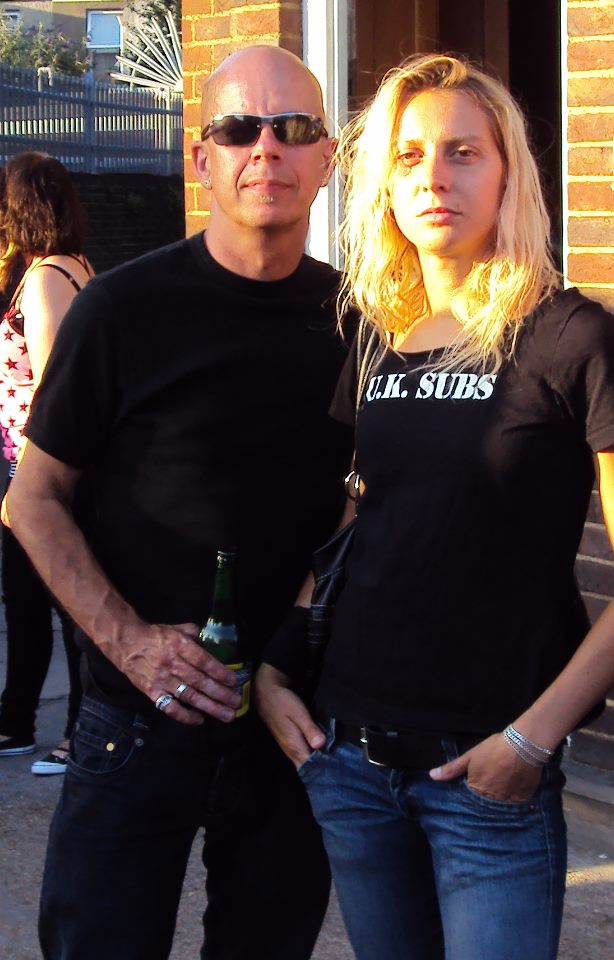 In which country is best to play?
-Australia for the warmth:)<![if !vml]>
<![endif]>, France and Germany for the gigs and for the audience.

Tell me something really strange which have happened during a concert with you, or someone in the audience?
-We went to Berlin to do a gig and haven´t understand that we would play on a boat which was going on the river and in the meantime people shoot golf balls from the boat to targets on land…...

Can you gives us your five favouritealbums, five favouriteconcerts and five most important things in life?
-Five albums:
No, this is difficult, I haven´t so easy to pich out favourites and I have difficulties to remember albumnames. ...
Ellitt Smith XO, Motown chartbusters vol. 5, something with Ramones, The Rolling Stones,
Five Favouriteconcerts:
Iggy Pop on Cirkus in Stokcholm 10 years ago, Excuses from Sligo, Irland always, 2nd District on Mondo Bizarro, UK Subs on Rebellion 2010, Peter Bentham and the Dinner Ladies on the Beat club.
Five most important things in life:
Warmness, food, sleep, love, freedom, creativity.

First, latest and most expensive record ever bought?
-I don´t remember the first one, could have been Lili och Susie, most expensive…I don´t know, latest we bought Roman Electric band by Roman himself in Nantes recently. After have buying our albums....<![if !supportLineBreakNewLine]>
<![endif]>
The record which must be in the tourbus?
-Four Tops greatest hits.

Is it many interviews?
-Yeah, and EVERYONE wants us to write ourselves.. Where did the taperecorder went???????

Futureplans?
-Can only plan for some months in the time because it happens so much all the time…during the summer : tour in France and in Europé, to get out the record.

Wisdomword?
-Go for it Baby!

Something to add?
-It´s good to have experienced Skrutt and that there´s is one pure fanzine in Sweden!