Wagner from Mollotov Attack send me some records and we have done this interview now. They come from Brazil and that´s a country filled with good punk and hardcore January-2018
Please tell me a little bit history of the group?
-Mollotov Attack was born in ABC paulista, an industrial district, where punk found a perfect environment to develop, as a voice to the car industries workers. ABC is the cradle to fight for worker's rights in Brazil. The grouphistory begins in 2005, with Bollaxa, Didi and Madruga, former guitarist, who left the band in December 2011. I've joined the band in 2012 and that's the line up till today. Our discography is a demo cd in 2008, Resistência EP (2012) and the full length 'O homem é o que o homem faz'(2017), besides several tributes and compilations.
Please tell me a little about every member in the group right now, age, family, work, interests and something bad about everyone? Earlier bands? Other bands on the side?
-Bollaxa, the singer and bassist is 33, work as administrative assistant and practice some boxing. He is also AxCxBx, a hardcore band, singer.
Didi, the drummer is 32, he is false teeth sculptor and paint backdrop for other bands on the side.
I ran a small auto part store and do some metal sculptures on my spare time. My earlier band is 'Irmã Talitha'. I'm a 38 year old.
Something bad about everyone? Well, let's say we like beer a lot… Too much to tell you the truth!!
I can hear much different influences but mostly hardcore, UK 82 and some metal etc? Favorites from the past?
-We love some brazilian hardcore bands like Agrotoxico, Lobotomia and Ratos de Porao. Of course there's also some GBH and Discharge and some NYHC as Madball and Terror. Me and Didi are also thrash metal fans, so you are right, and metal comes up sometimes.
Mollotov Attack are you satisfied with the name? How did it came up? You weren't afraid that some other band would be named like this?, Why an English name when you mostly sing in portugese? Which is the best bandname you know?
-When I arrived the name was already there, so I'm not pretty sure about the reason it is not in Portuguese. Attack is almost the same word in Portuguese (ataque) and everyone know what a molotov is anyway, so it gets really easy to understand. There must be tons of bands with the same name or very close to it, but we don't care. The most important is the idea it represents.
There are some genius bandnames like Bad Religion or Misfits. I like 'No use for a name' too.
What´s the best thing with playing live?
-Look people in the eyes and realize we believe in the same things. We are angry for the same reasons. That energy is amazing. There's someone just like yourself over there in the crowd, and you have the honor to be his/her voice.
And where is best to play? And the worst place?
-We like a lot to travel, so best place for us is always the next one. We love to be on the road, and have the chance to know new places and people. The worst place till now? Brasilia, maybe. We didn't have a great time over there, but who knows what can happen next time, uh?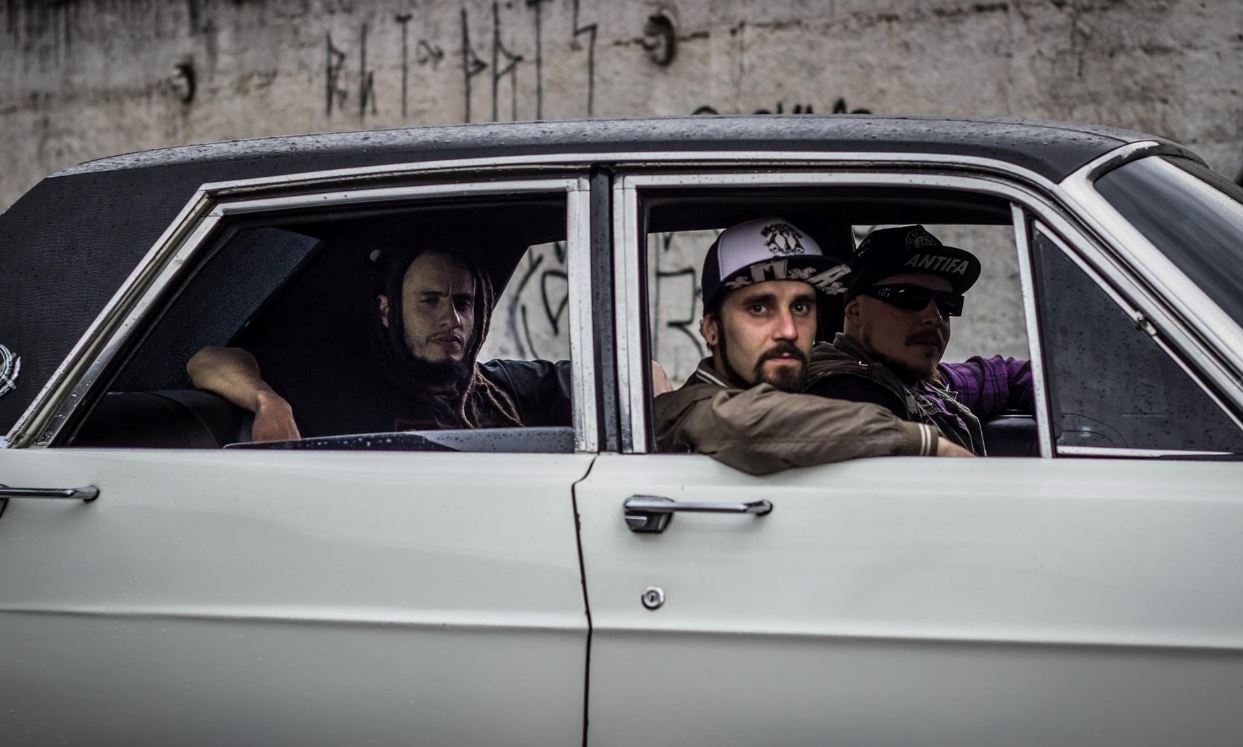 How is to play this sort of music in Brazil right now? Which types of bands do you have concerts together with?
-There's a small public for heavy music in Brazil when compared to the most popular rhythms, so there's no place in traditional media, like radio stations or TV for it. Hardcore and punk are and will always be an underground culture around here.
We play with punk, hardcore, thrash metal, crust and grindcorebands mostly.
How would you describe your music in three words?
-Honest, aggressive and necessary.
What does punk mean to you, is it only a word or is it a lifestyle?
-We live the punk attitude everyday. Even when you wear black tie, punk is still inside you. It's in the way you think and on what you choose to stand for.
How do you see on downloading, mp3 and that stuff?
-It's good. It allows your music to reach places and ears that would be impossible through other means. And we believe the most important thing is the message, so…
How is it to live in Brazil right now? Politically? Fascists, we have a lot of problem with rascism here?
-Brazil is probably one of the most confuse countries in the world. It's been ruled by corrupt politicians since the beginning. The effects of all this robbery is a population with no education, no knowledge about their rights, that accept every absurd men in suits does as natural and inevitable. And continues to vote for the same thieves again and again, and believe everything is gonna magically change.
Even when we talk about racism here, we are talking about a real mess. We are a deeply mixed population and some of us believe in racial supremacy. And they are mixed themselves!! It seems like a joke, but we have to fight it everyday. It is not enough not been racist. We got to be anti racists.
Is there any good bands from Brazil now? Is the punkscene/hardcorescene big? How is it in your hometown?
-Yeah, there are some excellent bands releasing some fantastic albums, like Odiosocial and Downhatta. We can say there's a big scene if we think about the country dimensions. It's almost a continent. But it is very small if we talk about structure and support. Bands spend a lot of money to keep on going.
What do you know about Sweden?
-Seems like a real good place to live. Free from violence, with almost no poverty and full employment. From here it looks like an excellent example of equality. We can say it's the exact opposite what we experience here in Brazil.
Have you heard any good bands from Sweden?
-I like AntiCimex and Wolfbrigade. Also used to listen a lot to 'No fun at all' and 'Millencolin' when I was younger, but don't really know any of the new stuff. I'm waiting for the package you've sent me to get involved.
Your lyrics, who does them and what influences you? Is it easier to do lyrics now or was its easier to do it when you was younger? You did Soldier Boy in English??
-Soldier boy was originally in portuguese, with a small part in spanish, that I used to sing. As I don't speak Spanish I decided to try it in English. And it was like: "Oh, it sounds better. Lets do it all in English!"
Both, me and Bollaxa do the lyrics, and we are influenced by the world around us, it's injustice and inequality. And we talk a lot about friendship and moral encouragement too. I think it become easier to write now, with more experience, a wider view of the world and a bigger access to music and information in general.
Is there any subject that you never will write anything about??
-Guess we are not the kind of band that make love songs, but… who knows??
Serious now, we are an antifascist band, so it's easy to realize what kind of stuff you'll never hear from us. We will never support fascists, racists, homophobics, sexism or any of their sick ideas.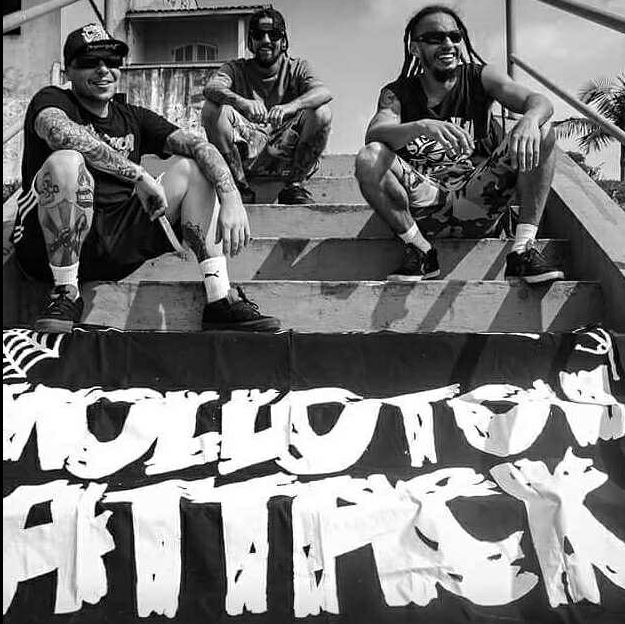 Politic and music, does it goes hand in hand? Which is your most political song?
-Music, especially in the third world is a strong tool to help people get conscious about their rights, about the importance of politics in their lives, so it must go hand in hand. We talk about politics in many lyrics, but there ain't no 100% politic lyrics since our first demo, where you can find songs like 'Caras marcadas' and 'Classes exploradas' (something like 'Same old faces' and 'Exploited class' respectively).
Best political band/artist?
-I don't really believe on calling something best. It's not a competition. I like Public Enemy and Rage Against the Machine a lot, not only for the lyrics, but the attitude.
Do you think that music(lyrics and so on) can change anyones life, I mean people who listens to music?
-Yes, I do. I believe every art form do have this power. A music, a book, a movie… Any of them can change someone's life. It's changed mine.
Your cover on your CD looks really nice, is it important to have a record cover which shows people which type of music you play? Your favorite recordcover? Who does your covers? And do you have any good recordstores in your hometown?
-Oh yeah, we don't want no sweet grandma getting scared for choosing the wrong CD by the cover, right? We believe the whole work must be connected. This art was made by a friend, a brazilian tattoo artist called Eduardo Viriato. We showed him the title song and it's lyrics and he developed the whole idea based on what he feels about it. And we just loved it. It is just perfect. The CD name means 'Men is what men does' and the cover shows how you can be both, victim or aggressor, good or evil. It's up to you to decide.
Is it important to get out physical records of your stuff? Why or why not? Vinyl, CD, cassette, what do you prefer if you could choose whatever ? Thanks again for the other records you sent me…
-Oh man, it's a pleasure to share our friends records and know they are in good hands like yours. We all collect records (mostly CDs and vinyl), so we would be seriously disappointed if we haven't done it, even knowing a CD nowadays is nothing but business card. Although we still dream to release a 12" vinyl.
Please tell me a funny thing which have happened during your career and under some gig?
-We have one, but is not that funny. Well, it was not funny when it happened. We were in Goiania for a gig that was canceled two days before our flight. It became a day off, so we went for a walk, to know the place since it was our first time there. Here in Brazil we can drink in public, so liquor stores put tables on the sidewalk where you sit and drink your beer. We were doing it when a thief came and took our cellphones.
We were going to Brasilia that same day to another 2 gigs and all the producers phone numbers, addresses and etc were lost…
How does your audience look like? Which people do you miss on your concerts? Which is the biggest band you ever have played together with?
-They are not that young, around 30 years old, and there's a lot of old punks too. We miss the younger fellows, cause we believe they are the future of this country, and it would be important to have them with us, fighting for a better society. We've played with a lot of bands we admire, but the biggest ones was probably Ratos de Porao, Colera, Olho Seco, Riistetyt, Terveet Kädet, Simbiose…
Please rank your five favorite records, five favorite concerts and five most important things in life?
-Records: Suicidal Tendencies - Join the army, Cabeloduro - Tudo que a gente tem, Charles Mingus - Blues & roots, Kreator - Outcast and Black Alien - Babylon by Gus vol 1. But if you ask me that again tomorrow It may change 100%.
Concerts: Suicidal tendencies, Slayer, Misfits, Rage against the machine and Rolling Stones.
Things in life: Family, friends, music, be the best person you can and be honest to yourself.
First, last and most expensive record ever bought?
-Guess the first record I bought myself was Metallica's Master of puppets cd. The last was a vinyl, Spin Doctors' Pocket full of kryptonite. And the most expensive was a Charles Mingus box, with 5 albums.
Is it boring with interviews? Is it much interviews??
-No, we are not a famous band, so there ain't so much interviews. It's still funny.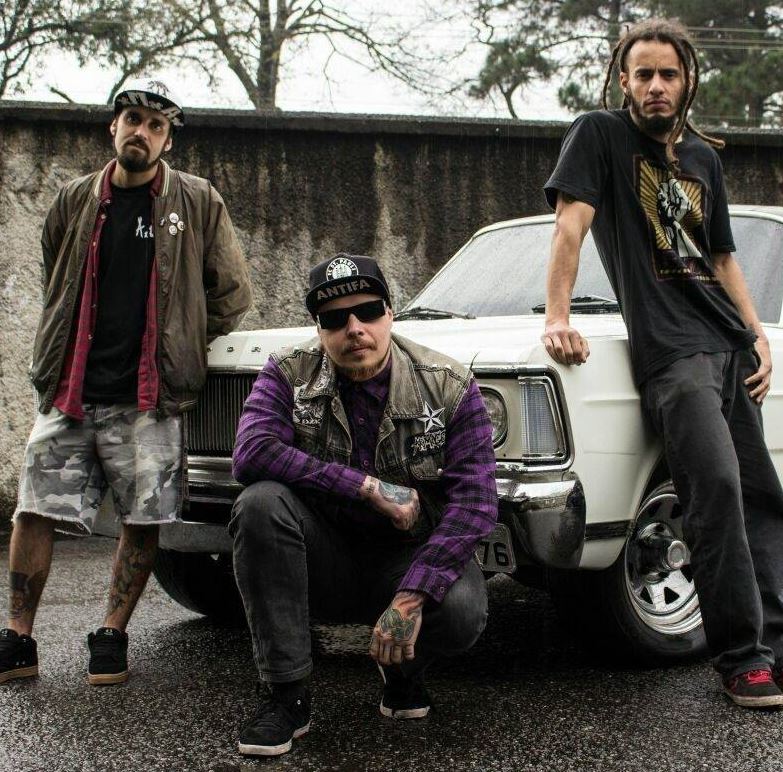 If you could choose five bands from the past and the history and nowadays and both dead and living bands to have a concert together with your band. Which five have you been chosen?
-Oh, Jimmy Hendrix experience, for sure. The Ramones too. Infectious grooves would be nice as well. I'd love to step the same stage as Mr. Son House. And Motörhead, of course. Oh hell, I just let Black Sabbath out…
Is music a good way to get out frustration and become a nicer person outside the music??
-Yes, I'm pretty sure it is. It only depends on what kind of music you are listening to. I believe nowadays pop music do just the opposite. 'Get rich or die trying'? It's just ridiculous that someone with that kind of exposure choose to say this bullshit. That's an invite to frustration or even jail.
Which is the most odd question you ever have got in an interview?
-Probably this one!
Which is the question you want to have but you never get. Please ask it and answer it?
-I don't know. I talk a lot. Maybe something about guitars or gear, that I love.
Future plans for the band?
-We'll meet this week to make 2018 plans. We are looking forward to our first international tour. We might go to Chile this year. And we also want to go on an European tour 2019.
For yourself?
-I recently got married, so I want to be a good husband, also want to learn a new language and study music a little more. I've been really lazy lately.
Wisdomword?
-Guess I don't have any good one now…
Something to add?
-Would like to thanks a lot to you Peter for the support. It's an honor be on Skrutt Magazine once again. Also apologize for the poor English. I'd like to invite all your readers to listen to 'O homem é o que o homem faz' on Spotify, add our page on Facebook and keep on supporting local underground bands. You guys made the scene strong! Cheers from Brazil!!