Fjalle, Per and Stefan have answered a lot of questions from me about their reunion with the group Moderat Likvidation. Fun I think and their new record Mammutation is really good with itīs hardcore. May-2009.
How did it came around that you began to play again?
-F: It felt right after we came back to Skåne.
S: Timing and things did that it became possible again.
Which of the originalmembers is still in the band?
-F: Fjalle, Per and Stefan
Cliff never wanted to be in the group now or?
P: Both, but I cannot answer for him. Only Cliff know his own motives.
F: Yeah, he wanted. But not in our way...
The name suits in better now than ever(Moderat= Right wing politicans)?
-F: No, it was better back in the time, now is all politicans the same.
Mammutation, what do you mean with that?
-F: What do you think??
P: Think of a frozen beast which is been waken again and he comes out of his ice and starts to do the city again. Thatīs we, a mammoth, totally preserved after more than 20 years of awayness. But we have changed – everything other have been absurd. We have mutated, we are a mutation – and mostly Dejv which have been coming into the group instead of Cliff. Itīs Mammutation. And then we have the fact that Stefan have been changing sex and he have a cunt(swedish mutta)( but that can we see as a sidetrack).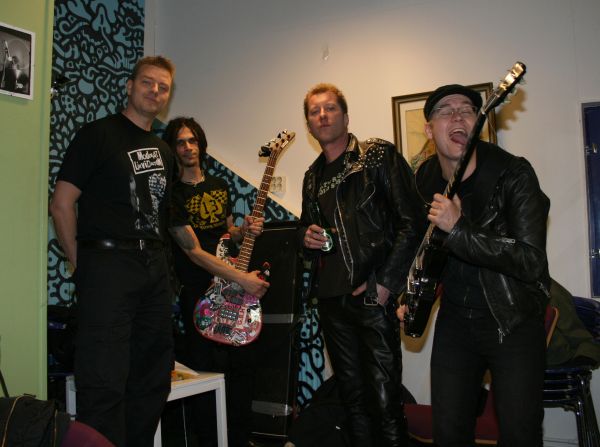 Was it difficulties to write songs to the new album?
-P: The creativity hits then one we had then, back in the 80īs. Have never seen any similar. aldrig varit med om något liknande faktiskt.
F: It went too fast!!!
S: The next time it will be a double-LP
You donīt have any long lyrics but you can get the things into the lyrics that you want anyway? Who do the lyrics and who does the music?
-P: Itīs different. We all do things with our songs. Itīs no malls how we do them. Every song have their own story.
F: All in the band.
How would you describe your music in three words?
-P: Fucking fucking good.
F: Skånsk raw punk
What is your strength live?
-P: The audience.
F: Per!!! I was only joking, the old songs.....
How have the new songs been received on your concerts, have you been taken in them one after one?
-F: P.K is already a classic song!!
S: We have done both P.K and E de punk and it have been the same go in the audience.
How does your audience look today, is it a mix of old fans and newer younger or how do they look?
-F: Now does our old fans take their children to our gigs...
Which type of audience do you miss?
-F: The old punx!!
Whatīs the funniest which have happened or most peculiar when you have had a concert? In the audience on stage?
-F: When we had a girl which stood their and dancing on the side on Dejv on Mejeriet. It felt like we were Trance Dance....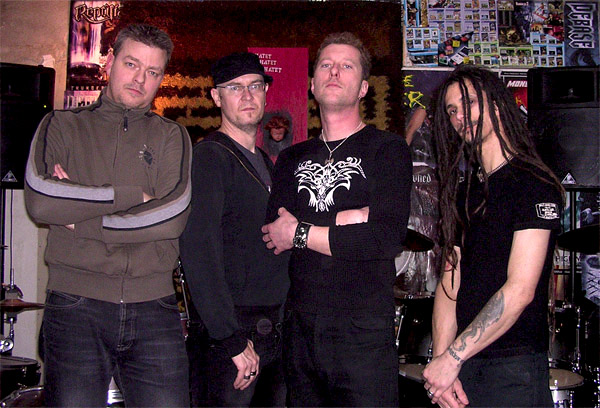 How do you think the swedish punk/hardcore scene look like today?
Any favourites?
-F: Too mnay good bands, less glue.....
S: Thereīs alot of bands nowadays. Really much sounds too much the same but thereīs a lot of them which sounds good.
Was it fun to play on West Coast Riot last year? Did you see any other bands? Is it something you will look at this year?
F: We will always suffer for that gig, the sound was shit and the rest of the bands was it too. They said that it would be a punk/hardcore festival,but the rest of the bands played poppunk. Neverstore played before us and I think they took some dancesteps on stage like Backstreet boys. FYFAEN!!!!!!!
S: It was as fun as always to play, itīs a shame that it was so many shitbands there. We felt like we were dragged in by the cat.
Is it many gigs this year?
-S: It will become some festivalgigs. And then we have some foreign stuff on itīs way but itīs not really decided yet so we cannot say anything about that yet.
Youīre satisfied with the new record I understand? Will it be more after this one?
-P: We have really got some new energy and the inspiration is still knocks on the door.
F: We have a lot of songs which didnīt make it on this record!!!
S: I hope that- we have many melodic songs which should be recorded.
Your EP from 1983....what is the most expensive you have heard it been sold for?
-P: Almost 3000 kr.
F: 400 dollar
Please tell me a little about every member, age, family, work and something terrible about every member?
-P: I will have my private life, no offense...
S: Per shaves his glance some times in the month.hoppla!
What did you do during the time Moderat Likvidation didnīt play together? Other bands or?
-S: Yeah, we have all played in different bands. But no one is worth to mention in a ML-interview;-)
What does punk mean to you, is it only a word or is it a lifetsyle?
-P: Thereīs nothing which called only a word. As soon as you say something you have an opinion about the things you say. For me is punk a relieving attitude to life. Itīs about fighting for your freedom and for me is freedom a loss of that people do everything the same and the group pressure. I have never seen any logic in why you must do things just because that everyone else do them. Itīs also so in the punkmovement. And if everyone do something in a special way so can I never resist to do the opposite. Itīs something which demand courage and especially social courage.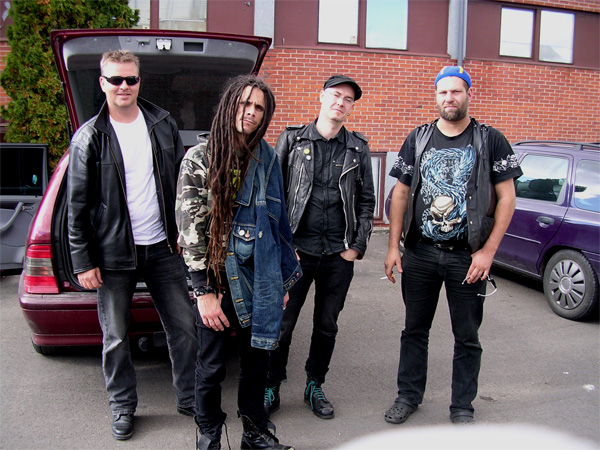 Do you have five favoruiterecords and five favoruiteconcerts you can tell us about?
-S: No, thatīs hard. But I must tell you about a Discharge gig on Sky High in Malmoe-83. Apart from that it was a really good gig so was many things around it really odd. Sky High was in the first place a discoplace which didnīt use to have gigs there at all. The thought was that we should be a support act, that was anyway our thought but the promoter announced a band called Unter Den Linden (!?). We had precisely recorded our first demo and I and Cliff was there and met the promoter and we suggested a change in the programme. The promoter was later saying that he have been threatened. Anyway we didnīt have the luck to get out that ML was a support act. It ended instead in that we was backstage with Discharge and was partying. Per and Cal talked about politics and they did up plans for Englandgigs. It was a big party that night. Another odd thing which happened after the gig was that someone found a pair of clogs outside the toliet, it became a thing to talk about many weeks after this, which Malmöpunk have gone to the gig in clogs? And which obliviously have gone home barefoot. !?
The most embarrasing record in your collection?
-S: I have seen a record with Demis Roussos at Perīs home
Which group do you want to release a record?
-S: It should be interesting how Discharge with Cal on vocals could sound(Discharge with Rat is more pathetique I think). Otherwise itīs many bands form the past which is going on still but not many of them release anything new…No…I canīt come up with any.
How do you think that it is to live in Sweden today? I mean politically?
-S: It could be written on 5 sides of text if I shall develop that question. So I quit that question.
Have you been hit by the crisis yourself?
S: No, Crisis? Do you put in it to a perspective in the world so is the definition on crisis really different.
Where do you stand when we talk about downloading and mp3?
-P: I donīt think itīs so much punk to not support the artists you like. I think that solidarity is one of the more important political colours and that loyalty is among one of the most important qualities on a friend. If I go to a concert I want to feel that I support the band and therefore I buy their stuff, t-shirts, records. And I want to be treated the same way. You shall always act as if your action could be lofty to a general law and if you should do so to other people so do I wash that people do so to me. Thatīs why I donīt take things from other people. If artists gives away things for free so is that the artists choice and then itīs OK but I suppose that it wasnīt that you meant(We are generous to fans we like really much and it have happened more than one time that we have sent our material as gifts to fans on the other side of the world)
S: Iīm old school
Futureplans for the band?
-S: Records, gigs and beer!
Wisdomword?
-P: Peace and love to all people and a beer.
Something to add?
-P: 33 is my favouritesum.
S: we want to thank everyone who likes is and go to our gigs. Drop into our website sometime to see some updates. www.moderatlikvidation.com