History? Lineupchanges and so on?
-A very late and messy summernight 2001 the idea about The Models was born. Noone who was in the group from the beginning was knowing each other before we met. We was almost not in the same friendship either. It have been some different members through the years. After the last singer Anni left us we tested some different people both on guitar an don keyboard but it wasn´t anything but we three which felt the right way. We will see how it's going to be in the future…But as it is now everyone have their place both soundstyled and visual. We´re really a group and not any persons ego. We don´t need anyone who stand on stage and do their solo all the time..

Please tell me a litle about every member, age, family, work, interests and something bad about every one?
-Serious? Oh yeah…
Kixi = Bass which right now go on a dance school in Münich.
Maja = Drummer in Malmoe who works as a telephoneseller. Plays also in the band Dolly Daggers.
Rebecka = Sings and play the guitar. It's most easy to meet her in Stockholm. Work as a workleader. It's also doing some small musical projects beside of the Models.
Age? Young and beautiful!
Something bad?…It depends on who you´re asking. It's not everyone who likes us all the hours a day….We´re too handsome, too much selfrighteous and we have too much self confidence....

Is it only positive feelings about being only girls in the group?'
-yeah, actually. But it´s have more to do with that we goes along so good as people even if we´re really different as persons. Not only because of that we´re girls… …

No record contract? Is this minirecord the only thing you have done this far?
-Eh… no. The record you got isn´t so new. We´re recording new material right now. It's not fully done yet. It's in a studio in Stockholm and it´s waiting for us.
We haven´t been without askings about recordcontract. But, this far we have thought that it´s better to control everything by ourselves. Sure it have been good to be on a lbel which have done everything for us…but we are so fucking tired of all the shameful proposals which comes with that! All good labels can give us a call. We have taken care of all other promotionchances instead. As when we were in the MQ-campaign or we was in the rehearsalinstallation on the tour Where The Action Is last year.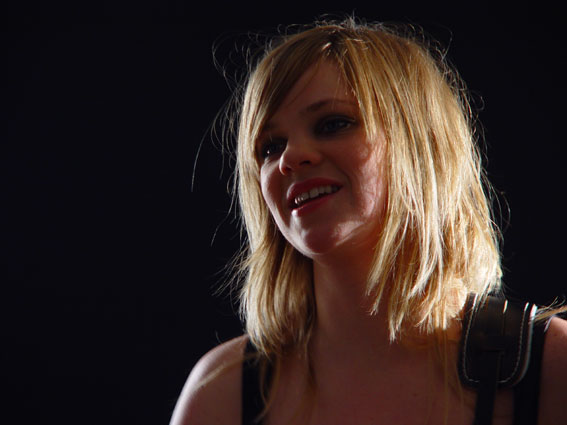 When is the next record project done?
-We recording some stuff now. It will be ready in the beginning of 2007 I hope.

My review of your record sounds like this: MODELS-NIGHTLIFE(CD-MAXI-CD) It was once upon a time an English punkband which was called Models but it suits this girls better. It's peculiar that these girls haven´t any record contract yet but it should be there any minute….They write on their website that they´re compared with Donnas, Go-Go`s, Blondie but I would put on some more acts here as….Girlschool, Runaways and some tougher acts. I don´t mean that they plays heavy metal but somewhere in all this fast music I can hear a little metalhead. These 4 songs goes directly into my heart and I really like what I hear and wish them all luck in the future.(SEVEN) 15/11-06 Comment on that?
-It´s good that you likes us. The thing with Runaways have we heard before but Girlschool was new. Can only say if you like this record you really will like us live. A little bit harder, a little bi faster and a little bit…messier ….

You have done a video on Nightlife also…how do you afford to do anything like that when you don´t have a label which back you up?
-Martin Chab which have recorded the video contacted us. He had read an article in the magazine about us and he felt that he wanted to help us. So he recorded the video at a very low budget. Really fantastic! There is actually nice people in this world!!

Nice video? Have it been shown on TV or something like that?
-Not yet what I know. But it have been on some filmfestivals in Europé and in USA.

Which type of people comes to your gigs?
-Very mixed. Everything from young girls to old men which likes us. But of course…it depends on which type of place we plays on. Out on clubs is an often alcoholhorny guy which stands in front of the stage and drools.

Do you play gigs often?
-We used to do it. But right now we have a break from the livegigs. It happened an accident this summer on a gig which make me go to hospital. In don´t want to talk about it. Really sick. So now w have a little bit of vacation.

Which is your strength live?
-The energy and that we have fun! That´s obvious. To be on stage and be good together as a band and together with the audience is really addictive! .

Politics and music, does it goes hand in hand?
-It had happen if you say so…Politics is in the most things.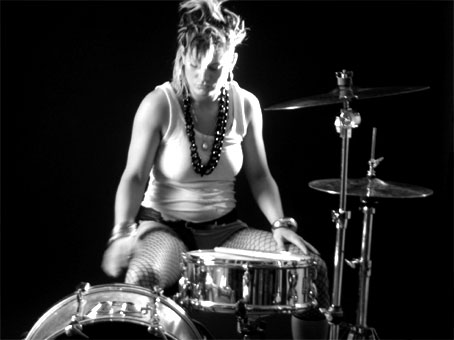 The best political band/artist?
-I don´t use to categorize music after artists or politics. But check out The Culture In Memoriam if you want to hear some political music from Malmö.

What does influence your lyrics otherwise?
-Things which happens around you. People, relations… Have never wrote a lyric which is about something outside from myself. Self-centred maybe but I don´t give a damn about that. I don´t have the guts to solve world problems. I´m stuck to my own little universe instead.

Can you imagine to record a song to something special, political or some other thing?
-Yeah, why not.

Is there any good bands in Sweden today?
-There´s a lot of good music in Sweden right now! The Models! Division of Laura Lee! Snuffed By The Yakuza! Johnossi! The Animal Five. There´s is so much!

What does punk mean to you….is it only a word or is it a lifestyle?
-Punk is definitely more than a word. Without punk I have never dared to play in a band. I learned myself to play guitar to some Ebba Grön-songs. But I have almost never listened to Swedish punk. I´m grown up with old american garagepunk and new wave. Rather Dead boys than KSMB if you say so..…

Is it many interview? Is it boring?
-The only time it get´s boring is when the one who asks the questions don´t know what they will have answers on. An older lady interviewed us once. She wasn´t interested in music and she didn´t know what we were doing. We don´t get why she was sent to be interviewing us.

You have been interviewed by P1 was it ,why P1?
-P1, P3, localstations… P1 have or had this summer anyway a program with an obvious genusprofile. They did a thing about Shemusicfestival which we were a part of…and we both played and I was on the poster so then we did some interviews about that festival..

And the finnish radio?
-A finnish radiochannel came and did something about that festival. It's very fun ti listen to that because not anyone can understand a word in finnish….. … Festivali!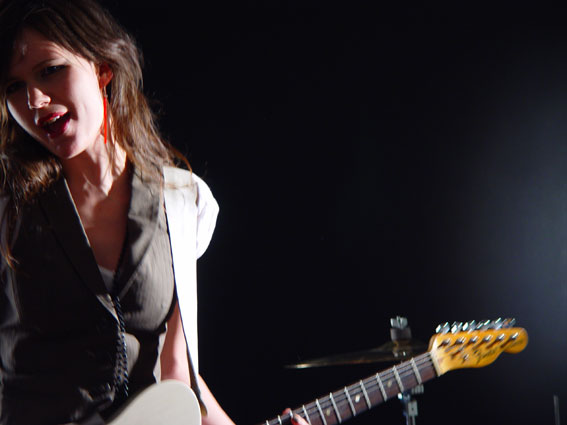 Please rank your five favourite records, five favourite concerts and five most important things in life?
-I only write lists of wishings...

The first, latest and the most expensive record ever bought?
-The first record. Not a clue. But the first CD I ever bought was a compilation with The Sonics. I´m born in the 70´s so ws my first records vinyl. Have no idea or clue about the most expensive record. Should I have the check on those things? We have some metres of records at home but I don´t categorize music in the most expensive or latest. I´m into periods and listen a whole lot ion the same thing for a while. A little bit simple …I don´t buy so much records right now. The last records is some garagecompilations which my boyfriend have brought home to our home…

The most embarrassing record in your collection?
-I do not touch embarrassing things!

Futureplans for the band?
-It was that thing which is break through, conquer the world and become bigger than it´s good for the realitycheck.

For yourself?
-Always big but a little bit vague plans.…

You know that it was an old english punkband called Models also or? I think they did a single or something like that and after that he became a member in Adam and the Ants?
-I have heard that there is a The Models in Australia too. In the beginning when we started the band we heard that it have been a band called Models in Gothenburg too. I don´t know if it's right. But it's obvious that we cannot be lonely about to have such a good bandname.

Wisdomord?
-Fruit is also candy. Beer is food too. What more do you want to know? We´re filled with wisdomwords!

Something more to add?
-Always. But it feels like if I have said a lot already now.. But check out us if we are around the scenes around the country again. You will regret if you´re not coming and have a party with us!