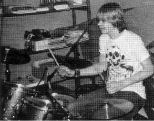 I thought that Ztikkan in Diapsalma was fast answering my interview but I think that Jörgen(singer) in Mob 47 was faster answering. In some hours this was finished. Impressing. It´s good to hear from the cultgroup Mob 47. March-06.
What made you begin to play again?
-It was mostly Per Thunell in Bruce Banner who have nagged on Åke and Johan Wallin in General Surgery/Bomb strike which was lending out the rehearsalroom the summer 2005 to the guys. They thought it was going along really well and they phoned me and wondered if we would try to play. People have asked about a reunion for a very long time
Have you played with any other bands after that Mob 47 split?
-Answer no.
Why did Mob 47 split up the first time?
-It was my fault. I became a father and I didn´t get it together with going around and play.( Icouldn´t have more wrong) And I had been tired of it. Åke and Chrille tried to take ina new bassist but it didn´t went out so fine. Then they let Mob 47 split up and Åke moved to Malmoe.
Why do you think that Mob 47 have been such a cultgroup, a little bit odd maybe because you didn´t release so much?
-That´s a question I have wondered a lot about but you should not ask me because it´s better to ask the people which likes/liked the things we did instead.
Which is the most expensive you have heard that your records have been sold for?
-No clue.
Have you done any new songs? How do they sound?
-Yes, we try to do them in the same way as old Mob but it´s a little bit more schwung in the stuff now. We have a lot better bassist now so we can do more difficult things.
When you´re around the fourty´s(I am that too), isn´t you too old to do this sort of music?
-Obvisiously not, when we think about how many tickets they have sold to the first gig now in May. The problem is to do some of the songs. It´s really difficult to stand and do a song like Vägra Rösta(Refuse voting). So that song we don´t do.
What does punk mean to you, is it only a word or is it a lifestyle?
-It´s tow things to me. First it have with values to do. Peace and justice, stop experiments on animals, help the weaker person as good as you can and so on. And then it´s music. Most of all the style but I think it´s harder and harder to take apart it from metal. Napalm Death is that punk or metal?
Please tell me a little about every member, age, family, interests and something bad about every one?
-I will start with myself. I´m 42 this summer. Works as a representative for a trade union .(values see the last question). I am married and have three children. I´m biking around Vätternrundan. I was the cause of the Mob 47 .
Åke he is 43. He have a bowling hall in Malmoe. Have a boy which is 11 years old. Åkes interests is mostly journeys and punkrock. He´s fucking bad at Spanish.
Chrille 39, works on KTH! Have wife and two children. Lotta is our Webmaster. He plays bowling in AIK in the division under the elite division. He comes with really bad proposals to new lyrics.
Johan, our new star is 39. Wife and two children. He works with building measureinstruments. His biggest interest is fishing. Have played heavy metal for many years.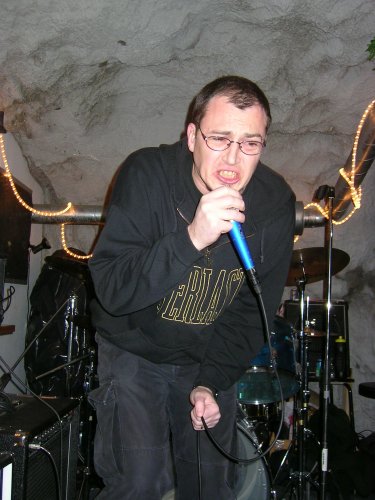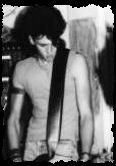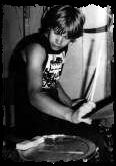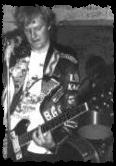 It wasn´t any doubt of doing a reunion?
-Not this time.
What´s the difference with playing today if you compare with when you started to play? Do you have a different distance to it
- You write lyrics in a different way and with a little bit different content.
Have it been a lot attention with thw thing that you´re going to play again?
-Are you kidding? I would never believe that it should be as hyped as it have been. 17000 visitors on our website from September to march. Bookers who wants us to play in the whole of Europe and parts of the world!!!!!!!!!!!!
Much interviews? Is it boring with interviews?
-Not so much. Not so boring but only if you don´t have to say the same things all the time.
How do you think it is to live in Sweden today? Politivally I mean?
-Do we have politics in Sweden? Only kidding. It´s the same as it was twenty years ago. It´s not so peculiar that polticianscontemption is as before. The most of them are brownies I think.
Is there any good bands in Sweden today?
-A lot. Kvoteringen, Uncurbed, Victims, Skitsystem, Avskum, Krigshot, Personkrets 3:1 no special order, and it´s more.
Please rank the five best records, five best concerts and the five most important things in life?
-Now it became boring to answer an interview;-)
No, I cannot.
First, latest and most expensive record ever bought?
-Big Country 1976. Metallica S:t anger, Metallica S:t anger.
The most embarrasing record in your collection?
-Hard ons(????)
The record you bought just because of the cover and became so disappointed on?
-Hard ons
What do you think about mp3 and that technique?
-Fucking good.
Do you download yourself?
-No I haven´t any broadband at home.
Protes-bengt, tell us?
-I´m not the right man to tell you about it. There was a band which I don´t remember the name on which had done a cassette with a lot of songs on. Åke and Per Thunell thought it should be fun to do a thing like that with more songs. It became Protes-Bengt, 32 songs on one single. Just a fun thing, have never done a gig.
Politics and music, does it belong to each other?
-Absolutely.
The best political band/artist?
-Blå tåget.
You have/had always have/had short lyrics, which is the longest you have written?
-Animal Liberation I think.
Futureplans with the band?
-We will do this for a while now and we hope we can come to Japan next year(spring). And then we will try to do a new record this autumn.
For yourself?
-Rehearse so everything is OK beföre 25th of may.
Wisdomword?
-Punk on! Have a helmet when you´re biking, really good life insurance.
Something to add?
-I want to thank everybody that wanted us to play again. That´s really good to hear.