Minus from Iceland souns tough and hard and somewhere it went wrong with my questions...because I thought that Einar Örn from Sugarcubes was in this group. For gods sake , how could it be so wrong ? But some questions get really fun when you read them.
Please give me the history of Minus?
-At first we were in two separate bands that rehersed in the same rehersal space and we started doing minus as a little joke side project. We wrote five songs really fast and were not serious at all. Then we entered an annual battle of the bands contest in reykjavik and in the end we stood up as winners of that contest. So we decided after awhile to drop the other two bands and focus on this one
How is to play these type of hard edge style music in Iceland?
-Its fun. I think it´s always fun to play this kind of hard edge style music no matter where you are. But not many people understand it in Iceland
How is it to live in Iceland?
It´s cold and dark in the winter but the girls are fucking beautiful and the air is clean. I also pay taxes that are way to high and work is mostly underpaid… but that's a situation wich I hope will get better, someday
Do you have the feeling that you´re something special becasue of that you come out from an island?
-No not at all.
Why does so much good music come from Iceland do you think( I think of the population)?
- I personally think that Sweden produces an unusual amount of good bands and musical artists, not Iceland. but there are a few good artists here that have stood out just because of their integrity and high ambitions.. I think
How did you came on Victory Records?
-Tony, the owner and director of the company heard our recordings and just contacted us through our website, he said that he would like to work with us and we excepted his offer.
Is it a good label?
-Yes it is, it is one of the leading hardcore labels in the world and we are proud to be on it.
Please tell me a little about every member in the group, age, family,intereststs and something bad about every one?
-Bjarni is 20 and plays the guitar.. he just dumped his girlfriend the other day and he likes to play his playstation 2 every day. He´s also a muscle maniac(that's bad)
Bjössi is 21 and plays drums. He likes singing kareoke and thinks that's cool.
Ivar is 23 and plays the bass…. he studying pshycology in the university and does nothing but reading.
Krummi is 22 and he is the singer… he stays in bed until 5 every day and than gets drunk.
I´m Frosti and I play guitar. I´m 23 years old and I also love kareoke.
When you were in Sugarcubes , was it har to handle all the success you got?
-That's a stupid question because we have never been in the Sugarcubes
Was Björk difficult to work with, do you have any contact with her now?
-We have never met her???
What do you think about the stuff she is doing now?
-It´s brilliant!
What do you like the other bands on Victory?
-We like Bloodlet, Strife, Buried Alive, Earth Crisis, Blood For Blood, Deadguy, Grey Area, Grade, Thursday and more.
Is there any good bands in Iceland right now?
-Yes Sigur Ros, MuM, Trabant, Kanada, Klink,
In the world?
-A lot of bands are doing great things
What do you know about Sweden? Have you been here?
-We know all kinds of stuff about Sweden… You have a lot of cute girls… I know a few them from Roskilde festival in Denmark ; their names were Helena, Camilla, Sofia, Anna, Emma and they were from Göteborg…
Have you heard any swedish bands worth to mention?
-You have got to be kidding! Lets start with Entombed, Dismembered, Unleashed, Meshuggah, Breach, Refused, Misery Loves Co, 59 times the pain, Hellacopters, Polvo, Fireside
How is a good gig with Minus?
-Loud, chaotic and fast!
Through all years you have been on stage , which is the most peculiar thing which have happened on stage or in the audience for you?
W-hen some bonehead took his pants down in the audience and shit on the floor, he than picked up the shit and started throwing it everywhere… I remember a few girls who were really pretty with blonde hair and wearing really posh clothes (not the typical hardcore fan) and they got some human shit all over them. One even got a big chunk right in her face and they were all screaming really loud. It was crazy.
How does the medium fan to Minus look like?
-He looks like shit.
The sickest record of the year it stands on the cover of your record, what about that?
-This is a quote from one of our reviews. I don't remember wich magazine it was.
What drives you to play music?
-The fact that its always possible to do something that has not been done before.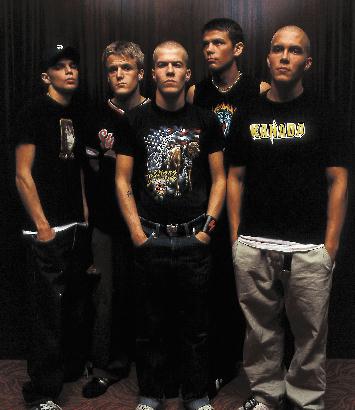 Please rank your five favourite records, five best concerts you have been to and the five most important things in life?
-That's a hard qustion, but some of the best albums in the world are:
Refused: The Shape of punk to come
Breach: it´s me god
Nirvana: Nevermind
Metallica: and justice for all
Guns N Roses: appetite for destruction
Five most important things in life are:
Family, Health, Friends, Money and music
First, last and most expensive record you ever bought?
-First record was Iron Maiden; Killers. Last was Bubbi Morthens( icelandic folk singer) and most expensive was Metallica: and justice for all, because I gave the guy all my Iron Maiden albums instead.
Are record collectors pretentious arseholes?
-No
What does the word punk mean to you?
-Raw rock music with attitude
Please describe your music with three words?
–punk-rock-progression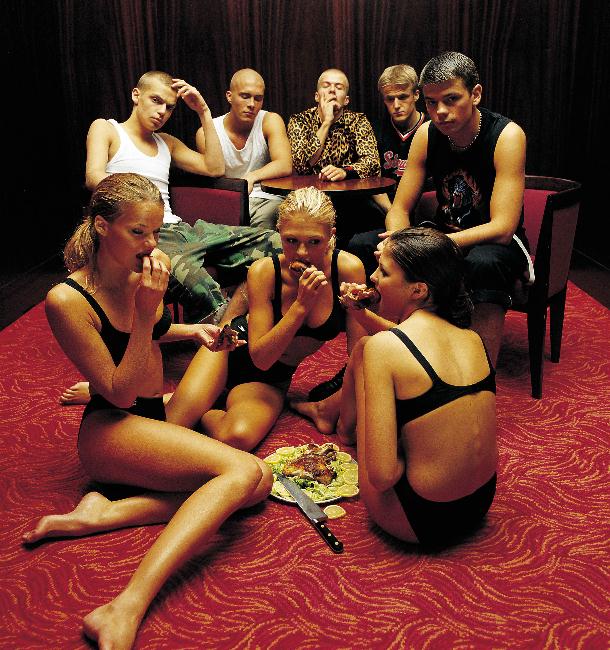 What are your feelings about the terrorist attack and these things?
- I´m angry, I´m hurt and I feel those responsible should be punished
Or do you don´t care about politics?
-I don't care much about politics but I have opinions on them.
Which are the future plans for the band
-Make more great records and be heard around the world.
Which are the futureplans for yourself?
-I want to live in different corners of the world and try different things before I settle down and get old
Wisdomword?
-Be yourself, all the time, always.