History?
-All of it? Ever? If you don't know any of it, we suggest you read a few books and maybe even watch some documentaries. We think you'll be surprised how short the time periods are before things seems to be repeating them selves.
Please tell me a little about every member, age, family, work, interests and something bad about every one?
-A casual stroll through the lunatic asylum:
Troels – Lead vocals, age 24, studies to be a teacher, good with communication and book most of our shows – Bad deed: Emptied a pepper spray in the face of a local girl in a German venue after a show (not exactly the best way to make friends).
Lasse – Bass and vocals, age 25, gives people massage and fix their broken limbs, good with booze and often bring 'good vibrations' to our rehearsals – Bad deed: Annihilated a very expensive table tennis table in a squat where we were crashing after a show (not exactly the best way to make friends).
Rasmus – Drums, age 28, studies to be a teacher, good with electronics and engineers when we record stuff – Bad deed: Got busted by the Dutch cops while rolling up a joint in the front seat of our tour bus with the engine running while being drunk as funk (not exactly the best way to make friends).
Peter – Guitar, age 25, Engineer (with a fancy sub-category), good with economics 'n' stuff and handles our business department of the band – Bad deed: the man can only do good and he looks cool while doing it (a pretty good way to win back friends).
Niels – Guiar and vocals, age 27, do our artwork and press the 'record' button when we are in the studio, computer game designer – Bad deed: Always acts like an angel but has the most smelly farts.
As you can see, we all fill out different roles in the band and luckily we are able to make the band work out and still remain almost completely DIY. We aim to remain independent and in full creative control without loosing too much money.
The only actual relatives in the band are Niels and Troels, who happens to be brothers. Niels, being the guy hanging around with the band and showing his small cock, and Troels, being the wiser, hotter, more honest and the one with the biggest cock (and also the last guy typing stuff into this interview, obviously!).
Other than that we are all in relationships and the total kid counter has just reached 4.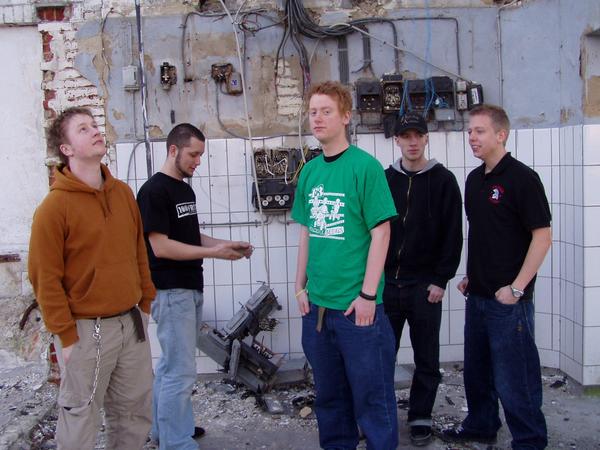 My review of your record is like this MIGHTY MIDGETS-RAISING
RUINS FOR THE FUTURE(CD-5 FEET UNDER RECORDS FEET007)
Danish people which is really angry and you who think this is Gasolin, DAD or similar must think again because this is really fast punkrock which is the thing for this group and I think that you are into early American hardcore would like this a lot because this have much in common with that and together with more melodic USHC and that in a very positive way for Might Midgets and doesn?t play fast just for the sake and it´s cool because they manage to do that and this is among the best things I have heard from Denmark in a long time?12/4-2010
What about it?
-Sounds awesome, dude. We're really glad you like the record. But we must say there are a lot of other great bands in Denmark at the moment that you should check out because they play way better than us…
Is there any other bands you?re being compared with?
-A lot of people say we sound a lot like the Danish hardcore legends Gasolin and DAD.
Do you care about reviews?
-We love to hear other people's opinions on the things we've been part of and put our hearts into.
It is always nice to get praise and for the most part also good to hear what people think you can do better.
Which is the most peculiar review you ever have got?
-This line is pretty good: 'you have no talent but its better than sounding like blink 182. so you get a point or two but .. you still suck ass.'
Nice one…
>How would you describe your music in three words?
-Ear-drum-splitting scalp-tearing melodic-hardcore
How is it to live in your homecountry?
-Fine, the scene is alright and so are people for the most part. Not too much happening but then again not too little either.
What about the government?
.Short version: Hypocrites who believes that them staying in power is of greater importance than human rights, the economy, the environment and general human decency. You can't really blame them – they are politicians after all…
Do you think that music and politics goes hand in hand?
-We believe that speaking your mind and music goes hand in hand. If what fuels your fire is the state of the world and the people who run it - then no problem. If you are more concerned with your broken heart, the end of the world (might be related to politics), taking drugs or whatever then these subjects go way better with music then politics. Write about those things by all means. Good music comes from the heart.
Best political band?
-Propagandhi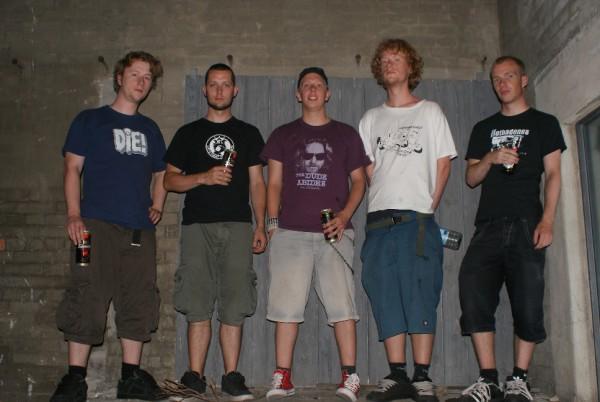 Is there any good bands in your homecountry now?
-Yes, to name a few: Stars Burn Stripes, Thought Police Brutallity, Kolyma, Lemlæstet Fosterbræk, and One Stop Noise Shop (if you are into metal).
What do you know about Sweden?
-Remained non-participating during both World Wars, home of ABBA, IKEA, H&M and the Nobel Prize, hard country to obtain booze in and the prices in bars are outrageous.
Have you heard any good swedish bands?
-Yep, quite a few actually. To namedrop one, we have played with Splitside a couple of times.
We've seen so many good Swedish hardcore bands at our local venue (1000Fryd) during the last decade. The Swedish quality bar just seems to be much higher than the Danish.
What does punk mean to you, is it only a word or is it a lifestyle?
-We hate when people label stuff as being 'punk' – except maybe when talking about strictly about music.
However, we like it when people go against the grain and try to do things their own way, play rocking music, reflect upon the world they live in and try to change their lives and surroundings for the better.
Is there any Mighty Midgets that you can name?
-Bjarke – but don't tell him
Please rank your five favourite records, five favourite concerts and five most important things in life?
-Niels:
The list of best records seems to be quite dynamic but here how it looks at the moment (in no particular order):
Propagandhi – Potemkin City Limits: Best melodic hardcore/thrash around and great lyrics. I think this one is their finest effort though their last three full-lengths have all been amazing.
Bob Dylan – The Freewheelin' Bob Dylan: Probably the greatest song writer of all times. This album contains some of his greatest works. Acoustic guitar, rusty vocals and harmonica – no bullshit.
Raised Fist – Dedication: New school hardcore with just the right amount of metal elements and a great right in your face sound. And they are Swedes. For the record: I hate the direction this band has taken since this album.
Malk de Koijn – Sneglzilla: Danish hip hop. Probably the best hip hop band ever (if you ask me) but I guess you'll have to be Danish speaking to really enjoy it.
Converge – Jane Doe: Mind blowing hardcore that kicks your ass but also quite an acquired taste.
Honorable mention:
Cancer Bats - Hail Destroyer, Crowpath - Old Cuts and Blunt Knives (more Swedes), A Wilhelm Scream – Ruiner, Analogik – Søens folk, From Ashes Rise – Nightmares, Have Heart – The Things We Carry, Nasum – Helvete (even more Swedes), Pantera – Vulgar Display of Power and Against Me! – Reinventing Axl Rose.
Concerts:
Raised Fist – Roskilde Festival, Denmark
Crowpath – Fredericia Hardcore Festival, Denmark
Bob Dylan – Gigantium, Aalborg, Denmark
Malk de Koijn – Studenterhuset, Denmark
Meshuggah – Pukkelpop Festival, Belgium
Important things:
My daughter
My girlfriend
My family
Hanging out with close friends
Playing music and being creative in general
Troels:
My all-time favorite records are, as Niels mentioned, hard to name, as they change most of the time. But there a few records that have followed me in my ups and downs the last few years and they are as following (in alphabetic order):
Champion – Promises Kept
Comeback Kid – Wake the Dead
Good Riddance – Operation Phoenix
Gorilla Biscuits – Start Today
Guns N Roses – Appetite for Destruction
Have Heart – All of their records
John Mogensen – All of his records
No Trigger – Canyoneer
Propagandhi – All of their records
Raised Fist – Everything up to Dedication
Refused – The Shape of Punk to Come
Rise Against – Revolutions Per Minute
Slayer – Reign in Blood
Strike Anywhere – Change is a Sound
System of a Down – Toxicity
Verse – Aggression
The Weakerthans – Reconstruction Site
A Wilhelm Scream – Ruiner
7 Seconds – Take It Back, Take It On, Take It Over
There are some new records or I just get to know within the last year that has been stuck in my head for quite some time:
Frank Turner – Basically everything he made
Hell Songs – Hymns in the Key of 666
Last Lights – No Past. No Present. No Future
Ruiner – Hell Is Empty
Concerts:
Propagandhi & Strike Anywhere: Edinburgh, Scotland
Have Heart & Verse: Fredericia, Denmark
Rise Against & A Wilhelm Scream: Hamburg, Germany
Ibens: Nibe Festival, Denmark
First, last and most expensive record ever bought?
-Niels:
First: Some shitty dance compilation CD.
Expensive: Don't really know. The first Mars Volta full length, I think. No funny story, I just gave way too much for it but the artwork is also really cool.
Last: Revolution will not be televised by Gil Scott-Heron and Unifying Themes Redux by Botch
Future: Dillinger Escape Plan - Irony is a Dead Scene (there's really a hole in my collection where that record should be) and Johnny Cash - Ain't no Grave
Troels:
First: as I recall it's something with Danish sensation TV-2
Expensive: the new Finntroll as it's not worth the paper it's printed on.
Last: Frank Turner – Poetry of the Deed
Most embarrasing record in your collection?
-Niels:
The first Mighty Midgets EP and I weren't even in the band yet.
Troels:
The new Finntroll (read above for explanation)
Do you do any covers on stage? Why or why not?
-No covers. We've talked about it but we can't seem to find the right song. We almost covered Total Eclipse of the Heart with Bonnie Tyler once but it never really came together right.
Is it many interviews? Is it boring?
-Nah, not that many. Not enough to make it boring anyway.
Reading them on the other hand often is pretty boring and we're sure this one is no exception.
Which is the question you never get, please ask it and answer it?
The question you just asked us is probably the question we never got. And our answer would be something along the lines of: "The question you just asked us is probably the question we never got"
Is it any chance to see you in Sweden soon? have you ever been here?
-We been touring there a little and chances are that we'll be back some day before we get old.
Where is the best place to play?
-The place is irrelevant, the crowd is everything. Playing for five dedicated people determined to throw a party can be just a great as playing for a big crowd.
One of the funniest places we've played was in a club in Malmö. We were playing as a warm-up for a reggae bash or something. The crowd consisted of about 100 black people who stood around looking angry at us waiting for us to stop playing and the reggae to begin. The place was stuffed except in front of the stage. There, around 10 white people (incl. the band) where going crazy to the punk music – all more or less completely nude.
Beautiful sight and the reggae party afterwards were awesome.
How is a good gig with you?
-Lots of action, crowd interaction and partying.
Beer, weed and nudity is +1.
Which type of people comes to your concerts??
-Actually, the crowd is often quite mixed up of all kinds of people. That's really cool. We like that we are able to reach out to others than just the usual punk crowd. Like mentioned earlier we don't like the whole 'punk' label and we do not consider ourselves punks. We love the music and a lot of the ideas but being unable to befriend others than the ones listening to the exact same music and having the exact same ideas is just anti-social.
What shall we do about all rascists?
-Stop giving them attention and have the balls to speak against them when confronted with their stupidity.
In Denmark the political debate has turned more and more racist over the last couple of years (probably the same thing in Sweden) and one of the reasons for this is the media is focusing so much on the people creating the most extreme headlines. The bar for what you can say about other people just gets pushed further and further all the time.
Niels:
I wrote about some of this in the song Thoughts on Article 19 of our new album. The song takes off in the whole 'Mohammed Caricatures Crisis' that Denmark went through. The politicians (especially from Dansk Folkeparti) have been able to spin the Freedom of Speech into an argument for discriminating others. Pretty fucked up actually.
The best band in punkhistory?
-We can't think of any good ones…
The most important punksong?
-"Nazi-punks Fuck Off" is pretty good but we're not sure it is really that important.
Futureplans for the band?
-Play more shows, do another album and have fun.
For yourself?
-Niels:
Getting used to being a dad while focusing on not getting too old and gray.
Troels:
Getting used to being an uncle while focusing on drinking to the past.
Wisdomword?
-"The best activities for your health are pumping and humping." – Arnold
Something to add?
-Thanks for asking all these questions and showing interest in our band.
To anyone who actually manages to read all the way through this bullshit: thumbs-up to your attention span!