Hi Peter,excuse us for late answers, vacation and a lot of other stuff. We haven´t had any time to sit down together and answer the interview but just because of that I do it myself so it can be something. We have no newer pictures than the ones on the website. Will se if I can take foreward some newer ones to you ….
This write Rolf in his letter and the MID-interview was done in august 2004.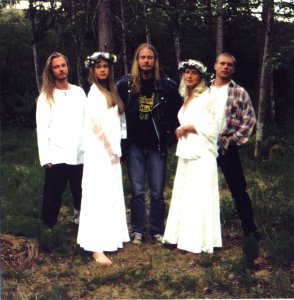 History?
-M.I.D began to play together somewhere in the end of the 80´s. The original lineup was Johnsson bass, Grehn drums/vocals and Roffe vocals/guitar. And then Johnson was changed againt KB and Benan came into the group on second guitar. KB quit 1996 and then we changed place with Grehn on guitar/vocals , Roffe vocals/bass and Benan on drums. So have we played since then and it seems to be working
Please tell me a little about every member and your interests,work,age and something bad about every one?
-Hm.. we are all born –71 and then you can figure out what we think is fun… Grehn is a carpenter, Robin works with radio and Roffe works with computers…
I can think that have been a lot of explanations on your name? Which is the right one and which have you heard?
-Ha,ha, forget it, the originalname must you come foreward to yourself. But we have heard some other explanations like Min I din(Mine in your) Mera I dajmen( more in the (arse)hole) , Mjöl i degen
Please tell me a little about every release, how much they have sold and why and what they´re called?
-Aldrig en EG.-93, The name was similar to Asta Kask's aldrig en CD/LP and then we think that Eurpean Union isn't is so good…
Idioternas stad –95, tja…we comes from Bollnäs..
Sommar –96. M.I.D-sommar felt like a really fun name
Snart 30.. –01. Yeah guess…
Vet din pappa… Our biggest hit this far was "Vet din mamma" but everyone thinks that some other have done it so we thought it was really OK to call the new record so that someone understand the parallells..
I though you were more of a funpunkband before but I can hear some serious stuff in your music, how have you changed since the start
-No.. We have done some unserious, We want to be a little of partymusic. There is bands who does more serious music of this type, that´s our thing. It´s fun if it´s going to be easy-to-sing-along also and that people can the lyrics and sing along. But yeah, it´s a little bit of sellout.
We try to have some deep in our lyrics , more than people thinks. "När jag är full"(When I am drunk) is more to show the tragic in that people can´t be theirselves without the booze, that they do the things when they´re drunk instead, Then that the song is being played on parties as a drunk-song . isnt so much more peculiar than that someone´s shouting "Drcika sprit och hålla käften"(Drink the booze and shut up) when they´re drunk only because of that it suits the occasion. People will drink booze and they want to have fun. Many people have though that we have to much alcoholromantic lyrics and sure, it have a little of our thing to write about it. But honestly we think that for example "klockan 3" is a really fair description of how it is to go out on the pub. We don´t give it any values, it´s more so that we see the facts.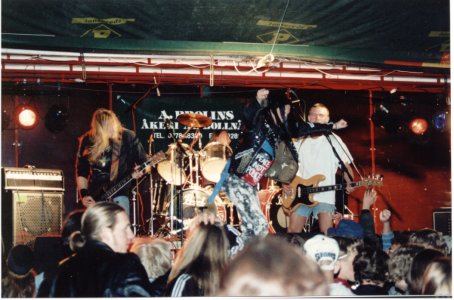 What does punk mean to you? Is it only a word or is it a lifestyle?
-No, none of us have been a punk in the words right description(what it is??) We have more been heavy metal. But we like the musicstyle and we agree with the most things in the idealogy. Maybe more than we can say about some punks
Describe your music in three words?
-Hitpunk with down to earth-lyrics.
Why did the swedishsinged punk disappear? When does it come back again? And then I mean in a bigger scale
-The bands who was a little big freaked out or they quit playing. The swedish community became more dominated by the commercialism during the 90´s. Then it maybe was more difficult for a young generation to have some critics against the consumptioncommunity and lifestyle that have been depending on. I`m very doubtful if it will come back. Maybe when everything have been more destroyed of capitalism, greed and marionetpoliticans so people is being tired.
Bollnäs, how is it to live there?
-Kanon! Move to Bollnäs!
Is there any good bands?
-Yeah a lot! Didn´t you know that?
Good bands in Sweden?
-Yeah, there´s a lot of good bands, for example Kent, In Flames, Asta Kask and more.
Is it many interviews? Is it boring?
-No, this is the first since –96 or something like that. Not boring but we haven´t so much to say maybe……
Which is the question you never get? Please ask it and answer it?
-Hm.. I cannot come up with something.
You´re on Second Class Kids, does it feel goods? The other record have you released yourself or?
-Yeah, the first four was selfreleased. We have never been the band who want to be on a label. It haven´t feel important. We have been really satisfied to only release the records for the Bollnäsaudience. The first three was released in 500 each. Snart 30…was released in 200. It´s no real difference to be on a company. But you can maybe come out a little bit better, so a little fun is it maybe..
A fullength maybe?
-This was the meaning that it would be a fullength, but we hadn´t the time to get together so many songs and then it had been dislocated for a year more. We will see in the future …
What do you think about living in Sweden? What is best and what is the worst thing?
-Best is the swedish summer and worst is that it isn´t 5 months longer….
If you would be the primeminister for a week, what would you change?
-Criminliase the type of economic blackmail that the business world use to have against the swedish state maybe?
Where do you stand when we´re talking about mp´3? Does the labels dig their own grave? Which lose the most, the big or the small labels?
-I don´t know so much about that, but when we´re talking about labels…as you make your bed you must lay? I think that it comes foreward better artists this way because the big labels power is lesser. And that maybe gives us more genuine and independent band and and not so many"products"
Do you download yourself?
-No,. I have never the time.
Please rank your five favouriterecords, five favouriteconcerts and five most important things in life?
-Favouriterecords:
Crimson Glory, St
Kent, Vapen & ammunition
Strebers, Öga för Öga
Asta Kask, Med Is I magen
KSMB, Rika barn leka bäst
Concerts:
All Asta Kask-gigs!
Iron maiden in Globen –99
Accept in Uppsala -95
Priest Ulf on Karlslund – 03
Dia Psalma – Gävle –93(?)
5 important things:
Good mates
Ängabeach
Music
Bandy
To care..
First latest and most expensive record ever bought?
-The first record was Iron maiden, Powerslave I think.
The latest record was a compilation with Noice, I have fogot what it is called. Expensive record I never buy
The most embarrasing record in your collection?
-I don´t know, maybe "Load", Metallica
The record which changed your life? The best record to have sex to?
-Possibly Ringhals single (Asta Kask). It was with that I understood which music I really like. I don´t have sex when I listens to music.
How is a good concert with?
-Total clearance, everyone can the lyrics and sings along. Grehn jumps down to the audience.
How does the average MID-fan look like?
-I´m afraid that it is a drunk teenager…
Do you have any fouritesite on the web, except from your own and from Skrutt?
-Hm.. that shouldn´t I write about =)
Futureplans for the band?
-I don´t know, quit soon?
And for yourself?
-Have no idea..
Wisdomword?
-Stop keeping on and look at soapoperas and gossippress. Life has more to give, live for yourself instead.
Something to add?
-No..