LOST PROPHETS, SLIPKNOT, METALLICA DEN 30/5-2004, ULLEVI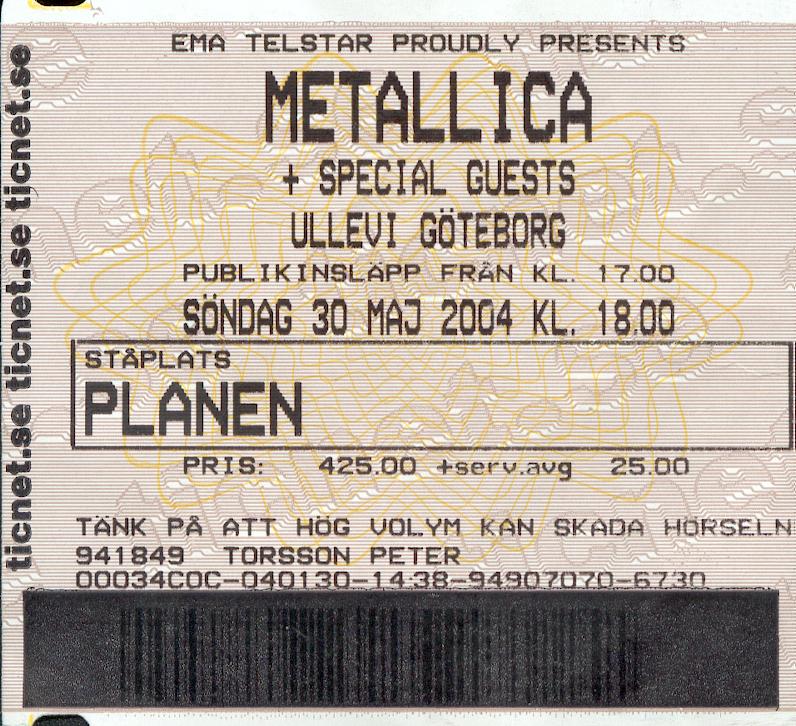 I hade no bigger expectations on this concert. I slipped in on a banana en get some tickets but I have never been on Ullevi before on a concert so therefore I thought it would be fun to do this. It was a lot of people on the arena already when we came into it about 17.15. We cheeked out some people and it was a lot of odd people to look at and some people was really fascinating , and most of all the guy who was the "typical" heavymetal guy. With a jeansjacket which haven´t any arms, long hair , a young girlfriend and he stood there and headbanged and he did the "cool" two finger devilsign. I wonder if he´s going to be afraid when he notice that time have going on without he have noticed it.
First out was Lost Prophets which I have heard before on record and as I have like a lot. But they was unlucky to hear their sound blow away but the vocals was good. And the drums sounded good but the guitarsound blow away and their aggressive hardcoremusic didn´t touched so many. And the biggest excitement was when they asked if we were ready to rock to Metallica.
Slipknot use to be heavy and tough on record(except some ballads on the last record) but their sound wasn´t so good either. But it was very cool with three drummers on stage and gthey look cool and they´re really an unusual band in the metalworld..
After some hour of waiting they finally came out on stage, Metallica. And then the time was 20.50 and this concert shouldn´t end before the time was 23.20(this time is about-time). And between this hours we came to hear a lot of classics, both new and old and I think that this made everyone happy. The bad sound quality was like gone with the wind, it was so there we stood anyway, not to loud and not to high. They did a lot of classic songs like Enter Sandman, Nothing Else Matters, harvester of sorrow, One, Blackened, Seek and Destroy, Master of Puppets just to mention some songs. And they did Leper Messiah which they never do if you believe what they said. The thing that hit me was that James looked so happy all the time and the whole band really gave everything. It almost looked like James cried a little of gratefulness just for the fact that we stood there and wanted more all the time . It seemed like they didn´t want to get out of stage but they maybe thought about the day after when they should play in Poland because otherwise I think they had done some more songs. Should I get the chance again I wouldn´t have no doubts about it and nowadays I have get through a Metallica salvation. It tooked 21 years to be that even if I have all their records but this was really big.