Metallica, Slayer, Megadeth, Anthrax
Ullevi, Göteborg 4/7-2011
Några dagar försent kanske men jag har varit bortrest så här kommer recensionen på denna stora konsert. Korten är av undermålig kvalité också men va fan...mobilkamera, skakig och långt ifrån men de är i alla fall mina egna. Så hade äntligen dagen kommit då The Big 4 skulle komma till Ullevi. En dag som skulle bli "jobbig" eftersom man skulle stå i 7-8 timmar och lyssna på hård musik men vad gör man inte för rockmusik. Vädret var ganska varmt även om det kom några regndroppar på oss precis före Metallica. Först ut denna julieftermiddag var Anthrax och de hade en ersättare i bandet eftersom det hade hänt någon därhemma något men han gjorde det bra. Anthraxs sångare har en röst som är lite för mycket powermetal men mer thrashsångare är de andra i gruppen och de fyller på bra i bakgrunden. Låtar som Madhouse, Anti-social och Indians hördes och det var bra och gruppen är ett habilt gäng musiker på scen och låten som imponerade mest på mig var den nya låten Fight them eller vad den hette och det bådar gott inför nya skivan. Bandet är helt okej och en perfekt inledning på kvällen. Andrabandet Megadeth hade det lite svårare tycker jag för sångaren Dave Mustaine verkade tycka att det var mest jobbigt att stå på scenen och det blir lite väl mycket gitarronani i några av låtarna och hela konserten kändes ganska seg men vi fick i alla fall höra Symphony of destruction men jag hade väntat mig mer av denna grupp. Jag har ju redan sett Metallica en gång så jag hade högst förväntningar på Slayer och det bandet infriade mina förväntningar på sina femtiominuters konsert och de startade starkt med God Hates us all och spelade även South of Heaven och Disciple.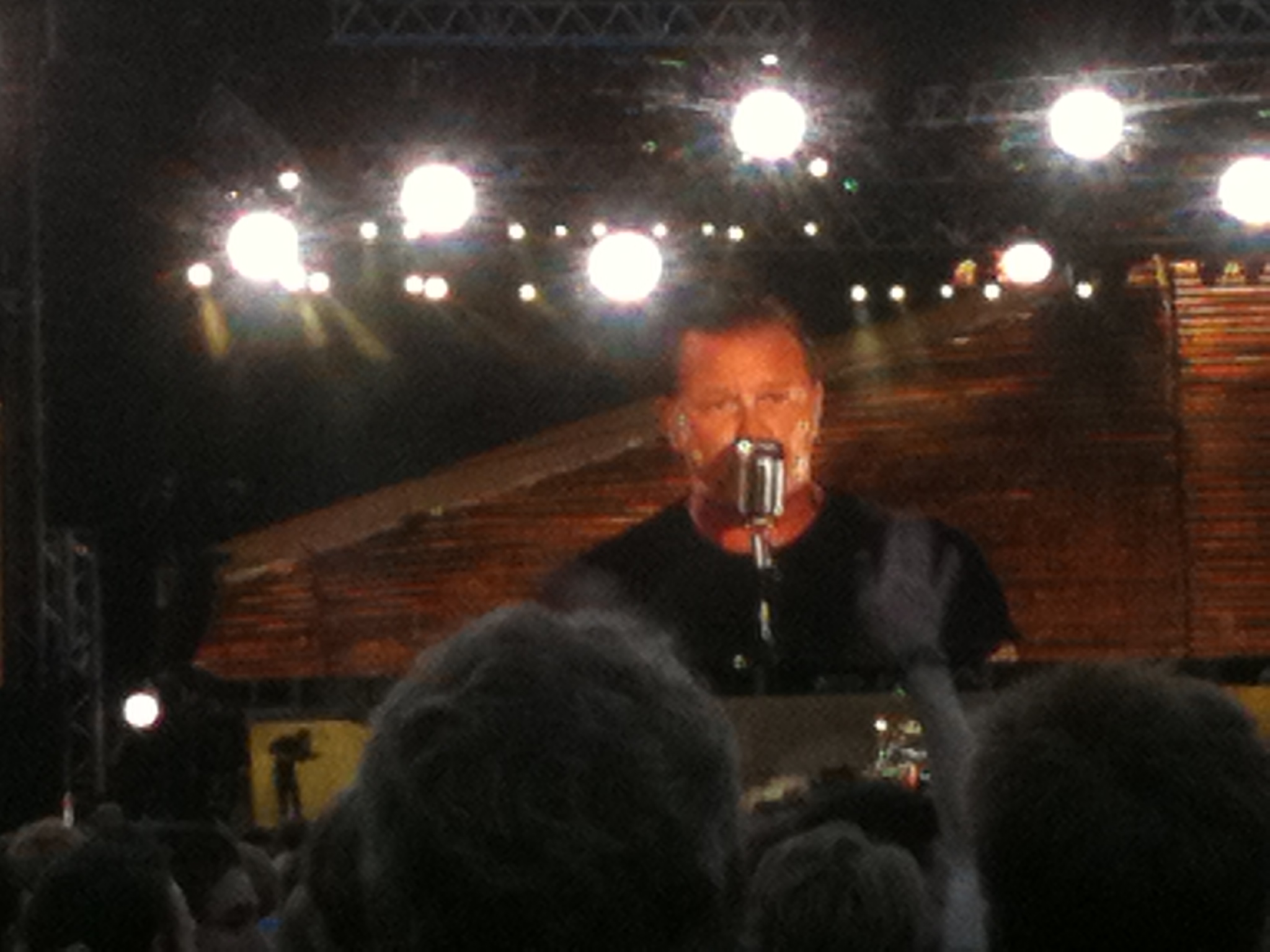 Sångaren står mest och småler och verkar trivas med tillvaron och det är ganska lustigt att se honom och stå och le när gruppen spelar såpass hård musik och har texter som inte är de snällaste och gladaste precis. Jag ryser av välbehag när de sätter igång och deras tunga men på samma gång tuffa och snabba thrashmetal faller mig verkligen i smaken. Tyvärr blir det inga extranummer för Slayer heller så det vara bara att vänta in Metallica.Jag såg dem för första gången för 7 år sedan och det var riktigt bra då och jag tycker nog de var bättre den gången men det var kanske beroende på att jag inte var lika trött den gången eller om det berodde på den instrumentala delen mitt i konserten som inte var någon höjdare precis med tanke på hur mycket bra låtar de har men vi fick höra låtar som Master of Puppets, Seek and Destroy, The memory remains, Enter Sandman, Sad but true och som extranummer med folk från Anthrax och Megadeth(Slayer ville tydligen inte vara med) så körde de Am I Evil, de två andra extranumren de körde var Creeping death och Damage Inc. Det är alltid en fröjd att se dem spela och Lars Ulrich hade en av sina galnare kvällar och hela bandet verkade trivas bra och det gör publiken också och en bra kväll var till ända och man är jävligt trött.
Some days too late but I have been away on vacation so comes here my review on this big concert. The pcitures arefucking bad but what the fuck....cellphone, shakiy and far away from the stage but they´re anyway my own. So have the day finally come when the Big 4 should come to Ullevi. A day filled of "work" because it´s hard to stand 7-8 hours and lusten to hard music but what don´t you do for hard rockmusic. The weather was really hot and it came some raindrops just before Metallica came on. First out this julyafternoon was Anthrax and they have a replacement in the group because someone in the group had some problems at home and he did it good. Anthraxs singer have a voice which is too much powermetal but more thrasingers are the other ones in the group and when the fill in the background it sounds fine. Songs like Madhaouse, Anti-Social and Indians came and they were good and the group was really good also and it´s habile group of musicans on stage and the best song was the new one Fight them or what it was called and it´s sounds really good into the new record. The second band Megadeth have a little bit more difficulties I think because the singer Dave Mustaine seems to think it´s only boring and he looks like he´s not want to be son stage , not this day anyway and it´s too much guitarsolos and the wholeconcert feels a little bit slow and boring but we got Symphony of destruction anyway but I was expect more of this group. I have already seen Metallica so I was really longing for Slayer and that band really makes me happy with their 50 minutes concert and they started strong with God hate us all and they also played South of Heaven and Disciple.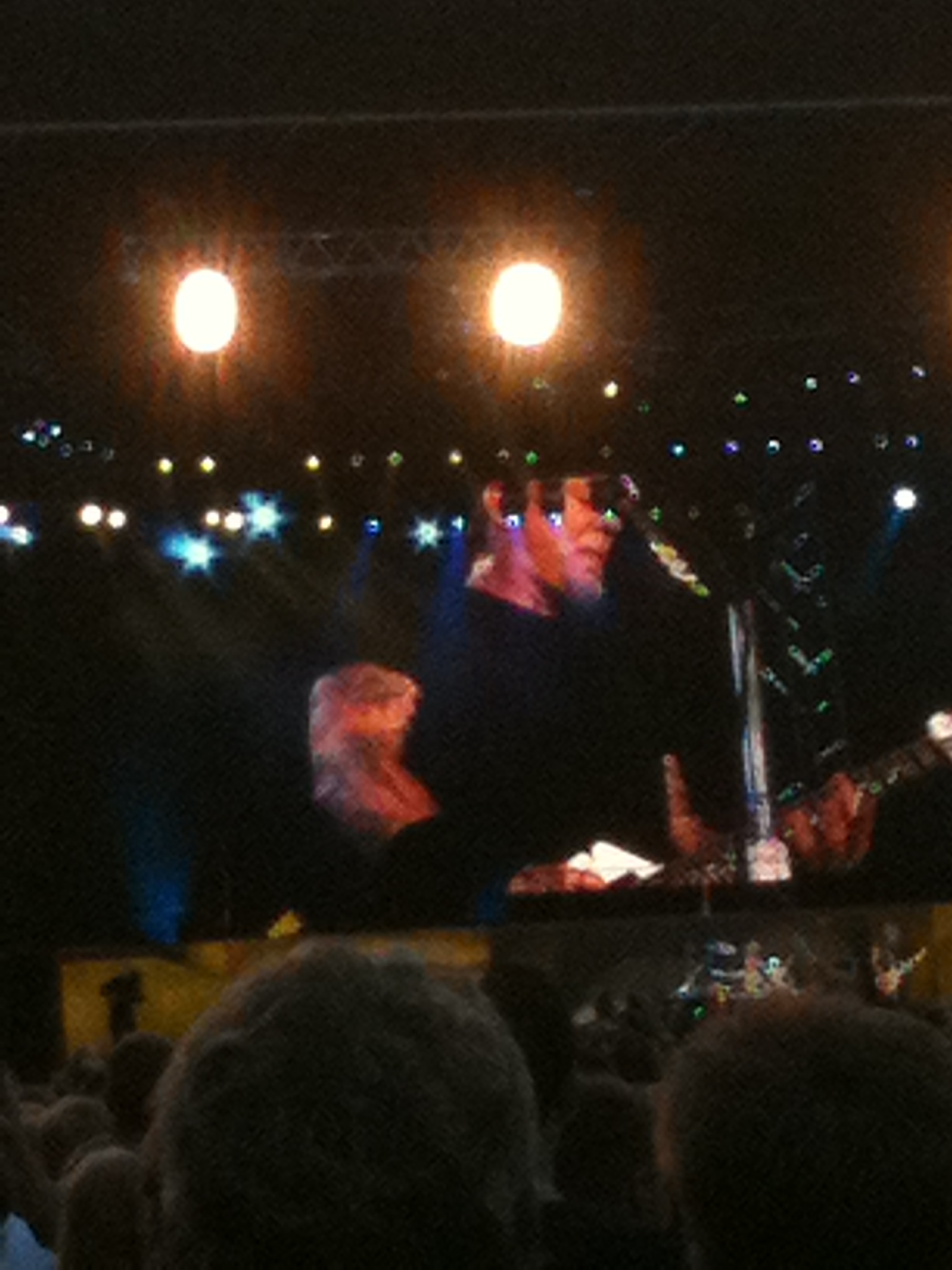 The singer it´s standing and smiles and he seems to be comfortable with his life and it´s really funny to see him this way whan they plays that sort of hard music they plays and they haven´t the most uplifting lyrics in the wold either. I´m getting the positive creeps when I hear and see them and their heavy but in the same time tough and fast thrashmetal really suits my taste. But no extranumbers for them either and it was only to wait for Metallica. I saw them the first time seven years ago and then it was really good and I think it was better that time but it maybe depends on the fact that I was tired this time or if it depends on the instrumental part in the middle of the concert which wasn´t so good when we think of how many good songs they have but we got Master of Puppets, Seek and Destroy, The memory remains, Enter Sandman, Sad but true and as extranumbers with people from Anthrax and Megadeth(Slayer didn´t want to be on this song) so ddid they Am I Evil, the two other extranumbers they did was Creeping Death and Damage Inc. It´s always nice to se them play and Lars Ulrich have one of his more maniac evening and the whole band seems to really enjoy this evening and so did the rest of the audience too and a good night was in it´s end and I´m really fucking tired.