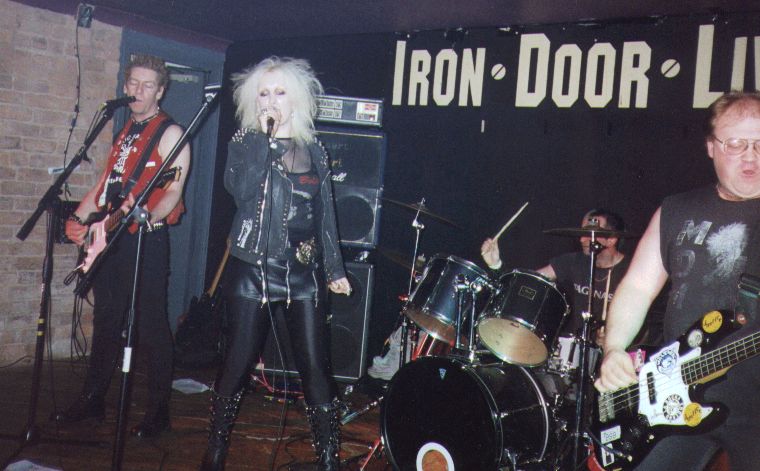 Mere Dead Men have soon been together as a band since 1986 and Mandy have been so kind to answer my questions here in the beginning of may 2004. Read about Tranmere Rovers, Billy Idol and Iconaclasts
History?
-The band formed in 1986 the full history can be found on the website at www.meredeadmen.co.uk
Please tell me a little about every member, age, family, interests, work and something bad about every one?
-RICHIE (bass) over 30 but mental age of a 5 year old,prone to tantrums if he doesnít get his own way,lives with Siouxsie (his cat?)is currently single and open to offers,good job and prospects any ladies interested this guy needs a girl friend now! Interested in anything to do with music and football
ROB(guitar)better known to his friends as silly Rob,also over 30 lives in Birmingham likes the ladies, Currently single lives alone on the lookout for a blonde punkette works as a gas fitter is interested in big motorbikes and has a growing collection,loves old punk and reggae and beer, His love of beer and a good time is the reason why he is called silly Rob,as he is always getting himself into strange situations.
RAG(drums)the youngest member of the band but still over 30,is married and lives with his wife Mandy and son Connor,the most serious member of the band, can be quite volatile, works as a social care worker interests are looking at girls with huge chests all forms of punk and rock music new and old, motorbikes and football especially the mighty Tranmere rovers FC
MANDY(vocals)the most sensible member of the band tends to act like every ones mum and is always telling them off, doesnít give her age as its rude to ask a lady her age, but is old enough to know better,works as a teaching assistant and is into punk music new and old,horror films,celtic magic,tattoos,Johnny Depp in Pirates of the carribbean,Dave Vanian,and Animal Anti-nowhere league,and Matt from Busted!! Married to rag lives with him and Connor and 2 cats called bee-boy and Pikachu,is rather partial to vodka.
Mandy have been on the road for a while(you other people also I can think) and what about this I even turned Billy Idol down?
-Yes i have been playing in bands since i was 15,bands include ATA, and all girl punk band THE ICONACLASTS. The story of Billy Idol is a bit of a joke when I was 16 I used to go to a club called ERICS which was a famous punk club in Liverpool, I used to be given access to all the sound-checks,as i knew the manager,when Generation X played there Billy Idol thought all the girls fancied him and was flirting a bit,he thought that he could bat his eye lashes and any body would do anything for him,he asked me to go and find him a cafe to get him a cup of tea,thinking that I would jump at the chance of doing this for him,I said no,he was quite shocked and didnt speak to me for the rest of the night,it became a joke and all my friends have always said to me that I turned Billy Idol down,not quite as scandalous as it seems.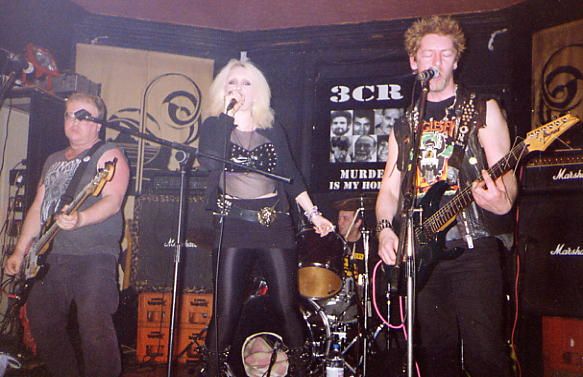 You sing about really fun things ,what about Barbies Ken? Donīt you like him?
-I have no feelings for Ken,good or bad,the song came about from a comment made by my son,when he was about 6 years old.he thought it was unfair that Barbie has lots of friends but Ken is the only man therefore "Ken needs a friend too"
You mix both serious matters with funny lyrics, is it important to down lock yourself into a corner and only sing about "important" things?
-There are too many bands who only deal with political issues and punk is not all about doom and gloom, we like our songs to represent our personalities we all have quite a childish sense of fun and we like to have a laugh both on and of stage, we sing about serious matters when we feel strongly about these kind of issues.
Does politic and music goes hand in hand?
-Music is a strong medium for getting through political ideas,but you have to be careful not to preach,It is always better to let people make up their own minds,the best way to do this is to give them something to think about.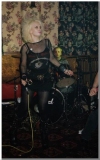 Where do the name come from?
-The name was found in JRR TOLKIENS The lord of the rings.it actually appears as the mere of dead faces,we changed it to suit how we were feeling about punk at the time,every one was saying punk was dead so we said then we are mere dead men..
How is it to play this sort of music in England today?
-The punk scene in England is quite big at the moment, there are quite a lot of gigs to do especially if you donít want paying for them??? We donít mean that we want lots of money every time we play but it would be nice to receive petrol and a little bit extra which was always how it was but unfortunately because so many old(punk)bands are reforming and asking for huge fees to play,the promoters donít tend to give the other bands as much respect.
Is there any other good bands there right now?
-Oh yes there are loads of really good bands,The Dead Pets,3cr,Stuntface,Bus station Loonies,Apocalypse Babies,Cupid Stunts,Cracked Actors..just to name a few
What does punk mean to you, is it only a word or is it a lifestyle? Where have all old punks gone?
-Its a lifestyle and an attitude, its a way of expressing your self doing what you want to do when you want to do it,not getting bogged down by the bullshit society,or conforming to stereo types ie:your too old ,too young,too fat,wrong sex,dressed wrong,too loud,etc..most of the old punks are still going the gigs,but there are a lot of people who were punks a long time ago who have rediscovered it and are really enjoying going out to the gigs again.I suppose we should thank the old (punk) bands for reforming for doing this, But its really sad from the angle that we play with a lot of these bands and a high percentage of them do give the impression that they have totally lost touch with punk and really are in it for the money. But we would like to make the point that there are some old bands out there like the UK SUBS,GBH, who are still in touch with reality.
What do you know about Sweden? What is typically swedish?
-Smorgasbord and buller it is a cake donít know if its spelt right,the people in Sweden do like to drink lots of alcohol so the government makes it expensive with taxes etc to discourage them,but they make a lot of their own beer,if u want to live in Sweden u have to learn the language before u can get a job,the saunas are mixed girls and boys in together, blonde hair blue eyes, ABBA, Ursulla Andress, Britt Ekland,SAAB cars,Bjorn Borg,David Nivens wife was from Sweden her name was HjŲrdis.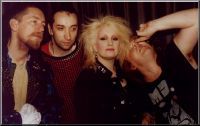 Have you heard any good swedish bands?
-Unfortunatly no,as we donít tend to get a lot of information or fanzines from Sweden here.
After the terroristthreats against USA, England and other countries, are people afraid?
-Here in England not really as we have had terrorist attacks here for over 35 years with troubles in Ireland so we are not worried like the americans who arenít used to it.
How did you react when that happened, the terroristattack I mean?
-The terrorist attack was a terrible event with so many people being brutally murdered,it was shocking to watch on the news as it was real life and not a film,it just confirms how evil the human race can be with its total disregard for the sanctity of life.
Now youīre on Step 1 Music, how does it works?
-The album has only been out for 4 weeks but so far we have had a lot of interest in it, Being on a more established label has raised the profile of the band and we are reaching a newer wider audience,in general Step1 does a great job.that doesnít mean the labels weíve been on in the past didnít do a great job,they just werenít as well known.
How is a good gig with you?
-A good gig is when you get a good crowd cause the publicity has been done properly, people are there because they like you,the audience participate and are familiar with the songs.
How does the average MDM-fan look like?
-There isnít an average MDM fan,we have young,old,a big female following,some look like like punks, skin-heads, rock a billies,we appeal to a wide audience.
Please rank your five favouriterecords, five favouriteconcerts and five most important things in life?
-This list constantly changes but at the moment it would be.
1.For you..Anti nowhere league
2.VIPÖPenetration
3.ATV..ATV
4.Man in a box..V2
5.Saviour machine..Vice Squad
1.any Morecambe festival gig
2.any Holidays in the smoke gig
3.Manchester star and garter
4.all gigs in Erics
5.most gigs played by MDM
1.happiness
2.health
3.love
4.inner peace
5.friendship
First, last and most expensive ever bought?
-Chocolate log and fruit salad sweets,a tatoo that I had done today,the house that we live in.
The most embarrassing record in your collection?
-I dont own an embarrassing record I like them all.
To be a girl in punkrock how is that?
-Very hard,but getting easier as I tend to get more respect nowadays,as people know me now,and there are more girls involved in promoting as well as in bands,writing zines reviewing,running radio shows.
Have you got any reviews on the new album?
-Yes we have seen about 6 reviews so far all but one have been favourable.
Do you care about reviews? Which do you trust the most the bad or the good ones?
-Of course we care about reviews,good or bad its a personal opinion its nice to get good reviews but we donít expect every one would like us, But we donít like it when people personally attack members of the band in reviews or say we are something we are not because they havenít done any background research or even listened to the album properly. A review should concentrate on the musical performance of the band, not attack the appearance of a band member.
Which bands are you being compared to?
-Vice squad mainly because we have a singer with blonde hair, we have also been compared to Siouxsie and the banshees,X-ray spex,Rezillos,Penetration,Action Pact, and more recently Hazel O'connor.
Is it many interviews? Is it boring?
-We have completed hundreds of interviews and no we do not find them boring, its nice that people are interested enough to want to know more about us.
Which is the most peculiar question you ever have got?
-What type of underwear do I wear.
Which is the question you never get but you want to have, please ask it and answer it?
-Many people compare you to Vice Squad,what do you say?
-Visually we can see a comparison as Bekki and Mandy both have blonde hair about same height,age,and similar in appearance,we play tuneful punk music with powerful female vocals but the similarity ends there. The style of punk music we play is different,early Vice Squad was very different to what we do and the vice squad of today are quite a rock orientated sound, we also have very different lyrical content, views and political beliefs ,we have become quite friendly with vice squad as we often play gigs with them and both bands are aware of the comparisons and neither can see beyond the blonde hair,and short skirt,leather studs etc..
Do you have any favoruitezine on paper or on the net?
-Nihilism on the prowl on the net..for its straight talking no nonsense approach.
Favoruitesite on the net overall?
-Well of course yours is very good,punk and oi in the UK is really informative too, and most bands have their own sites too and we are always discovering new great sites.
Futureplans for the band?
-To just carry on playing gigs and releasing records and having fun.
For yourself?
-To have plastic surgery to stay young..(joke)to carry on what i am doing and to enjoy it as long as possible.
Wisdomword?
-Be true to yourself.and have a mind of your own.if it feels good do it.
Something to add?
-Thank you very much for an extremely long interview its taken me 2 hours to do it,nice to have some thought provoking questions i have enjoyed it xx