Bil from Mcrackins plays guitar and sings in the group and they play really good poppy punk and have done a lot of records and I have never heard of them before. Bil gave me the answer, I gave him the questions or if it was the other way. September 2006.
History?
-Bil:We are a 3-piece powerpop/bubblepunk band from Vancouver,Canada.Formed in 1994 as a result of a freak nuclear accident on the farm where men were transformed into 2 eggs and a dog and given super human pop-punk powers which have allowed us to write,record and release astronomical amounts of top notch toonage.Some of our musical influences include:Ramones,Replacements,Kiss,early Goo Goo Dolls,Cheap Trick and Generation X to name just a few.
Please tell me a little about every member, age, family, work, interests and something bad about every one?
-Bil Mcrackin-lead vocals,guitar. Since I am an egg and have not yet hatched, I am ageless. I have 2 brothers Fil and a drumming dog named Spot. I love writing,producing,recording and playing bubblepunk and drinking beer.My shell is cracked and it takes me 15 minutes to get hard.
Fil Mcrackin-bass. Since Fil is also an egg he is ageless as well.Bil and Spot are his brothers. He likes buffing his shell,loves swedish porn and underage chicks. He is allergic to tomatoes,has only been laid once and cant stop farting.
Spot Mcrackin-drums/vocals. Since Spot is a dog he is 280 years old in dog years. He has 2 brothers Bil and Fil and likes scooby snacks,belly rubs,chew toys and fetching Frisbees in the park after dark.His main occupation is guardian of the Hen Hut(where the band lives) and the Toon Vault(where they keep their massive catalog of songs). He has fleas, a big bone and cant stop leg humping.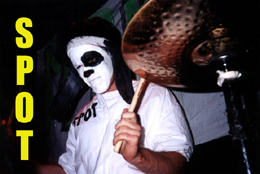 My review of your record is like this MCRACKINS-BAT OUT OF SHELL(CD-WYNONA RECORDS WR 40) With a big fascination for eggs gives us Mcrackins a really good record filled with good powerpunk. Here´s influences both from Beach Boys, Ramones, Psychotic Youth and you can start to understand which type of bands we´re talking about. Many good melodies and choruses and the frail type of music gives me fantastic vibes. I want to go up and jump a little, you become happy and most of all you want to listen to the record again. It feels like if they have taken the best from the 60´s pop and mixed that with punkrock from the 70´s and everything of this in a modern style.(SEVEN)
22/9-06 What about it?
-Bil: Thanks for the good review! I think it describes the new album pretty well.We were really going for a more polished production this time around with the slick beach boy type harmonies and such.Some of the songs had upwards of 80 different vocal and instrument tracks.It took us over a year to complete the recording.
Is there any other bands you´re being compared with?
-Bil: Yes, we've been compared to a lot of other different bands such as: The Queers,Screeching Weasel,Dickies,Loverboy,The Undertones,Replacements,Green Day,Poison,Kiss and a million others.
Do you care about reviews?
-Bil: Not really, but good reviews make us happy and inflate our already large heads and the bad ones reduce us to tears.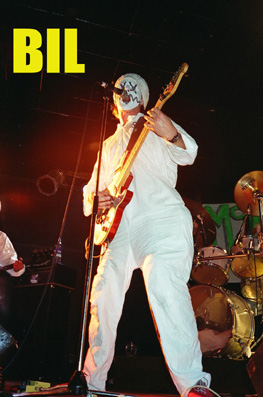 Why this fascination for eggs?
-Bil: This ain't no fascination it's a lifestyle.We had no choice in the matter.We ARE 2 eggs and a dog,take it or leave it.
How would you describe your music in three words?
-Bil: Some cool Shit!
How is it to live in your homecountry?
-Bil: Canada is a pretty cool place to live and Vancouver is one of the best cities in the world. My only complaint is that it rains way too much.Lots of great bands and micro brews here as well!
What about the government?
-Bil: Like anywhere, there are good things and bad things about it but usually more bad.
Do you think that music and politics goes hand in hand?
-Bil: No, I don't think they should mix at all.But if they must, we will leave that to U2 and that Boner guy.Music is all about fun and having a good time.
Best political band?
-Bil: If I must say The Clash!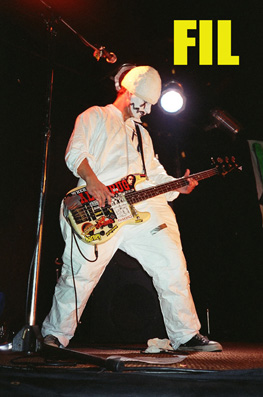 Is there any good bands in your homecountry now?
-Bil: Canada has always been well known for the great musical talent that it produces.Some of our new favorite's are: Daggermouth,Black Halos,Gob,Hot Hot Heat,Spitfires,Comeback Kid,Chixdiggit,Kill Cheerleader,Weakerthans,Trews,Danko Jones, and then of course there is the older classic stuff like Teenage Head,DOA,Forgotten Rebels,Nomeansno,SNFU,Loverboy,Pointed Sticks,Doughboys,Skinny Puppy,Subhumans,Sloan and the king himself Bryan Adams.
What do you know about Sweden?
-Bil: We know that approx 9,001,774 people live there and that a good percentage of those people are beautiful blonde girls.Also,Swedish meatballs and Ikea.
Have you heard any good swedish bands?
-Bil:Yeah,lots of good stuff has come out of Sweden: Hellacopters,Bombshell Rocks,Holiday With Maggie,The Hymans,Millencolin,Satanic Surfers,Hardcore Superstar,Hives and lets not forget some of our older favorites like;Roxette,Abba,Europe and Yngwie "unleash the fury" Malmsteen.
What does punk mean to you, is it only a word or is it a lifestyle?
-Bil: Haha…that's easy.Where we come from a punk is a young man used as a fuck buddy especially in prison. It could also mean doing things on your own terms and staying true to what you believe in.
Please rank your five favourite records, five favourite concerts and five most important things in life?
Bil: 5 favorite records:(but this changes regularly)
1.Ramones-Leave Home
2.Kiss-Dressed To Kill
3.Goo Goo Dolls-Superstar Car Wash
4.The Clash-S/T
5.Replacements-Tim
5 favorite concerts:
1.Ramones-Brain Drain Tour 89
2.Ramones-Mondo Bizzaro Tour 91
3.Kiss-1st reunion Tour 96
4.Green Day-American Idiot 05
5.Michael Monroe-Tavastia/Finland 2000
First, last and most expensive record ever bought?
-Bil: First record was "Rock And Roll Over" by Kiss, Last was "Kiss of Death" by Motorhead and the most expensive was probably the Ramones box set "Weird Tales Of The Ramones".
Most embarrasing record in your collection?
-Bil: Nothing right now, but when I was younger I had some Donny Osmond,Andy Gibb and Shaun Cassidy records if you can call those embarrassing?
You´re on Wynona Records? How is that?
-Bil: Yeah, the new album is released by Wynona Records in Italy. They have put out a lot of really great stuff and are very professional.We could not be more happy with the way things have worked out so far.Great record label! Plus we get to go to Italy on our upcoming tour in January.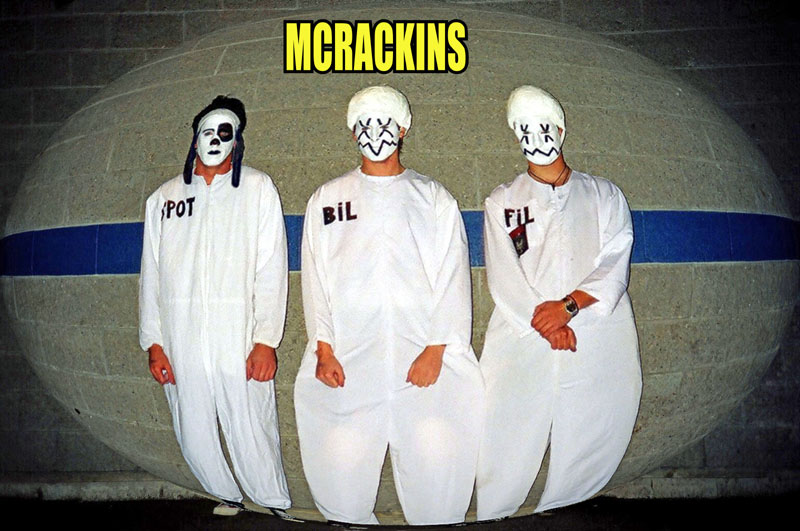 Have you done anything more than Bat out of shell? If you have how can I get it?
-Bil: Having over 200 songs in our recorded catalog, Yes, you might say we've released a few things.Most of the stuff is out of print now, but you can still get some of the stuff through Interpunk,Ebay and some other punk distros.If you ask real nice you can also get most of the stuff from us directly
.
Full lengths
1.eggs in space (cassette only) ridge records(Canada)-1994
2.what came first? cd shredder records(usa)-1995
3.s.t.u.p.i.d cd lance rock records(canada)-1995 lp rock n' roll inc(spain)-1995
4.planet of the eggs cd stiff pole records(usa)-1995
5.in on the yolk cd/lp shredder records(usa)-1996
6.back to the crack cd/lp one louder records(u.k)-1996
7.oddities & eggcentricities vol.1 cd stiff pole records(usa)-1997
8.i am the eggman(bil solo) cd/lp shredder records(usa)-1997
9.live in madrid cd/lp one louder records(u.k)-1997
10.comicbooks & bubblegum cd coldfront records(usa)-1999 lp screaming apple records(germany-1999)
11.too tough to die(ramones cover album) lp coldfront/clearview records(usa)-2000
12.bat out of shell cd wynona records(Italy) fast music(usa)-2006
ep's
1.mcrackins/white trash debutantes split lp helter skelter records(italy)-1995
2.short and sweet cd/10" shredder records(usa)-1996
3.best friend cd shredder records(usa)-1997
4.mcrackins/manges split cd amp records(Canada)-2000
Singles
1.get crackin! Wallabies records(japan)-1995
2.life,hey mikey shredder records(usa)-1995
3.mcrackins/fighting cause (split) last resort records(usa)-1995
4.mcrackins/the cheeks (split) screaming apple records(germany)-1995
5.it's raining.one louder records(u.k)-1996
6.mcrackins/bombbassets (split) g.i productions(usa)-1996
7.mcrackins/pest (split) marigold records(usa)-1996
8.best friend shredder records(usa)-1997
9.i'll stick to beer no frills records(usa)-1997
10.mcrackins/lipmonger (split) negative progression records(usa)-1997
11.mcrackins/mxpx (split) labyrinth records(usa)-1997
12.mcrackins/gob (split) landspeed records(canada)-1997
13.we like to make records cheetahs records(usa)-1999
Compilations
1.closet collections & conceptions(closet rock entertainment zine)-canada
2.six pack to go(stiff pole records)-usa
3.shreds vol.3(shredder records)-usa
4.let's hope these are radio friendly(spawner records)-canada
5.punk wonders never cease(ling lau records)-china
6.spinnin' the chamber(last resort records)-usa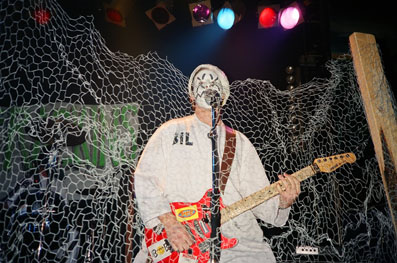 7.punk…it's all about the orchis factor(suburban home records)-usa
8.hang 10(shredder records)-usa
9.axhandle punk comp(axhandle records)-usa
10.north american takeover(cloister records)-usa
11.roctober comics & music,tribute to punk'n head flexi disc-usa
12.more chaos(motherbox records)-usa
13.rational enquirer music sampler(rational enquirer zine)-usa
14.impact music vol.4(impact music zine)-canada
15.on guard for thee(au go go records)-australia
16.that was now,this is then(v.m.l records)-usa
17.oldies but goodies(negative progression records)-usa
18.ox zine comp. #29(ox zine)-germany
19.back asswards(interbang records)-usa
20.somebody's gonna get it(bite your neighbor music)-usa
21.p101 vol.4(p101 zine)-u.k
22.this ain't rocket science(cheetahs records)-usa
23.dictators forever tribute(roto records)-spain
24.hard-on for tromaville(amp records)
25.music to listen to music by(coldfront records)-usa
26.h.e.a.r this(sub city/hopeless records)-usa
27.primavera 96 sampler(comforte distribution)-spain
28.mordam promo comp #3(mordam records)-usa
29.the big giveaway promo comp(mordam records)-usa
30.wade-free wherever(schtufff…records)-canada
31.totally fucking the 80's(boxcar records)-usa
32.this ain't no disco promo comp(mordam records)-usa
33.punk chartbusters vol.4(wolverine records)-germany
34.making the impossible possible(chimaeric records)-canada
35.Not so quiet on the coldfront(coldfront records)-usa
36.3 chord rocket science(suckerpunch records)-usa
37.life's a gas-a tribute to joey ramone(amp records)-canada
38.welcome home punk(amp records)-canada
39.six on a disc vol.1(gi productions)-usa
40.amp magazine presents: vol.4-pop punk(amp magazine)-usa
41.heroes and villains(rally records)-usa
42.open 24 hours(diner junkie records)-usa
Is it many interviews? Is it boring?
-Bil: We love doing as many interviews as we can because it gets our name out there and lets people know about us and whats going on in MCRACKINLAND.And No, it never gets boring.
Which is the question you never get, please ask it and answer it?
-Bil: Why does Spot lick his balls? Cause he can!
Is it any chance to see you in Sweden soon?
-Bil: Yes, as a matter of fact we are doing a full 6-week European starting in Paris,France on January 14 and I believe we will be playing at least one show in Sweden but do not have an exact date or venue details yet.We are very eggcited about this as we did not make it there on our last tour in 1996.Make sure to come out and see the eggs in action!
Where is the best place to play?
-Bil: Madrid,Spain was probably my favorite place to play although I was too drunk to remember much about it.We recorded our live album there and it is a nice reminder of the fun we had.We like playing anywhere as long as the beer is flowing and the amplifiers are buzzing.
How is a good gig with you?
-Bil: A good show is one where Fil does'nt end up naked and passed out drunk on the stage. We also love when the audience sings along with us, that really fucks us up.
The name where does it comes from?(yeah it´s a boring question but it´s interesting)?
-Bil:Well our bass players' name is Fil Mcrackin..get it? Fill my crack in! Seriously though, it is our family name as we are all brothers.MCRACKINS unite!
The best band in Americans punkhistory?
-Bil: The Ramones!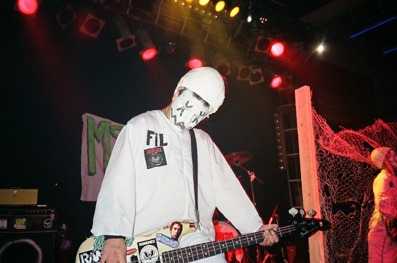 The most important punksong?
-Bil: I'll let you know when I write it.
Futureplans for the band?
-Bil: Our upcoming European tour in Jan/Feb 2007,release another new album next year which we have almost finished,drink more beer,and a couple of other small things such as taking our rightful place upon the pop-punk throne and complete world domination.That's about it for now I guess.
For yourself?
-Bil: Be all that I can be and prove to them I'm no sissy!
Wisdomword?
-Bil: Get Crackin!
Something to add?
-Bil: 2 + 2= 4 and thanks for the interview Peter! We look forward to playing in Sweden and the rest of Europe and invite everyone out for a night of fun,fun,fun MCRACKINS style! Over and Out!
Webpage: www.myspace.com/themcrackins
e-mail: bmcrackin@hotmail.com