I have interviewed this group two times before 2006 and 2008 and now it have gone 15 years and a new member and now a new album on it´s way too….june-2023
Hello again it was 15 years since I last interviewed you, what have happened since then?
Bil: Hi Peter! Good to hear from you! Yes, 15 years has flown by just like that....crazy! Life has happened since then and it just keeps rolling on and seems to go faster and faster as every year passes.
You haven't released a new record since 2010, why?
Bil: We figured that we released so many records up until then that the world needed 13 years to catch up haha.
Do you have any groups on the side of the Mcrackins?
Bil: Yes, we all have other things going on outside of the Mcrackins. If you recall I did a solo album back in 1997 and have also had releases in the past with other band projects such as The Doormats, Deltoros & Hub City Losers Club. More recently in 2015 I got together with J Prozac from The Prozacs and released an album under the band name Doubtfire, and this year I had a single released by a band I threw together with some neighborhood buddies called Old Fuxx. Fil released a single a few years back with his band Fil Mcrackin & The Hens. Spot recently released a solo album and has done a few albums with his band Dirtbag Republic. AC Mcrackin our newest member is currently working on his first solo album. So we keep ourselves busy you could say.
I have been celebrating my 60th birthday, how old are you nowadays, is age only a number or do you feel old nowadays?
Bil: Congratulations on 60 Peter! That is a great milestone. Is this a trick question? Come on Peter, you must know that since I am an Egg I never age. I still look the same as I did 30 years ago. The photos do not lie haha.
You write on your release sheet that you never have been invited to Punk Rock Bowling, Is that something you're angry about?
Bil: Angry is an understatement! We dont like to talk about it haha. I hate bowling anyway.
You have been appeared on John Peel Show, how was it and how was John Peel?
Bil: Yes, that was many moons ago. John Peel was an attractive and powerful man. An amazing time was had by all.
Three of you have been in the same group for 29 years, do you never get tired of each other?
Bil: Never! Everyday is like the first day we met. Kind of like groundhog day.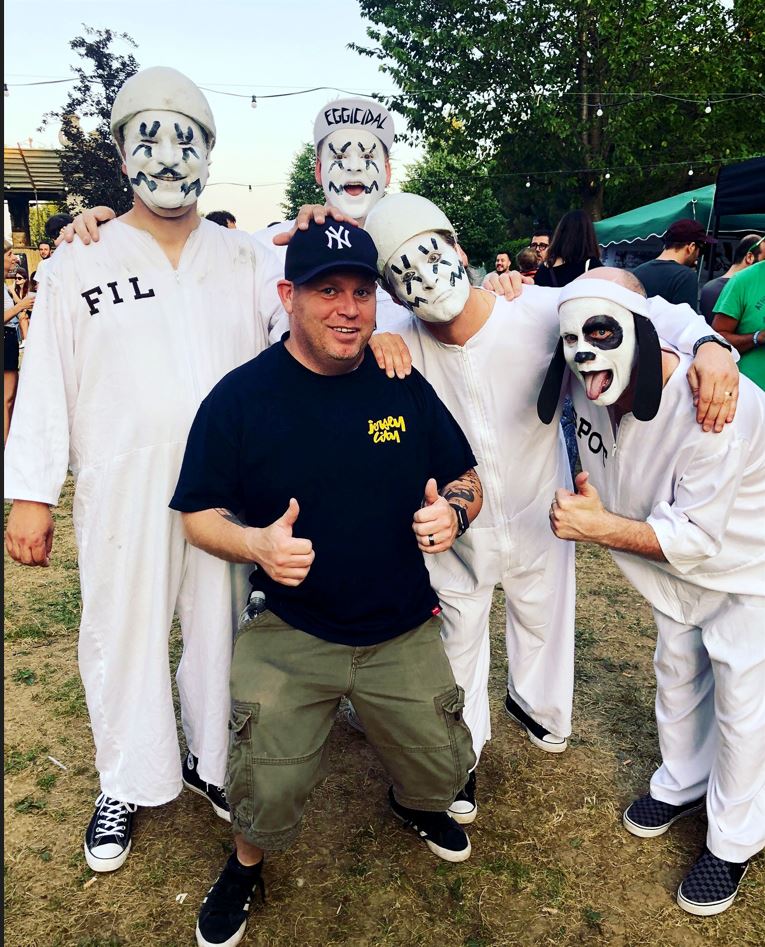 Not anymore chance to see you in Sweden and Gothenburg?
Bil: Never ever say never.....never ever.
Have you ever done any merch like your own Mcrackins beer or something similar?
Bil: We have done lots of different merch items over the years such as Mcrackins coffee, flip flops, bottle openers, beer coozies, spud guns, masks, and the usual t-shirts, hoodies, posters, patches etc. We have not done beer yet but Im sure we will at some point. AC Mcrackin is like our very own Colonel Tom Parker and is always scheming up new merch and promo ideas and taking his 50% in the process haha.
What is the most peculiar some fan have done, I mean tattoos etc?
Bil: Yes, Its always really cool and crazy when we get sent fan photos of Mcrackins tattoos. Its like the ultimate compliment to the band which we are humbled by and totally appreciate. Keep em coming!
What is the most crazy thing which ever happened on a concert with you?
Bil: Maybe the time we all simultaneously shit ourselves during an encore. That was pretty crazy alright.
1You have been playing live many years, which is the biggest band you have been as a support band in the beginning of their career?
Bil: I would have to say Kiss. They were just young kids when we first took them out on their first tour. It could not have worked out better for them obviously haha.
Which is the most odd band you have ever been playing together with?
Bil: Air Supply.....very odd!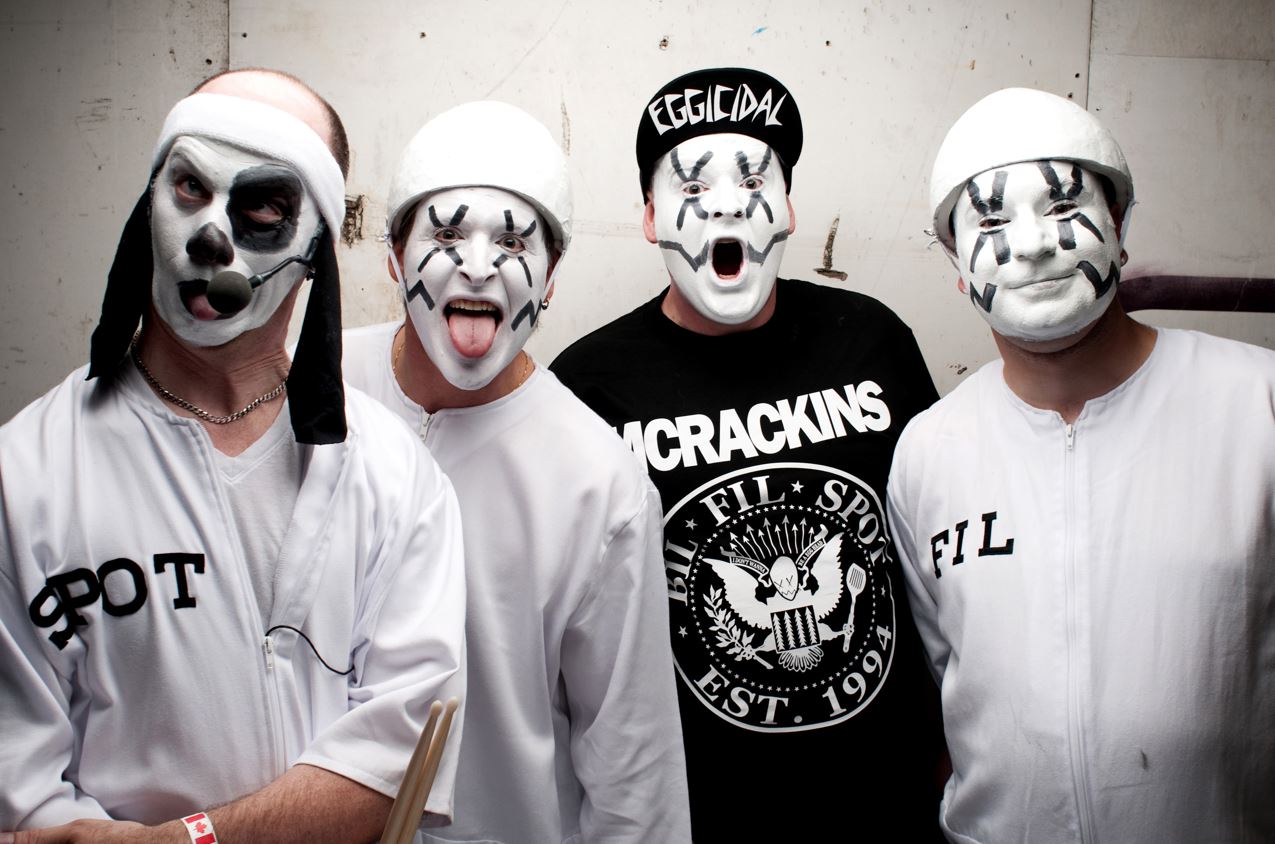 Do you have any political song? Which is your most political song or should you put politics out of music?
Bil: They are all political songs, about the politics of life, love, spudguns, beer and cold sores.
How do you see on punk nowadays if you compare when you get into punk for the first time?
Bil: Dont really see any difference except the meaning "pop-punk" which we have been aligned with has mutated from the cool old Ramones, Queers style to some crap that I dont recognize or like very much. They could have at least called it Nu-Pop-Punk or something haha.
What is the biggest difference with playing today if you compare with when you played the first time in 1994?
Bil: Im not as drunk onstage as I used to be.
How is it to live in Canada nowadays, politic, racists and other bad stuff?
Bil: I love living in Canada and will go as far as saying it is the best country in the world to live but there are assholes, scumbags and bad stuff happening here just like anywhere else in the world.
Have you released something which have been really expensive on Ebay and similar sites?
Bil: Ive seen a couple of our older out of print cd's and our Too Tough To Die Ramones cover album go for some high prices but nothing too ridiculous.
What do you know about Sweden? Have you been here many times?
Bil: Dont really know much about Sweden except Sweden has twice the population of Norway, more than half the country is covered in forest, there is a hotel made of ice, Donald Duck is more popular than Mickey Mouse, Music is one of the country's biggest exports, it is the home of the amazing SKRUTT Magazine and of course IKEA. We have only been to Sweden the one time on our 2007 tour and loved it. A beautiful country it is!
Any good Swedish bands you like?
Bil: ABBA! enough said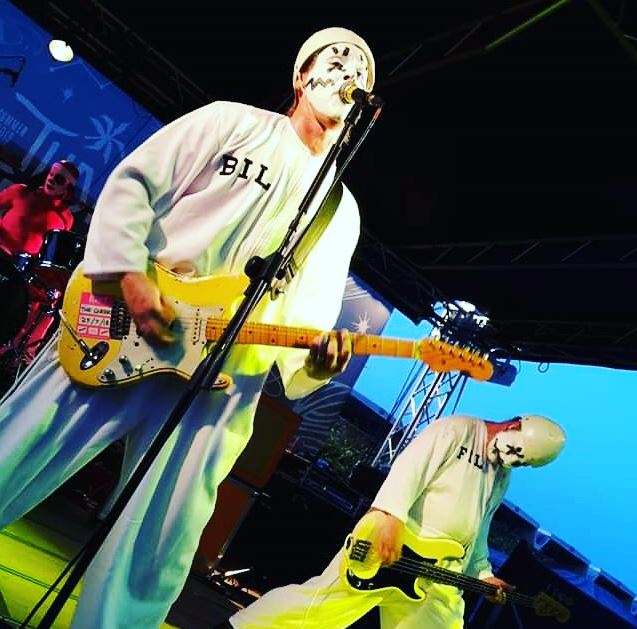 Do you buy much records, or is it only Spotify and those type of things to listen to music? Is there any good record shop in your hometown?
Bil: Yes, Im a physical media guy. My wife would tell you that I buy way too many records & cd's haha. Currently I have about 3500 records and 2000 cd's. There are some great record shops in the Vancouver area such as Neptoon Records, Apollo Music, Audiopile, Red Cat Records, Beat Street, Zulu Records, Redrum Records, & Crazy Bobs to name a few. I do listen to Spotify occasionally when I want to check out a new band before buying the album.
Which was your first record, the latest you bought and the most expensive you have bought?
Bil: The first record that I bought was KISS- Rock and Roll Over. Latest was all the Cock Sparrer vinyl re-issues on Pirates Press, and RATT- The Atlantic Years Box Set. Most expensive was KISS - The Elder 2022 Picture Disk limited to 500.
Is it important to release physical records or can you feel that you have released a record if you only release it as a digital release?
Bil: If you cant hold it in your hand it is not a release as far as I´m concerened.
Do you care about reviews? Which is the most peculiar you ever had, with this band or any other band you have been to?
Bil: Reviews good and bad are nice to get. Like the old saying goes " Any press is good press". It lets us know that people are still talking about us and keeping the name out there which can only be a good thing. The craziest review I remember was for our album "Shark Sandwich". The review was a simple two word description, " Shit Sandwich".
When you were in Gothenburg, my biggest memory was when we met you backstage was a girl that came into the backstageroom and wanted sex (maybe) and you said that it is only in Europe something like this happens... is it so?
Bil: Haha, Yes so far as I remember.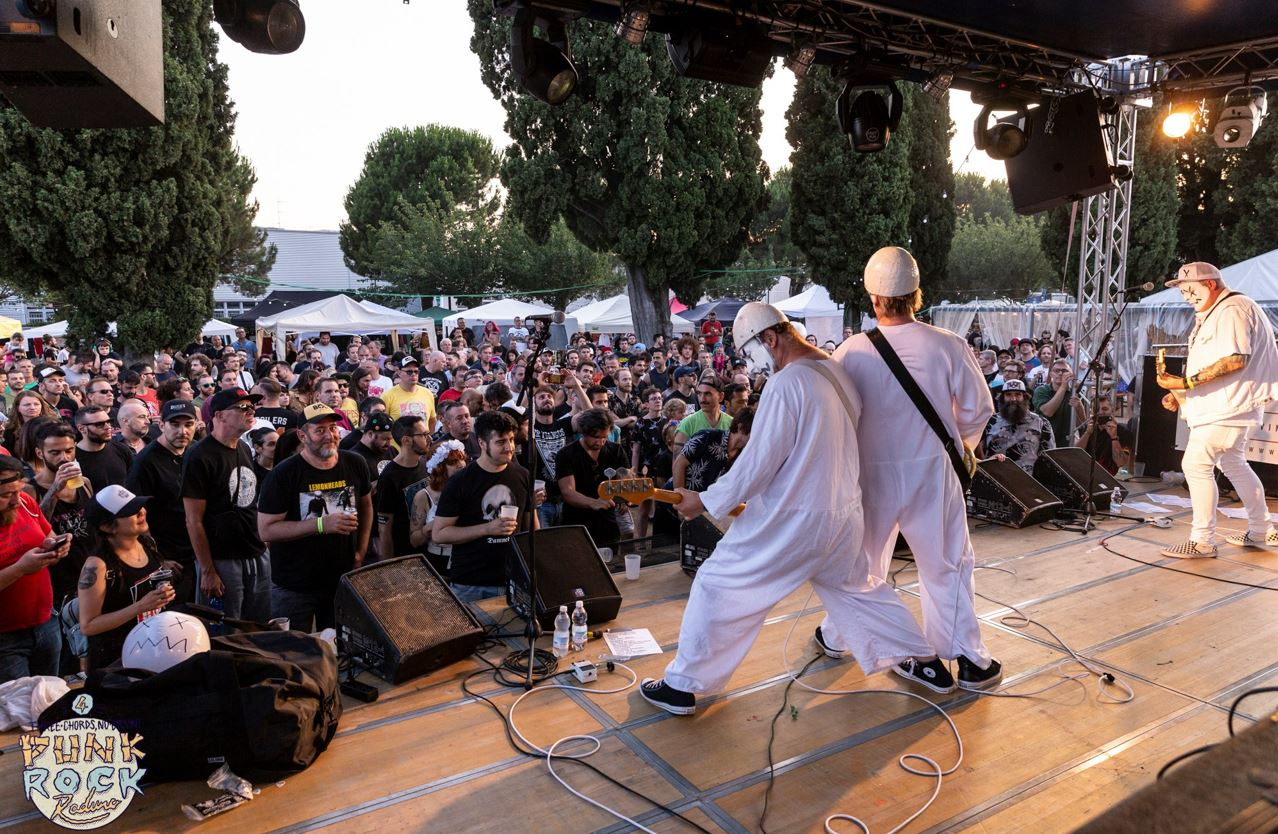 Are you going out on tour now with this new record, which formats does it come in?
Bil: No tour planned. The new album will be released on vinyl, CD & cassette and also possibly on 8-Track tape at a later date.
Futureplans otherwise with the group, it will not take so long time as 13 years to the next record I hope?
Bil: No future plans for now other than the release of our new 2023 album "Wake The Fun Up!". We do have another full length record that is about half finished that we started recording over 10 years ago that may get finished one day or not haha. Would love to tour Japan also if that ever becomes a possibility.
Wisdomword?
Bil: I LOVE LAMP
Something more to add?
Bil: Thanks for the interview Peter and for all your support over the years, we really appreciate it!! Cheers!