Maud Lindström isn´t maybe any artistname precisely but I don´t think she need any help with that. Her lyrics touches me and I don´t think she´s going to be as known as Winnerbäck even if some similarities is there. Maud answered on these questions in the middle of October 2005
Please tell me a little about yourself, age, work, family and so on?
-I´m 25 years old, grown up in Karlstad and Molkom in Värmland. My biological family have mum,dad and my little sister Frida and she´s a poet and my selfchoiced family is Sören and his son. I have done some freestanding courses on the university as sociology and genusscience, I have studied feminism in highschool for women and I have gone through the singer/songwriteschool in Kungälv. I have never have any firm work but I have worked a lot with children and in a record store. And then I have worked as a rabbit on the amusementpark Liseberg. And right now I have a vacancy on a kindergarten for 3-5 years old children..
It feels like your lyrics is important, from where do you get your inspiration?
-Often it is so that I write a song instead of saying something direct when it happens, as reactions on things I think is stupid. Many of my songs is revengesongs , on guys which have been bad to me or someone else. Otherwise it comes from things that people say, talks friends between or political discussions. Sometimes I get an idea or come up with a rhyme which is so fun that I must write it. And then I tell my good idea to everyone around me til I`m tired of it and then it´s a hell to finish writing it… ..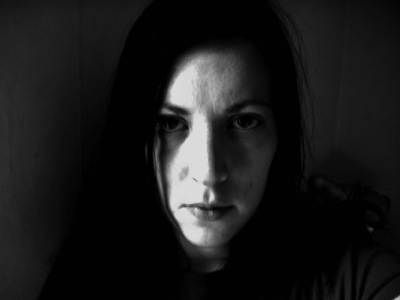 The lyrics is so much more important when you play calmer music?
-My intention have never been to play calm music , but sure, then the lyrics can´t drown in the music and it must stand up for itself.
Many of your lyrics is about relationships, is everything selfexperiences or is it Fröken Normal(her alter ego) which makes it a little bit more odd?
-I have experienced those things myself in some way or another but it´s written through my perspective. And then you have your cultural freedom as it called, to put things to it and take things way from the truth. Fröken Normal isn´t really an own charecteur , it´s more a part of me who wants to be adequate and live up to how you should be.
How did you came up with the thought to be playing this way?
-I could never imagine that I should do this because I have mostly singed rock, blues and jazz before and have never been listening to singer/songwritermusic and I have never ever written any own music , only poetry. When I singed my vocalcord filled with knots the last year on the musicgymnasium in Karlstad I quit singing for a year. Instead I wrote exams in genusscience and I discovered that side of my creativity, that in panic during chainsmoking get foreward a good text about a book you haven´t read…And then I wrote an article about love inspired by Carin Holmbergs book "Det kallas Kärlek"(it´s called love) which I strongly recommend and these theories and ideas I build my thoughts, lyrics and poems about sex and love until today. I have played electric guitar for 3 years on the musicschool but it was with guitar after I quit the music school, when you could play as you wanted to play. So everything melted together during my first summer in Gothenburg 5 years ago. I was out of work and understimulated and was playing when I was drunk on parties, it took about 20 seconds to change accord but after a while people beginning to think it was good. I only did what I did ,without a thought of that people maybe wanted to listen and therefore it became so openminded and freespech lyrics. I wrote it only for myself.
.
many of the singer/songwriters comes from punk from the beginning, is it the same for you and which is your relationship with punkrock
-I thought I was really tough when I listened to DLK and Strebers in ninth grade and that was the closest to punk I came. I have almost not heard Ebba Grön. I´m possibly born all too late, have a dad which only have played blues and soul at home and done sexual and intellectual revolution instead of using the music. :-) But I understand that punks influence in the singer/songwriterstyle and that style I said I´m into to. And I try , with Sören Alexandersson as a guru(even if TASK it´s among the worst shit I ever heard) have a punky attitude to the "musiccareer"
You have heard about Skrutt before, was it good or bad things?
-I read Sörens Alexanderssons answers and questions when he was interviewed. I think he really thought it was fun, so it´s only positive.
Sören Alexandersson have helped you a lot, how have the cooperation with him been?
-We met each other some years ago when I came into Lumbago, a loose group of poets , troubadours and cultural visionaries which arranged poetry-and singer/songwriterparties on the boat Rio in Gothenburg. We liked each other music and Sören helped me get some gigs and then I won over him in Trubadur Slam in Borås 2003. It´s his label Troglodyt which release my record. And he is on my song Hyllningsvisa till lesbiskt sex on the record and play and as I said, we live together.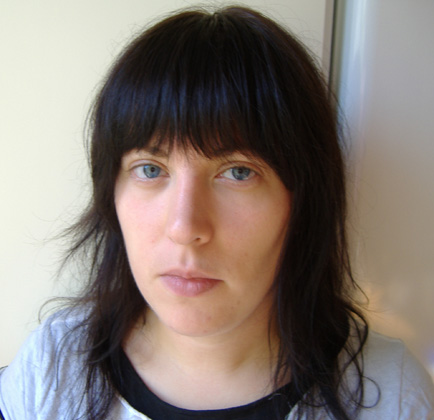 What do you like swedish music, is there any good groups/artists?
-I like Marit Bergman a lot. If you look really near and think of me with a lot of makeup we almost look like each other ha ha. No , but I think that she ´s mixing practic feminism with good pop through writing lyrics which is subtile feministic. For example lovesongs which in she´s the active and dominating part or I will always be your soldier which also is about sisters. And then she´s a good musician. I also like Vagina Grande, it´s a shame that they haven´t done any more records. Pughs oldest record is good, among the best thing which have been done in Sweden I think.
In the singer/songwriterstyle I like Sören & Pålle, Christina Kjellsson,Dan Berglund and Loke Nyberg.
Does politics and music goes hand in hand?
-I cannot imagine music without politics. Politics is everywhere and even the ones that say that they aren´t political have a political perspective. Only thorugh living and express yourself you take part against and for a lot of things. But I have difficulties to take music which is too much political to me.
Who is the best political artist/group?
-I think that Jan Hammarlund is very political, both in his lyrics and private. He´s really engaged and know much about from the Israel-Palestina-conflict to the fight for homos, and he plays really to change and he´s a jour with what is happening in the undergroundsingers/songwriterscene, among us which isn´t so established. He´s a political model for me.
How does you think it is to live in Sweden today? Politically and is it prejudiced?
-Wow, what a question! The things which is worrying me most right now in todays Sweden is the unemployment, lack of places to live, individualism and the feminist backlash after the documentary "Könskriget" (The sexwar) But it´s many other things which is really bad tooand I haven´t so much good thought about the future. The most positive is all discriminated groups which have been smothered before have been risen themselves up and don´t anyone other speak for them and that they protest against oppression and that is much about do it yourself and active resistance.
And even in academic circles I think that the consciousness about the unfair power and structures influence have been higher. It feels like if it happens much on many different fronts , in the same time as the partypolitics stands still and liberals, rightwings and socialisttraitors makes it worser and worser for everyone except for themselves. I think it´s needed in all fronts is more empathy and understanding for other people and groups. If you understand that everyone is the same it´s harder to practice oppression, that´s a easy way to say it.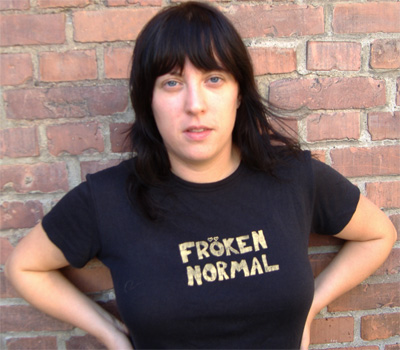 Which type of people comes to your gigs? Is there any typical style which is coming?
-First of all it´s many feminists, both guys and girls. I have also many lesbian "fans" , I have many songs about that and that´s not so ususal. I have a lot of singer/songwriterinterested people in my audience also.
Sören likes soccer(GAIS) is it something you like?
-I have played soccer for 9 years, but it was a while ago. I also support GAIS. I hope they still be playing in the second division next year and it is only dumb to go up an down between the first and the second division. They can be more ready until the play is going to more levelled.
I have tried to get Sören to do a GAIS-song, is it something you could do or to play for something you really like?
-I do all my songs and gigs from something I believe more than GAIS but it would be interesting to do a GAIS-song which shouldn´t be so much boy.
Is it important as a musician to take opinion against and for things? Can you influence other people as a musician?
-I think it´s really important to conscious take opinion even if you´re not a musician but as a musician you do it more public. But as I said that all art have a politic perspective or maybe a political dimension, then it is shaped in it´s consistency, in a society where there is norms, rules and valuations. Everything which is created is created from outside anything else. I haven´t had as any purpose to influence someone when I have written the songs but I wish of course that I can get people to recognize themselves or be stronger /or think anout their lives and opinions through my music
Can music change anyones life?
-Yeah, I really think so.
Please rank five favourite records, five favourite concerts and five most important things in life?
-Five favouriterecords:
Janis Joplin: I got them ol´ kozmic blues again, mama!
Tom Waits: Small change
Neil Young: Zuma
Pugh Rogefeldt: Ja dä ä de
Etta James: Everything!
Concerts:
Weeping Willows on Jäger in Karlstad 2000.
When Åsa Bällsten smashjed her guitar during the song "Popidol" during Barrabas
Gig on Inkonst in Malmö 2004.
Vagina Grande on Skogsnäsfestivalen 2003.
Loke Nyberg on Lumbago 2003.
Dan Berglund on Wisgothafestivalen 2004.
Most important things
My near and dear
Feminism
Not to be sick
Not to be bored
That everyone will like me
The first, latest and most expensive record ever bought?
-The first was "It must have been love" with Roxette on vinylsingle when I was about 10 years. The first CD was Michael Jacksons Dangerous when I was 12. The latest record was Stefan Sundströms "Hjärtats melodi". I almost always buy records on lowprice and I think it´s expensive with fullprice(169: -) and always regret myself afterwards. Moneybrother wasn´t worth it for example.
The most embarrasing record in my collection?
-Yeah, it must be the Michael Jackson CD I mentioned but I haven´t it left in my collection. Of the ones I own now it must be "Mocking Bird Hill and other songs known
from the TV commercials" which I got from my dad. But it´s some really good songs on it. .
You sing "What mummy thinks doesn´t matter" in your song
Hylllningsvisa till lesbiskt sex, what did you mum said about it?
-"That will we not tell dad!" she said when I told her that I am bisexual , and that was ebfore she have heard the song. But now she´s thinking the song is fine. My parents have done a really big convertion with this with sexuality and they´re really tolerant. But I was very afraid of what they should say, especially dad.
Is it many interview? Is it boring??
-I think it´s really nice talking about myself, so this is fun! Have done some. .
Which is the question you never get but you want to have, please ask it and answer it?
-Who do you want to be if you could be a man for a day?
Ulf Lundell. It would be exciting!
Which are your futureplans with the music?
-I want to live on my music but I want even more to do more songs and records. The only thing which could stop me is that the society will be equal:-)
The nearest plans is a summertour, to record a video and to sell as much records so everybody gets their money back..
And for yourself as an human being??
-Stefan Sundström seems to have the ideal life with wife and children and vegetables and some tours now and then…that way I want have it in the future.
Right now I´m looking for work , I think of reading genussciency and sociologi , go to therapy and talk about my childhood, get a bigger apartment, organize a intellectual feministic discussiongroup, release a poetrybook and do a fanzine with my sister Frida.
Wisdomword?
-The heart is only a muscle, love is only a construction.
Something to add?
-No, I don´t think so. Thanks for letting me be in the zine. .