Tijana, Ida and Andreas is taking this interview together and speak for Mässmörd and this was done an early in September 2006. Can you get the chance to hear their really tough hardcorepunk so take the chance.
History?
-Andreas: The whole thing started as a thing by Ida and Sonny who started to do some riffs together, wrote songs as we have throwed away for a long time ago I presume. This was 2004. Olof came into the group and he take Berra with him and he had played in the badlyknown band from Helsingborg Article Nine. It become good I presume because I wasn´t in the band then. In some way they get Tijana into the band from the same band that Ida plays in today ; Beyond Pink. But now we come to the really interesting in this history, something was missing, me. I came into the group because the riffs have been to intricate that Ida could play them alone. It was the beginning, a short version of the one on our webiste.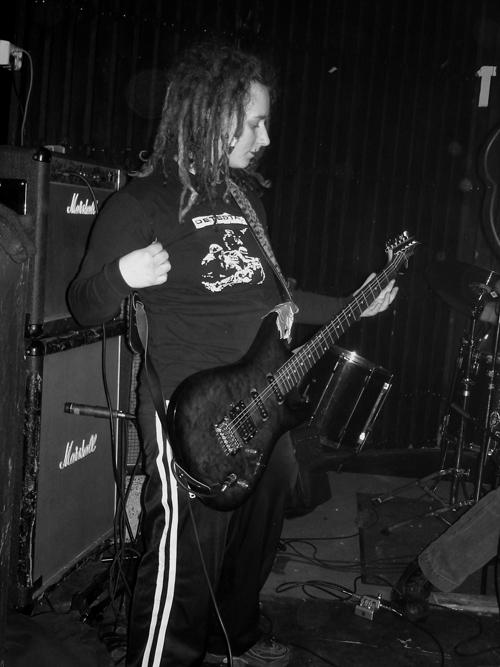 Please tell me a little about every member, age, work, family, interests and something bad about every one?
-Andreas: 25 years with small interests, music, capoeira,most of the other things I have been tired on. Don´t work. Guitar.
Olof: 21 years, lives in Lund and there he study to be a nurse, which he wants to remind us when he takes long sicknessproblems with us and possible virus. Drums.
Berra: 30 years is a really big man. He´s an unemplyed engineer of some kind , his big passion is beer and wrestlig. Bass.
Sonny: 23 years, out of work and he´s licebitten,He likes punk, OK? Vocals.
Ida:25 years, happy and out-of-work, planes is to be out-of-work for a while. Guitar.
You play a very aggressive music…..with aggressive lyrics….the problem with that is that it's hard to hear what you say! What´s the best with playing aggressive…which feeling can you get out?
-Ida: I don´t think it´s hard to hear our lyrics.It's depending on which type of music you´re used to listen to. The feelings I get out with playing with Mässmörd is very varying. Everything from aggression to pure happiness. Songwriting and playing is a little bit like therapy. The songlyrics I have written is often about persons I have met which makes me angry or that the feelings is about a phenomena in the society which makes me angry and when you have got those feelings in a lyrics it feels better.
It feels like the lyrics is really important,....who does them?
-Ida: It varies. I think that Sonny have written the most but everyone have done some lyrics.
Din äckliga snutjävel(You disgusting police bastard)......is it a selfexperienced lyric to be harrased by the police?
-Tijana: Yeah, I wrote the lyrics after a happening outside a pub in Helsingborg…a fucking long history and I don´t tell it all but it's a selfexperienced thing.
It´s true it´s true it´s about punk....are you tired of punks?
-Ida: No. We are tired of idiots in the punkscene.
What does punk mean to you, is it only a word or is it a lifestyle?
-Ida: The punk permeate and have permeated whole my life the last decade so it´s a lifestyle for me
Tijana: Punk is so much. When you was 16 it was to do your own leatherjacket with studs and so and to go over to Helsingör, take the taper with distorted music and become drunk.Now is it to be living with a questioning filter. Everything you do and see is questioned. It's a principle I have got from the punk.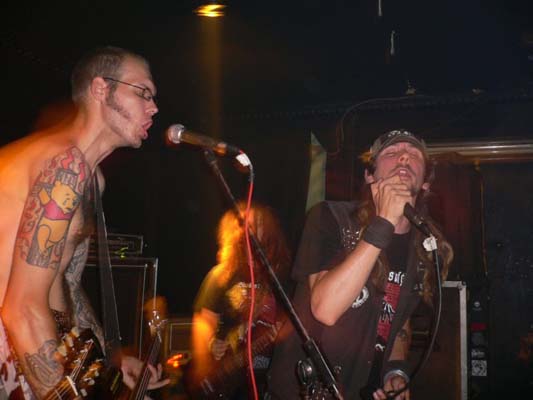 How have it formed you?
Tijana: -I have said some. Plus that it maybe have done me more cynical and angry in all. But the question is if I haven´t been that way anyway. I would say that it isn´t the punk which have formed me , it's more how I have formed the punk into my life…Everything is about what to choose to do and what you choose not to do and what you choose to take to you and what you´re questioning. if you buy a punktemplatel and it says how you should be a s a punk without questioning can you be a braindead lice instead I think my life have been extremely boring if I hadn´t found the punk in my youth but it have surely been as boring if I haven´t been playing in a punkband and do good music and be with sensible people and gives me punkkicks nowadays. Compare this with the happiness to buy studs earlier.
Why lyrics in both English and Swedish?
-Ida: Some things it´s easier to express in swedish and some in english.
How did you get a bite on CAH Records?
-Ida: CAH get a bite on us. I think it´s more interesting how we get a bite on the four labels (Nakkeskudd plater from Norge, Blindead Production from Arvika,
Halvfabrikat Records from Kalmar and Fight Records from Finland) which released the LP…CAH wanted to release the Cdversion after the LP came out.
The best and the worst with a foreign label?
-Ida: I cannot come up with some bad and we haven´t had any problem with the people we have cooperated with.
Is there any other good bands there?
-IdaI think you mean CAH Records. Yeah, there´s a lot of good bands there for example: To what end?,Diskonto, Misery, Uncurbed, Words that burn and so on and of course Mässmörd =).
Any good bands in Sweden today?
-Tijana: I hate those questions....but just to mention some I can come up with: Sista sekunden, Kamikatze...and there was my imagination ended.
Why these " over Mässmörd?
-Tijana: Otherwise we have been named massmord(Massmurder)...and we doesn´t
It´s an election in Sweden this fall....are you going to vote? Why or why not?
-Tijana: I don´t use to vote. It's a fucking game everything. Try to fool us poor people to believe that we live in a "democracy". I throw up on all electiontalk and all fat politicians. But this year I thinking(if I have the energy to) to vote on FI(feministparty) mostly because I think this is a good initiative and because of it became a fucking much writing about them when they came….they got so much sit upon them before they even have done any rules. It was really comic to follow that debate because it was about the fear from patriarch and the resist from this party…I could have written more about this because this is a substance which makes me really angry but the clock is much now and I'm so tired I don´t be able to…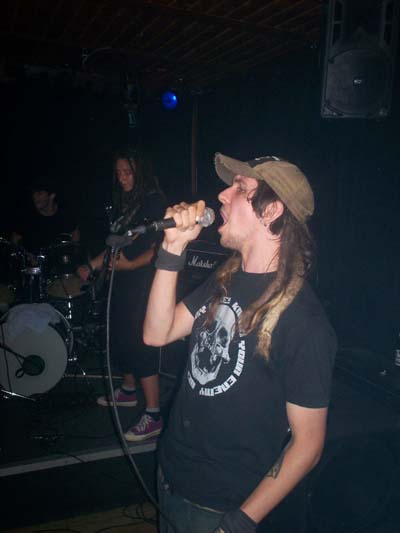 Is anarchy an utopia? What is the demands so it will be functional?
-Andreas: It´s a total loss of all capitalist thinking which we have been fed up with since we were born, a world free from borders, which is more and more now, even if we don´t see them as clear as before maybe, it's less egoism and a bigger fellowship but the ego is the only thing which is worth something today, which lead to a bigger isolation, no fellowship. As answer, anarchy have a really big uphill to climb up for. And to see it be spread all over the world I have difficulties to see during our lifetime but in lesser fellowships it works.
I compare you with Protestera and Crass...comments?
-Andreas: I have heard a lot of odd comparements but this I don´t understand. In which way do you compare us with those bands, No bad bands at all but I can´t hear it myself.
Other bands you have being compared with?
-Andreas: All standard neo-crust band and some other things,
Wolfbrigade, Kylesa, From Ashes Rise, To What End? Etc and also Contravene,
But that I cannot understand at all.
Do you don´t care about reviews?
-Andreas: It can be fun to read what people thinks about us and the things we do. I become happy if they like it but it doesn´t touch me if they think it's shit or totally pointless. They can think so if they want, we don´t do music for them anyway.
What is the most peculiar which have been written about you?
-Andreas: I don´t know, I don´t think it have been written so much about us yet. It had been more interesting if people have started a funny rumour about us.
Is it hard to get gigs with music like this?
-Andreas: Punk is the musicstyle which is most easy to get gigs with and for us it's not so difficult. I don't have the energy to go through the whole DIY-philosophy but there's the ground for everything we do and why we get gigs overall. But we always want to have more, so keep in touch.
Have you played a lot outside Sweden?
-Andreas: We came home from a short tour in Germany, Holland and Belgium which was among the most fun I ever personally have done but also as a band. The reception was mixed but it feels like if people in bigger cities is spoiled with gigs so don´t must go and check out everything. Then we have played in Denmark and Norway too.
Please rank your five favourite records, five favouriteconcerts and five most important things in life?
-Andreas: Records: -Black Flag "My War" -Black Sabbath "Master of
Reality" -Tom Waits "Swordfishtrombones" -His Hero Is Gone "Monuments
to thieves" -Sleep "Sleeps´ Holy mountain"
Concerts -8 Days of Nothing, Säljeryd 2000 -High On Fire, Copenhagen 2005 -Outlast last gig, Linköping 1999 -Shades of Grey, Leipzig 2006 -Page 99, Gothenburg 2002
Things – Love – Music – Fellowship – Water – Food
The first, the last and the most expensive record ever bought?
Andreas: The first record I bought to myself I think was Metallicas "And
justice for all", The latest I think is Shades of Greys demo-cd, a band that everyone should look after. The most expensive I don´t really know , I had some years whn I was drugged on Ebay, I think the worst one was 70$
for 2 st Discordance Axis Lps.
The most embarrassing record in your collection?
-Andreas: I sell some records sometimes, so it´s not so much embarrassing left. But the most embarrassing I must have owed must be something with Crash test Dummies,it's really embarrassing to tell you that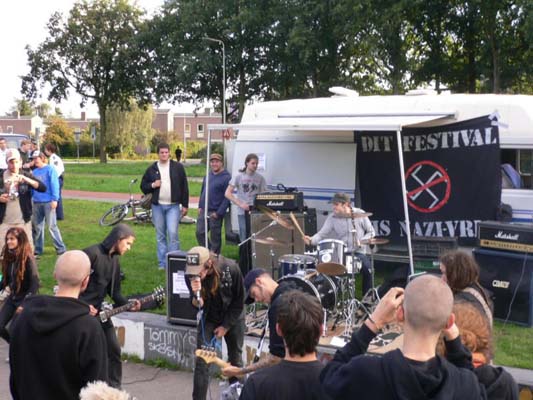 Is it many interviews? is it boring?
-Andreas: It´s some I think, I have been away now so I don´t really know. Interviews is fun, but only if it isn´t the same questions all the time which it often tends to be. And then I miss the old honest liveinterviews, it become more spontaneous, you can meet each other, not so anononymous as internet tends to be,. And this is more fun and more spontaneous answers.
Which is the question you never get, pleae ask it and answer it?
-Andreas: You have already ask so many questions so I choose to to don´t answer that.
Futureplans for the band?
-Andreas: Now it´s first priority to write new songs and record them. We need to next record and some other releases.
For yourself?
-Andreas: Try to find a work which can be so good that I don´t want to take my life when I come home from it. Can be really hard. Try to see the beauty around me and in the city where I live, which always is a struggle. jobb som är så pass uthärdligt att jag inte
Wisdomword?
Andreas: Noone is wise, so find out yourself.
Something to add?
-Andreas: You can still get our records from your website. ,
www.massmord.net. We have t-shirts left from the tour, now can you download our record there too. We wants to play in your town, so please keep in touch.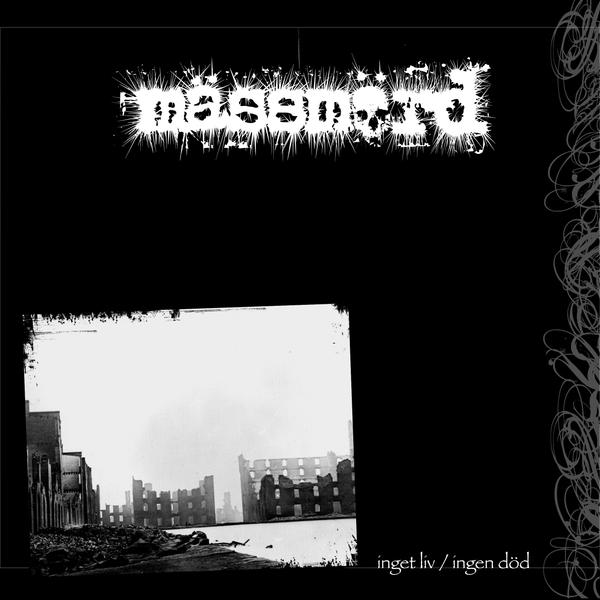 --
OUT NOW!!!
Massmord - Inget liv/Ingen död 12" (Blindead/Fight/Halvfabrikat/Nakkeskudd)
Massmord - Inget liv/Ingen död CD (Crimes Against Humanity Records)