Massmedia was formed in Sundsvall and Patrik Tanner come into the group in october 79, He was there and formed Headcleaners after that. He moved to USA and here are we now. November 2004.
Please tell me a little about yourself, age, family, interests , work and so on?
-39, married, have a 18 year old daughter. The music is both my work and my hobby.
You produces other artists also, which is the best you have produced?
-Often I think the ones that I work with right now is the best
Was Massmedia your first group? Why did you start to play?
-I had been into a hornorchestra before. I wasn´t in Massmedia from the beginning. I came with the group when Svante quit the group in October 79.
Were you angry on everything and everyone?
-I don´t really remember any anger. It was more a question of taking control over your own life……those things which is important in that age. I was 14 when I came into the band.
Please tell me about the song Åhlens and what the whole ting was about?
-It was really obvious that that song came. It sounds really incredible that you can be refused to go into a store just because of how you look. It seems so long ago. But that news was in the papers, that important was it.
A little bit funny that people thought that the punks looked dangerous, when they almost looked common, what did you to do chock?
-It was ridiculously easy to do that in that time. Don´t even have to try to do it.
What does punk mean to you today? How have it formed you to the one that you´re today?
-I have taken the "do it yourself" attitude with me. Everything is possible.
What do you think the differences was between the gothenburgpunk, stockholmpunk, northern and southern punk was?
-The dialects.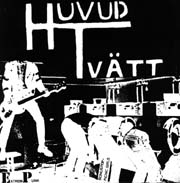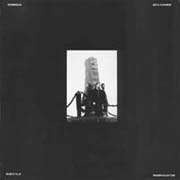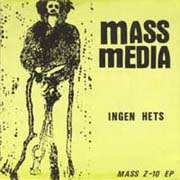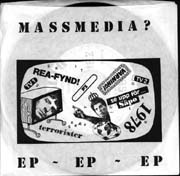 Which is the most important group in swedish punkhistory?
-All groups was important. Together we was something to count with.
Which is the best song?
-Ditt Problem (Massmedia)
Your music was really distorted in the beginning, was it so you wanted to have it or was it only so that it turned out so?
-It sounds like that when you haven´t played for so long time. The punk was perfect because it mustn´t sound so good.
Your records(Massmedia) is really expensive in used recordstores now, no thought about releasing them on CD
-I don´t know. Ask Mats Hammerman on Massproduktion.
What was the most fun with the time with Massmedia?
-That I knew that this was something I would do for the rest of my life. I have never have more fun on stage than I had with Massmedia.
It was a reunion: Punksvall last year, where you there then? What do you like those things?
-Sure, I came from USA and played with Massmedia again. It hit me that all have been grown-ups. Everyone was humble and wonderful. Nice fine people. It was a night to remember, so it was a good idea.
No more thought on reunion?
-Not what I know, but who knows?
You formed Headcleaners after that, what made you do that?
-I don´t know if I knew why The thing was to start anything which was more distorted and faster than Massmedia.
You played tougher music and was surely first in Sweden with that type of hardcore, where did you hear about music like that
-Maximum Rock & Roll maybe.
Did you do many gigs with Headcleaners? With Massmedia?
-Headcleaners was more of a studioband. Massmedia played often in Sundsvall and in the rest of Sweden.
You did a single in swedish, one in english and the split with Kurt i Kuvös, nothing more or?
-I had already went to USA. I wasn´t in the band in the end of Headcleaners.
No Cd with Headcleaners/Huvudtvätt?
-I think that a CD is needed. Mats "Moses" Nilsson maybe know if there is something like that on it´s way.
How would you describe Massmedias music in three words and Huvudttvätts music with three words?
-A good band/a fast band .
Do you listen to punk today?
-As in many other musicstyles the most is trash in the punk. But that is maybe the charm with the whole thing. But I listen to The Damned's Machine Gun Etiquette now and then.
You plays music today also but it´s not punk, which sort of music do you do today?
-The new record which is released soon is called "Soft" and that says a lot. People is like fruit when we´re getting older, softer!
You live in USA, why? ,
-Have lived in Minneapolis and Los Angeles the latest 20 years. Usa is opened for business 24 hours a day, and there´s a lot of good guitaraffairs. I enjoy it.
Please rank your five favouriterecords, five favouriteconcerts and five most important things in life?
-Beatles-Revolver
Elvis Costello-This Year's Model
The Stooges-Funhouse
Tony Christie-Greatest Hits
The Sweet-Sweet Fanny Adams
Aimee Mann-St. Paul 2001
Sham 69-Sundsvall 1979
Bruce Springsteen -Minneapolis 1984
Kiss-Minneapolis-1999
Little Village-Los Angeles 1992
Family
Love
Health
Guitars
Drums
First, last and most expensive record ever bought?
-The Jackson 5-Going Back To Indiana
Brian Wilson presents Smile
An Interview With Elvis Costello in Which he talks about the songs from
Imperial Bedroom. (750 swedish krona)
Most embarrassing record in your collections?
-Middle of the Road's greatest hits!
The record you bought just for the cover and you got so disappointed when you listened to it?
-Bitch Boys-H-son Produktion.
What do you think about today´s punk? Isn´t it a pity for todays punks because they cannot chock anyone longer? What shall they do today?
-Everything is harmless after a while. Punk is living a life which haven´t anything to do with clothes or hair.
Is there any good bands today?
-Yeah, sure there is. Unfortunaly the influences seems not to be longer than 10 years.
What about swedish music?
-I have mates who send me records sometimes. Otherwise I listens to Barbro Hörberg and Ted Gärdestad.
Which swedish bands are most wellknown in USA today?
-The Hives have got a lot of media but I don´t know how many records they sell here.
Futureplans for yourself?
-I´m in a life in music and I will continue with that.
Wisdomword?
-Take care of yourself, your family and your friends.
Something to add?
-Thanks for the call!