Kate, (the singer), says like this in November 2006. I'll be the one to answer to the questions, I wanted you to know it, 'cuz there are some questions about personal ideas, so...they'll be my ideas...ok? J
Now, let's start the interview!

History?
- The only two members who belong to the first line-up (it was 2000), are me and Tony (bass)..the other two came with time, after several changes..we've finally found the right line-up, and it's since a year.
We worked a lot during these years, and played around Italy, always writing new songs. Till the recordings of "Choose!", in Germany, with Fabio Trentini (Donots, Guano Apes producer). It has been a great experience. Working with such great musicians and professional persons always allows you to learn more and more. The album is out in Italy (Universal/Zapted), the first single, "My angels", too, so now we're starting the tour...I think these are the important things to know about our history!

Please tell me a little about every member, age, family, work, interests and
something bad about every one?
-Well...I'm 27, my family is broken, but I found many other families on the way, so I'm lucky. My only work is in the band, my interests are about the animal rights (I'm vegetarian since years), music, and about photography...love photos, especially the black and white ones. Usually I'm a quiet person, and I love a quiet kind of life, you know...the simple things. But I get easily disappointed, and when it happens, I get soooo angry and stressed. And I quit talking. That's the bad thing about me.
Tony is 26, he's got a good family, he works in the band and also as sound engineer, his interests are about music, arts, cooking, animal rights...he often gets nervous.
Ema is 26, his family's fine too, he only works in the band, his interests are about knowing new bands, soccer, cars, and games. He can't accept to lose in a game, and he gets easily angry.
Marco is 25, good family too, drummer, he likes sports, fashion, guitars. He's touchy.

My review of your record is like this MAS RUIDO-CHOOSE(CD-ZAPTED PUBS ZAPTED 3001773) I think everytime that I don´t shall mention Vice Squad when I see/hear a punkband with a female singer in the front. This time I would not mention it(or I have already done that) and Mas Ruido is a more popbased band but with small punkinfluences. Their songs is fast and poppy and I think about a Swedish band instead and that is The Sounds. Really OK poppunk is what is given here and it's perfect an afternoon as this because I feel a little bit tired and Mas Ruidos music is like cotton for my head. But it's maybe so that this sounds boring so must I say that this must be one of Italys biggest rockbands….but I have maybe wrong….(SEVEN) 6/11-06
What about it?
-Well...what can I say? I don't know The Sounds, unfortunately, but if we're like cotton for your ears when you feel tired...well, it's a good thing, right?? J

Is there any other bands you´re being compared with
-Mmm...K's Choice and Paramore.

Do you care about reviews?
Uhm...I usually read them, but I forget everything the day after. -Well, obviously, it depends on what they say, eheh..

Which is the most peculiar review you ever have got?
-I'm not sure we have ever got one..and if I'm wrong, it's just because I told you...I always forget everything...sorry!

How would you describe your music in three words?
-Direct, sincere, simple.

How is it to live in your homecountry?
-I think it depends on who you are. It's a nice place to live in, but I never lived in other places, so I can't make a comparison. But after all, maybe, every country has its good and bad sides, right?

What about the government?
-No. Please...no. Don't wanna talk about clowns.

Do you think that music and politics goes hand in hand?
-No. What I think is that music can deal with politics, but it's a thing I really, really hate. Music can be a way to express ideas, feelings, or to send a message louder and faster. About politics too,of course. But I prefer not to get too close to it, cuz it's something I don't wanna deal with. To me, music is a personal thing. My own life has got nothing to do with politics.

Best political band?
-I don't listen to them,sorry.

Is there any good bands in your homecountry now?
-Sure! The Fire, Forty Winks, The Styles..

What do you know about Sweden?
-Too little, actually. I've only been to Stockholm just for three days last year...beautiful city, but three days are too few..the only thing I know for sure is that the weather is so f***ing COLD..!!

Have you heard any good swedish bands?
-Yeah...my favourite ones are Refused and Satanic Surfers. I listen to them since I was 15, eheh..

What does punk mean to you, is it only a word or is it a lifestyle?
-To me? Only a word given to a kind of music. "Lifestyle" means something else to me.

Please rank your five favourite records, five favourite concerts and five
most important things in life?
-Actually, my favourite records are more than five..I'll try, anyway: "Grace" (Jeff Buckley), "The Colour And The Shape" (Foo Fighters), "The Look Of Love" (Diana Krall), "Let It Die" (Feist), "The Beekeeper" (Tori Amos). Concerts: Foo Fighters, Incubus, Toy Dolls, Sick Of It All, Joe Strummer and The Mescaleros. Things in life: serenity, love, friendship, the family you start, the respect for yourself and for the others.

First, last and most expensive record ever bought?
-First: "Greatest Hits 2" (Queen). Last: "Frank Sinatra Romance" (Frank Sinatra). The most expensive: "Lateralus" (Tool)...and I didn't even like it..! Fuck.

Most embarrasing record in your collection?
-Uhm...got no records that I could be embarrassed about. Maybe some of them could embarrass someone else..I don't know.

Universal distributes your record or..are you big in Italy?
-Universal distributes our record..that's all. But we're working on being big here! Ahahahah..no, ok..actually we're well-known among the italian indie bands!

Which type of people comes tou your concert?
-Well...the guys! People like us..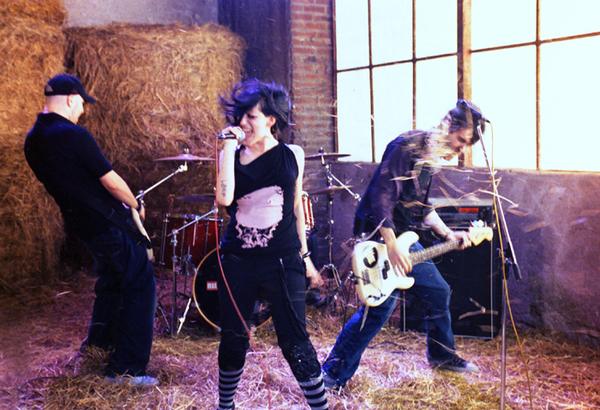 Is it many interviews? Is it boring?
-No, it isn't..

Which is the question you never get, please ask it and answer it?
-Oh my gosh...ok, uhm...do you drink coffee? – yeah, I'd die without it.

Is it any chance to see you in Sweden soon?
-Oh, I hope so!!

Where is the best place to play?
-Where they love you, of course. Ahahahah..

How is a good gig with you? And which is the biggest band which you have played with as a support act? And which is the biggest band which have been support act to you?
-A good gig with us is when we're all having fun, I suppose! We've played at Rock In idro Festival this year, supporting Satanic Surfers. On the main stage, the headliner was Iggy Pop. Unfortunately, we don't have any big band that supported us, yet..!

The name where does it comes from?(yeah it´s a boring question but it´s
interesting)? ?
-Don't worry, it's an usual question, eheh! You know, it just comes from my spanish dictionary..I was searching for a spanish name for the band, and I liked the idea of "more noise" (that's the meaning). That's all!

What shall we do about all rascists
-I really hope we'll work it out someday. There's NOTHING more stupid than that in the whole world. Brand new brains for everyone, c'mon!

.The best band in punkhistory?
-The Clash.

The most important punksong?
-God Save The Queen (Sex Pistols). Maybe...or not? I don't know what to answer, actually...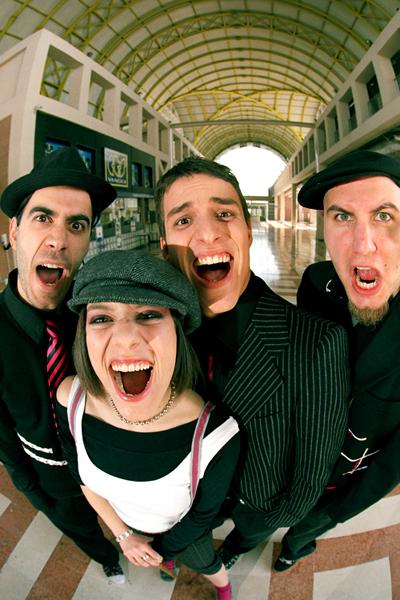 Futureplans for the band?
-Touring around, writing new songs...you know, just work! We hope to reach most of the countries in Europe and abroad!

For yourself?
-To go and live with my husband.

Wisdomword?
-PATIENCE.

Something to add?
-Never had an interview longer than this, really..I'm sweaty!! Ahahahah..thank you so much, again!




<![if !supportLineBreakNewLine]>
<![endif]>
.