Historiy?
-MARYSLIM was founded in Stockholm summer/autumn1999 after that I have met Kent (ex Diamond Dogs) and Mats in Gröna Lund on a gig with Nomads,Hellacopters, Wayne Kramer and Powder Monkeys (R.I.P. Tim!). And then came Patrik into the group later same year after we have kicked som drummers which wasn´t as we wanted them.


Please tell me a little about memberschanges, todays members, work, age, family and something bad about every one in the group?
-Yeah, as I said, the only members we have changed is our drummers,as we changed often before we get Patrik into the band. I and Patrik knewed each other already when we lived in Gävle. We had a band there for a while for a short while with a "Los Bohemos-Perre" which was called Cockroach. Now(since the end of 99) are we and have always been the same mebers. It´s me(Urrke) on bass and vocals. Patrik on drums and vocals. Kent on guitar and vocals and Mats on vocals and guitar. The only one who have a family is Kent who is married and got a son some time ago. We are about 25-30 years old and we have the same interests I think. Music is the big interest. And then I can only answer for myself . I´m interested in most things. Movies, litterature, tattoos, culture in common, meeting people, travels, clothes, fashion, politic and so on. I don´t really know what to say about "those horrible things". I´m an alcoholic and that´s terrible. The other ones I don´t know anything bad about. And if I do that I don´t want to say it. It would be unfair and mean.


You have been on a tour now, where have you been? Alone or with other bands?
-Yeah, we have been on a tour now in may in Spain(with Backyard Babies), in Germany with some german and dutch support acts and then we have played in Sweden on Sweden Rock Festival, Rockaway Beach, Gävle Cityfest and some other festivals and some other gigs. Next weeked we will play on a big meeting for anonymous drug addicts in Stockholm. And in the autumn it will be a drive to Germany again. Eventually with our Västeråsfriends in Psychopunch because they´re big there. And then we finally will go to Italy again. And we will try to play in every big and small place which wants us, from now and foreward.


Where was it best to play?
-Spain, Sweden and Italy is the best places so far. CBGB´s in New York and The Red Room in texas some years ago was also really fun.


When you´re out on tour, how do you do to get the time going?
-We sleep, read papers and books, looks on video, listens to records. Eat chips and other things you get fat of eating. Patrik have a lot of guitars, synths, portstuido, drum-pads and so on, musical things which he and Kent use to play with. And if it´s really boring can it be so that we do the most dumb and desperate questionsplayings and so on to get the time going.


Which record must be in the bus
-Eddie Meduza with the song "Ragga Runt" must ALWAYS be in the bus. Then all sing along och the rpeatfunction on the stereo til we all be tired of it after 10-20 times. Or til Patrik puke :) It always raise the tune and the humour. Seriously we also want some good stuff with Ac/Dc, Kiss, Clash, Motörhead, The Cult, Guns N Roses, Ramones, Nomads, Hanoi Rocks, Diamond Dogs, Turbonegro and similar things which we all like and want to hear and can be united that we want to hear. Patrik have always a lot of blues and jazzrecords but they must he listens to in his CD-freestyle , otherwise some in the bands will be sick.



As musicians , do you listen to your own record, why or why not?,
-Yes, you do. I do it anyway. Because I think we´re so fucking good. :) I listens as hell as "Split Vision" and I still listens to the debutrecord adn all tributes and so on as we have been on. Mostly when I´m alone at home or when we sit in the bus with the band in the tourbus or in the car. You don´t want to be as selfgood to other people. But I think we´re good as hell and that we have done really good records. I say as Sid Vicious once said. " I listens to our own records and I listens to Ramones, just becuase that the reason is that our records are good" I would litsne to MarySlim and liked it even if I haven´t been in the band.



Please rank your five favouriterecords, five favoruiteconcerts and five most important things in life?
-Five favoruiterecords from Urrke:
1: Sex Pistols "Never Mind The Bollocks"
2: Kiss "Alive"
3: New York Dolls "To Much In To Soon"
4: Ramones "Rocket To Russia"
5: Status Quo "Quo"

Five favoruiteconcerts from Urrke:
1: Kiss, Madison Square Garden, New York, 1996
2: The Solution, Nalen, Stockholm, 2004
3: Joan Jett, Folkets Park, Borlänge, 1985
4: Dio, Johanneshov, Stockholm, 1984
5: Mötley Crüe, Råsunda, 1984

Five most important things in life for Urrke:
1: Love
2: Freedom
3: Justice
4: Fellowship
5: Tolerance


First, latest and most expensive erecord ever bought?
-First record I bought: Kiss "Destroyer"
The latest record I bought: Sahara Hotnights "Kiss & Tell"
The most expensive record ever bought: I don´t really know. It´s surely some raritiy in my Kiss-collection. I recently bought a LP with with Scott Morgans old 60-70´s band The Rationals for 250 swedish krona on Skärholmens Market. It was really expensive but it´s fucking good and it was like it was new. A bargain.


The most embarrassing record in your collection?
-I don´t really know for sure, I´m not ashamed for any record in my collection. But it could be a little bit embarrasing with the soundtrack to "Against all odds"
maybe, he he.


You work at Sound Pollution, how does it goes together with touring, music and so on?
-It goes really good together this far. Sound Pollution is a lot better to work on and more understanding when we talk about tours and gigs than the situation have been if I worked on ICA,
Skogaholms-bageriet or Volvo. It have never ever been any problems. All on Sound Poulltion including the chiefs is punkrockers in their soul, so they understand. It´s not only me who works on Sound Pollution which is in a band. Tim who play drums in Switchbalde also works here and "Bonden" in Trapdoor Fucking Exit. And it wasn´t so long ago since Ludde in International Noise Conspiracy worked there. And Fred Estby (Dismember) and Nicke Andersson (Hellacopters,and so on) have worked here a long time ago when it was called House of Kicks. So it´s a good working place with some good lineages. Much drummers! ha ha!


How is a good concert with you?
-A good concert with us is when the enrgyniveau , the discharge is total to 190%. When everything is right and all is in Nirvana. When it feels like a mix of masspsychosis and a big groupsexorgie. Almost.


How does the middlestyled Mary Slim fan look like?
-There is no middlestyled Maryslim-fan. We are all beautiful as Di Leva said. Or "Alla similar all unsimilar" as it stood on those antirascist t-shirts. Maryslim is a band for all. We´re not here only for some special people who looks in some special way or is in a special way, we want to play and show for all in the whole world who wants to see us and hear us.,


How did the name MarySlim came foreward?
-I bought a packet of cigarettes which was named so in Sandviken some years ago. Really many years ago. I thought it was a good name for a rockband and I have saved the package since then. I have it still left. E-bay?


Was it you whow as on the cover to the punkcompilation, if it was so how did it went out so, when why and how?
-He he. You mean MNW´s Punkcompilation "Svenska Punkklassiker 78-81" or what it was called? Yeah, it´s me. It was so that the one who put the compailtion together (Micke Gustavsson on MNW and also the basist in the band Topper) have seen the picture in one of my old photoalbums and asked if they could use it because it was so representative for the tempo of the time(as KSMB said). And it is that too. It was my girlfriend from that time Carina who took the picture in my boysroom in 1981 or 1982. Little and redhaired , but hard as hell.She´s the girl which is on one of the records inside the compilation. That picture I took of her the same evening.


What does punk mean to you, is it only a word or is it a lifetsyle?
-I can talk about this very much and in long time. For me it aboslutely a lifestyle. An alternative to all things which is accepted, established, conventional and dogmatic. Punk have really changed my life and done me to the person I am today. It have made me question everything and understand that you don´t must be as everyone else, you don´t have to be an expert to do the things you like to do and you don´t have to care about what other people think about it, the most important is what YOU think, you can play an instrument, write a book or paint a painting even if people says that you´re bad and that you sucks and so on. It´s often only restricted idiots who grumbles on other people anyway. Punk is a lifestyle which gives the individual freedom, strength to believe in themselves and to be independent and strong. And then I don´t mean in an egoistic way. All individuals who have a strong believing in themselves, a strong and selfdepending personality, have also the humble attitude, tolerance, is keen, magnanimous and generous . to see the fine with that other people do even if they isn´t is like them and even if they´re not the best or experts on the thing they do. The ones that only complains on other people and the things they do have often nothing better to come with and they have often bad selfconsciousness or they´r maybe mean and selfrighteous. I think that is boring with punk today is that is often the smae as looking in some special way and music which sounds in a special way. THAT if anything is very "unpunk"and fantasyless as it can be. From the beginning Punk was the same as "No Rule" and that it is still for me. Everything which breaks the conventional, challenge the accepted and all who dares to do it and all who dares to tread areas that noone have toched before is punk for me. And then it doesn´t matter how people dress or if they listen to Totalt Jävla Mörker, Prodigy, Turbonegro or Infinite Mass.



How do you think that the rock n roll scene in Sweden is today? Is it easier to get concerts outside Sweden?
-Ha ha ha! Yeah, it seems to be so. We have a booking agency who do nice tours for us in Spain, Italy, Germany, Norway, Finland, Netherlands and so on. But nothing in Sweden. We have tried to find a intersting booking agency in Sweden for 4 years now, but it seems to be far away. We book all our Swedengigs oursleves.


Is there any good bands?
-There is many good bands here. The Doits, Satirnine, Captain Murphy, Wired For Mono, National Anthems, Ackermans, Sparzanza, The Sewergrooves, C.Armeé, Robots, Hellacopters, Solution, Infinite Mass,
Backyard and Sahara (of course), is onyl some fo the bands which is really good. I could namedrop a hundred more but it´s only tiring to read.


How do you think otherwise is it to live in Sweden?
-It´s OK. Not perfect but if you compare really good if you see around how it is. If you know people who comes from Iran, Iraq, Turkey and Chile and so on and talk to them, or their parents you understand that you´re spoiled with safeness, democracy, human rights and peace and then it´s not so easy to complain. But everything can be better in many ways and no country is perfect. Not to be too political so isn´t it any doubt about this.


Is it many interview, is it boringt?
-Yeah, it´s many interviews. But that it´s not boring. I see it like a privilegium to be seen and heard and say what I think, so therefor I do interviews with happiness.


Which si the question you never get but you want to have, please ask it and answer it?
-Question: O want to give you 100 million , is it Ok for you?
Svar: Yeah, thanks like hell :)


What do you like the most, internetzine or paperzones? Which are the best and the worst with those things?i
-I like paperzines better to be honest. That´s many better things with that. It´s much so that I fall into a cyber-addict style and have difficulties to trun off my computer. A paperzine you put away when you have read it without continuing to clikc on hundreds of links. And then you can have it in your bag, on trains, the bus or on the plane.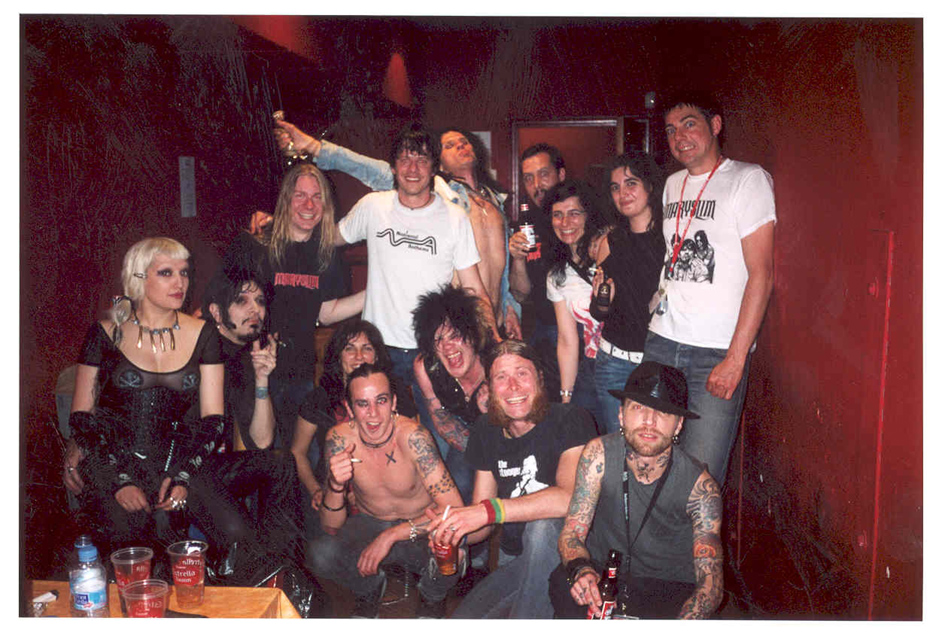 Some favouritezine?
-Denim Zine, No Rule, Evil Call and Mustafa Zine it´s three classics in modern time. have many favourites from back in time too which really I remember. The first one RIP, Jörvars Gosskör, Funtime, Nicke Boströms Pack.. Yeah, there is and have been a lot of good stuff. All of them who does a zine does something good I think.


Some other favourite on the net?
- www.amnesty.se


I red somewhere that you could buy a liverecord with Kiss after a concert was ended, isn´t that something for you?
-Hmm.. It begin to be really tiring with Gene Simmons all odd ideas. During their first pressconferance in Sweden 1996 when they have reunioned the old band said Paul Stanley that" the last time it went out to be so much Kiss-merchandise that people almost forgot that it was a band too" and that shouldn´t happen again. But what happens? The merchandise which was in the 70-80´s is a fart in space if you compare with all shit which really is pumping out now. I used to collect Kiss-stuff before but it´s no fun anymore. Especially when they make up two other guys to Ace and Peter. It´s maybe a good idea with a new liverecord direct after a concert. What do I know? I have still my Bally-flipperspel from 1978.


How have the reactions on the new album been?
-this far I have only read positive reviews and that´s fun.


Do you care about reviews? Which do you trust the most, the good or the bad one?
-Of course you care about them but not everything I read. Otherwise you wouldn´t read them. I agree with them who writes and think like I do, he he. If they write bad so then I try to think that they can´t love everybody here in the world. And then I cannot help if people have bad taste, ha ha!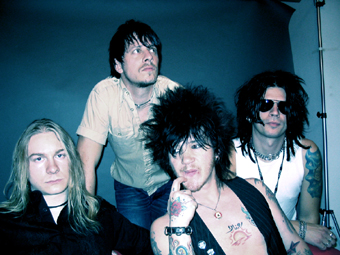 Which is the most peculiar review you ever have got?
-I cannot remember that I have read some which have been so weird.


Favoeuitesoccerteam(if you like soccer, me myself I like GAIS)
-It´s not so that some of us like football so much in the group. But if I shall have any favouritetema it most be Bajen(Hammarby) but that it´s only for localpatriot reasons. I really like living in the south of Stockholm.


Have you followed European Championship, who wins?
-I followed it from dsitance. I didn´t saw any whole match I can admit. Bot now it´s gone and the greeks won.


Could you think of being on a sort of tributerecord to something you believe in, or a bandtribute or to a soccerteam you like?
-Some footballtribute I don´t think it´s actual. But we will really like to be on something to Amnesty, Greenpeace, Rädda Barnen and similar. Bandtributes we´re already have done to bands like Ramones,
Turbonegro, Kiss, Hanoi Rocks, GG Allin, and so on.


If you could choose five bands to have a concert with together with MarySlim, which 5 would you choose, both dead and alive bands?
-Wow, this was a really hard question. Kiss, Sex Pistols, Ramones, New York Dolls and Runaways maybe?


Futureplans for the band?
-We release a single and a video in september and we have coming tours both in Sweden and outside Sweden. In the nearest future we have some gigs on some festivals.MC-meetings and so on. It´s about time to think about next record sometimes.


For yourself?
-I will try to find a bigger apartment in the same area as I´m living now. Finish all my tattoos as I have begin to do. Have fun a meet a lot of people. otherwise I have no special futureplans. It goes a sit goes. We have a song on our first record which is called "Livin For The Minute",


Wisdomword?
-Live Young - Die Hard! Det är mitt motto!That´s my motto.


Something to add
-Thanks for the interview and check out our webiste www.maryslim.com have a good time and buy our records and come and see us when we play live. We love you.