The group called Marvel though they write Märvel gives a rather different interview here and that's fun for a change. This happened in early May - 2014
Tell us a bit about Marvel's history ?
- We played floorbaall together at dagmamman Galadriel Atvidaberg . Then we went to Colorado and started the band because we already knew everything that they taught in school. We recorded a couple of singles with producers Dennis Banks and Otto Leary before we released the first full length album Five Smell City in 2005 in Sweden. We chose early on to mask us because of an unfortunate circumstance . 2007 we released Thunder Blood Heart which was pungent, and tough, 2011, the Warhawks of War which was straddled and swinging and a few weeks ago we released Hadal Zone Express as a bomb in a duck pond .
Tell us a little about each member, age , interests , family, and something bad about every one?
-We are all quite young , let's leave it that way. John lives in the countryside and farm their land , he likes machines of all sizes and kinds and have a current subscription to the Swedish Women's Weekly that he reluctantly signs . Tony lives in the fourth with his dog Karlsson. There really is not much bad to say about Tony , but sometimes he wears his mask everyday . Ulrik has moved around a bit and now lives in a commune together with three theologian students. He likes coffee and likes to listen to on the sly at Roland Cedermarks records with a little more scratch in.
Have you been called Märvel with ä all the time or have I misunderstood it?
- The whole thing is probably a big misunderstanding . We called so clearly Marvel, and it is pronounced exactly as one would think. However, we have in our logo a couple of nice umlauts over our A so it will be an Ä Thus , it is printed Märvel , but pronounced Marvel. Just exactly like tex Motörhead or Mötley Crüe .
Märvel Army ... tell us?
-There's a crazy German who researches the subject of rock music ( called Professor Rock) at the University of Lueneburg near Hamburg . He wanted to show his love for the band and started a fan club called Märvel Army ( inspired by the band Stryper and their fanclub ) . The army has spread across the globe and are available on the bunch countries. The rock unites and we meet in the music.
I understand that you are compared with some band .. you can understand the comparisons , or just gets tired ?
- Mjo , that's hard to get away . That is a little like religion , a simplification of reality , so that one can get peace and tranquility of the soul. Obviously it's an honor to be mentioned along with the KISS (below right era ) and the Hellacopters , etc. , but it's like I said a simplification.
What is the strangest thing you been compared to ?
-King was compared again with a citrus fruit . But it felt mostly just like a strange error . When it comes to music , we become relatively often compared to Thin Lizzy . It's not a weird comparison , but it 's probably wrong, because none of us really listened much to Lizzy . In contrast, early Dire Straits a big influence , especially for the King , and it is heard in our music. It is likely that as part translates to Lizzy .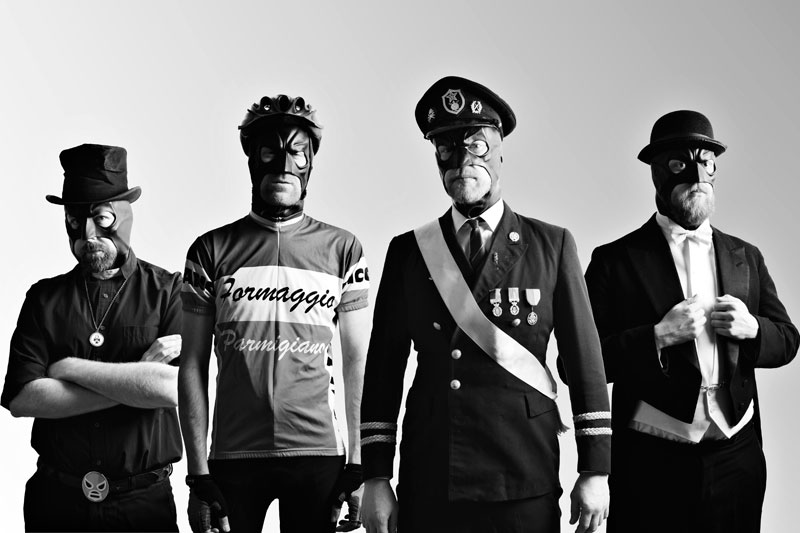 I think you sound as vital as Kiss did when they came ? Enthusiasm, good melodies etc?
-Thank you ! Yes, we have joy and good melodies. Just like Kiss had when they arrived.
Do you care about reviews?
-Yes, yes, you have to admit that we do. One wants to keep track of the mob's judgment.
How have they allowed on the last album?
-We are overjoyed. It has basically just been praised around HZE. It feels like we have reached with our vision this time. Anyone who listens to understand and hear what we tried to do, and seem to appreciate it. So it's great fun!
The name on the record certainly has a story, tell us?
-The first and foremost criterion for the name of the Marvel panels is that you should not get any other hits on the search engine Google (www.google.com). Hadal Zone Express is the vision of a runaway train deep down on the ocean floor. It is dark and lifeless down there, but exciting and enticing. Our mental image of title is Highway To Hell underwater, compared to the "on ice" concept: Disney on ice, Johannes Brost on fire on ice, Perry Mason on ice, etc
Is there any good music in Sweden today?
-Yes, there are a lot of good music in the country today , I think the musical climate is better now than in a long time . Rockscene, as a spontaneous example , grows like mad. The it does not quantity to quality necessarily , but I still think it pops up interesting bands here and there . If you want to be critical of anything, it is well that the conservative approach to music creation today can risk being a little unimaginative if you are not wary .
I understand that punk is there with you anywhere .... it's just a style of music , word, or is it a lifestyle do you think?
-Punk is well nowadays more of a state of mind , right? When it comes to music so ended the punk relevant pretty quickly , perhaps in the seam around 79-80 . maybe 81. Most nowadays classified as punk, and most of those who ascribe to the genre, is just exploiting and commercializing of the original form , and has nothing to do with what punk stood to make . It's mostly T-shirts and stickers , so to speak. HM shirts and glossy MTV videos.
Punk , to me , is about to hit the underdog, to provoke and challenge the establishment, and musical with great heart and soul into it to get to ; Rather than good, everyone can DIY . Nerve !
We have a little of the spirit in us, but musically it sounds maybe not so much. We are of course not restricted to a single compartment, and like contrasts, so we have no problem putting Stiff Little Fingers alongside Toto, or the Weirdos next sketch . Good music is good music simply .
Your lyrics , what influenced you in?
- Mostly art, theater and heavy literature but also of brain dead discussions that occur without warning in the rehearsal room . Sometimes , rarely , but it happens, affected textual contents of how we feel and what is happening in our lives.
Political texts together with music .... could it be something ?
-It can absolutely be. We are well themselves no real Alf Robertson characters, but we like that there are bands that are on the barricade and messes around and say that yer out !
Is there any band / artist that makes good political lyrics ?
-I think you should take a listen at Bäddat För Trubbel. Everyday meditations and politics in a nice symbiosis. Still one of Sweden's finest contemporary bands.
Would you like bands who are now making a record with FI do anything for a political party or anything else you believe or is it silly to paint yourself into a corner ?
- If RiksOst got in we would jump on the bandwagon right away.
How is a good concert with Märvel ?
- Sweaty , hairy and loud , then usually avoid fighting against the U- formation. A tip for those of you who easily fall a little further back is to Ulriks shirt often go up a bit when it's full speed , then you can see his belly if it gets to the stage and is attentive.
What do you draw the kind of audience?
- We usually have a relatively homogeneous rock and roll crowd, with a penchant for jean jackets and bandpatches . An o Another nice 70 's mustache and men with long hair and bangs.
What kind of people do you miss on your concerts ?
-They can be divided into two categories ; More long-haired guys with Turbojugend Jackets and married hungry middle-aged women with a taste for rock musicians . Oh ! As we LACKS ... well, it will be well counter to what we said just before .
How would you describe your music in three words?
- Faster , Harder , woodshed
If you had to pick five bands from now or band that does not exist etc to have a good concert together with Märvel which five bands would you choose ?
-Kiss ( from the past )
The Supremes
Kraftwerk
Dire Straits
Dead Boys
Have you ever been abroad a lot and played? Where was the best?
- Occasionally much. We have received knocks and experience but is still hungry for väglivets addictive temptations . Czech Republic was cruel , once we got a steady fungal wok. Finland, Spain and Germany are good. They like to meet in the music, in Sweden , many believe that the stage is a great tv .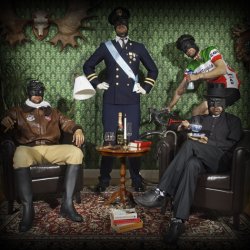 Please rank your five favorite records, five favorite and five most important things in life?
- That with scores ... Here are five good records :
- KISS - Rock and Roll Over
- Dire Straits - S/T or Communique… let us say S/T
- Leatherface - Mush
- Dio - Holy Diver
- Death - Leprosy
- Up and Coming: Eddie Meduza - Eddie Meduzas collected works
Concert Favorites are becoming self-evident from the list above question!
Five important (if not the most important) things in life:
- Black coffee
- The food
- Nature
leather
live music
First, last and most expensive record you bought?
-First - Someone Snowstorm 7
Last - Woods - With Light And With Love
Most Expensive - Not clear, but probably Mel Wynn & The Rhythm Aces - Stop Sign 7 "
The record you bought to cover was tough or bold but was so disappointed?
- "Pelle Karlsson - He is my song and joy" pops popped up in my head but "Ferne - Progressive texts" are also worth mentioning. It was at first a disappointment which then grew into a beloved disc.
Is it important to releaseof physical discs (I love it)?
-Yeah, damn! Nothing beats a well fed record collection. If ten is there no computers left and then we have just the discs to lean on.
How do you see otherwise on downloading , mp3 and so on ?
- The download is well basically dead for music,when Spotify and the like appeared. Digital streaming in general , for a band of our size , is most positive. As an advertising tool for our music and our shows . Then like it 's not that it will be very much business around it. And of course artists should get paid more , but I think you have to follow the development . one can not be a dinosaur who sit and agree on everything. Spit it out to the audience, and they like it so, it will pay off in the end anyway .
Future plans for the band?
-We are aiming to do a duet with Jennie Abrahamsson and record a cover record of WASPs first record. In early summer, a video for the song Danish Rush from the new album . It is made by Peder Carlsson ( Backyard Babies ) and Johan Bååth ( The Doits ) and is fantastic. Straight to the woodshed !
For yourself?
-I'll buy myself a writer's house. It will also be some hammering and soldered a lot out there and some other things , but I do not want to talk about it.
Wisdomword?
-Carpe diem
Something to add?
-Your body is your temple, take care of your temple. Add new roof sometimes, paint on the facade, etc.