Maplerun comes from Greece and they play some sort of metal. It´s good to hear from countries which I don´t hear music so much from. This interview was done in august 2008.
History?
- The group got together in 2003 in an effort to express emotions and feelings through music. The band spent 4 months in Sierra studios between September and December 2007, in order to record what would be their debut album.
The band has already signed two promotional agreements concerning promotion, touring and distribution in Belgium (Musicarena) and the United Kingdom (SLW Promotions).

Please tell me a little about every member, age, interests, work, family and something really bad about every one?
-Nick: vocals/guitar, 24 years old, university student (business administration), negative aspect: stress
Orestis: guitar, 24 years old, university student (business administration), negative aspect: bad temper
Nick (the moor): 20 years old, university student (geology), negative aspect: teaser
Chris: drums 22 years old, university student (music), negative aspect: too horny

This music in Greece, how is it to play it?
- It feels good. Great response from the audience, even though we sing in English.

They wore a lot of good bands back in time in Greece or, any favourites?
- Our favourite Greek band is Socrates ( 70's Progressive Rock).

You like football, which team(Me myself love the team GAIS from Gothenburg) ?
- We do not watch football, apart from the time when our national team is playing.

Do you have hooligan problems in Greece?
- Yes but not as much as in the UK or anything like that.

Back to music, only english? Why don´t sing in the Greek langauge?
- The type of music we like playing is properly expressed in English. Imagine traditional Greek music sung in Swedish…
Which type of people comes to your concerts?
- The majority of our target group is 15 – 30 years old, mostly rockers and whoever enjoys live rock music.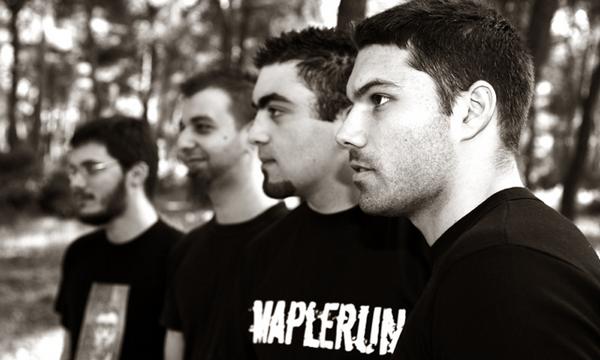 I think you sound a little like System of a down but a bit poppier? Comment?
- Surely we are influenced by big bands like System of a Down and many others but have always tried to create our personal style. Our sound is mostly American.

How would you describe your music in three words?
- Kick Ass Rock

How is the reviews you have got for the new CD?
-Brilliant. Nothing negative so far, people seem to dig it.

Do you care about reviews?
-Yes because we get the chance to know more about ourselves through the opinions of others.

How is it to live in Greece, I mean politically?
-Surely not good enough as it ought to be.

The best and the worst of living in Greece?
-Best: sun, sea, women
Worst: the eclipse of the Greek rock scene and the political chaos.

What is typical Greek? What is typical swedish?
- Typical Greek: Greek souvlaki
Typical Swedish: Absolut Vodka
What do you know about Sweden?
- Great music (we love the Swedish rock band Katatonia), cold, beautiful women, strong alcohol. On our top 5 places to live if we can make it musically.

Any good bands from Sweden you like?
- Katatonia, In Flames, Opeth, The Haunted, Spiritual Beggars…

Is there any good bands in Greece right now?
- Yes, Maplerun !!!

Much interviews? Is it boring?
- Of course not.

The question you want to have but you never get? Please ask it and answer it?
- Question: Would you like to go on a worldwide tour?
Answer: Fuck Yeah

Please rank your five favourite records, five favouriteconcerts and five most important things in life?
- Favourite Records: Black Album (Metallica), Dark side of the moon (Pink Floyd), Metropolis part two: Scenes from a memory (Dream Theatre), Viva Emptiness (Katatonia), Master of Puppets (Metallica).
Favourite live shows: Roger Waters, Slipknot, Black Sabbath, Rage Against the Machine, Metallica.
Important things in life: honour, sex, drinking, touring, music.

First and last and most expensive record ever bought?
- First expensive record: Iron Maiden: the best of the beast
Last expensive record: Dream Theatre: Six degrees of inner turbulence.

Most embarrassing record in your collection?
- Rockin Bones

Your record label is it your own or?, is it a good label, what have they released more? Which label is it?
- Our record label is named Shift Records and it is not ours. It is a Greek Record label for alternative rock artists. It is a very good label with loads of bands under its umbrella.

New stuff like My space, Facebook and so on.... is it good or how do you see on these things?
- Myspace has been very helpful for us. A lot of people get the chance to listen to our music and tell us what thy think about it. It has also given us the chance to communicate with musicians, producers, promotion and record companies around the world.

How do you see on Mp3 and downloading and so on? is it good or bad for smaller bands?
- Mp3 downloading is good for small bands that are trying to be heard, but bad for big bands that lose profit.

Which is the biggest band you have played with on a concert?
- We have only played with Greek bands in festivals, nothing important.

And which band do you really like to support if it..s possible?
- METALLICA
Futureplans for the band?
- Touring abroad and recording the second album.

For yourself?
- Our individual plans are the plans of the band.

Wisdomword?
- BELIEVE
<![if !supportLineBreakNewLine]>
<![endif]>
Something more to add?
-We hope that our music will be widely accepted in order for us to carry on with our dream.