Manzana is a really interesting finnish band with gothic influences and I think they´re going ti be Finlands next music export. Piritta sings in the group and she have been so kind to me and to you and answered a lot of questions in the end of march 2007.
<![if !supportLineBreakNewLine]>
<![endif]>
.History?
-The band came to life in summer 2003, when Piritta was recording some demosongs for fun at Fantom Studio, where Henri works, and he just happened to play her a song he´d done with Heikki, and she liked it! Ville came in a year later, and they played a lot of gigs before even thinking about album etc.

Please tell me a little about every member, age, family, work, interests and
something bad about every one?
-We´re between 25-33 and all in love with someone, ourselves, at least =)
Henkka , the guitarman, writes most of the music. He never knows exactly what hew means but usually it works! Studio type of person, head full of sounds.
Ville, the bassist. He's a funny and happy fellow , DJ also, Terribly lot of albums in his house! He´s got dogs! Bad…He always speaks the truth, whether you wanna hear it or not heh.
Heikki is a vampire, he gets up at 5 pm. Very disciplined in rehearsing and playing. ery black humour. Bad…He´s often LATE.
Me, Piritta. I sing and do yoga. I write lyrics and love water. Bad…I´m quite vain and speak too much. Heh.
My review of your record is like this MANZANA-NOTHING WHOLE AS A BROKEN HEART(CD-TRC RECORDS TRCCD3) Him comes from Finland and that´s not so far away from what this group are doing but as a difference from them so have this group a female singer. It´s the same good mix of goth and rock and Piritta on vocals so grows this to something really good. She have a voice which suits so good into this music and sure we have heard this before but Manzana is far away from many groups and that in a positive way and I advice you who likes groups like Within Temptation, Him, Sisters of Mercy and so on to check this one out.(SEVEN) 19/3-07
What about it?
-Thank you, It sound very good .
<![if !supportLineBreakNewLine]>
<![endif]>
Is there any other bands you´re being compared with?
-Not much, very little actually! Only Finnish Velcra and Lullacry, sometimes. Quano Apes and No Doubt sometimes.

Do you care about reviews?
-Yes, sometimes journalist give very good critic which gives ideas to work on . Mean people are very seldom. Music is for the people and journalist are people. It is always good to have a review, good or bad.

Which is the most peculiar review you ever have got?
-The one that said that Piritta is in the band only because she looks good. I have never thought that somebody could write songs because they look good ? Well, maybe I should just say " thank you" at least he called me pretty heh. That is welcome for a woman anytime.

How would you describe your music in three words?
-Strong, Proud and Elastic.

How is it to live in your homecountry?
-Finland is ok , usually. People warm up slowly to everything, but if they feel for something, then you know it´s true.

What about the government?
-Yesterday was election, and it is getting closer to US economics all the time. It sucks. Welfare is slowly being torn down. When we're old , our kids will pay for the elderly care, that's for sure. And pensions must be self saved. Too many rich people wanting to give to the rich. Especially in Helsinki, most of my friends who moved there,talk about money all day long! It is strange how the obsession to compete all the time swims into them.

Do you think that music and politics goes hand in hand?
-Somehow, a bit, yeas.. Song is Individual emotion, and so not political, but when a lot of people feel the same way around music, it may grow to represent something that they all stand for. But it's not the music itself, it is how it is heard and interpreted. Sometimes songs are used as a weapon on political issues, I always feel terrible that did the writer REALLY mean that. But I feel responsible of the solutions for even little emotional problems that my characters do in my songs because private also mirrors public. It has to be right and truthful.

Best political band?
-Cannot say…Soad writes some good line about Iraqi, Why Do They Always Sent The Poor etc. For me I think that social – politic songs are the best, it is easier to think on a song is it right to lie , or hit a child, that to sing about bombs .But those things are common to all, too, so in a way politic. Bob Marley…Rage against the machine.

Is there any good bands in your homecountry now? Favorites from the past?
-Negative, Bloodpit and Lovex are quite famous and ok, not my Idols , but ok.

What do you know about Sweden?
-The boats, beautiful city of Stockholm quite well, excellent cheese, high prices, fresh and smiling people compared to Finns =)I like Sweden. Good rockbands also! We just did an interwiew at MTV Headbangers Ball last week, and I said that how come I don't feel like I'm abroad at all, it's Sweden , heh.

Have you heard any good swedish bands?
-Hellacopters. Atomic Swing.The Cardigans. The Ark. Soilwork. Kent. Many VERY good bands. Sahara Hotnights.

You´´re not a punkband...but which is your relation to punk??
-I feel quite punky myself, I've been playing in basement bands for years, releasing self paid records, selling gigs, driving the gig car, always writing my own stuff, screamed a lot, singing barefoot, organizing parties for little bands. I never think about money and even now we have our own label in order to prevent the money from going into some huge U.S / Japan industry.
I like some punk music, I listened a lot of Bad Religion, Pennywise and sort of skatepunk when I was younger. Best thing about punk to me is Do It Yourself and defending the small.

What´s the best and what's the worst of being a girl as the frontfigure??
-The best is that if I skip from carrying the instruments, nobody complains, and if I carry the stuff all sweaty, people say, "oh, she´s got attitude " . Bad part is that sometimes I get tired of all the technical male talk about drinking, instruments and music, and I wish I had a girlfriend to talk with on tour. Like before show I´m wondering should I wear the pink or the black? She´d say , just take the black. Stoopid little thing but nice.

Please rank your five favourite records, five favourite concerts and five
most important things in life?
Stoosh, Skunk Anansie

Versus, Pearl Jam

Violator,Depeche Mode

Blood Sugar Sex Magic, RHCP

Throwing Muses, University
Health : Mental & Physical

Love

Family&Friends

Music & Writing

Connection to nature
First, last and most expensive record ever bought?
-Last: Billy Talent: 2, Entwine:FatalDesign
First: Billy Idol, Whiplash Smile ( White Wedding? Whatever. Vinyl =)
Expensive ones I haven´t bought.
Most embarrasing record in your collection?
-Pasi Kaunisto:Suomalaisia Lauluja.

Do you do any covers on stage? Why or why not?
-Fatith No Morse, Digging the grave. Skunk Anansie: Twisted. We sometimes play something just because we like the song and it fits in with our music.
Is it many interviews? Is it boring?
-Yes, boring sometimes. But often also interesting conversations!!
Horo.Is it any chance to see you in Sweden soon? have you ever been here?
-We´ve played on the boats, but not in Sweden. We will be there!! Maybe, hopefully soon. Invites are welcome.

Where is the best place to play?
-Technically the big Clubs of Tampere, Helsinki and Turku, but otherwise I like playing more in small places and coutryside. People are more open and dance and get more crazy and go into music, the City people always keep the little "cool" if the band is not the biggest in the world.

How is a good gig with you?
-When we are relaxed and nobody irritates nobody (that happens sometimes heh ), and the audience is a little drunk and not going to work the day after. I hear what they want, and we can give it. Good connection with all.

Which type of people comes to your concerts??
-Mostly slightly Goth/rocky looking 20 year old girls and their heavy boyfriends, but also teens with purple hair and 40 year old long hair men. Quite many neat nice looking students, too. Quite wide range.

What shall we do about all racists? Is it a big problem in Finland?
-We shall sent them alone to a small village in Africa or Afghanistan for a year without money and map and ask them how was it.
Yes, it is a problem, quite bad at some areas. And it doesn't help that we have a "Punk "band called Kylähullut that just released not so nice song about Muslims…I feel like kicking the guy a bit. Dumass.

Mermaid must be your hitsong? Which do you think is going to be your hitsong?
-Falling to pieces went on single chart number 2 and it is on air in some radios now, so it is a little hit. Not a big one but a little. Cripple heart is the next single , coming oun in two weeks., hopefully there´s hit too! Mermaid works always live , it is the gig hit.

The name where does it comes from?
-Manzana has a nice rhythm, it is beautiful word, I love Spanish language. It means Apple, and it is also a good symbol. Forbidden apple, delicious, fresh, feeds hunger, " a manzana a day keeps the doctor away", have a bite…easy to play with the word.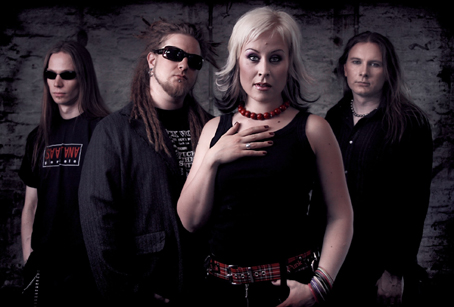 Nothing as whole as a broken heart...what do you mean??
-I mean that a person is not real until he breaks for the first time. How can you love something that is perfecty whole and shiny? When you get some cracks on you, your true heart and human beauty can be seen and you can really connect to other people. We're all broken , and that's ok, is the point. The line is from the bible.It is not a gospel album anyway, just stole a line.

Futureplans for the band?
-Gigs, promoting the album, new songs, we already have songs ready, new album, more gigs, radioplay. We don´t have other jobs than music, so we hope some success in order to be able to concentrate on this.
Some tour outside Finland, too, Germany and something else is coming too!

For yourself?
-Piece of mind, good songs, time to see what happens in the world and time to read so I don't get dum and selfish. heh.
<![if !supportLineBreakNewLine]>
<![endif]>
Wisdomword?
-I try to do everything in the way that I don't have to feel sorry for not trying, when I'm old. I´m not wise enough to give out any wisdoms, but as a regular blonde from Rantaperkiö I´d say that in most cases it is better to take it than to feel sorry later!"
<![if !supportLineBreakNewLine]>
<![endif]>
Something to add?
-Cheers! Keep it rock.