Mad Beat is a band from Italy which plays really good punkrock in the same vein as the old punkbands. Fix is the one who have answered some questions from me in July 2017
Please tell me a little bit of the group?
-The origins of Mad Beat starts from me, Fix and Maz on October of 2012. The first idea was a 77 punk project as "the boys". Originally the band was composed by me as singer, Maz as drummer and Etto Roots as bassist. The formation starts to compose their first notes but shortly Etto Roots leaves the band and he is replaced from Giorgia, the bassist from an other band "Garden.G". She plays a little bit with us when finally comes our current bassist, Zo'. With him, even a young girl Miriam starts to play with us, as second guitarist, until the middle of 2015.
On 11th of September 2015 our first CD "Ancora domani" comes out with the current formation: Maz (drummer), Fix (guitarist and singer), Zo' (bassist), Ste (guitarist). This CD drives the band until May of 2017 when they show "Your Rights" with the collaboration of Livio and Mauro from the Turin band "Poor Man Style".
Mad Beat are working now for new songs for a new CD.
Tell me a little about every member?
-We are aged between 20 and 28 and we all live close and we all have had an experience in other bands: Fix as drummer of "Il Complesso", "Cervelli Stanki" and he is still playing with "Banda del Rione"; Maz is even the drummer of "Garden.G"; Zo' is the guitarist in many bands but he plays most of all with "Jesus Cry Duperstyle", "Il complesso" and he is starting now a new project.
You have early influences?
-We are mostly influenced by 77 punk and so from Ramones, Clash, Adicts but even from most recent bands like Social Distortion, Rancid, Anti-Flag.
Are you satsified with the bandname? You weren´t afraid that someone else had taken it before you? The best bandname you know?
-We are really satisfed with the name of our band! We have started with a sample project to hardcore songs and even songs with Irish sound so we think the name "Mad Beat" is the best, most of all for "mad". This name came from the contact with different genres: Fix was mostly melodic and like "The Boys" or Social Distortion while Maz played in a punk-hc band and the name starts from an esclamation of Fix, "Battito Folle" in Italian. We didn't care if the name was already used by other bands because we loved it.
In my opinion the best name ever given to a band is "Rancid" because I can imagine their rustic sound just from it.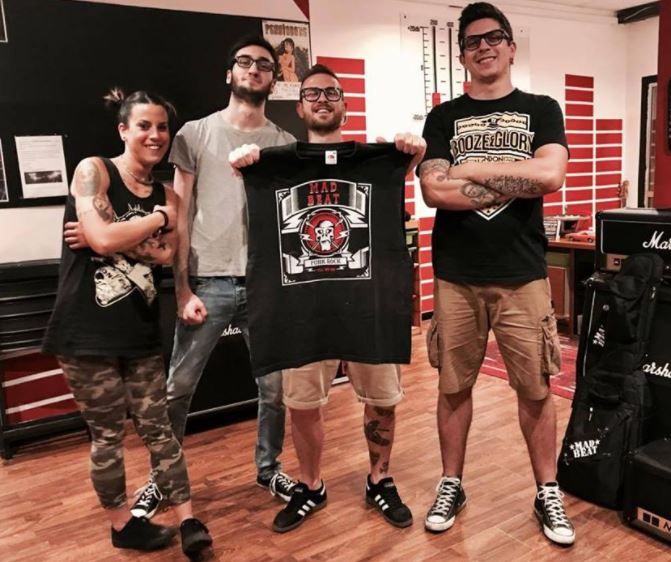 What is the best with playing live?
-The most amazing thing of playing on a stage is hearing all the people singing your songs.
And where is best to play? And the worst place to play?
-The best places are where people have to stay close and immediately they create a beautiful atmosphere where you can feel at home. Indeed the worst places to play are where it is difficult to create a communication between the band and the audience. If there isn't any contact between each other it is like a wall that freezes fingers and soul!
How is it to play this sort of music in Italy right now? Which type of bands do you play together with?
-In Italy there are still a lot of realities in the undergrounds that organize for "the kids" but it is very difficult. The last we attended was organized by the guys of Bologna City Rockers who are a great crew and are well organized. But there are even realities where band has to stay in their game so bands are treated in a bad way. In my opinion we should find the right compromise between band and organization. We have played with many bands over the years like Bull Brigade, Vibrators, Argies, Klasse Criminale, Nabat and others...
Describe your own music in three words?
-With heart, energetic, prudent.
What does punk mean to you?
-I think that punk is in the everyday attitude, undergoing life's problems rather than your own band! It's a way of reacting and dealing with problems and not just that!
How do you see on downloading and m3 and that stuff?
-I think that the "old" habit of buying Cds is really good and it encourage people to maintain an affective relation with things that can be touched and scratched after years. Sometimes I smile by rediscovering the disc I found among others that maybe you did not even remember. It is right to support local bands by buying their Cds! It is even correct, in my opinion to download songs from the mainstream bands that sell a cd with 10 tracks at 20 €!
How is it to live in Italy right now? Politically? Fascists?
-Unfortunately, fascism in Italy is still a fair majority in some cities (just in practice) thanks to Forza Nuova and Casapound. Fortunately, I believe that "in the underground" is the antifa scene much more alive.
Is there any good bands in Italy right now?
-In Italy there are many great bands! Like Bull Brigade, Gli Ultimi, Derozer, Punkreas and even more. Talking about our city, HC Turin is an example for all Italy so I believe that Turin has been a major hc movement in the 1980s and has led to the formation of many bands in the 90's and 2000's as Arsenico, Youngang, Banda Del Rione, Titor...
What do you know about Sweden?
-I don't know much about Sweden.
Is there any good swedish bands you like?
-From Sweden i like the Millencolin and i know Satanic Surfers! For the rest I know little.
Who does the lyrics and what does influence you? What is more difficult now than when you were younger? Covers?
-I, Fix, write the lyrics and my passion for music have really influenced me in our first disc. It is the first disc that i have written myself and I am 25 years old so I can't say you how I could have written when I was younger. Italian is musically a difficult language (surely more than English) so if you are able to capture someone with an Italian lyrics it means that you have done a good job! We haven't done any other cover of Dire Strates, just "Walk of life" because it fits well with the name of our disc "Ancora Domani" (Tomorrow Again)
What will you never do a song about?
-I think I will never do a song about love troubles because I think it is useless and foregone.
Polkitic and music, does it go hand in hand? Which is your most political song?
-I think it is better talk about social problems and say your thoughts about how important anti-racism is without being banal, monotonous or boring. We have one song who talk about politic and it has just come out; its name is "Your Right" and tells, with different references, how important it is use all means to not be repressed and to keep us alive.
Best political act/band/artist?
-I think there are many bands with very hot topics in the world but I prefer to stay in Italy with the elegant music of De Andrè or Guccini.
Do you think that music can change anyones life?
I would say yes, infact the band that pushed me to start this path with Mad Beat was The Clash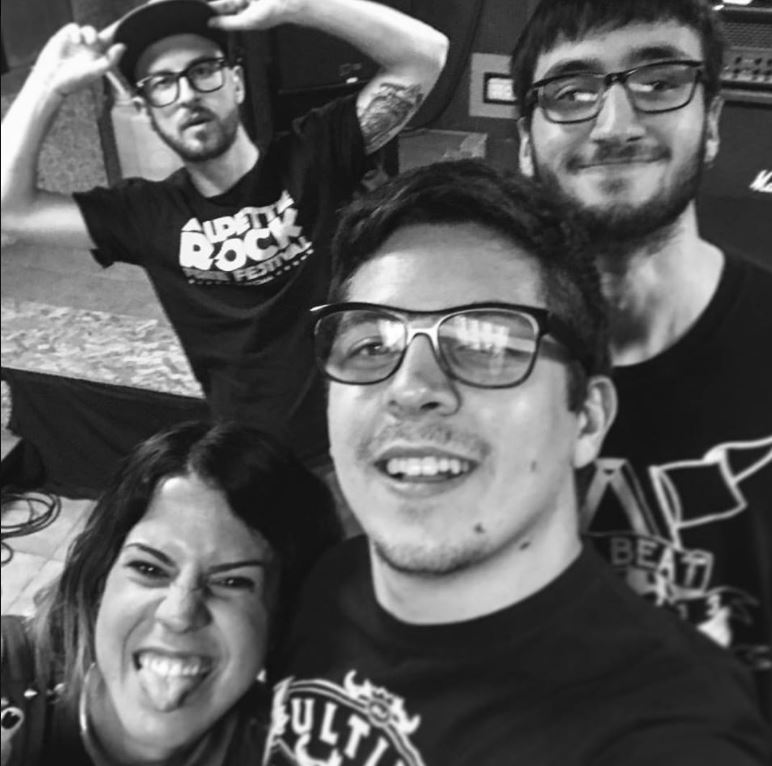 Is covers meaningsful to do?
-I think that covers are useful for a band because they can help to find your place! When you make a cover you are getting involved and you can just make it good or not, no middle situation! My favourite cover is "Ring of fire" done by Social Distortion. Our CD was recorded in my studio, in my town.
Would you like to give out all records physcial?
-I will always want a physical copy of every works we make but maybe in a limited version. If I could choose I would like to have all of them (CD, Vinyl, cassette).
Please tell me something funny that have happened during your career?
-In our last tour we have done two concerts abroad and one in Italy and in Italy I kept talking in English with the sound engineer even if he told me to speak in Italian because we were in Italy.
How does your audience look like? Anyone you miss? Which is the biggest band you have played with?
-Our audience is mostly a young one but we would really like to see some veterans but we are young and I can't pretending too much.
Talking about the best band we have played with, we should have played with the "Last Resort" last May but unfortunately they couldn't take part in the concert, so I want to say that the best concert where we take part in has been the Revolution Rock Festival where we have played on the same stage of Klasse Criminale , Nabat and Anti-Flag.
Five favorite songs/Five best concerts and five most important things in life?
-Five favourite songs: Complete control - The Clash / Blizgreigh bop - Ramones / Machine gun blues - Social Distortion / Roots radical - Rancid / Blood from a stone - Booze&Glory.
Five favourite concert I have seen is: Rancid/Adicts/Social Distortion/Sham 69/Bad Religion.
The five most important things in my life: family, music, friends, punk nights and beer (last two things are stupid because I sayed all with the first three things).
The first and the latest record you have bought? And the most expensive?
-The first CD that I bought is "Puerto hurraco" in 2006 by Persiana Jones. The last one was "Tre volte dieci" by Ultimi. The most expensive was a limited edition of Bruce Springsteen CDs' box.
Is it boring with interviews?
-It's the first time someone ask me so many questions so I had to take my time but it's all right.
If you could choose five band from now and then to have a big concert togteher with mad Beat, which five would you have been chosen?
-I wouldn't like to be monotonous but I would say: The Clash/Ramones/Anti-Flag/Rancid/Social Distortion.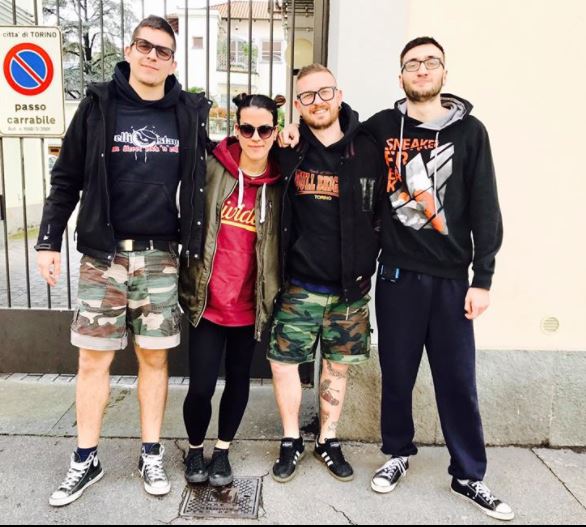 Do you think that to play music can help people to get out frustration and be a nice person ouyside the music?
-I think music can help you to be a better person even if you have not to overcome any frustrations.
Which is the most odd question you have got in an interview?
-As I already told you I did not do many interviews so if there are potential strange questions, these are all yours but they are all ok.
A question you want to have, please ask it and answer it?
-Do you really believe in what you do? Yes, all of me.
Futureplans for the band?
-Future plans of the band are playing as long as possible trying to bring something home...as Joe Strummer said: "If we change even just one person's life then we will reach our aim".
Your own futureplans?
-I don't know my future plans, the future is unwritten.
Wisdomword?
-Pearl of wisdom...when it will be all over you will hear talking about me or my music.. because I will be destroyed by it or it will have saved me.
Something to add?
-I have nothing to add!