LOTTA WENGLEN is a girl which I never have heard. I become a little bit curious on her and that´s why I did this interview. It´s always fun with new artists and new music. Sep-2007
A short presentation of Lotta?
- I´m born in and lives in Malmö. Have two funny musicprojects except from my solothing right now. Up the Mountain which does old countryhits and Sunshine Rabbits which does electronic furpop without any thoughts. Sometimes I do filmmusic and I have recorded other artists in my studio.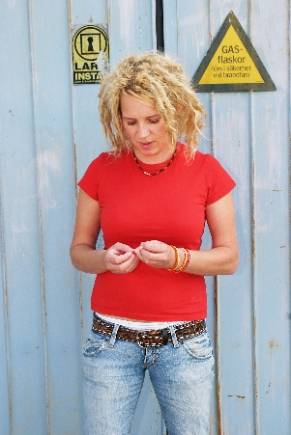 You have done more records than the latest…tell me does it sounds the same way or?
- I have played in band before, but went solo 2000 and have released 4 soloalbum after that. The debut Golden Green was an American singer songwriter tradition with a whole lot of country in the bottom.and it was extremely little with production on that and the vocals was really foreward. Paintbursh was with a full band and horns. More thick Elvis in Las Vegas but always with a soft touch of love in the songs. Ask Harry was in the same room all the time. Lyrics about travels in my body and much acoustic instruments. My new album In the Core is a more extrovert record where I am more settled both in lyrics and music. It feels like a good power which have gone through the whole record. More dirt lesser excuses.
In my review I compare you both with Anna Ternheim and Björk and plus some country and then I don´t mean Jill Johnson-country…what about this?
- It feels like you´re going to do a nice and generous review when I hear the namedropping. I understand if you hear some country in the music but it have been lesser because the rock wanted to come out.
Other artist you have been compared to?
- UI have been compared to many different through the years. Everything from Courtney Love to Maria McGee, Ane Brun and Norah Jones. People who listens to music have a need of categorize it to sort out their records in their collections in a good way and in their head. .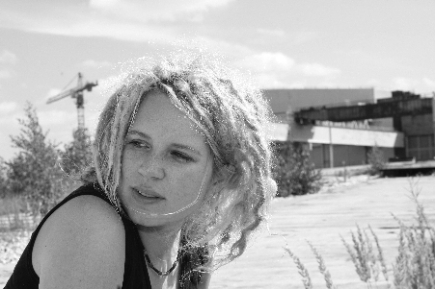 How would you describe your music in three words?
- Honest, blackened beautiful and hopeful.
How have the reviews been? Is it anything you care about? Could you change anything just because of a bad review?
- It have been many good reviews of my records. Sure you´re curious if the records you have sent out to people have reached the person you have sent it to. The mail is fascinating me. I laugh really much when it´s written bad reviews about a record I have done. Often re they more better written than the good ones.I know that I cannot reach every heart with my music and many people will not understand what I want with it. I have no expectations on me from the outside so I feel free to do my music in the way I choose and which makes me feel good.
Which is the most peculiar which is written?
- A review started like this "A cool coop tea…" and I think that meaningless also was in the description of my music.
Lyrically...what do you write and where do you get your inspiration from?
- I wrote a lot about the hearts question and try to get clearness through my lyrics and that about things which I don´t understand. My friends often recognize themselves in my songs. Not without reason because I often put my friends into my lyrics.
Margit Music? Tell me?
- My grandma was named Margit and she teached me to play harmonica when I was small. My record company is named to remember her.
Is there any good groups/bands in Sweden today?
- Yeah, there is it. I like Small Flowers Crack Conrete from Malmö and Montys Loco in Stockholm. And then we have Cecilia Nordlund and her coming solothing, Katarina Nuttall and Ane Brun.
How do you think it is to live in Sweden right now otherwise?
- Right now it feels OK to live in Sweden. I feel myself a little bit away from the reality in my work but I and friends who works with music have felt that it is a new government because it´s less money to the culture. Otherwise I feel that you must always look after a balance there where your inner and the things you have around you must go together as well as it can. A 24 hourwork but I cannot come up with any other way.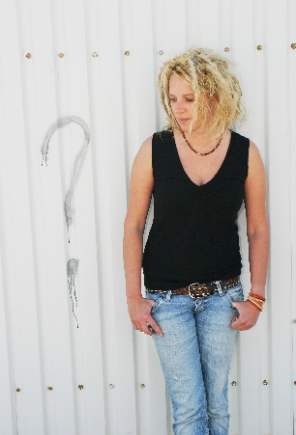 Where do you stand when we talk about Mp3 and downloading?
- I like downloading of music. For us not so big artists is it good that people download our music and spread the music. I want that so many people as possible can hear my music and become happy when they hear it and that have I never managed to do with records selling in a store. But I have seen that many more people buying more records on concerts just to make their conscious clean because the rest of the week they sit and download music for free. So with other words so are you as an artist to the rats if you don´t can come out and play.
Is it something you do for yourself?
- I download songs when I need. Often when I hear a name mentioned and I´m curious and want to listen to songs they have done. I have opened up myself much musically just to listen to music without that it´s cost a lot. I use to buy records om concerts and when it´s lower prices.
Which type of people comes to your concerts? Ages?
- Back in time it was men in the age 45 and some girl in their 20´s. Now I think it is people between 20-30 and they´re mixed. I don´t really know because I wait for response on the new record.
Which do you miss on your concerts?
- I miss all them you don´t know that I´m playing and they really have wanted to be there if they have known.
Please rank your five favouriterecords, five favouriteconcerts and five most important things in life?
- Puha. Five feels really heavy right now. I give you something which I feel spontaneous for right now. Record: The letting go -Bonnie prince billie, Concert: The Ramones in Mejeriet in the end of the 80´s. Damien Jurado in Mejeriet a year ago. Important is love from my partner, friends and family.
First, last and most expensive record ever bought?
- The first was Changes One David Bowie. The latest was Destroyer with Low. The most expensive must be a box with Merle Haggard. Have no collectors item record.
The most embarrassing record in your collection?
- Billy Ray Cyrus
Are you often on radio or how is it because it feels like your music should suit in there?
- I haven´t been P3 stuff because I didn´t care about having a singlehitsong on my records. P4 have always liked me.
You have been on TV also or how is it?
- I cannot say that I have been on TV many times. Five times maybe,. I´m not a famous person and I think that many who reads this not knowing who I am.
Is it many interviews? Is it boring? Which is the question you never get but you want to have? Please ask it and answer it ?
- I think that is fun to answer good questions. You have given me many good questions so I don´t think I miss anyone.
The futureplans with the music?
- To come out and play as much as I can with my wonderful band.
And for you as a human being?
- I hope I continue to love the things I do right now and that the people I have around me are going to be there.
Wisdomword?
- Treat anyone else in the same way you want to be treated. It feels stabile and it works also as a thermometer when it´s about understand what other people need.
Something to add?
- Thanks for being curious on me.