Logoz is a really nice punkgroup which have been on the road since 2012. Here they give me the background of the group and I hope we will hear more from them soon…September 2014
Please tell me a little bit history of the group?
-We were formed in the summer of 2012. I was in another band at the time and was getting a little frustrated at the lack of gigs and opportunities at the time so I decided I wanted to do something new. I quickly wrote a bunch of short sharp punchy songs and started looking for a new band and, to my joy, I didn't have to look to far.

Please tell me a little about every member in the group right now, interests and something bad about everyone?
-I'm Peesh, Lead Singer, Guitarist, Songwriter in LoGOz. I'm old enough to know better, but younger than all of my musical idols. My interests are writing songs, playing guitar and drums, recording, playing LIVE. I'm also a big football fan and follow Sunderland AFC. The only bad things I can say about Paul is his car is too small and he likes Pink Floyd!
Carlos' bad points are his dietary habits, he lives in Sugarland where everything comes in twos. Even bass drum pedals!!
I'm Paul the oldest member of the band and,when not playing guitar for LoGOz, I like reading anything and taking my spare guitars apart, painting them and putting them back together, then deciding I don't like it then starting again. I've repainted my Strat 5 times and still never used it on stage. Bad thing about Carl is he takes over the CD player on the way to gigs. Bad thing about Peesh is it takes him forever to leave a gig.
I'm Carlos drummer and youngest member of LoGOz. I'm addicted to PlayStation, my other interest to drums and music. I also have a strong passion for movies. I'm also slightly obsessed with Batman, but that's not a bad thing! A bad thing about Paul is that he is always late! A bad thing about Peesh is his memory, he keeps forgetting things or leaving gear behind at gigs.

Logoz, how did the name came up??
-The idea of the name 'logos' was suggested to me by a good friend a few years back. It has a kind of religious ancient greek origin meaning 'word' 'expectation' and also 'everywhere'. I liked that concept and gave it a modern twist with a 'Z' on the end and a Capital 'GO' in the middle. It just sounds positive and pro-active and doesn't categorize us as anything, which is important.


I can imagine that you´re fucking good live, is it so?
-Yeah we are fucking good live thank you! We have played over 100 gigs in just over 2 years. We have worked hard to get tight as a unit and now, 2 years down the line, it shows when you come to see us Live. You should come and see for yourself? Or maybe we could come to Sweden, which would be cool :)

What´s the best thing with playing live?
-The best thing about playing Live is the buzz you get from the audience. Seeing people having a great time to your music, songs you have wrote, you just can't beat that. Also watching the crowd sing along to the words is pretty special.

And where is best to play?
-Sweden hopefully :) But seriously in England we have played all over from Newcastle to Leeds, Sheffield, Blackpool and London, and everywhere has been really receptive and appreciative of what we're doing. But I do think most bands tend to find hometown gigs quite unique, although sometimes for different reasons :)

How is it to play punk in England?
-It is cool to play Punk in England cos it is still so popular and you have so many different cross sections of the genre, so to speak. There is still a lot of old school English Punk venues and crowds as well as the more modern American Punk/Pop fans. I like to think we kind of meet in the middle of that as we are influenced by bands like the Sex Pistols and the Buzzcocks as well as the Ramones and Green Day.

How would you describe your music in three words?
-Energetic. Melodic. Schizophonic

What does punk mean to you, is it only a word or is it a lifestyle?
-Punk is a lifestyle to me as it is to many people. For me it's always been about the (DIY) Do it Yourself attitude. It's about doing what you want to do in your own chosen way or style. So for me and in LoGOz We play our own brand of energetic melodic fuzz guitar based music. We don't follow music trends or fashion, yes we have our influences but we are just being ourselves 100% and that's kind of our own punk ethic.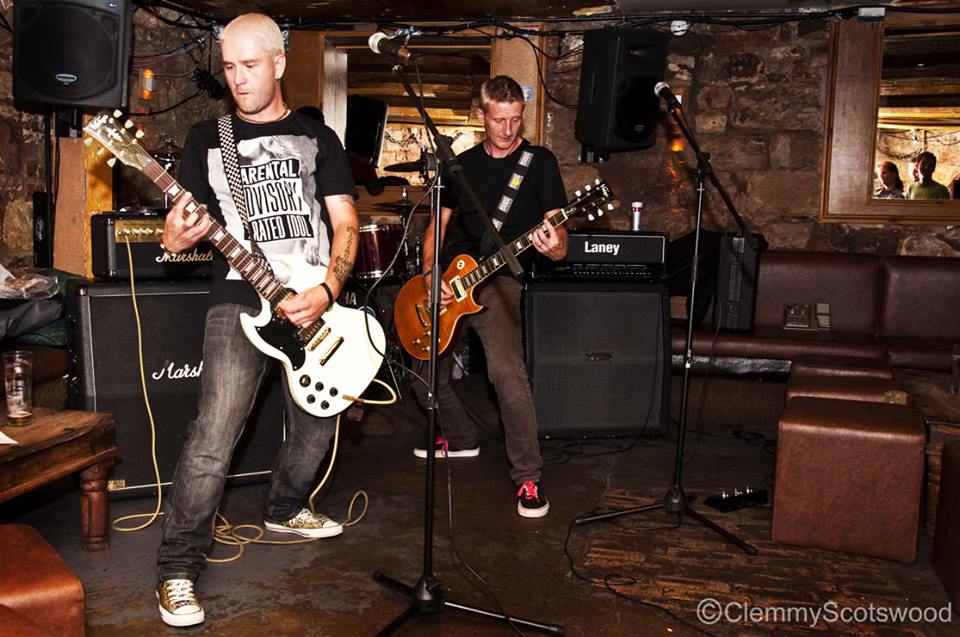 How do you see on downloading, mp3 and that stuff?
-It's a tough one because you have to embrace the modern world of technology. You can't stop downloading etc. so there are good points and bad points because it makes it harder for bands like ourselves, when you see that even the biggest bands in the world now just aren't selling records anymore and a lot of that is down to the digital age. But mp3s can be a simple way of sending music across quickly to Radio Station DJs etc.
How is it to live in England now? Politically?
-England is ok and where we live is the North East of England, and like everywhere else in the Country it has its good points and bad points. There is a lot of unemployment, but also growth and opportunities. Politics always has and always will be about a matter of opinion, and opinions are like arseholes, everybody has one. I try to not get too heavily involved in politics but I do keep an eye on whats going on, because whether we like it or not it always affects us. I do get annoyed seeing certain politicians on the TV when they obviously haven't got a clue what it's like to live in the real world, s it can be scary that these people have such a powerful effect on your life. But can we do something about it? Maybe it's time for a revolution kids :)

Is there any good bands from England?
-Yeah there are lots of good bands from England. The WiLDHEARTS for example who have been going 20 years plus and should be huge in my opinion. Even some of the bands we play with, SORRY FOR NOTHING, SUPERCHARGER, EUREKA MACHINES are all great bands too and worth checking out.

What do you know about Sweden?
-I don't know too much about Sweden apart from some great bands to come from there, including ABBA who I am actually a big fan of their songwriting, very clever. Also Sebastian Larsson who plays for Sunderland AFC plays for the Swedish National team.
Have you heard any good bands from Sweden?
-Absolutely I'm a big fan of BOMBSHELL ROCKS, SATOR and THE BACKYARD BABIES.

Your lyrics, who does them and what influences you?
-Yeah I write all the lyrics, and I always believe in writing about what you know. So l kind of write about my life as I see it and the world around me. The good, the bad and the ugly! I get influenced and inspired every day, so in that case I feel lucky I can express that in my lyrics and songs.

Do you do any covers when you play live, which(if you do) ?
-We don't actually do any covers in the full band gigs. But Paul and I have played have played 'Pretty Vacant' by the SEX PISTOLS at a few acoustic gigs recently which always goes down a storm. We are actually thinking about doing a full band version for LoGOz. Great song, with an ABBA influence :)
Politics and music, does it goes hand in hand?
-It can do. It works so well for bands like THE CLASH, early MANIC STREET PREACHERS, CRASS, AGAINST ME! etc who all had different agendas but were very passionate on their own beliefs. So yes it can work when the band are passionate enough and that comes through in the songs.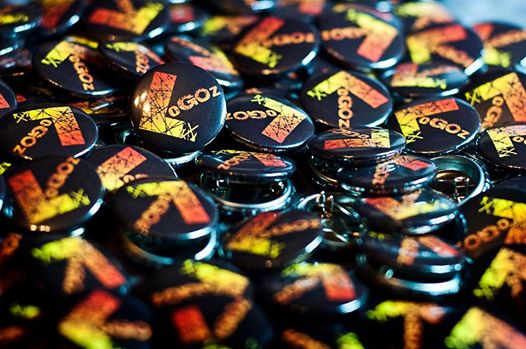 Best political band/artist?
-For me the SEX PISTOLS. For what they stood for at that time it was very political cos it changed a lot of things in British culture which still affects us today. God Save the Queen has to be one of the best political songs ever, even if that wasn't the intention. The establishment were terrified of these 4 spunky angry kids at the time, because they weren't stupid, they were fed up and reacting against the state of the Country at the time. They told it like it was. I'm not saying they were the first Punk band with a voice but they were certainly the biggest at the time and remain a huge influence today.
Do you think that music(lyrics and so on) can change anyones life, I mean people who listens to music?
-Yes I do believe that because music is a very powerful force. I'm sure almost everyone has been touched by a song in their life. Music can hold great memories and take you right back to a certain time in your past. It's like a soundtrack to your life. I have heard of people using music and songs as a way of getting out of hard times or even depression. So yeah music can definitely change your life.

Have you done anything more than these two records? If you have how can I get it?
-The PSYCHO RADIO Album and New HELLO LONELY e.p. are the only 2 releases from LoGOz. But I have some Solo work and previous band CDs including JUNKSTER & The BLiSTERS available. you can find out how to get these by contacting LoGOz official email addresslogozbooking@gmail.com or peeshmusic@gmail.com

Is it important to release your records as "real" records??
-Yes I think it's important to release records and real hard copy CDs even vinyl. Because they will stand the test of time. There's nothing better than getting a new CD or Album by your favorite band and adoring the cover artwork and inner sleeves etc.

Please tell me a funny thing which have happened during your career?
-Once when I was touring Norway with my previous band JUNKSTER two of us actually missed the ferry stop. We were busy having a cigarette on the deck whilst watching the other two members of the band leaving the ferry. Before we knew it we were heading 20 miles up the Norwegian coast into the unknown! Luckily we had our Manager with us who paid for another ferry back to the original destination. We just made the gig in time!

How does your audience look like? Which people do you miss on your concerts?
-Our audience seems to be a very broad cross section male and female and that's great. We like to think we have mass appeal, and that's the cool thing about music, it can strip down age barriers etc and bring people together. We have young kids at our gigs as well as people in their 20's through to their 60's.

Please rank your five favoruiterecords, five favouriteconcerts and five most important things in life?
-Five Favourite Records:
1. Never Mind the Bollocks - The Sex Pistols.
2. Appetite For Destruction - Guns n Roses.
3. Earth Vs - The Wildhearts.
4. And Out Come The Wolves - Rancid
5. Dookie - Green Day.

Five Favourite Concerts:
1. Metallica - Whitley Bay Ice Rink 1992.
2. Manic Street Preachers/The Wildhearts - Newcastle Riverside 1992.
3. Rancid - Newcastle Academy 2012.
4. Adam Ant - Manchester University 2011.
5. T in the Park Festival - Scotland 1995.

I compare you a little with old bands like Red London, red letter day, comment on that?
-I hadn't heard too much by Red London so after checking them out a bit more I'm pleased to say they're a pretty cool band. So therefore thank you. That's a compliment in my book cheers.

And you have got in some ska in Psycho radio too….how come?
-Yeah I like English Ska bands like MADNESS and THE SPECIALS as well as some American Ska/Punk bands like LESS THAN JAKE & THE VOODOO GLOW SKULLS. So I always wanted to incorporate some of those influences into my music.


Futureplans for the band?
´-We will be releasing our New 4 Track HELLO LONELY ep in the Autumn so we will be promoting that for the rest of this year as well as working on our first official video for the title track. Then next year we will be working on our New Album as well as touring as much as we can.

For yourself?
-As ever I will be writing new songs for LoGOz as well a side/solo project I'm working on. Watch this space.

Wisdomword?
-What happens if the good things that come to those who wait are just the things left behind by those who got their first.

Something to add?
-I'd just like to thank everyone for their continued support for LoGOz. Cheerz. Peesh.