Limp is a really good band which was so nice that they answered my questions in the middle of february 2002.
History?
-We started in 94. We put out first album out in 97. Weīre about to release our third.


What do you think about my description of your music where I compare you a little to Weezer and Manic Street Preachers with a punkier sound.?
-I think weīre in really good company. Thatī s a lot better than what weīve been compared to before


Which is the most peculiar review you ever got?
-These guys are the punkest shit around! We were like, huh??? Have you even heard the fucking album?


Do you care about reviews?
-Nah, not really. As long as I like what I do, it doesnīt really matter what some reviewer says.


The finger on the front of your cover, what do you mean with that?
-Well, instead of a play on words, itīs like a play on a hand gesture.


Have you done any more records except the one on Honest Donīs? If you have how can I get them?
-We put out an EP on Fueled By Ramen. Itīs got one of my favorite songs of ours called Exit. I think you can get it off of their web site


What drives you to play music?
-The chicks! I donīt know if I can answer that. Itī;s like asking, What drives you to love your girlfriend?


What does punk mean to you?Is it only a word or what...?
-Yeah, it pretty much is just a word. Some people see use it to act like total pricks.


How is a good gig with Limp?
-Ummmmm , I tried and I tried and I canīt figure that question out. Sorry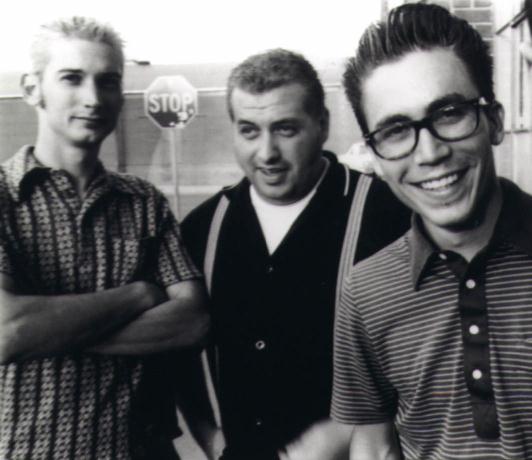 What is the most peculiar which have happened during a gig with you, in the audience or on stage?
-So, one time weīre playing with AFI, Grouvie Ghoulies and Tiger Army at the Gilman. Itīs a rad show! Itīs packed! We were so nervous, it was like our 10th show. Half way through our set, this kid with a huge mohawk whips out his dick and tries to pee on me! Now I would have cracked him in the head with my bass, but at the time I just kept playing and didnīt know what to do. Security carried him out and his dick was still flapping out of his zipper and he was peeing all over himself.


Is it many interviews? Is it boring?
-We get a few. Some of the standard questions get old, but I donīt mind.


Which is the questions you never get but you want to have, please ask it and answer it?
Q: Serge, is it true that you are hung like a horse?
A: Yes it is.


Please rank your five favourite records, five favourite concerts and five most important things in life?
Holy shit! Can you ask a harder question?

1) Boston, Boston
2) Beatles, Abbey Road
3) Cheap Trick Greatest Hits
4) Rocket From The Crypt, Scream Dracula Scream
5) Eliott Smith, XO

1) Ozzy & Metallica '86
2) Fugazi @ the Gilman '89
3) AC/DC '85
4) Judas Priest & Slayer '88
5) Guns and Roses & Rolling Stones '89

1) Porn
2) Hand
3) Food
4) Books
5) Porn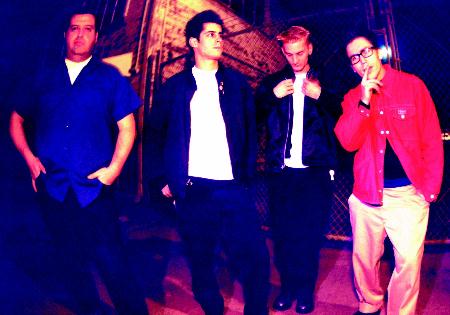 First,last and most expensive record you ever bought?
-First was Dio ; Holy Diver. Last ; Public Enemy Greatest Hits. Most expensive was I canīt think of any, I guess the Police box set.

How did you react when you heard about the terrorist attacks the 11th of september 2001? With anger or with frustration or with hate?
-I guess all three.


How do you see on the thing four months after?
-Itīs still fucked up.


Have it changed your life something?
-No, it was a tragedy. There have been many tragedies.


What do you know about Sweden?
-You guys have great social and domestic policies, and really hot women.


Have you heard any good swedish bands?
-I canīt think of any off the top of my head. Was Silver Mountain Swedish?

Is it any good bands in SF or in the USA today?
-Yeah, sure, there are tons.


What do you think about the "new" way to commuincate with email and
internet and all that?
I think itīs awesome. Iīm always in awe of it.


Do you have a favouritesite yourself?
- www.zombo.com


Is Honest Dons a good label?
Yeah, theyīre great!


Which are your futureplans a s a person?
Tomorrow Iīm gonna go get some breakfast with my friends. Someday, Iīll buy a house. Thatīs about it.


Which are the futureplans as a band?
-Tour tour tour


Wisdomword?
-hahahahaha me? Wisdom? hardly!


Something more to add?
-Thank you for the interview and I hope we can make it out to Sweden soon.