Ligisterna from Stockholm is a promising band with swedishsinged lyrics and they take hem to new dimensions. Nicke Nackskott from the group took his time for me and answered a lot of questions from me in june-2102
History?
-Ligisterna started with me (Nicke Nackskott) and Orre Oreda was sitting on a pub in our neigh bourhood in Hässelby and decided us to start a band. After that we went home and wrote lyrics and music to about 20 songs which we recorded on my computer with midi-drums. Erik in Varnagel like what he heard and we had one gig on Tre Backar with them as a backupband. We put up some songs on the net but we decided to lay down the project after a year and we have then recorded 50 songs because we never found a drummer and it didn´t became so much more.
Some year after that Orre came in contact with Mange Mangel who could do the drums and we decided ourselves to start again. We recorded three demos and did som gigs but we never really came anywhere. After some line-up changes and some changes from the originalsound so are we here finally. Nicke Nackskott- guitar+vocals. Nicke Näckro- Guitar,+background vocals. Kabbe Kaos- Bass + background vocals. Mange Mangel- drums+ background vocals. If you look after in our recordrelease in the middle of the lyricsheet so can you see pictures on two older members Terry Terror and Orre Oreda. On the record so have we Skitliv and Varför kan vi aldrig få lyckas which is songs from the old time.
Please tell me about every member, age, family, work and something bad about every one?
-We are siamese twis. Three of a kind plus one more. 15 years and one 14. It was a long and painful childbirth. We works as superheroes and we´re to expedite from subcomandante Marco.
Do you play in any other bands too?
-Nackskott plays drums in Obey the suits and guitar in Handgranat. Mange sings and plays guitar in Greta Kassler and Hillstroem. Kabbe plays drums with Ohlson har semester production.
You have done a real record and not only Itunes…yeah you know, how did this happened?
-Yeah, who knows? Personally I like a nice cover with lyrics and similar. And then it´s not so fucking expensive to do a record as the record industry says. And then we only take 50 swedish krona for record. The record is on Spotify, iTunes also for the people who wants it digitally. Recordbuys is only done to sponsor us musicans so we can do more recordings.
What do you nthink about mp3 and downloading otherwise?
-It´s difficult to own sounds. But the thing is that it´s not free to release some things so we want it to go round. But if people wants to download a song please let them download, it´s not so that you is without money precisely. We´re not standing in a documentary and say that we don´t have any money and says that we must sell our Monét.
Does it help a band like yours that people download your songs?
-I want to believe that. When you have lesser distribution so is the digital very easy and fast for people to get. Our music is only one button away on the net and there is many potential listeners here in this country. Listeners who maybe wants to go around with a t-shirt or want to book us on some gig. .
I think that your lyrics sounds if you´re disappointed on many things? Is it easy to be that in Sweden today?
-Yesterday, today, tomorrow. There is always something to be disappointed on. I think like this: "Why try when you know that you will fail anyway" and life have give me any proof on the opposite yet.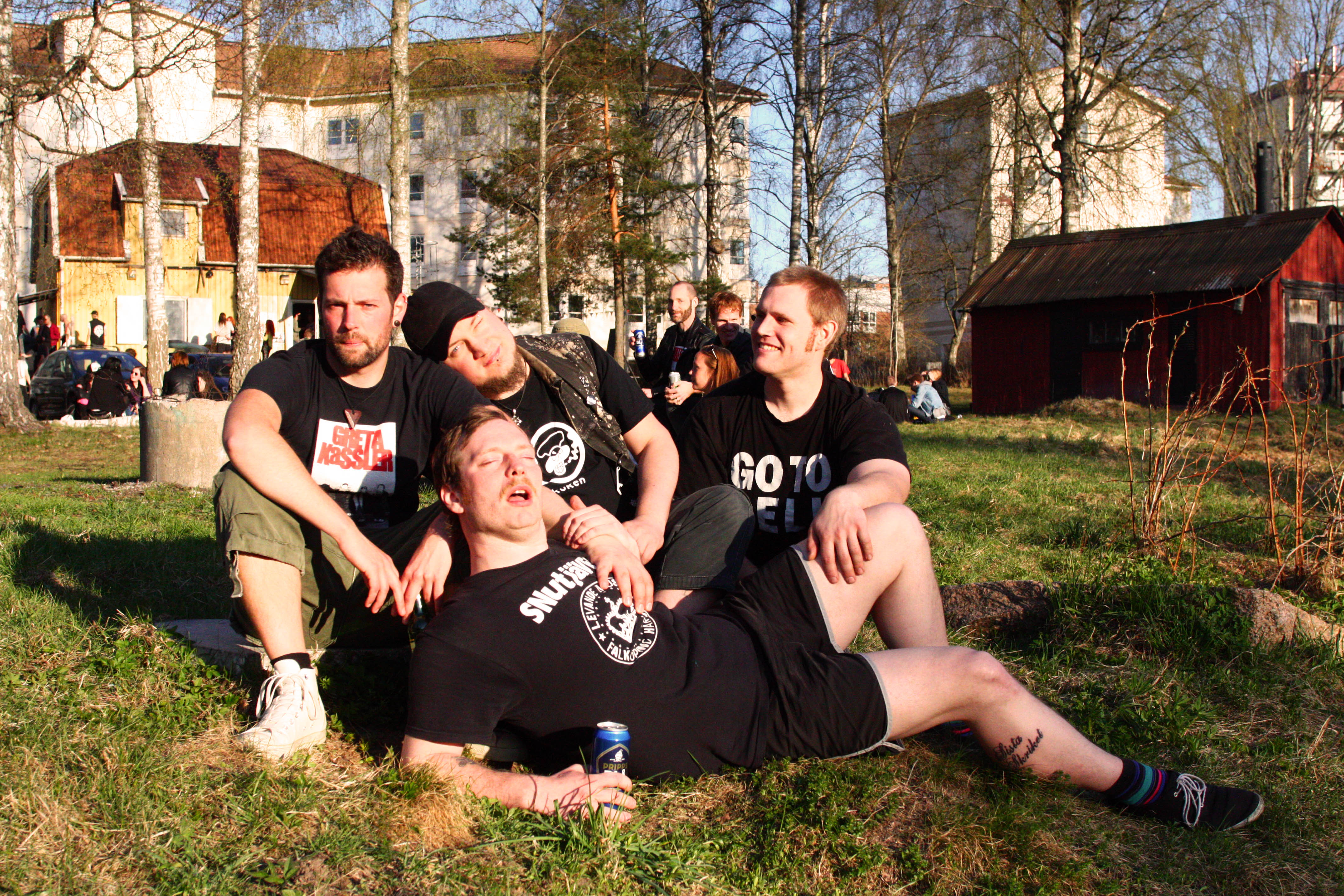 Do you think that punk is growing when the country have a rightwinggovernment?
-It depends how you look on punk but indirect so do I think that some part of the punk does that. I think it´s more political awareness among people in common when they understand that they haven´t it so good. " Here do you think that you´re happy but you aren´t " But good morning. It´s many subcultures with political agendas which is growing, both good and bad.
Is there any good band sin Sweden today?
-Yeah, there´s alot. Among others Ligisterna.
Outside Sweden?
-Yeah, there´s a lot. Among other bands Die Ligister.
Do you get many comments about your name on the band?(It´s very odd that not anyone have taken it before)
-No, actually not. The only comment I remember from one gig is that a soundengineer asked me "Are you from Ligisterna or from the other band? – Oh, I´m from ligisterna. Which was the other band? I don´t remember. It was so difficult to remember" Then we have taken the better name. .
I want to hear more with you…when do I get that?
-We have precisely talked about recording an ep. Maybe on vinyl. But right now we haven´t decided. And then we hopefully will be on a compilation called "Turist i Tillvaron vol.6". it will not come until next winter so we will see when our own material comes. Hopefully before.
Are you only play around Stockholm or do you play more around Sweden too?
-No we plays everywhere we get the chance. I can agree that we have played a lot around Stockholm the latest. I don´t really know why but that how it is.
What does punk mean to you, is it only a word or is it a lifestyle?
-Classic question with a million answers to it. For me is punk the drink which have been too filled. And then it can take so much different expressions, both creative and destructive. I feel mostly with people who shouts out their frustration and panic even if it´s a demonstration or from a bench in a park. Your way is your way, good or bad. I think that´s punk for me.
What influences you to do the lyrics you do?
-Many things.
Everything you read,see and hear. Work, spare time, friends. Love, hate, life and death etc etc. ...
If you could choose five bands. Both living and dead bands, which five bands would you like to play together with on a big concert?
-Dead Kennedys, Sepultura, Joy division, Jonny Cash and Nirvana I think. Difficult. Very mixed styles. Would be an intersting live-experience. Throw in Onkel Kånkel too…..
You want really much to take part on compilations you write…is it any compilations you´re on right now and is there any songs which isn´t on your debutCD?
-We´re on "Samling vid punken 5" with Framtid and"Inför ett sådant argument måste jag naturligtvis böja mej" withSkitliv. Both are on our debut but in other versions.
How have the record been reviewed?
-I think that we have got good comments. And then it have been sold really good if we think of that we don´t play so much outside Stockholm and in Stockholm only a few times before we released it. Some people have thought it´s a little bit suspect that we have sold it so cheap but I cannot see that as a problem. And then we have got some fine reviews as in Magazines like Skrutt .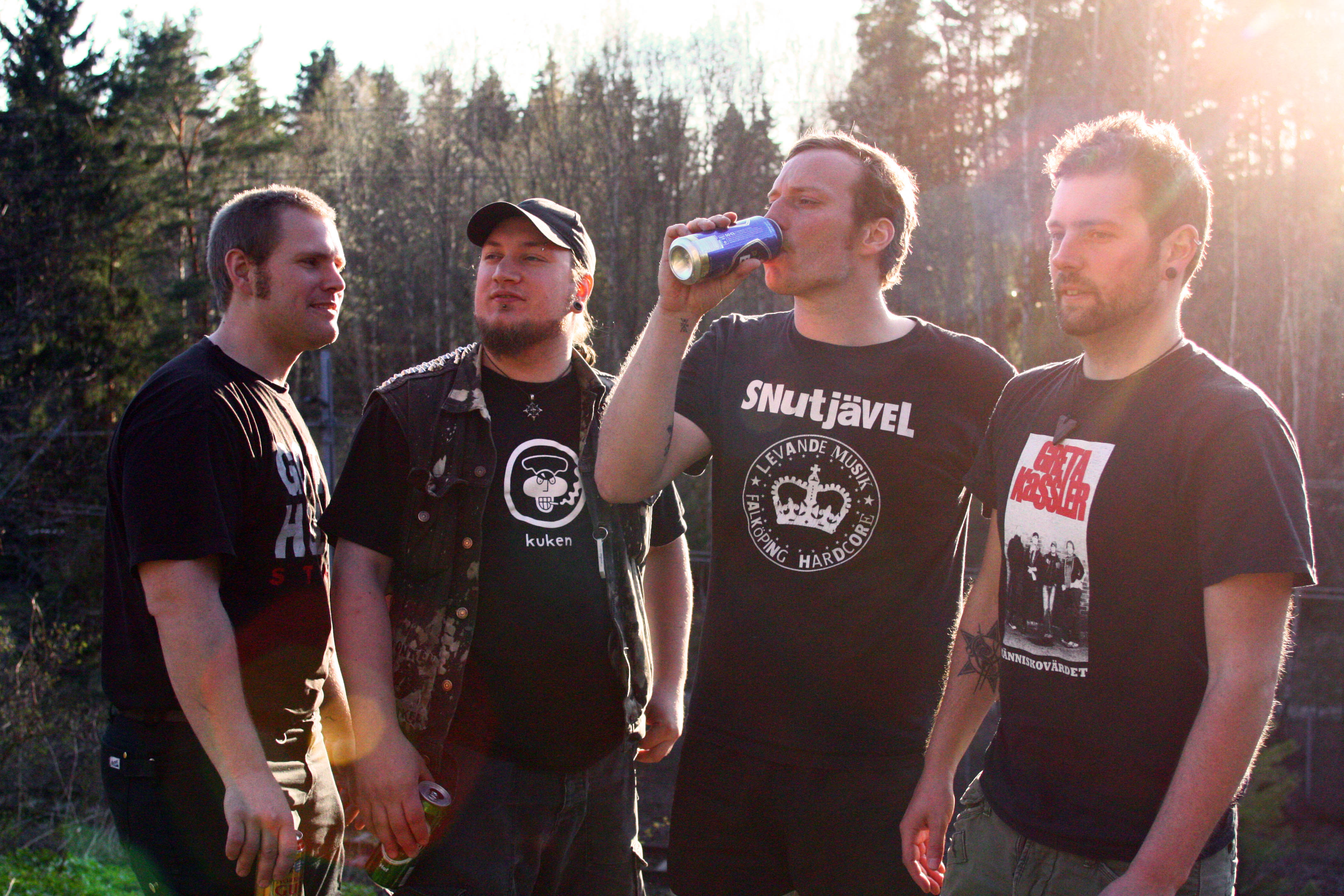 Please rank your five favourite records, five favourite concerts and five most important things in life?
-Anti-pasti - The last call. UK-subs - Another kind of blues. Kalle baah - Blacka rasta. Onkel kånkel - Kalle anka suger pung. Dead Kennedys - Bedtime for democracy. Not necesseary in that particular order and if you ask me tomorrow so do I probably say five other
Have seen many good gigs on 44:an and then it have been much pressure. Oi! polloi in 95 maybe? DLKs last gig and Poison Idea was also good there. I saw Cock sparrer in England 2003 in Holidays in the sun festival and that was good. Antidote from Holland did the same festival and it was fucking good. People took over the scene and was messing around everywhere. When I played drums on a gig with Nödvärn we had a gig like that in Finland. We played Warmachine by Anticimex and it went berserk. People jumped on the speakers and the tipped the cymbals. It was chaos. So it should be…hehehe. I presume that the last thing was an important thing because I remem bered that. Otherwise I think it have been going on except some funerals….
First, latest and most expensive record in your recordcollection?
-The first was probably Nena with 99 Luftballons and it´s still working fine. The latest was Greta Kasslers EP Ge mej luft. The most expensive is maybe Onkel Kånkels - Kalle anka suger pung on vinyl. A must for all music lovers.
The best record to work to?
-It must be Östermalms first demo "Arbete dödar"(Work Kills).
To sleep to?
-Before I always slept to Atomvinter - Atomvinter record. Nowadays it´s almost mostly silence but who knows. Atomvinter maybe can work.
To have sex to?
-Kalle anka suger pung maybe?
How do you think it´s to live in Sweden today?
-It´s probably as many other plaves in the world. "The tempo is higher on the machines…."
What can be better?
-There´s a lot of things which could be better but I haven´t been so much for the here with a pointer. You can read about animalcare, environment, human rights and workingright in the world. If you don´t find anything which seems weird and should be better so do I think that you should play on betting and go home and pick your belly button and feel satisfied.
Futureplans for the band?
-Contine rocking. Meet more fun people, in even more cities and we hope we will continue sell or spread Ligisternas record(records) and other merch.
For yourself?
-The same for the band.
Wisdomword?
-Why does it called salary when it´s only enough for two weeks?
Something to add?
-Must say that the questions are answered by Nicke Nackskott. And then I think that you should go into our website www.ligisterna.se or send a mail to info@ligisterna.se and buy the record and T-shirts or both. And go in to Facebook and Like us. And then there´s a lot of music on Youtube, Spotify and Soundcloud which is enough for you. And then I want to thank everyone that we have met there out in the country. Promotors, fans and similar. Noone said, noone forgotten. See you again.