Life Giving Waters is a finnish band which never have heard of before but they plays a really nice sort of music. Here have Ilkka and Eric answer my questions to the group in the middle of September 2006
History?
-I: The band was started in late 2003, by Ile and Eric. I joined a couple months later. First recording took place in 2004. Then we played some shows and recorded our second self release in 2005. 2006, we got a new drummer and released Minor disaster this summer. More detailed history can be found in wikipedia at http://en.wikipedia.org/wiki/Life_giving_waters

Please tell me a little about every member, age, family, work, interests and something bad about everyone?
-I: I'm almost 27, in a relationship. Been working many jobs,. Varies alot. From carpenting to boring office jobs. The things that drive me trough this life are music (playing, listening, buying, the whole lot), good food & beer. I get aggravated really fast. Joose is slow sometimes and our vocalist won't shut up, ever :)
E: Age:27 years, status:single ,interests: photographing, music, bad thing about me: stubborn.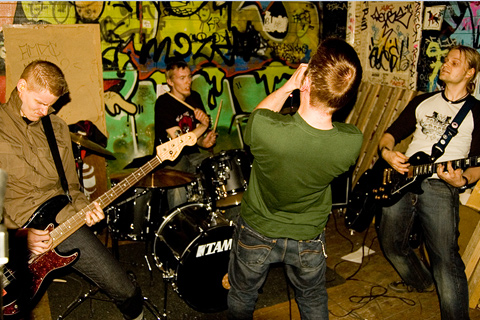 My review of your record is like this LIFE GIVING WATERS-MINOR DISASTER(M-CD-LGW 003)
A finnish group which I never have heard before. The finnish rock goes on really well and that helps LGW up with this record.
Fast punkrock(with some emostyled influences) which I almost never have heard a finnish band played before if we don´t take the old group Electric Blue and Peggy sue or what they was called. 7 songs to brighten up your life with is what the groups is given to us. I think about a whole lot of groups but I cannot not get foreward which I think about in the first place. The singer have a sore throat which I really like and I think this group could be really big in the future. Do you get the chance to buy this record or listen to the group?do that.(SEVEN) 13/9-06
What about it?
-E:Electric Blue and Peggy Sue sounds like a perfect name for a band
I: Yeah never heard of those bands, kind words are always nice to hear.

Is there any other bands you´re being compared with?
-I: A lot of people say that they can hear many influences but cannot put their finger on any specific band, so I guess mission accomplished. To name a few that's been said include the likes of, Husker Du, Leatherface, Hot Water Music, Outlast (hah) Strike anywhere, Kid Dynamite, Fugazi and even some influences from Jello Biafra's Dead Kennedys can be found. I don't underline all of these, but yes those bands might have something to do about the way we sound. Not any band in particular, everything.

Do you care about reviews?
-E:Yes, of course. Bad reviews make you work harder because you are pissed off and the good ones make you feel that you've actually done something right. I: Yep, pretty much the same for me. "If you don't like it go to Russia."
Everyone want's to read good reviews :)

What is the minor disaster you named your CD to?
E:It is an oxymoron, just like "definately maybe" or "true lies" etc. The meaning behind those words could be anything, it's up to you. Like you could think that its 17 minutes makes it to be just a minor disaster, not full scale, 80 minutes disaster.
I: Hahah I had no idea what the title meant, but that sound good to me. We can all make our own consumptions.
Minor Disaster, everyday is a minor disaster, the way we pollute and don't act on the things that we know that are wrong in this world? Hmm, so maybe it's about how we all are contributing towards total destruction of earth, and how we are having the time of our life while doing it? It's all about the little things.

Finland have a really good rock culture, favouriteartist from the past?
-E: Sielun Veljet, Shadowplay, Melrose
I: I've would say the finnish punk/rock scene is a lot more merrier
nowadays and there are many awesome finnish bands around now than in the past, but to name a few I would go for?hmm?hard to say?sepi kumpulainen, hassisen kone?

Is Finland a good country to live in?
-E: Better than most of, but of course there's always something to complain about. I think that in this world there's only one country where you will have a awesome life. That place would be Brunei in Asian.
I: I'm not sure if the Swedes still think of Finland to be similar as
Russia? We'll we're nothing like them :)
Finland is great, we have everything here we need but If I would move to anywhere, it would be New Zeeland, or any place warm, or might even run to China in search of a job, hah.

What about the government?
-E: It sucks a big time. But then again, probably every country in this world has a sort of a bad government. They give you promises but never fulfil those. i.e. They play with people's lives and never make any decisions that one would consider as a positive for a common people. They say that they care, but they really don't. They don't give a shit if people die as long as they have enough people to pay the taxes. This planet earth is a ruled by hypocrisy and the money makes the world go round.
I: Yep, Eric said it. There's so many things wrong with the
world/governments today that I don't know where to start. I would just say that keep yourself on top of happenings worldwide and contribute to any good cause when you have the change. Luckily it's up to us to choose them idiots who run our country, not everyone have that change, so vote and get involved locally.

Do you think that music and politics goes hand in hand?
-E:Of course. I've realised that there are 3 kinds of music: politically awarded which has a message along the danceful beats. Then there's dreamy music, which takes you away from this depressing world. And the last one is, music which doesn't belong
either of those boxes, and it's the music I don't like to hear.
I: I think they go hand in hand. Music is a great way to raise people's awareness, I'm not saying that it will change the world, but if you can make at least one person to stop and think about whatever political/global issue, it's a mission accomplished. And I would rather listen to a band that has got something other to say than, "shake your booty", anyway.

Best political band?
E: The Clash
I: Propagandhi, lyric wise. Most of the bands that I listen to, are somehow political.

Is there any good bands in your homecountry now?
-E: Laika & The Cosmonauts, Soul Tattoo, While I'm Alive.
I: Manifesto jukebox, Kakkahätä 77, Abduktio, Aortaorta, Fun, Lähempänä Loppua, Unkind? lot of bands..go check 'em out.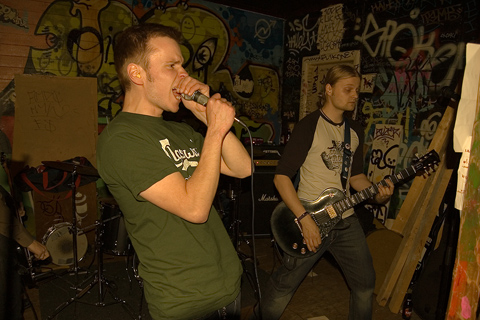 What do you know about Sweden?
-E: I've only been to one city in Sweden, Stockholm. The last
time I was there, to watch the Mars Volta at Berns with our guitarplayer Ike, but I regret that I was staying sober during the whole trip. You know those boats that sail between Stockholm and Helsinki, you have to be drunk there 'cause it is pure hell without any booze.
I: Sweden is the most American country in Europe? Beautiful girls, lots of great bands, Stockholm is great to visit anytime. Ile our singer was working this january in Borås, Sweden. he loved it, not so different to Finland by culture, but small differences brought a little foreign spice to it. The young people were very aware of the world and what´s going on. also Borås has alot of finnish speaking people that have moved there in the 60´s or 70´s after jobs so he didn´t have to learn alot of swedish at all =)

Have you heard any good swedish bands?
-E:the Hives, Entombed, Hellacopters, Weeping Willows, Soilwork, In Flames, Katatonia...
I: REFUSED!, To what end, Victims, there's plenty of good bands in Sweden i'm just too tired to remember more.

What does punk mean to you, is it only a word or is it a lifestyle?
-E: DIY. That's more punk than anything. Not to follow what everybody else does, finding your own way of doing things and living this life (and to remember that the only person you are responsible here is you).
I: Pretty much the same, diy, ethics, solidarity, being able to do whatever without anyone one telling you what you should or shouldn't do. Even though, that's the kind of like the whole idea of punk, do what you want, the punk scene itself can be really conservative nowadays. For me punk is a feeling of how you live your life, wouldn't call it a lifestyle, more like a state of mind.

Please rank your five favourite records, five favourite concerts and
Five most important things in life?
-E:
Records:
1. Jimi Hendrix - Are You Experienced
2. The Clash - London Calling
3. Paradise Lost - Draconian Times
4. Therapy? - High Anxiety
5. The Cult - Dreamtime
Concerts:
1. Moonspell - Lepakko '99
2. Sub-Urban Tribe - Maailma kylässä -festarit'97
3. Moby(during his punk years) - Ice-Hall '96
4. Faith No More - House of Culture '96
5. Raoul Björkenheim - Vanha '96
All gigs were in Helsinki
Things:
1. Music
2. Health
3. Chocolate
4. Bicycle
5. Prague
I: this is the hardest question to ask, for me at least, these lists vary
about once a week..
Records
1. Refused - Shape of punk to come
2. At the drive in ? Relationship of command
3. Operation ivy - Energy
4. Avail - Dixie
5. Choking victim - No gods no managers
Concerts
1. Rancid - Lepakko '96
2. Fugazi - Nosturi '01
3. Roskilde - '05
4. Mars Volta - '02
5. Tinc - Tavastia '05
Things
1. Music
2. Girl + cat
3. food
4. friends
5. travelling

First, last and most expensive record ever bought?
-E: First record: Prince - Batdance(vinyl)
Last record: Kamelot - The Black Halo & Iggy Pop - American Ceasar(CD)
Expensive: Manic Street Preachers - Holy Bible deluxe edition.
I: First that I can remember was Iron Maiden - Seventh son of the seventh son LP.
Last was Drunk - The company tie
Expensive, I'm not sure that I have any expensive records.. I have paid pretty much on my Husker Du vinyls?

Most embarrassing record in your collection?
-E: None. I equally hate them all.
I: None, they all have had a meaning at some point in my life. I never get rid of any old records even tough I know I wont listen to them ever, and I hate most of them. Could be fun to go trough 500 records after 20 years or so, and see what the hell I listened to back in the day :)

Are you releasing your record yourself? Isn´t it any label interested?
I: Yeah, we have so far released all our records by ourselves. And nope, labels have not have picked up on us yet. I think when we're "good" enough, they will know about us. We haven't yet tried to get to any label; we just wanted to get our music out there.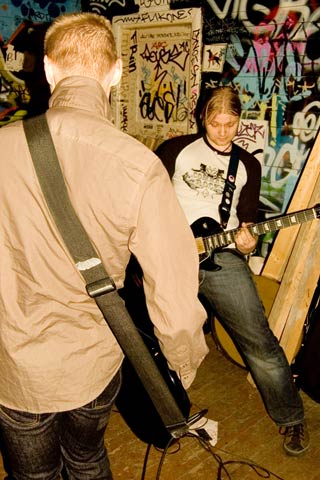 Have you done anything more than Minor Disaster? If you have, how can I get it?
E: Self-titled & Incarcerated. To get them, go to our website and download those songs and burn them to a cd. I personally think that music has to be affordable to anyone. That's why we try to sell our records for the price that won't make us rich or poor.
Yeah, I know it's very poor salesmanship, but money is just
money: the more you've got it, the more problems you got.
I: We were supposed to upload also printable covers to our website but? Might come there in the future, otherwise the old ones are sold out.

Is it many interviews? Is it boring?
-E: No, not at all. I would love to do more.
I: Nope, would do this all day long hahaha :)

Which is the question you never get, please ask it and answer it?
-E: Do you prefer dogs or cats? I wouldn't have neither of them cause I believe that every animal in this world do exist for its own reason and that reason is not to please me.
I: Is there a real person behind that mask?

Is it any chance to see you in Sweden soon?
-E:Yes.
I: Yep, we're coming to Umeå this December and hopefully somewhere in Sweden again next May.

Where is the best place to play?
-E: I think that so far Rzeszow in Poland has been the best.
I: Haha for example the one above, but mainly any place that has a good atmosphere and nice people.

How is a good gig with you?
-E: When you are playing sober but can't recall anything from the gig.
I: A show when there's at least one guy/girl in the audience liking our music.

The name where does it comes from?(yeah it´s a boring question but it´s interesting)?
-E:It's taken from Dead Can Dance's song called Xavier. There's a line:
Although Xavier has prayed
That life-giving waters may rain
Down on the souls of man
To cure them of their ways
I: Also Jimi Hendrix's song "Bold As Love" includes the line where life giving waters is mentioned.
It has nothing to do with religion.

Futureplans for the band?
-E:Record new stuff and touring so much it hurts.
I: play as many shows all over as possible, and record some new stuff in between.

For yourself?
-E: Keeping myself alive.
I: Find a meaningful place in this world, and hopefully not end in a boring 9 to 5 job for the rest of my years...

Wisdomword?
-E:"I am not young enough to know everything" -O.Wilde
I: "there's no truth but what you know" - ezra

Something to add?
-I: Come see our shows and say hey when you have the change, go to our website and leave you mark there. Thanks for reading trough this rambling. thanks,
Ilkka & Eric / Life Giving Waters